Ian's Million Fund "IMF" is a real-money portfolio that I've written about monthly since January 2016 here at Seeking Alpha. The portfolio is a largely buy-and-hold group of ~100 stocks. Each month, I buy 10-25 of the most compelling stocks available at then-current prices, deploying $1,000 of my capital plus accumulated dividends. If things go according to plan, this portfolio, began when I was 27, will hit one million dollars in equity in 2041 at age 52. I intend it to serve as a model for other younger investors.
With the market taking another hit early last week, and consumer staples and REITs leading the way, it was finally time to make the IMF's April buys. While the stock market isn't back to recent lows, there's blood out there in DGI-style names. Makes me excited to go shopping. Here's what I purchased on April 25th.
Given the recent changes at Motif, I bought all these at the market open on Wednesday for no commission rather than packaging them as a group and paying a commission. In total, we have 14 stocks for April - 13 with my monthly $1,000 capital contribution, and 1 with accumulated dividends (table is quantity of shares, share price, money spent):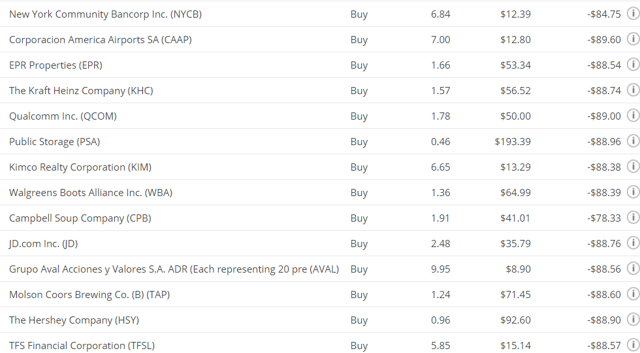 Let's start off with consumer staples. I discussed these at length last week. In fact, we're getting awfully close to a bear market (20% down) for the sector ETF (XLP) since the January highs. I always prefer shopping in sections of the store that are on sale, and consumer staples fit the bill this month: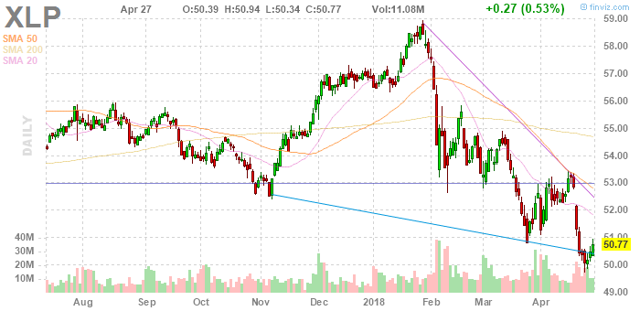 Now, and I'm very pleased about this, Hormel Foods (HRL) hasn't traded down - at all - during this sector-wide rout. I guess other people are tuning in to the fact that commodity prices are moving in the company's favor. So for the first time ever, I'm not investing this month's accumulated dividends back into HRL - instead they're going to Campbell's Soup (CPB), which reached new multi-year lows before bouncing slightly last week: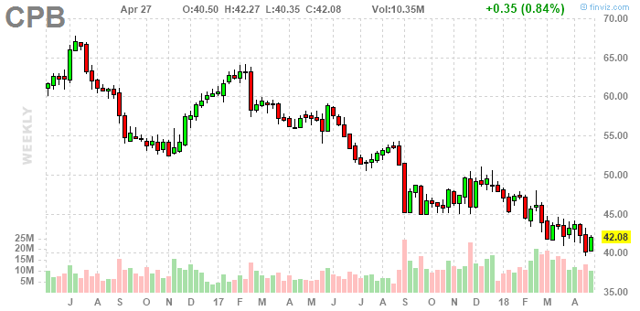 Now, to be clear, CPB was way overvalued at its 2016 peak. But how far does it have to go before it gets interesting? As I like to say, when the market sells off overvalued stocks, it rarely stops right at fair value. I'd argue the pendulum is moving nicely into discount land with Campbell's.
To be fair, Campbell's overpaid (potentially badly) for the recent Snyder's-Lance acquisition (20x EBITDA 13x optimistic post-synergy EBITDA isn't cheap for that set of brands), and their moves into healthier fresh brands have delivered underwhelming results. Overall, their brand portfolio is alright though. Not worth a premium, by any means, but with the stock down to 13x trailing and 12x forward earnings, we don't need a lot to go right here. Analysts forecast 6% EPS growth over the next 5 years, and even if we only get, say, 4%, the results should be good off such a nice starting earnings base.
Now that the stock is down from 70 to 40, we're hearing all these bearish arguments for how packaged foods makers like Campbell's are on the verge of extinction. To me, it seems like usual investor mood swings. When these stocks were over 20x P/E ratios and growing just as slowly as they are today, people couldn't throw their money at them fast enough for sub-2.5% yields. Now, for example, Goldman Sachs cut it to "sell" with a $43 PT earlier this month. We're already under that now; sentiment is getting pretty extreme now.
Speaking of Kraft Heinz (KHC), which everyone loved for its brilliant management and Buffett involvement at $90/share continues to tumble well into the 50s, it also hit fresh 52-week lows last week.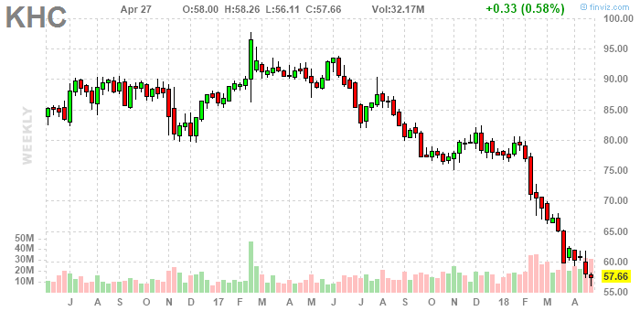 While the company continues to have growth problems, at some point enough is enough. Management is running a lean mean operation with some of the highest profit margins in the industry. The forward P/E is down to 14.4x, the yield is up to 4.3%, and even assuming flat revenues, they'll manage at least some earnings growth because financial maneuvering is 3G's specialty. I'm not sure what a specific catalyst is for turning the stock around in the short term, but when a behemoth food company falls 35% in a year, it's time to pay attention.
I laid out the case for Hershey (HSY) last week in Ian's Insider Corner. I said then that I was looking for the 90 area to buy more stock. Sure enough, we made a nice push toward that level following the support-break at 95. This is one of the highest-quality companies on a US exchange, and it has given back virtually all of its gains over the past five years during a raging bull market. Good time to fill the pantry: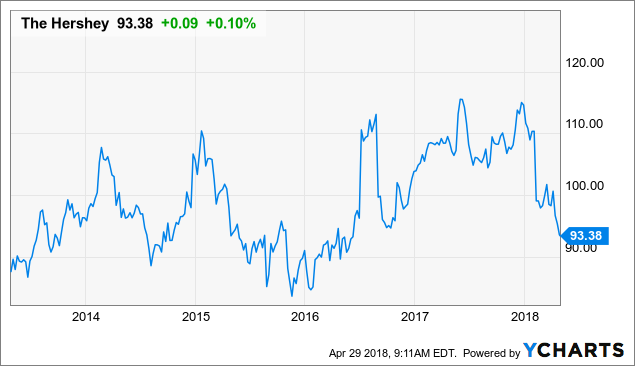 Molson-Coors (TAP) also got hit with a big wave of selling, taking out the year's lows in mid-April. Given the valuations for alcohol stocks lately, it's rather remarkable to be able to pick this up under 13x forward earnings. I know investors are concerned about the high debt load from the recent merger, but this is beer we're talking about, it's not a cyclical industry. Management has said they'll get the debt load back down and then the dividend hikes can get going again. When they do, the stock will be a lot higher than 70.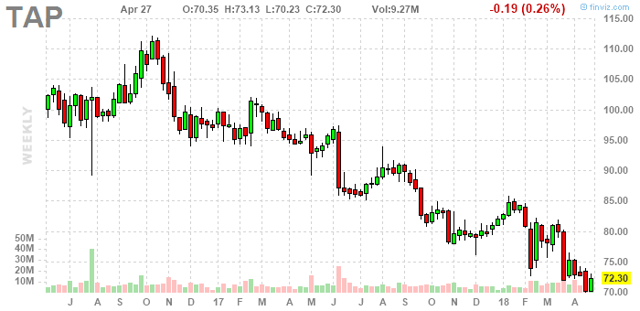 Moving over to REITs, there were more than a dozen on the daily new 52-week low list as recently as April 20th. The sector is out of favor in a major way. And with the 10-year yield finally pushing up to 3% now, it's not hard to see why. Still, it's worth noting that the market is pushing up 10 and 30-year yields much slower than the Fed is raising its rate.
In other words, the market doesn't buy that the economy/inflation will take off nearly as much as the Fed does. If so, REIT buyers could see capital gains quicker than you might expect. In any case, with the stocks down so far, the values here are hard to ignore, even if one has to keep dollar-cost-averaging for a while.
My favorite REIT continues to outperform. Public Storage (PSA) is still around the $200 level, and just reported nice earnings. I'll keep saying it, this company's unusual preferred-stock centered balance sheet makes it uniquely resistant to higher interest rates. Regardless, the 4% dividend yield from a rare A-rated REIT is appreciated, and fair value is closer to $250/share than the current price.
Shopping center player Kimco (KIM) has not avoided sellers. In fact, you'd think it were a low-end mall REIT from its chart: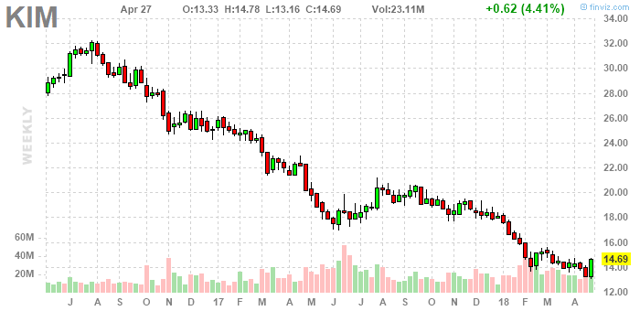 It got a nice bounce on earnings but is still way down from recent levels. I took a deeper dive on its stock last week though, and this level of selling frenzy seems overblown. They have a massively diversified tenant base, and many top-notch retailers that seem internet resistant. Maybe Amazon (NASDAQ:AMZN) will kill everything, but the likes of Five Guys, Dollar Tree (NASDAQ:DLTR), Target (NYSE:TGT), and Trader Joe's seem destined to stick around for at least a while...
The company's bonds all yield in the 3-5% range (even the 2046 maturity loan is still yielding under 5%). The company is at a BBB+ credit rating and actually looking for an upgrade. The credit market clearly doesn't think this is going out of business anytime soon. The well-covered 8% dividend yield is safe unless things change rather dramatically. The stock could keep going lower for now - it's a classic falling knife - but cooler heads should prevail soon enough.
Finally among the REITs, we have EPR Properties (EPR), which offers the exciting combination of an 8% yield and projected 5% AFFO growth this year - and that even includes the non-payment of rent on properties from an education tenant. The market doesn't like EPR because it's a REIT and it owns a lot of (high-end) cinemas, but concerns on the latter point are overblown. Box office revenues are generally stable and AMC is in reasonable fiscal health.
Next up, let's turn to the banks. New York Community Bank (NYCB) is back down to $12, which has the dividend back up to 5.7%. My rule is to buy it if the dividend is over 5%, so the green light is on this month. I've talked extensively about this stock in the past - price target is still in the 16-17 range and enjoy the dividend until it gets there. The market is making a big fuss about their latest earnings report, but nothing much has changed. We're still in a holding pattern collecting the yield until the SIFI limit is lifted. At 0.95x book value, you'll be hard-pressed to find a large US bank with a safer loan book selling under book.
TFS Financial (TFSL) remains even cheaper. Until someone with a louder megaphone than mine makes the world aware that this bank is trading under 10x earnings and 0.5x book value, this stock may stay cheap. Every time I write about TFSL on Seeking Alpha, many comments are along the lines of "but Yahoo Finance says the PE ratio is 47" ... if that's your reaction, you need to look up how to value an MHC such as TFS Financial. In any case, the company continues buying back stock and has said it plans to increase the already generous 4.5% dividend. I'll be quite surprised if this stock isn't north of $25 ($15 today) in two years.
We have just one foreign bank this month. Bancolombia (CIB) shot up as much as 20% over the last month and is no longer compelling at 4-year highs. I'm still taking one last shot at Colombia's other US-listed bank, Grupo Aval, (AVAL) here at $9 though before it too runs off to multi-year highs. The Peso is rallying, Ivan Duque (the conservative presidential candidate) is way ahead in the polls, and oil is surging.
Colombia is set to keep advancing. We also have two more foreign stocks this month: Corporacion America Airports (CAAP), whose bull thesis Free Cash Flow 50 recently explained well here. And there's JD.com (JD), which is getting way out of line with other online retailers and conveniently sits near technical support.
Turning back to the US, Walgreens Boot Alliance (WBA) has sunk again lately and is down to a 10x forward P/E ratio. People really don't like their Dividend Aristocrat stocks anymore. Sure, there's a bunch of unknowns here relating to industry mergers, Amazon fears, and potential regulatory changes. But, we're at 10x forward earnings (and even cheaper on cash flow). What more do you want from a Dividend Aristocrat?
And Qualcomm (QCOM) is squarely back on my radar, as a busted merger and assortment of bad news have caused QCOM to lose all its recent gains: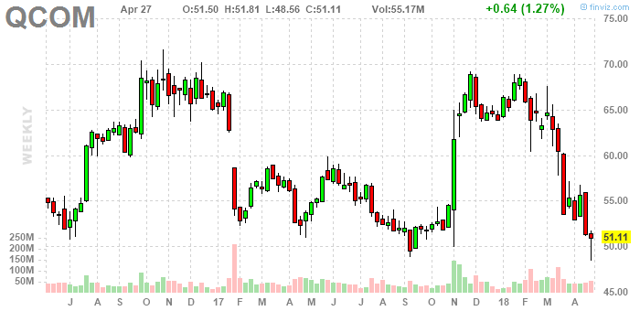 Sure, shareholders would have gotten paid more quickly if Trump hadn't shot down the Broadcom (NASDAQ:AVGO) merger. But this may be for the best. Sentiment is back to negative. Analysts are assuming little to no revenues off patent licensing from Apple (NASDAQ:AAPL) and Huawei over the next year, even though Apple is accruing an accounting charge to pay licensing fees to Qualcomm depending on how the patent suits go. Even regardless of that, QCOM is back under 14x forward earnings and trading at a 4.4% dividend yield. And don't forget, they've got a dominant position for the upcoming 5G rollout.
Disclosure: I am/we are long ALL STOCKS MENTIONED. I wrote this article myself, and it expresses my own opinions. I am not receiving compensation for it (other than from Seeking Alpha). I have no business relationship with any company whose stock is mentioned in this article.