JPMorgan Chase (NYSE:NYSE:JPM) has just reported earnings that were mostly strong, with a few exceptions, prompting this analysis. The stock has had a major run, but in recent weeks, there has been significant weakness in the financials. To be clear, we are bullish on this weakness. The rise in share prices we have seen in recent years is certainly built on future growth in the banking sector resulting from increased economic activity on a global scale as well as benefits to revenues and earnings that stem from rising interest rates.
The recent pullback represents a top idea for investors to consider. In this article, we will examine JPMorgan Chase as the stock has fallen in recent weeks, and we think there is opportunity here. We will discuss key metrics that support the bull case, present our view on the valuation, discuss a relevant LIBOR related analysis, which other analysts are not considering, and assess geopolitical risks. We continue to believe that the reasons for owning JPMorgan Chase stock are plentiful and the fundamental strengths are evident.
Recent price action
We like what we see in terms of recent price action as it pertains to initiating a position at a lower entry point than we could have gotten just a few weeks ago:

Source: Yahoo Finance, Modified By Quad 7 Capital/BAD BEAT Investing
We are recommending a buy at $107.50 for the name. This is based on a pullback of 10% from recent highs, coupled with a strong macroeconomic outlook, and strong fundamental performance of the name.
Key metrics that matter
We at Quad 7 Capital have a wide range of fundamentals and technicals that we look for in a stock, and these vary by the sector and by the company in question. For a financial giant like JPMorgan, we believe that there are several key metrics that you must be aware of.
First, we are not looking for rapid growth. We are looking for slow and steady growth, which leads to improved performance in revenues and earnings, as well as improvement in underlying key metrics. For example, we want to see a growing loan and deposit record, a stable-to-improving efficiency ratio, ideally under 60%, as well as of course improving revenues and earnings, which we expect to grow in the single-digit range year over year.
It is also critical to look at the provision for credit losses to understand the burden of toxic assets on the company's books. Moves in this metric can signal improving health of a bank, or could point to problems brewing. Ultimately, these metrics allow us to compare companies across the banking sector.
Exceeding expectations?
There is no doubt that JPMorgan had a strong quarter overall, and the top and bottom line numbers demonstrate the earnings power of the company. However, the bottom line beat was driven by some accounting changes. Investors should be aware that this quarter included $505 million of pretax mark-to-market gains related to the adoption of new recognition and measurement accounting guidance for certain equity investments previously held at cost. This boosted earnings by $0.11 per share.
Even recognizing this gain, and factoring in the heavily competitive atmosphere for global banking, the results were impressive. Managed revenue was $28.5 billion, up 10.3% year over year. This revenue growth was well above our expectations for high single-digit growth, and surpassed our expectations for $28.0 billion by $500 million. Further, it surpassed analyst consensus by $860 million, indicating a quarter of strength. This continues a positive growth trend in revenues in the last few first quarters: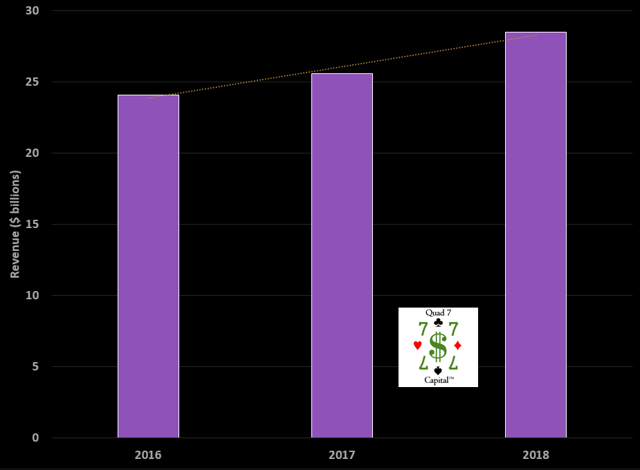 Source: SEC Filings, Graphics By Quad 7 Capital/BAD BEAT Investing
As you can see, revenue continues to rise steadily. This was also the fourth quarter in a row that the bank has surpassed our projections for the top line. This fact supports our bull case. While revenues were strong, expenses were well managed, and as a result the company registered continued growth in earnings: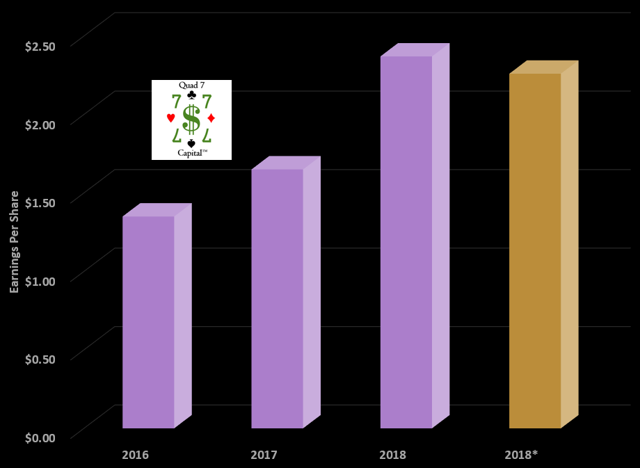 *Earnings figure backs out accounting adjustment
Source: SEC Filings, Graphics By Quad 7 Capital/BAD BEAT Investing
As you can see we included a bar that controlled for the accounting change so that you could see the improvements relative to prior years. We were looking for $2.30 in earnings, and without the adjustment, this figure was just missed, and is perhaps the only blemish we note in the quarter. In last year's Q1, the company saw earnings per share of $1.65 per share, or $6.5 billion in net income.
Here was saw net income of $8.7 billion, or $2.37 per share. While much of the growth over time is indeed organic, tax law changes were an expected benefit that are built into the result. We also recognize that both the accounting change and the reduced share count boosted earnings per share. Still, we are pleased to see the company is continuing to repurchase shares: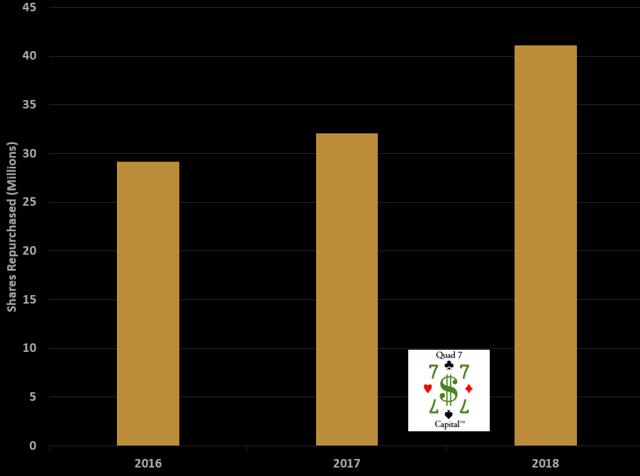 Source: SEC Filings, Graphics By Quad 7 Capital/BAD BEAT Investing
JPMorgan has consistently repurchased shares. Although the present graphic represents Q1 repurchases, keep in mind the effect of share buybacks that were happening in all other quarters. The share count reduction inflates earnings per share, and by definition, is increasing shareholder value. Combined with the gains seen organically and tax reform, repurchases help explain the continued rise in earnings. Let's discuss what went into these earnings, most notably interest and non-interest sources of income.
Income from interest and non-interest sources
Two of the most critical metrics to be aware of are the income derived from interest and non-interest sources. What we think is key to note, and this is why we have mentioned organic growth above, is that the bank's net interest income and non-interest income continue to demonstrate improvement: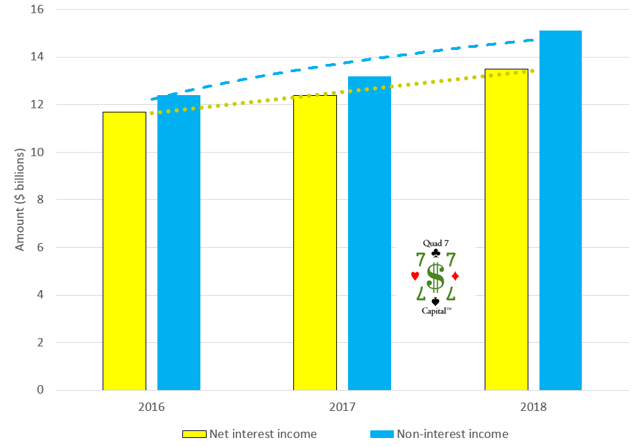 Source: SEC Filings, Graphics By Quad 7 Capital/BAD BEAT Investing
Net interest income continues to rise. Non-interest income has seen a little volatility in recent quarters, however it once again showed improvement in the first quarter. The key to be aware of is that over the years the trend is higher for both measures over time. We project this trend to continue.
In the present quarter, non-interest income rose 12% to $15.1 billion, compared to last year's comparable quarter, which saw $13.2 billion on this metric. There are several reasons for this increase. Non-interest income saw a boost thanks to higher revenue in the company's "Markets" segment. There were also lower acquisition costs for credit cards. higher auto lease fees, and higher management fees in the "Asset and Wealth management" segment.
The reason for the improving interest income trend was pretty straightforward and what we are seeing completely reflects the gains we projected across a host of prior opinion and analysis pieces. Interest income grew thanks to higher interest rates padding revenues on newer issued loans. Couple the higher interest rates with the fact that loan growth was up year-over-year, and we have a recipe for solid net interest income growth. We continue to project that this will continue moving forward.
Simply put, net interest income continues to grow meaningfully. This quarter, net interest income jumped by $1.1 billion over last year. It rose to $13.5 billion, from $12.4 billion last year. As rates continue to rise in 2018, we project that this metric will surpass $14 billion per quarter by the end of 2018. With such growth it stands to reason that more loans are being made and deposits taken in.
Loans and deposits trend higher
Rising loan activity, in conjunction with rising deposits, are critical metrics for us. We strongly believe that the best banks continue to grow loans and deposits, as these simple concepts are how a bank makes money in the traditional sense. The bank takes deposits at a low interest rate, and lends at a higher rate. It is that simple. Factor in the quality of loans (that is, the credit worthiness of borrowers and the rate/term of the loan), and the bank can make serious money.
This brings us to an important point. More loans and deposits alone are not a strength, but if the deposits are being used wisely to generate income (see efficiency ratio below) and loans are of high quality (see provision for credit losses below) then growth here is a strength in our opinion. That said, both loans and deposits continue to improve for the company: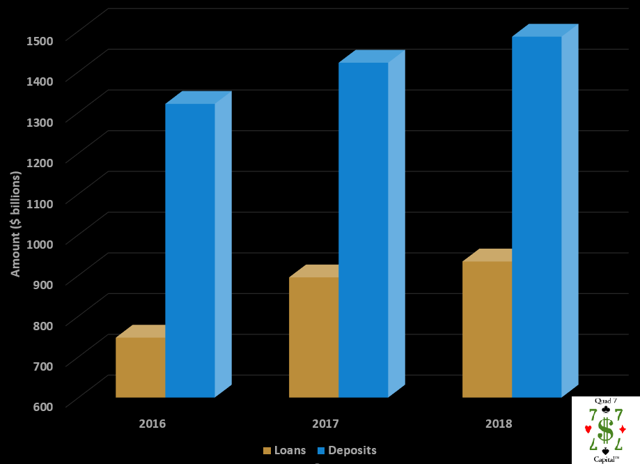 Source: SEC Filings, Graphics By Quad 7 Capital/BAD BEAT Investing
Loans were up and came in at $934 billion in the quarter, up from $895 billion last year. Deposits continue to increase significantly as well. They rose to $1.486 trillion in Q1 2018, rising from $1.422 trillion last year.
Given the current trend, as well as our expectation for rates and the sector, we now project that loans and deposits will surpass $980 billion and $1.5 trillion, respectively, by the end of 2018. As the company's loan profile continues to grow, we must be cautious, and consider any changes into the company's provision for credit losses.
Credit loss provisions decline
Provisions for credit losses pulled back in Q1 2018 after rising a bit in the year 2017. When provisions expanded, we were cautious because it could have meant that the company was issuing more risky loans. At the same time, it could also have meant that more loans in total were being granted, or it could have been some combination of both.
We believe the increase in loss provisions in 2017 were a result of growing loans and the loan mix, and not necessarily an increase in risk, or lower standards for lending practices. We also should point out that in 2017 there was a higher provision thanks to student loan debt, which was eventually sold off. Net charge-offs were slightly higher for credit cards this quarter versus a year ago. Still we are pleased with the level of provisions for credit losses in recent years: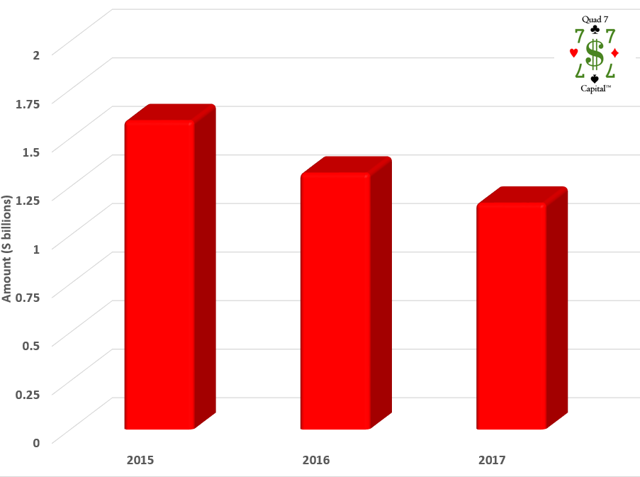 Source: SEC Filings
We will add that in addition to this trend, nonperforming assets fell from Q4 2017 from $1.03 billion to $0.92 billion this quarter, while non-accrual loans were also down to $0.69 billion $0.81 billion last quarter. In terms of percentages, we see that total non-accrual loans fell to 0.63% of total loans versus 0.70% a year ago. In addition, gross and net charge offs declined by 16% and 20%, respectively, compared to a year ago. We believe the improving asset quality trends we have noted will continue. What is more, the efficiency of the company improved.
Highly efficient operations
One metric that has been mostly flat over the years for JP Morgan is its efficiency ratio. The good news is that the bank is highly efficient, boasting an efficiency of 60% or less most quarters, which meets or exceeds our goal of 60%. The efficiency ratio measures the costs expended to generate a dollar of revenue. it is a simple, but highly informative metric for investors to consider. We saw an improvement this quarter: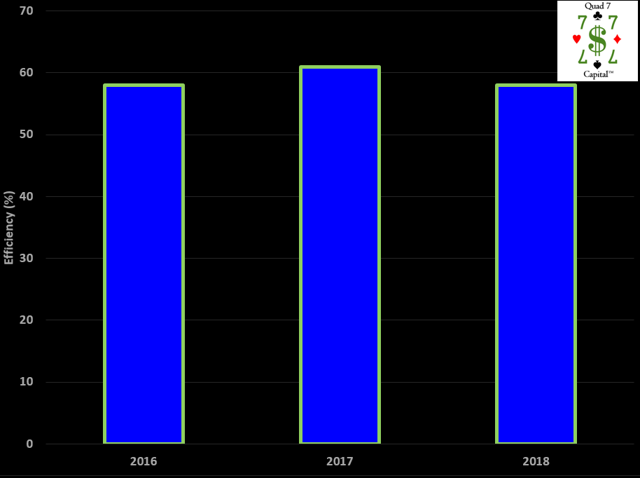 Source: SEC Filings, Graphics By Quad 7 Capital/BAD BEAT Investing
Overall there was a strong 58% operating efficiency ratio for the bank. This was an improvement from last year's 61%. While we have generally stuck with a textbook gold standard target of about 50% for this critical indicator, our goal is at least 60%, so JPMorgan's results are strong, and among the best in the sector. While there is still room for improvement, we are very pleased, and project that the company's 2018 reported efficiency ratio will be under 60%. Aside from the strong fundamentals, there are other reasons to consider the stock on this pullback.
Dividend growth stock
The bank continues to raise its dividend. Most recently, the company raised its dividend to $0.56 per share on a quarterly basis, or $2.24 per share annualized. Based on the current share price of $107.60, JPMorgan has a dividend yield of 2.1%. While this is not an impressive yield, it is on par with the S&P 500 index, and it is a dividend that continues to grow, making JPMorgan a dividend growth stock. Take a look at the history of raises: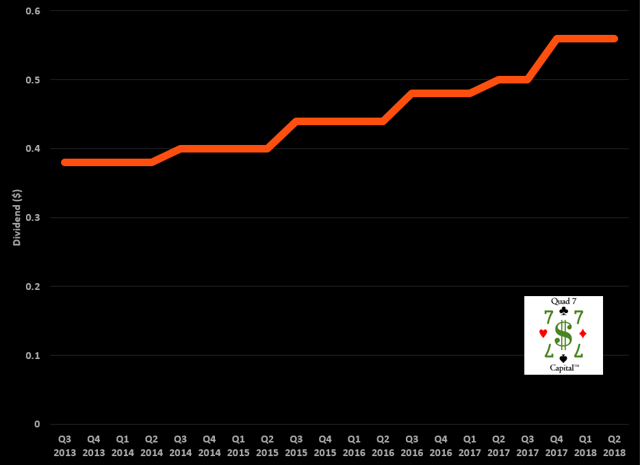 Source: Nasdaq.com, Graphics By Quad 7 Capital/BAD BEAT Investing
The new payout of $0.56 quarterly for 2018 was a 12% hike over the former payout of $0.50 last paid in 2016. Let us not forget that the dividend was raised twice in 2017. But of course, continued dividends are not without risk. We say this because JPMorgan is a massive global financial that is critical to the financial stability of our economy, the ability to return cash to shareholders is subject to the company's ability to meet or exceed regulatory standards, most of which are outlined in the Dodd-Frank act.
As a prime example, the Fed's annual stress tests are a major determinant of the bank's ability to raise its dividend. Last year, JPMorgan easily passed the Fed's stress test for 2017 and was able to implement a dividend hike. We currently see absolutely no reasons to suspect 2018 will be any different.
Additional valuation considerations
We expect JPMorgan to generate earnings per share of $9.30 in 2018 factoring in the present trajectory of earnings, tax reform, and new accounting methods. Based on this expectation, the stock is currently trading at a forward price-to-earnings ratio of 11.5. We believe this is attractive in the banking sector, particularly when considering the macroeconomic outlook for banks is only improving with additional rate increases approaching.
This is where we believe some rudimentary valuation calculations suggest we have a strong idea on our hands. If the present price-to-earnings ratio of 14.2 is held, it suggests a 2018 price target of $132.06 if $9.30 in earnings are achieved. This represents a $24.46, or 22.7% upside from current levels. Using a much more conservative 13.0 multiple, we see a price target of $120.9, which represents at least 12.3% upside.
Another way to look at the valuation of the company is to consider its tangible book value, and the price of the stock relative to this book value. This is a bit of a risk to consider here, because on this measure, some may consider JPMorgan Chase overvalued. We respectfully disagree, but we have to present this bearish aspect for your consideration. Tangible book value continues to grow year after year, but relative to peers, this metric suggests the stock is somewhat expensive.
In the present quarter, tangible book value was $54.05, rising 4%. Based on the present share price of $107.6, the stock is trading at nearly a 2.0 price-to-tangible book ratio. So what is the problem? Well it is more expensive than most in the sector, with Citigroup (C) trading at $68.01 with a tangible book value of $61.02, as well as Wells Fargo (WFC) trading at $52.09 versus a tangible book value of $31.33. This means the price-to-tangible book ratios are 1.11 and 1.66 for Citigroup and Wells Fargo, respectively.
As such, JPMorgan is valued far higher. It is our opinion however that JPMorgan has earned a superior ratio because it is operationally superior when we consider all of the aforementioned key metrics, recent history of the banks, as well as our outlook for performance. Further, there is one issue that other analysts here at Seeking Alpha just have not addressed.
A surge in Libor is not being priced in
In a recent Bloomberg analysis, it was learned that a rise in interest rates could lead to a significant boost in earnings. Most banks do not disclose the exact proportion of their lending at fixed versus variable rates. When they do, we really have no way of knowing what is indexed to Libor. Well, we know that JPMorgan reported $122 billion of wholesale loans were at variable rates. Assuming those were all indexed to Libor, the 1.19 percentage-point increase we have seen in the Libor rate could mean another $1.5 billion in additional income.

Source: Bloomberg Analysis
if we take this $1.5 billion pre-tax as reality, and assume the company gets around $1 billion (which is conservative given a projected 20% tax rate) added to its net income figures here in 2018 above our projections, that is a 3-4% boost to the bottom line. This means a higher potential price target and impacts our valuation.
Assuming all else being equal, and this figure accurately translates to a 3-4% boost above our earnings expectations of $9.30, then we could be looking at potentially $0.28 to $0.37 added to our expectations. While this is a best-case scenario, it would increase significantly our aforementioned valuation price targets (based on maintaining the present multiple of 14.2) to $136.06 to $137.31. At the more conservative 13 times earnings valuation, we would see a price target of $124.54 to $125.71.
Taking the lowest new target and the highest new target, this implies 15.7% to 27.6% upside from present levels.
Investor risk
There are a few risks to consider here. First, like with any other equity investment, global market turmoil will adversely impact your investment as selling pressure mounts. However, this does lead to a real risk with JPMorgan as the bank is involved in wealth and asset management.
Market turmoil may lead to higher fees from investors trading, but it will most likely lead to less money being put into the bank for investment and wealth management purchases and could adversely impact this segment for several quarters should we see real market turmoil.
In addition to impacting investor sentiment, real turmoil could lead to changes in consumer spending patterns. This would be detrimental to the traditional banking side of the business, likely leading to reduced loan origination, changes in consumer spending patterns, and possibly higher defaults, which would impact charge-off rates and the overall quality of JPMorgan's assets. Keep this in mind.
While JPMorgan has passed government regulatory tests with flying colors, big banks remain villainous to much of the public for what they consider essentially gambling with depositors' money before the Great Recession. Given this sentiment and the real impacts of 2007-2009, the banks have been under heavy taxpayer and lawmaker scrutiny after many of the global banking giants needed taxpayers to bail them out after the collapse of Lehman Brothers, which threatened to destroy the global financial system. In an effort to prevent such catastrophe again, things like Dodd-Frank came to pass.
We bring this up because there is ongoing regulatory risk associated with investing in JPMorgan Chase. While we do not foresee immediate risk here, aforementioned economic turmoil could lead to significant issues with banking investments. We think the most relevant risk is the need for approval of its capital plans by banking regulators. Most notably, more stringent requirements from the Fed could lead to an inability to raise dividends, something we have lauded JPMorgan for and utilized as an additional reason to invest.
We applaud JPMorgan for surviving the many years of rock bottom interest rates, which squeezed net interest margins. For years it was difficult to really improve net interest income as the spreads between interest payments on deposits and what they charge to lend money via mortgages and other loans was small. This has begun to change as global interest rates finally started rising.
That said, our bullish thesis is predicated on the fact that higher rates will allow JPMorgan to expand net interest margins and boost profitability. However, if for some reason the Federal Reserve does not adhere to its plans to continue raising rates this year, then our expectations will likely be overestimating profits and upside in the stock.
While we mentioned numerous regulatory issues, bear in mind that our estimates are also contingent upon current tax law, and specifically income tax laws. While this is not an immediate risk, any rollback of the Tax Cuts and Jobs Act by the present or future Congress could materially weigh on net income and earnings per share, which would adversely impact our valuation analyses.
Finally, we also opined that the Libor analysis could result in unexpected benefits to JPMorgan Chase. We should add that any and all benefits implied are best case scenarios. In reality, there could be little to no benefit. We will need to wait and see how future quarters play out to understand if there is a real perceived benefit here. Actual results could be much lower than expected.
All things considered
There is double-digit upside here, as high as 27.6%, based on our analysis. You are also paid a decent dividend that is growing thanks to the strong performance of the bank. Our analysis also excluded the positive benefits to earnings of ongoing share repurchases. The Libor analysis by Bloomberg is underappreciated. JPMorgan is best-in-breed, and it commands a premium-to-tangible book value in our estimation.
While we have made projections for critical metrics throughout the column, we have to consider that the stock is pulling back despite all of this. We do not see trouble on the horizon, and instead, remain bullish. The recent weakness is an opportunity to get long, clearly evidenced by the fact that JPMorgan's fundamentals continue to improve, and there is no sign that this will slow down.
With interest rates rising into the future, we continue to believe that the financial cycle upswing will continue as interest rates rise. We wanted a pullback in this name before recommending investors initiate a position. That time is now, and it is a top idea from our perspective.