Brinker International (NYSE:EAT) is breaking out higher as its turnaround effort is gaining traction. After declining the last few years, its share price has formed a bottoming pattern, and is currently breaking out higher. The price action is being driven by strong operational results put in motion by management's turnaround effort. As the company innovates its brand, looking to drive more traffic, investor optimism is growing.
Price Action
EAT is seeing a reversal higher in its share price as it turns around its operations. A slowdown in both earnings and revenue the last few years weighed on the company's share price. But management's new focus on turning around its brand is gaining traction. Stronger operational momentum seen in the last quarter is driving investor optimism, which is leading to share price gains.
Following volatility in the broader equity market earlier this year, EAT reversed higher, forming a bottoming pattern. Its recent price breakout above $40 was significant as this level had acted as strong resistance in recent months. EAT is reversing higher amid fundamental momentum.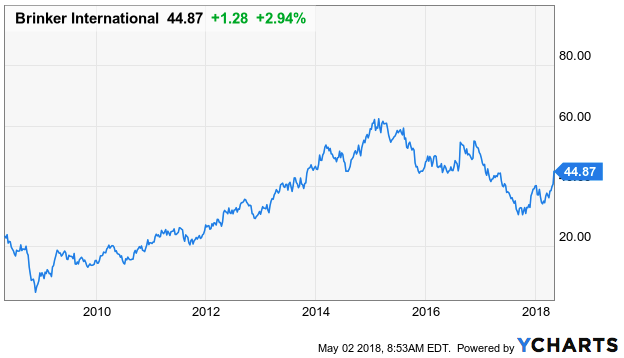 Fundamental Narrative
EAT is experiencing strong growth potential as it turns around its core operations, leading to improved investor optimism. Over the last quarter, its traffic results significantly outperformed the category, according to its earnings call. Within its turnaround effort, the phases have been to put the new strategy in place, implement it effectively, then see momentum with significant changes in traffic, which is currently taking place.
EAT reported comp sales of minus 0.3% for the quarter, a meaningful sequential improvement as more aggressive value promotional activity drove comp sales with traffic as opposed to check, according to the earnings call. Price contributed only 1.2% to comp sales, a necessary drop from the 2%-plus levels it had been running for the last several quarters. More volume at lower prices is a more sustainable trend, especially amid the hyper-competitive restaurant industry currently. At the brand level, Maggiano's reported positive comp sales for the quarter of 0.5%, while Chili's reported quarterly comp sales of minus 0.4%.
Maggiano's delivered positive comp sales, and when adjusted for the significant weather the company had on the East Coast, it was an impressive number, primarily driven by double-digit increases in takeout and delivery, according to management. The restaurant food is appealing to take out, with management working to add individual delivery to its already strong catering business. It is also enhancing its banquet business and has new menu innovations, all attempting to drive relevance and increase traffic.
Additionally, EAT is focused on improving its Chili's franchise. Management has improved the Chili's menu, atmosphere, as well as faster and more consistent service. To date, the effort is having a positive impact on the value perception of Chili's, leading to improving traffic trends.
Chili's is looking to drive traffic by getting more aggressive at lunch. It recently launched an advertising campaign reminding people about its Lunch Combo offering, which drove several percentage points of improvement in traffic, according to management. EAT followed that up with its 3 for $10 promotion, which is also driving traffic at lunch and dinner. The addition of its $5 Margarita platform is growing its higher-margin alcohol sales and contributing to traffic growth as well.
By continuing to invest in food quality and menu innovation, Chili's is targeting what it does best; burgers, ribs, fajitas and margaritas, according to management. It has new recipes coming soon designed to increase frequency as well as preserve simplicity in its operations to maintain its improved speed and consistency. Ultimately, Chili's is seeing increased frequency both among heavy users and light users as they come back more often to see the new restaurant offerings.
Its online ordering is also aiding in growth at Chili's. Its curbside program is one of the easiest takeout experiences in the industry, leading to online ordering growth upwards of 30% during the last quarter. The more efficient model is consistent with management's goal of improved experience for the guests, which is increasing its overall To Go business to more than 11% of total sales.
Globally, the company also continues to see growth. In the current year, EAT has opened more than 30 restaurants, with one being its first partner in China, whose territory will cover the Shanghai region. EAT is also in negotiations with additional partners to cover more regions across China. Overall, this upcoming fiscal year will see further expansion of the Chili's footprint in Asia, according to management.
An issue affecting the company's bottom line is rising cost of sales, which may continue in coming quarters. Its cost of sales for the quarter increased 70 basis points as EAT invested in the abundance and quality of its burgers, ribs and fajitas, due to its successful traffic from its 3 for $10 promotion that started in early March. Restaurant labor similarly increased 50 basis points as the company experienced higher insurance claims during the quarter that added to the ongoing market-driven wage rate pressures which continued in the 3% to 4% range, according to the earnings call.
Below is a chart of EAT's earnings per share and revenue over the last decade. The two major observations are that 1) the company has been slow to turn around its revenue following the financial crisis, and 2) efficiencies have driven bottom-line results. This is encouraging as management has shown the ability to operate in a lean environment. Should its turnaround efforts lead to more growth, it is reasonable to believe that the bottom line will similarly benefit. This should continue to drive investor optimism, leading its share price higher in coming quarters.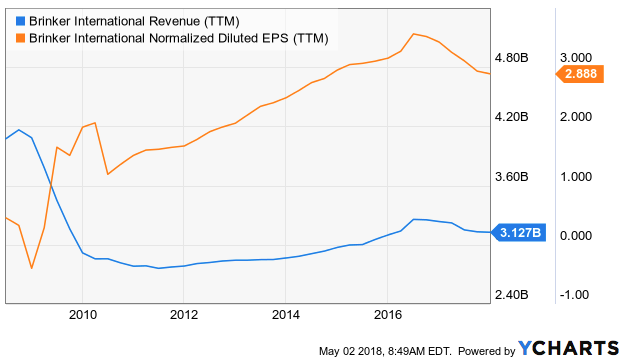 Conclusion
EAT is breaking out higher. After declining for the last few years, the share price has formed a bottoming pattern and currently breaking out higher. As the company innovates its brand, looking to drive more traffic, investor optimism is growing. I am buying stock in the name as a longer-term turnaround play.
Disclosure: I am/we are long EAT. I wrote this article myself, and it expresses my own opinions. I am not receiving compensation for it (other than from Seeking Alpha). I have no business relationship with any company whose stock is mentioned in this article.