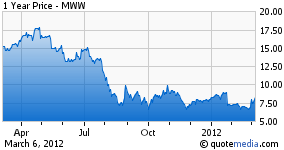 Monster Worldwide (NYSE:MWW) closed the day up 11% yesterday after the global online employment solution provider announced it hired advisers to engage in a strategic review of its business. Shares trade above $8 for the first time since January when shares lost 20% in a single day after the company issued a cautious first quarter outlook.
Review
Monster has hired Stone Key Partners LLC, Bank of America and Merrill Lynch to advise on the strategic review of the company which might include the sale of the entire business.
CEO Iannuzzi announced at an analyst conference that the company will pursuit "strategic alternatives to increase shareholder value".
Long term under performance
Shares of Monster traded as high as $60 in 2006. Over the last half a decade shareholders have seen losses of over 85% on their investment. To make things worse, investors did not receive any dividends in the meantime.
Shares did briefly recover at the end of 2010 when they hit $25 per share, but have quickly fallen back to all time lows of $7 per share.
The online employment provider suffers from fierce competition from new entrants such as Linkedin (LNKD), which have a better tailored online business model. General weakness in the employment market did not help either.
Recovery doubts
With unemployment rising in the recession and fierce competition from new entrants like Linkedin, Monster obviously had a very harsh time. In 2009 revenues fell almost 33% in a single year. In subsequent years revenues have recovered but remain far below revenues generated in 2008.
With unemployment declining in the U.S. as the economy is recovering, the first quarter outlook came as a major disappointment. In January Monster announced that it expects a 3-7% revenue decline for the first quarter of 2012, while analysts expected 3.5% revenue growth.

Take-out value
Factoring in a 8% jump on the opening tomorrow, the market values Monster at roughly $1 billion. If we subtract the $250 million cash position this would imply a $750 million valuation of operating assets (the company has no long term debt). At this price, shares are valued at 0.7 times revenue and 14 times 2011 earnings.
A small to medium player like Monster will probably attract a wide range of potential investors. Private equity might be interested as the company has no debt and has opportunities to be streamlined. Alternatively, traditional employment providers with a weak presence in the US could make a strategic move.
At these levels, the stock is a speculative long term buy
Disclosure: I have no positions in any stocks mentioned, and no plans to initiate any positions within the next 72 hours.