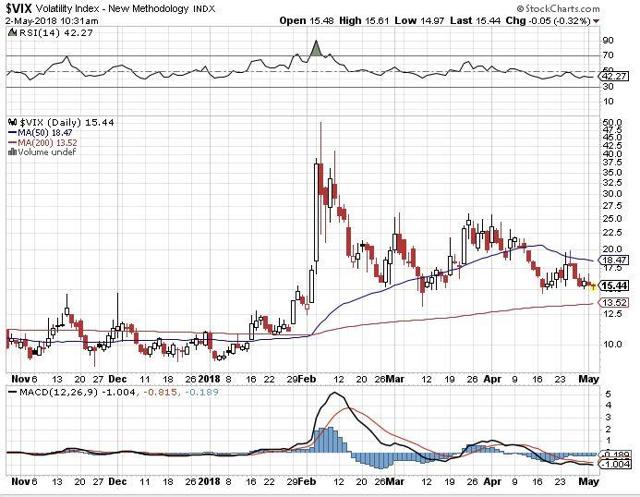 While volatility has been rather subdued lately, there is good reason to believe that the CBOE Volatility Index or VIX may be just taking a pause before making another move above the 20 threshold. For well over a year (mostly during 2017), volatility meandered around its lowest levels on record.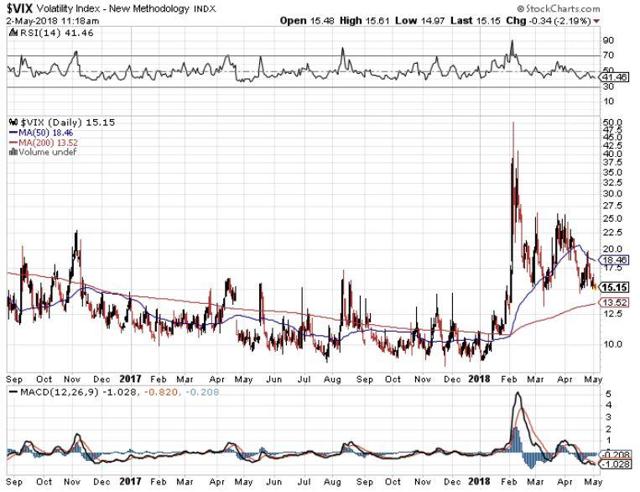 During this period, every equity dip was bought leading to a continuous suppression of volatility. As seen in the chart of the S&P 500 below (or in the SPY), equities had a very steady uptrend from late 2016 through early 2018.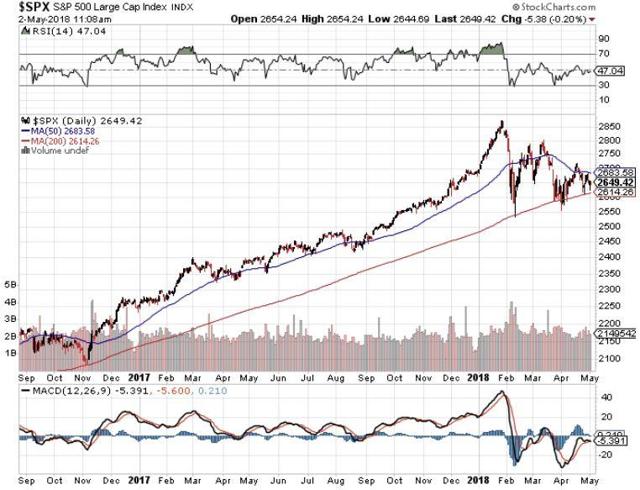 During the same period volatility bounced around within a very narrow and low corridor, setting record lows more times in 2017 than in the previous history of the VIX Index. Out of 68 sub-10 VIX closes, 52 were in 2017. With 7 sub-10 closes so far in 2018, that leaves only 9 other times since 1990 that the Index closed below 10 before its 2017 record low period.
It is fairly clear that this was an unusual period for volatility, and as the above chart depicts, things changed dramatically beginning in late January through February, and have only appeared to settle down over the past few weeks. This recent "calm" in volatility, if there is such a thing, begs the question of what happens next? Was the sustained period of subdued volatility a new normal, or was this only an anomaly?
This is a difficult question to answer. On one hand, you still have systematic portfolio strategies such as volatility targeting, risk parity and CTAs as well as an assortment of heavily traded volatility ETPs (VXX, TVIX, UVXY, etc.) that were key players in the volatility suppression of 2017. A lot of people made a lot of money shorting volatility to take advantage of roll yield in the VIX futures complex. This was largely accomplished with leverage through options and futures contracts. The abundance of these strategies were a main contributor to the February "Volmageddon" where all of the shorts were squeezed simultaneously leading to a spiraling up move in volatility as leveraged shorts had to fill in a market of thin supply.
There has been speculation that this pushed the weak hands out of the market, but I would venture an educated guess that many are still looking for the roll yield play to continue once the market stabilizes. So, this group would see the 2017 low volatility regime as the new normal, and they expect that it will resume soon. If it does, there will likely be new short volatility products coming to replace those that failed such as XIV. Then, we will see how long it takes for those "funds" to succeed or eventually crash and burn like their predecessors.
On the other side of the equation, there are several reasons to believe that volatility is only temporarily pausing before another surge upward. One easy explanation for the current pause is the euphoria over corporate earnings. With companies like Netflix (NFLX), Amazon (AMZN) and Facebook (FB) posting earnings beats, many mainstream pundits are happy to tell the world that we are in a period of sustained growth without an end in sight. The recent corporate tax cut, that is now priced into the market, is a major contributor to the earnings bonanza. So, there is no need to worry because this will last forever, right?
Reality is likely to come back to the markets soon. The FOMC will be making an announcement this afternoon. It is widely expected that rates will remain unchanged, but rates have been rising. The psychological 3% level was hit last week, and that spooked investors. We can expect rates to move higher over the next several months based on the market's expectations for the FOMC.
Higher rates will not be good for equities. Valuation levels are still at extremes relative to their averages, and rising interest rates will lead to mean reversion for equity multiples. It is very difficult to see further multiple expansion resulting from higher rates.
The administration's recent "trade policy" is another factor that could lead to market instability. Contradictory headlines or tweets seem to come on a daily basis. It is hard to imagine a less stable platform from which to base investment decisions. Throw in some extra crazy from our President, and you have plenty of reasons for investors to question further investment allocations.
The US Space Force aside, higher rates, coupled with high multiples and an unstable trade policy (not to mention the ongoing Mueller investigation) would seem to be reason enough for elevated volatility in the near term. An allocation to long volatility (VXX, futures or options, etc.) could cushion portfolio downside as these situations play out. At the moment, only a small hedge would seem appropriate until the market takes a more pronounced direction.
As always, I strongly urge anyone considering this type of investment to fully investigate the performance characteristics of any security they are planning to use before implementing any trading strategy. This article is just my opinion, and I encourage all readers to decide for themselves whether they find the contents relevant to their own situation. If you find my articles interesting, informative and useful, please follow me by clicking on the follow button at the top of the article. To view my past articles, you can look here. Thank you for reading.
Disclosure: I/we have no positions in any stocks mentioned, and no plans to initiate any positions within the next 72 hours. I wrote this article myself, and it expresses my own opinions. I am not receiving compensation for it (other than from Seeking Alpha). I have no business relationship with any company whose stock is mentioned in this article.