Intelsat: Sell And Lock In Profits
Summary
Intelsat's quarterly results were more or less inline.
However, for several quarters now, quarterly results are not the center of attention. The center of attention is the FCC outcome.
Not having enough clarity as to the roadmap of the FCC decision and given the mythical profits the stock has given, I am recommending selling Intelsat shares.
Intelsat's (I) Q1'18 results were nothing special. For the record revenue was $543.78M higher by 1% Y/Y, and adjusted EBITDA was $392 million, lower by 4% Y/Y. EPS came in at a loss of $0.56, missing by $0.17. Overall, I was not expecting anything of the quarter, and the results were ballpark of what I was expecting.
But if you have noticed, I have not paid much attention to Intelsat's earnings for several quarters now. This is because for some time now, everything has been about C-band licensing and not earnings.
As was expected, most questions in the conference call were about the C-Band spectrum. And to be honest, the questions in the conference call complicated matters a little instead of shedding light on the FCC outcome.
Let me share with you some of the dialogs.
We've had a number of meetings with representatives from the FCC. Their public comments and actions indicate an interest in our proposal.
While I would not expect Stephen Spengler to say anything that might conclude the proposal is a done deal, I did hope for something better than an indication of interest to the company's proposal.
An indication of interest was good enough to speculate on Intelsat shares when the stock was at $3 share. At $13, I need a little more confidence that the proposal will be accepted to continue holding the stock.
The process going forward will, no doubt, be a complicated series of events. The FCC controls the process, the timeline and the ultimate order. For that reason, as we answer questions today, we'll refrain from addressing topics that require speculation and stick to the fundamentals of our proposal.
This is something we know for a while now. And to be honest, it makes it very difficult to invest in a stock when you don't have a clear time frame on the main catalyst. In fact, I was hoping for the FCC to decide by Q1, and here we are in Q2 already, without a clear time frame as to when the FCC will make a final decision.
Sebastiano C. Petti - JPMorgan Securities LLC

Hi. This is Sebastiano Petti on for Phil. Thanks for taking the question. I know, Steve, you mentioned that you're trying to refrain from answering speculative questions or topics. But just given recent comments from FCC commissioners about clearing 200 megahertz to 300 megahertz of spectrum versus your 100 proposal, I mean what is the potential you or SES come up with a new proposal, with a path to that goal before an NPRM is issued this summer?

Stephen Spengler - Intelsat SA

Well, you're right. I don't really want to speculate on what's going to happen in the coming months, because it is going to be a complicated process with the FCC. But let me just say this, we do believe it's possible to clear more than 100 megahertz over time. But it really is going to be a matter of timing, cost and complexity. It's not a small undertaking.
So, the FCC was thinking about 200-300 megahertz of spectrum, while Intelsat and SES were talking about 100 megahertz. And as Stephen Spengler replied, 100 megahertz is possible, but it will not be easy. While I did not think it would have been easy, I did think it would not be that hard either.
Anyhow, the conference call made me aware that many things might go wrong, and that the process might take longer than I imagined.
Please note there were many more issues talked about as well as many C-Band questions. I advise investors to read the conference call transcript (link above) for better clarity of the company's quarter.
Let me put on my speculator's cap once more
The difference between speculation and investment has to do with the amount of information available to make a decision. The less information you have at your disposal, the more speculative the decision is.
When I was making a speculative case for Intelsat shares at the $3 handle, the market cap of the company was about 1/4 of what it is today.
At the $3 level, main issue that was relevant was the balance sheet and the company's quarterly results. The speculation part was an added bonus. Today, however, everything rests on what the FCC will decide in the future.
As such, today we need more clarity. It's not enough for management to simply give investors a few crumbs of information anymore. Investors need the entire loaf of bread to be able to figure out what to do.
While I am not blaming management in any way, at the same time, we do not have enough information to be able to decide if Intelsat shares are worth buying, holding, or selling. This is because we do not have enough clarity on the FCC decision.
In fact, we have no idea when the FCC will make a decision. We also don't know how long it will take for Intelsat to receive its first dollar of monetization revenue after the FCC makes up its mind.
We also don't know if Intelsat will sell a portion of its C-Band spectrum (for a one-time lump-sum consideration), or if they will receive monthly licensing revenue from those interested.
We also don't know how much money the spectrum might be worth. I am not kidding when I tell you I have yet to see any kind of guess from anyone.
And the longer we continue without a roadmap or guidance, the higher the chances the stock will correct. Especially given the mythical profits it has given shareholders over the past several months.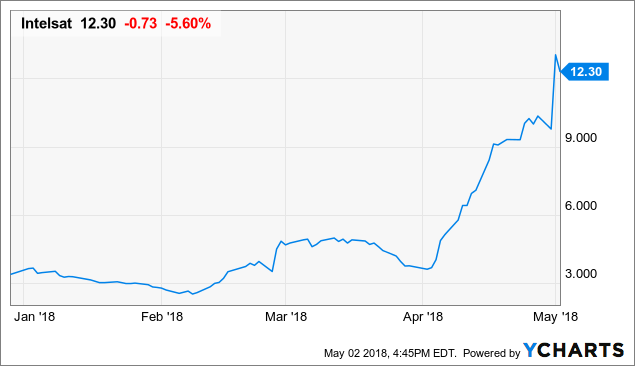 Bottom line
For the first time, I am advising readers to sell Intelsat shares. We simply do not have enough clarity to be able to decide what to do from now on, pertaining to the FCC outcome.
Please note that my call has to do with the unknown factor pertaining to the FCC outcome and not the company's core business.
I am assuming the average reader who followed my recommendation is sitting on 200-300% profits to date. Due to the uncertainty of the FCC outcome, those who have shares from much lower levels should lock in profits. The market can give it, but it can also take it away.
This article was written by
I only look at stocks that have the possibility to double over a twelve month period and stocks in which the risk/reward ratio payout is high. In addition I focus on swing trade opportunities. I focus more on valuations and risk/reward metrics as opposed to what make companies tick. I have been a professional investor for over 20 years and during the past several years an economics analyst and financial writer for capital.gr, the biggest economic news portal in Greece. I have managed money from time to time and have also done some seed venture capital projects in the past.
Analyst's Disclosure: I/we have no positions in any stocks mentioned, and no plans to initiate any positions within the next 72 hours. I wrote this article myself, and it expresses my own opinions. I am not receiving compensation for it (other than from Seeking Alpha). I have no business relationship with any company whose stock is mentioned in this article.
Seeking Alpha's Disclosure: Past performance is no guarantee of future results. No recommendation or advice is being given as to whether any investment is suitable for a particular investor. Any views or opinions expressed above may not reflect those of Seeking Alpha as a whole. Seeking Alpha is not a licensed securities dealer, broker or US investment adviser or investment bank. Our analysts are third party authors that include both professional investors and individual investors who may not be licensed or certified by any institute or regulatory body.