Last year when we saw a 10x return in Bitcoin, many investors were completely shocked. The average stock doesn't go up by more than 8% a year, so seeing such massive returns was quite unusual. Since then however, many have grown accustomed to the wild price swings in the crypto markets.
We saw numerous cryptocurrencies skyrocket by a lot more than 10x in 2017, but we aren't concerned with the past - we're concerned with the future. With this in mind, I believe OmiseGO (OMG-USD), currently the 19th largest cryptocurrency by market cap, will see absolutely stellar returns in 2018.
OmiseGO Financial Fundamentals
For starters, the fundamentals show us that there's still an incredible amount of room to grow. Comparing its current price, market cap, 24-hour volume, and total supply with that of larger cryptocurrencies such as Ethereum or Litecoin, it becomes very apparent that this is the case.
Current Price: $17.25 (or .00186803 BTC)
Market Cap: $1,760,529,941
24h Volume: $73,242,700
Total Supply: 140,245,398 OMG Coins
While OmiseGO is currently only the 19th largest cryptocurrency in terms of market cap, it's highly likely that it will excel other cryptocurrencies currently outranking it, such as Qtum, VeChain, NEM, and Monero.
Recent Surge
While the financial fundamentals are highly important in determining a cryptocurrency's future success, looking at some other data is very important as well. For starters, when we look at OmiseGO's recent price surge, we will see that consumer sentiment is at an all time high.
In just April alone, OmiseGO shot up by 52% despite the still largely bear-controlled cryptocurrency market.
OmiseGO just hit the critical psychological number of $20 in the last week, which signals investor sentiment is at an all time high.
The easy-to-use and widely accessible cryptocurrency has also been listed on a number of new exchanges, including Bithumb which has already started to take up a sizable chunk of OmiseGO's trading volume.
Expansion into Southeast Asia
One of OmiseGO's key purposes is to be used as a convenient form of exchange throughout the Southeast Asian market. It's already taken up a large chunk of their cryptocurrency markets, particularly in Thailand, Japan, and Singapore, but they don't plan on stopping there.
Next up on the list of countries to work with is South Korea, and after being listed on their largest cryptocurrency exchange (Bithumb) just recently, it seems that this plan may be coming to fruition sooner than we thought.
According to Coin Telegraph, OmiseGO has just signed a major agreement with South Korean banking officials, which could cause the still undervalued cryptocurrency to soar:
Thailand's Omise and OmiseGO have signed a Memorandum of Understanding (MoU) with major South Korean credit card business and technical company ShinhanCard, an affiliate of Shinhan Financial Group, as part of a move towards fintech innovation and Blockchain adoption throughout Asia, according to Omise's press release published Thursday, April 5.
As if this isn't enough, Abra, a major cryptocurrency and wallet exchange service with an intuitive smartphone app just signed OmiseGO onto its roster, as well. Starting today, users will be able to buy, sell, invest, and hold onto numerous cryptocurrencies - now including OmiseGO.
Technical Analysis
In addition to the strong fundamentals and powerful strategic moves made over the past few months, the technical analysis is solid as well. OmiseGO just recently broke through level of resistance that was in place since the cryptocurrency crash of late 2017. This could mark the beginning of a new surge for the rapidly growing cryptocurrency.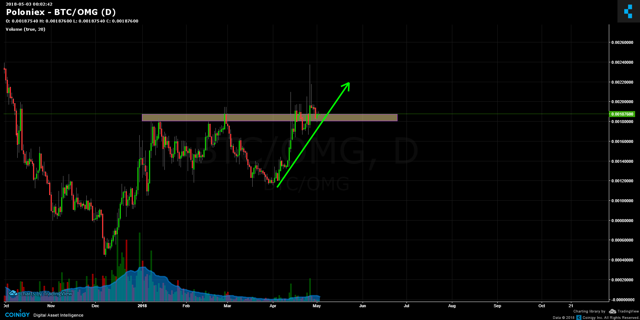 As you can see, the .0019 Bitcoin level was a huge source of resistance for all of 2018, and despite months of knocking on its door, OmiseGO finally managed to shoot through and has continued to do so.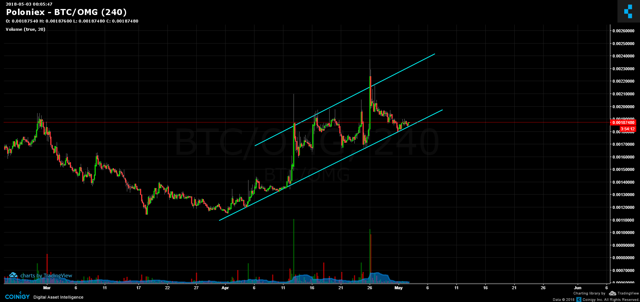 When analyzed on a shorter time frame, the cryptocurrency also looks bullish. It appears to be caught in a bull channel, and despite the recent increases in Bitcoin which is showing signs of growth, the relative value of OmiseGO to Bitcoin has still refused to stop growing.
Going Forward
All in all, OmiseGO is a phenomenal investment for 2018. Even though we're over five months into this new year, I believe that OmiseGO still has incredible potential for growth. Once the recently signed agreements and technological advancements start reaching the consumer level, OmiseGO will be in higher demand than ever before.
The cryptocurrency is backed by an all star team, advised by Ethereum's very own creator Vitalik Buterin, and they've been moving at a light speed pace to slowly, but surely conquer the Southeast Asian cryptocurrency market.
Whether OmiseGO will go up by 200%, 500%, or even 1,000% this year is unknown, but one thing is for certain - I certainly can't see this cryptocurrency going down over the upcoming year, even if Bitcoin continues to falter.
Disclosure: I am/we are long OMG-USD. I wrote this article myself, and it expresses my own opinions. I am not receiving compensation for it (other than from Seeking Alpha). I have no business relationship with any company whose stock is mentioned in this article.