Welcome to the Weekly Natural Gas Storage Report Edition of Natural Gas Daily!
The EIA reported a +62 Bcf change in storage for the week ended April 27. This brought storage to 1.343 Tcf. This compares to the +67 Bcf change last year and +69 Bcf change for the five-year average.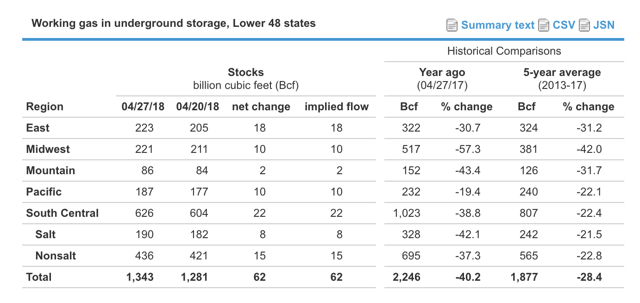 Source: EIA
Going into this storage report, a Reuters survey of traders and analysts pegged the average at 52 Bcf with a range of +40 Bcf to +62 Bcf. We expected 52 Bcf and were in-line with the consensus. We were off by 10 Bcf on this storage report.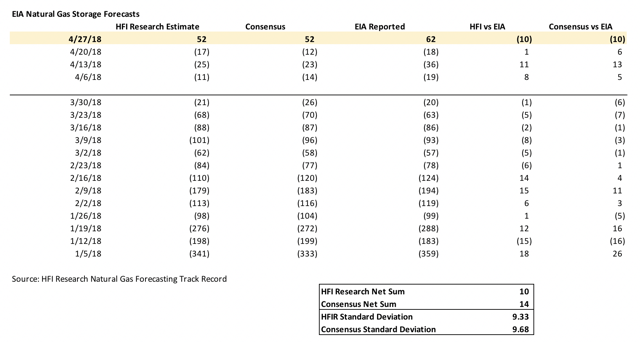 This week's report was bearish given the implied balance was ~1.5 Bcf/d worse than we modeled.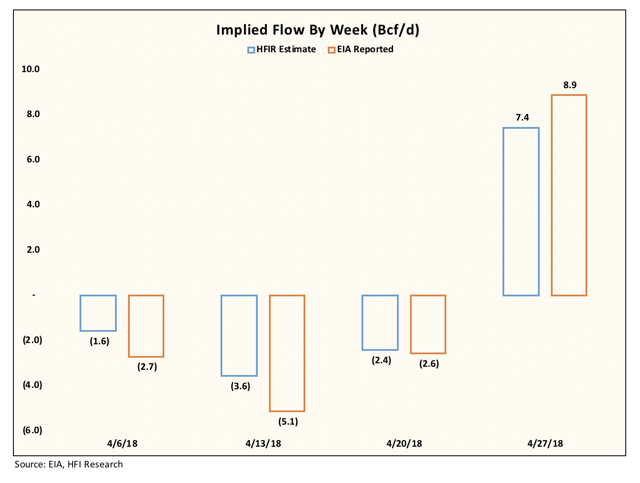 Following this bearish surprise, June natural gas contracts broke through the "new" support of $2.75/MMBtu and retested the $2.70/MMBtu level. Given that natural gas prices are once again trading back to the lower bound of the price range, we have initiated a long UGAZ position.
Our view continues to be that the market is trying to identify the price range over the summer months. With prices unable to hold the higher low, the previous low was to be retested again. Since the start of March, June contracts have successfully tested the $2.70 three times, we think this time may hold as well given where storage is relative to the average.
On the fundamental front, end of season storage has been creeping higher. November storage is now expected to be 3.583 Tcf.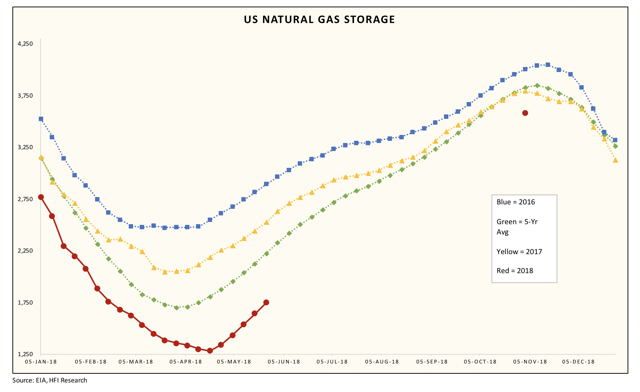 Early injection estimates for May 4 storage report next week is +90 Bcf with the following week showing +105 Bcf. In total, for the month of May, storage injections will be 57 Bcf higher than the 5-year average and 136 Bcf higher than last year.
For readers interested in live trade alert updates along with insights from traders, please see here for more information about our premium service. We also published a sample report here for those that are interested.
Disclosure: I am/we are long UGAZ. I wrote this article myself, and it expresses my own opinions. I am not receiving compensation for it (other than from Seeking Alpha). I have no business relationship with any company whose stock is mentioned in this article.