It has become clear that the lithium supply chain has fallen behind the development curve, which is partially why lithium carbonate pricing has risen from $5,000 T / LCE to over $14,000 T LCE since 2015 (see Lithium Carbonate Price chart below). Chinese domestic pricing for the white material has been trending higher than outside of China pricing by a significant margin. In the same time frame, pricing inside China has increased from $10,000 T LCE to $25,000 T LCE. One of the more significant factors that has allowed for this spread is the fact that China, like Korea and Japan, is a large user of the white metal but is almost entirely reliant on imports of the white metal.
In my opinion, based on lithium prices remaining strong, large Chinese battery and material companies, along with strategic investment groups, will increasingly become interested in advanced junior exploration and early-stage lithium mining companies. I believe that these segments of the market are best-positioned to capitalize on near-term momentum in the lithium space. High lithium chemical prices, coupled with lithium supply security, will ensure that battery and material manufacturers continue to evaluate options throughout the supply chain.
As illustrated throughout this document, this investment thesis has already proven accurate, as a wave of Chinese investment has taken flight into securing lithium-producing assets along with greenfield projects. The flow of Chinese capital into the energy metals market is a clear indication that their new energy economy has being taking a long-term view on the supply chain. Investors looking to capitalize on China's shift to new energy technologies should consider having exposure to early-stage lithium production and late-stage exploration assets, as these companies are best-positioned to bring meaningful supply to Chinese battery and material manufacturers over the next few years.

Lithium chemical prices have remained strong; prices are expected to remain robust
In the past two years, there has been a string of strategic announcements surrounding Asian investments, acquisitions and off-take agreements with advanced-stage lithium exploration and early-stage production companies. My own investment approach in the lithium sector is very simple: purchase shares in companies that offer strategic value or that are at an early stage of production or late stage of exploration. The lithium market remains in tight supply, and based on current supply and demand figures, it is expected to stay in such a mode for the next half decade (See: Undersupply of Lithium Carbonate graph below). It is my opinion that there are not enough high-quality lithium projects coming to market to satisfy the huge surge of new demand that is coming both from electrification of the transportation business and from stationary energy storage markets.
Consumer demand, coupled with government mandates to shift to new energy vehicles (as we have recently witnessed in China), has been quick to unfold. Companies such as Tesla Motors (NASDAQ:TSLA) have done a very creditable job of developing consumer products, coupled with a highly scalable sales and marketing strategy. As an example, utility-scale battery storage parks can easily be installed in only a few months, which means that project economics are strong. Additionally, technical experience around system design, permitting and system operations and maintenance has improved over the past few years. Project financing for stationary energy storage systems has also become available, which was previously a traditional barrier for energy projects.
All of these factors have allowed for the energy markets to quickly uptake lithium energy storage systems as a mainstream product. Each of these points may also be applied to the electric vehicle industry. Collectively, the barriers to mass-market adoption have been removed much more quickly than the industry has been able to mobilize assets to build up the necessary infrastructure to support rapid growth. Today, the lithium chemical market remains in a supply deficit, and I do not expect the markets to rebalance until 2023 and beyond.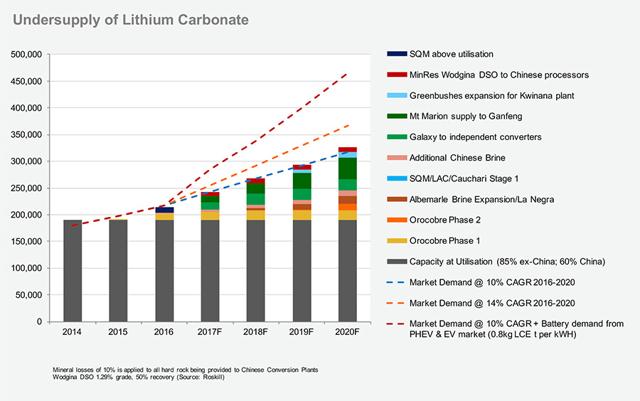 Lithium supply for battery and material manufacturers continues to be a key theme
It is my opinion, based on my extensive experience, including site visits to Argentina and Canada, that new lithium supply is exceptionally difficult to bring to market. There is a short list of lithium projects in Argentina, Australia and Canada that could bring meaningful volumes of new material to the market over the next half decade, but there are still major risks involved, such as project financing. My opinion is also shared by very large end-users of the material and by other strategic outfits who are actively shifting to secure supply of the raw material. A sample of transactions is outlined below. It is obvious that these firms also share the same perspective on the industry's ability to bring new supply to market. Remember, billions of dollars in investments speak much louder than research reports being produced in New York City.
The key theme for investors is to remain focused on high-quality lithium projects that meet at least one of the following criteria: they offer a strategic value through land ownership or partnership, or they are at an advanced stage of exploration or an early stage of production. All three of my core lithium holdings meet these criteria. Orocobre (OTCPK:OROCF) is an early-stage lithium producer that is well ahead of many other lithium exploration companies in Argentina and is now moving to expand current production at its flagship project, Olaroz. Plus, it is moving to become a value-added player by planning to build a hydroxide facility in Japan to meet domestic demand. Toyota Tsusho (OTCPK:TYHOF) is the strategic sourcing arm for Toyota Motor (NYSE:TM). Advantage Lithium Corp. (OTCQX:AVLIF) is a spin-off from Orocobre that is actively developing the Cauchari Basin. Its land package is only 15 km away from Orocobre's Olaroz facility, and it straddles the land package of Lithium Americas (NYSE:LAC). Further, Orocobre owns over 30% of Advantage Lithium and is a 25% joint venture partner on the Cauchari project. Jourdan Resources (OTC:JODRF), a Canadian microcap company (trading under ticker symbol JOR on the TSXV), has been actively exploring the properties directly around the North American Lithium site. Jourdan Resources has had success in further defining the mineralization patterns extending from the North American Lithium site, which is one of the only lithium-producing mills in North America. In March 2018, CATL announced an investment of $66 million into North American Lithium, which adds additional value. There is still a significant amount of risk associated with each of these investments, but the unique value proposition with each company is clear.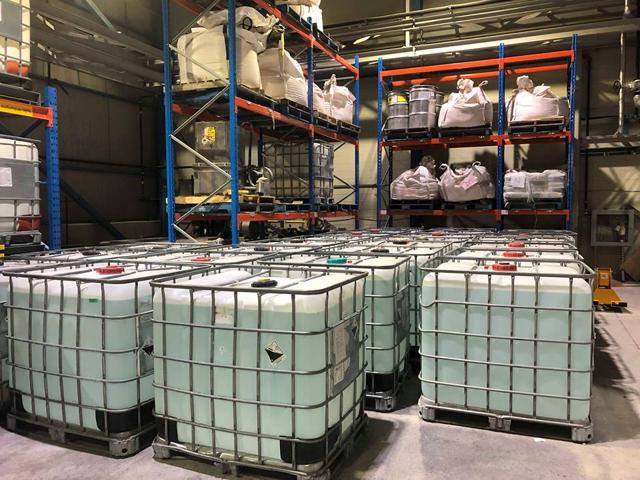 Author-supplied photo - Lithium chemicals await shipment from Nemaska Lithium's facility in Quebec
Asian investments into lithium producers and advanced explorers is on the rise, which supports the investment thesis. If major end-users and battery material companies felt that an oversupply situation was truly on the horizon, they would certainly be hesitant to invest billions of capital into new exploration and production facilities.
Over the past two years, there has been a series of announcements regarding the movement of Chinese battery and material manufacturers entering the lithium exploration and processing business through strategic investment, off-take arrangements or acquisition of assets. As mentioned earlier, Chinese lithium battery manufacturer CATL has announced a $66 million investment into North American Lithium. North American Lithium is a Quebec-based lithium company that is actively shipping lithium spodumene into the Chinese market. Millennial Lithium Corp. (OTCQX:MLNLF), which is a Canadian-based lithium exploration company that is focused on its Argentine brine asset, announced a follow-on investment supported by both new and existing Chinese investment groups valued at around $30 million. One of most notable transactions in the lithium business in 2017 was the acquisition of Lithium X by Chinese investment company NextView Investment for over $250 million. Lithium X was a junior lithium exploration company focused on its flagship project, the Sal de los Angeles project in the Argentina region of the Lithium Triangle.
In summary, over the past two years, investors have seen a significant amount of capital flow from Chinese strategic investors, battery and material manufacturers into a variety of lithium exploration and production assets. This indicates that the Chinese are taking a long-term approach to the development of their supply chain, so there are likely additional transactions that could occur over throughout the balance of 2018 and well into 2019. It is in my opinion that Chinese appetite for the white metal is still strong, leading to additional capital flow into high-quality strategic projects. These macroeconomic trends are the basis for my belief that high-quality lithium assets will continue to attract the necessary capital to bring new assets to market and expand existing facilities.
Author's note: If you enjoyed this article, then be sure to receive future material by clicking on the "Follow" tab at the top of this page or on my profile.
Disclosure: I am/we are long OROCF, AVLIF. I wrote this article myself, and it expresses my own opinions. I am not receiving compensation for it (other than from Seeking Alpha). I have no business relationship with any company whose stock is mentioned in this article.
Editor's Note: This article covers one or more microcap stocks. Please be aware of the risks associated with these stocks.