Global automotive manufacturers have recently announced production targets for electric vehicles over the next years that will lead to a significant ramp-up in the post-2020 period. With a global shift to new energy vehicles, automakers want to ensure that they remain current, which has allowed the industry to make bold announcements around product road maps and sales targets. The targets being released by automakers are very drastic compared to current global electric and hybrid production figures.
Of course, major automakers want to make bold statements to seem current and relevant, so it is best to approach these headlines with some level of speculation. For example, with the recent diesel emission scandals, Volkswagen (VLKAY) has been put under the spotlight to dramatically shift its business to new energy vehicles. The company has announced that it is targeting sales of 2-3 million electric vehicles by 2025 through 30 all-electric car offerings.
In my opinion, the expected rise in electric vehicle production will present a number of investment opportunities throughout the supply chain, from energy metal exploration, mining and processing to battery and material manufacturing to final product integration. As outlined throughout this article, automakers have made bold commitments to offer electric vehicles on a global basis, which means that battery raw material input for new battery plants will continue to rise in the next year. Although there are a number of investment opportunities, I believe the key investment themes will be in the energy metals and battery manufacturing, with a key focus on lithium exploration and mining.
Toyota (NYSE:TM), which was the largest global automaker in 2016, recently announced that it will introduce at least 10 new electric vehicles by the early 2020s. The rollout will initially occur in China, where the government is forcing automakers to expand the production of new energy vehicles. The company plans to sell at least 5.5 million electric vehicles by 2030, including a minimum of 1 million zero-emissions vehicles.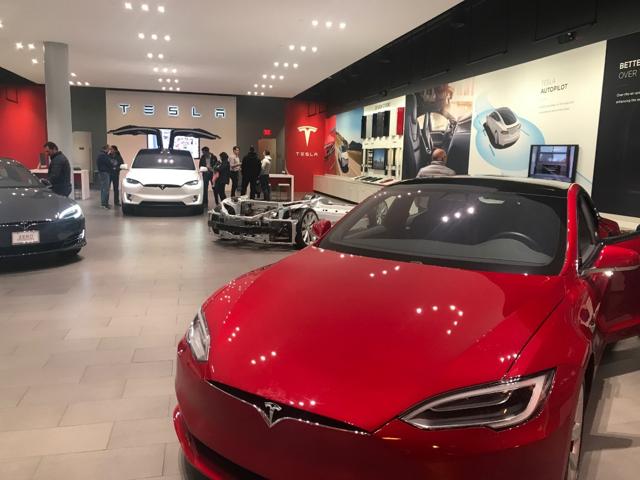 Author-supplied image - Tesla showroom in San Jose, California (Santana Row)
Detroit automakers Ford Motors (NYSE:F) and General Motors (NYSE:GM) have said that electrification of their automotive fleets will become an increasingly important component of their businesses. Ford has stated that it wants a minimum of 10% of its sales to be comprised of electric vehicles by 2020; GM is looking to have 20 electric vehicles on the market by as early as 2023.
Nissan Motors (OTCPK:NSANY) plans to develop a minimum of eight new all-electric vehicles, with a primary focus on the Chinese market. The company has set an aggressive goal to sell 1 million electric vehicles by 2022. Volvo (OTCPK:VOLVY) also made headlines.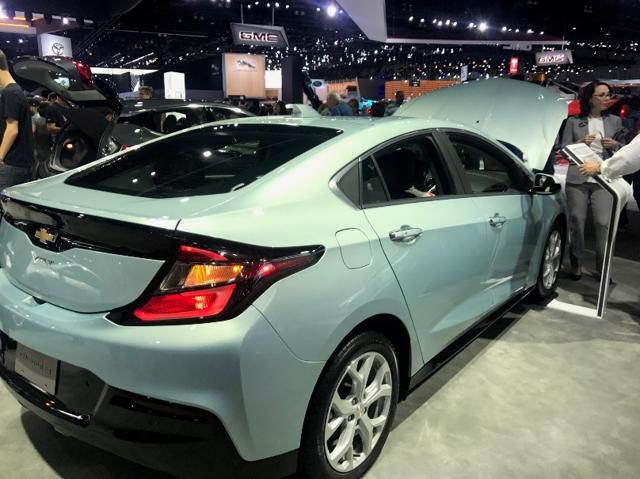 Author-supplied image - GM Volt on display at the LA Auto show 2017
Battery demand is set to dramatically rise
All electric and hybrid electric vehicles vary in battery storage capacity, which can make it difficult to determine what total battery demand will be over the next years. However, the purpose here is not to determine the size of the electric vehicle market, but instead, to analyze what these bold headlines mean for the global lithium battery supply chain.
Based on the sales targets provided by Nissan, it would require 60GWh (60kWH/ vehicle average) of battery supply in order to reach the 1 million vehicle target by 2023. The battery supply would command around 50,000 T of lithium carbonate equivalent, which is 20-25% of total lithium carbonate demand in 2017. If we assume that Volkswagen is serious about building 2-3 million electric vehicles by 2025, it will need to be selling at least 1 million electric vehicles by 2023, which would again require 60GWh of battery capacity and another 50,000 T of lithium carbonate. Additionally, we may factor in demand from Tesla (NASDAQ:TSLA), which wants to quickly move towards producing 10,000 Model 3 cars per week, or 520,000 per year, in addition to other models.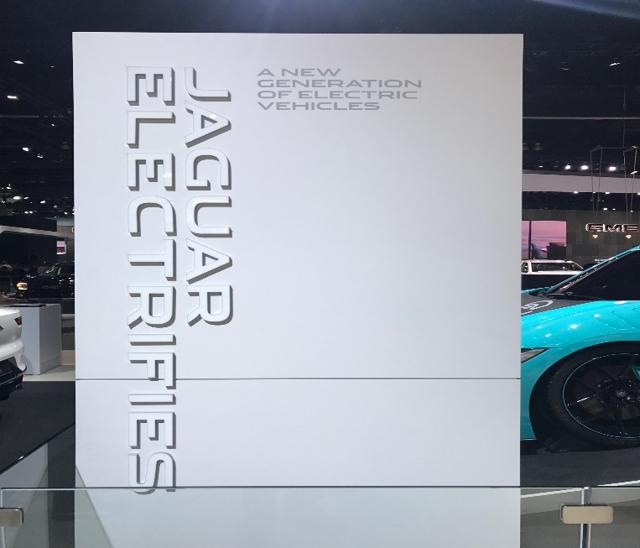 Author-supplied image - Jaguar Display at the LA Auto show 2017
If we are to believe the headlines put forward by major Tier 1 global automakers, then it is clear that energy metals processing and subsequent battery production must dramatically rise over the next years in order to meet these companies' growing needs.
Emerging investment opportunities
My personal interest is in early-stage lithium exploration companies operating both the brine and hard-rock businesses which should be considered highly speculative as new supply enters the market over the next few years. As new supply of lithium is required to meet an increase in lithium battery production due to a rise in sales of electric vehicles and stationary energy storage systems, existing producers have moved to increase lithium production. Despite the expected increases in supply, there is much room for advanced exploration and early-stage producers to bring high-quality lithium projects to market.
There are a number of variables that will impact the need for additional lithium exploration, including the currently unknown uptake rate for electric vehicles and energy storage technologies. In my opinion, late-stage exploration and early-stage production companies will benefit the most, as it doubtful that new lithium supply will be required.
Canadian hard-rock lithium chemicals company Nemaska Lithium (OTCQX:NMKEF) is presently at the end of completing a $500 million capital raise which will allow the company to expand into Phase 2 production of the its facility in Quebec. The company has closed an equity deal valued at nearly $100 million from Japan's SoftBank (OTCPK:SFTBY), executed a streaming agreement with Orion Mine Finance LF valued at over $150 million, and engaged with such high-quality financial groups including Clarkson Platou Securities and Pareto Securities as managers of the bond issuance. Further, Nemaska has signed multiple offtake agreements, including NorthVolt, FMC, Softbank and Johnson Matthey Battery Materials, for the purchase of its lithium chemicals once production begins.
Early-stage lithium producer Orocobre (OTCPK:OROCF) has been busy developing its Argentine flag-ship asset at Olaroz. The company has managed to scale up the asset to around 12,000 T / year LCE with a nameplate production capacity of 17,500 T / year. Although the company has not achieved full production capacity at its asset, it has moved ahead with joint venture partner Toyota Tsusho (OTCPK:TYHOF) to develop plans for Phase 2. In January 2018, Orocobre announced that Toyota Tsusho would invest nearly $300 million for a 15% stake in the company, along with plans to double production capacity at Olaroz to 42,000 T LCE / year. The joint venture is also building a lithium hydroxide facility in Japan which will supply the local battery supply chain.
Lithium Americas (NYSE:LAC) is another company focused on its lithium brine asset in Argentina which will move into production over the next years. Until now, it has been focused on securing financing, strategic relationships and customers to support the development of its lithium asset. The company attracted Ganfeng as an investor and offtake partner. Ganfeng is one of China's largest battery materials companies. The two companies reached a financial agreement that will see Ganfeng invest over $190 million in exchange for around 19% of the outstanding shares of Lithium Americas. Additionally, the company entered a relationship with SQM, the largest global lithium brine producer, as a technical partner which will assist in bringing the asset into production. At present, Lithium Americas is currently constructing the infrastructure, ponds and processing facility at Cauchari with the expectation that initial lithium is produced in 2020.
Advantage Lithium (OTCQX:AVLIF) is a strategic advanced junior lithium exploration company that operates between Lithium Americas and Orocobre in the Cauchari-Olaroz basin. Orocobre is the largest shareholder in the company with a 30% equity stake, coupled with a 25% interest in the project. Over the past few months, the company has been moving towards completing the second stage of its drilling campaign, which will be completed in May 2018 and will then be followed on with an updated Natural Resource Estimate Study. This will allow the company to move into phase three of its drilling efforts, which will utilize larger drills to further define the resource, with a Feasibility Study expected to be completed in the first part of 2019.
As automakers move forward to increase electric vehicle options to consumers, there will be more pressure on battery and material manufacturers to secure lithium supply. Based on recent industry activity, it is clear that lithium pricing and supply security remains a critical element for the supply chain. It is my expectation that the industry will continue to announce battery and cell supply agreements between automakers and component suppliers, while advanced lithium exploration and early-stage producers will continue to receive attention from battery and material manufacturers. I believe that as global battery manufacturing capacity continues to be increased over the next 24 months, additional capital and strategic relationships will be formed with select lithium explorers and chemical companies. Investors looking to play the global shift to electric transportation should consider having exposure to the stated segment of the lithium market.
Author's note: If you enjoyed this article, then be sure to receive future material by clicking on the "Follow" tab at the top of this page or on my profile.
Disclosure: I am/we are long OROCF, AVLIF. I wrote this article myself, and it expresses my own opinions. I am not receiving compensation for it (other than from Seeking Alpha). I have no business relationship with any company whose stock is mentioned in this article.
Editor's Note: This article covers one or more microcap stocks. Please be aware of the risks associated with these stocks.