Jobless Claims: How Low Can They Go?
May 04, 2018 1:59 AM ET
SPY, QQQ, DIA, IWM, VOO, SH, SDS, TZA, TNA, IVV, SSO, TQQQ, SPXU, UPRO, SPXL, RSP, CRF, SQQQ, SPXS, PSQ, VFINX, USA, QID, QLD, UDOW, DOG, DXD, UWM, SDOW, SCHX, ZTR, DDM, TWM, URTY, VV, RWM, EPS, SRTY, VTWO, QQQE, QQEW, FEX, ILCB, BXUB, EQL, SPLX, EEH, SPSM, SPUU, QQXT, BXUC, SFLA-OLD, IWL, SPDN, SPXE, SPXT, FWDD, EDOW, OTPIX, SYE, JHML, PPLC, SMLL, UDPIX, GSEW, SPXV, ESGL, HUSV, RYARX, SPXN, CHGX, DMRL, YPS, SCAP, USSD, DUSA, USMC, USWD, BIBL, OMFS, PMOM, RYRSX
1 Comment
In last week's update on weekly jobless claims, we described the trend in claims as "doing the limbo." Taking the analogy one step further, this week we ask, "How low can they go?" First-time jobless claims came in at 211K this week versus estimates for a level of 225K. Last week's print of 209K was the lowest weekly reading since 1969, and this week's is the second lowest! With another week of sub-300K readings, the record streak has been extended to 165, while the streak of sub 250K readings is now up to 24, which is the longest since 1973.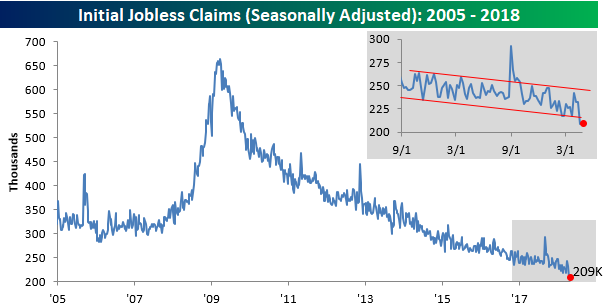 With the second straight week of sub-225K readings, the four-week moving average also made a new low this week, falling from 229.25K down to 221.5K. The last time the four-week moving average was this low was back in 1973. Barring a pretty big uptick in weekly claims next week, the four-week moving average should drop again, likely bringing it down to its lowest level since 1969.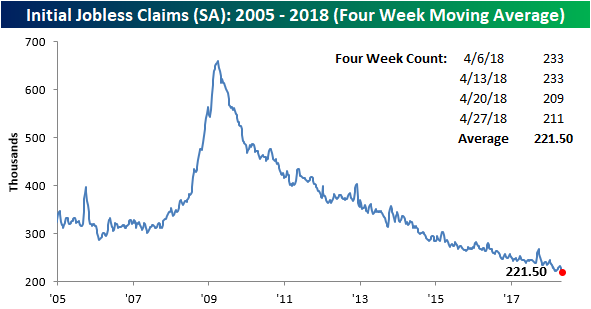 On a non-seasonally adjusted basis, jobless claims also fell back below 200K to 186K. For the current week of the year, that was the lowest print since 1969, and 135K below the average reading for the current week of the year dating back to 2000.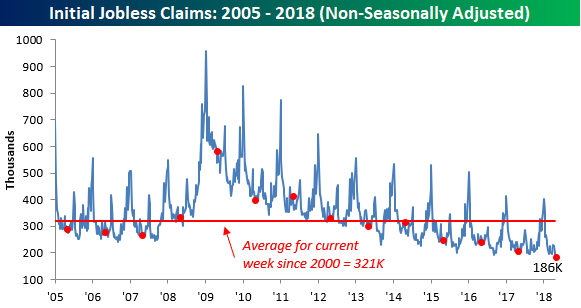 This article was written by
Bespoke Investment Group provides some of the most original content and intuitive thinking on the Street. Founded by Paul Hickey and Justin Walters, formerly of Birinyi Associates and creators of the acclaimed TickerSense blog, Bespoke offers multiple products that allow anyone, from institutions to the most modest investor, to gain the data and knowledge necessary to make intelligent and profitable investment decisions. Along with running their Think B.I.G. finance blog, Bespoke provides timely investment ideas through its Bespoke Premium (http://bespokepremium.com/) subscription service and also manages money (http://bespokepremium.com/mm) for high net worth individuals. Visit: Bespoke Investment Group (http://bespokeinvest.com/)