This week's Sentiment Survey report from the American Association of Individual Investors continues to show a falling trend in the level of bullishness of individual investors. This week's bullishness reading was reported at 28.4% and down from 36.9% in the prior week. The current bullishness reading is near the minus 1 standard deviation level, and these sentiment measures are most useful as a contrarian indicator at extremes. In January of this year, the bullishness reading reached near 70%, and subsequent market returns have trended lower since then. AAII published an article, "Is the AAII Sentiment Survey a Contrarian Indicator?" that provides insight into the market's return at various sentiment levels.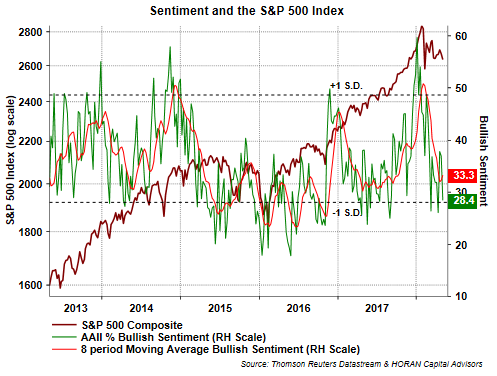 Active managers are indicating less bullishness as well when one evaluates the NAAIM Exposure Index. In December of last year, the NAAIM Index average was 120%, which means, on average, active managers were slightly leveraged long. The most bearish managers at that time averaged 75% long. Today, the Exposure Index is 52.6%. The most bearish is fully short at -100%, however, not fully leveraged short, which would be -200%.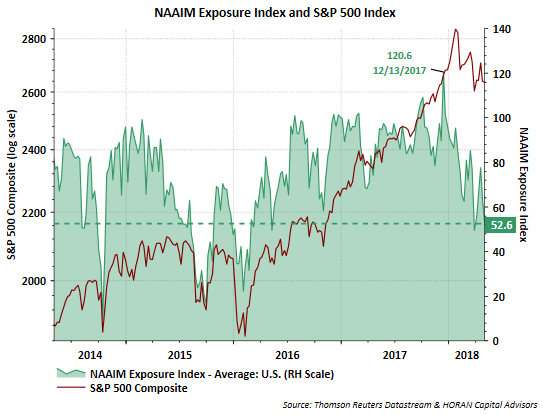 Lastly, newsletter writers continue to trend more bearish as well. The Investor Intelligence Advisors' Sentiment bull/bear ratio has fallen to 2:1 versus over 5:1 at the beginning of the year. The II Advisors' Sentiment Survey studies in excess of one hundred independent market newsletters and assesses each author's current stance on the market: bullish, bearish or correction.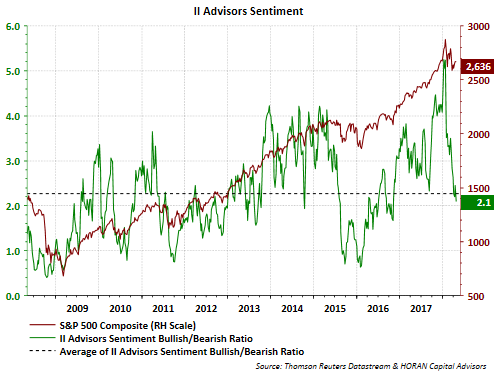 As noted earlier and detailed in the AAII contrarian article linked to above, these indicators are most useful at their extremes. And although the sentiment measures are trending decidedly bearish, the levels can become more bearish. Also noteworthy is the fact the market is in the second year of the Presidential Cycle, and this part of that cycle tends to be the most volatile. However, a recent article by Urban Carmel in The Fat Pitch blog notes the prior three mid-term election years had the S&P 500 Index return low double digits. In spite of year two of the cycle generating the lowest return historically, the return has averaged a positive one at 4.5%.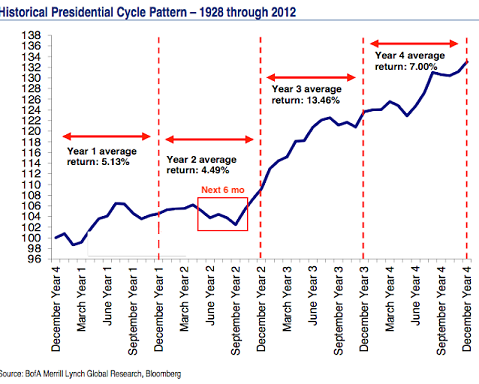 (Source: The Fat Pitch)
From a positive perspective then, underlying earnings and economic fundamentals remain favorable, thus the market has a reason to find a firm footing at these levels and begin a more favorable upward trend. The level of volatility being experienced over the past several months is actually the type that occurs in a more normal market environment. The low level of volatility in the several years leading up to 2018 was the abnormal one.