The Relative Price Of Housing And Subsequent GDP Growth In The USA
May 04, 2018 6:02 AM ET
SPY, QQQ, DIA, SH, IWM, TZA, SSO, TNA, VOO, SDS, IVV, SPXU, TQQQ, UPRO, PSQ, SPXL, UWM, RSP, SPXS, SQQQ, QID, DOG, QLD, DXD, UDOW, RWL-OLD, SDOW, VFINX, URTY, EPS, TWM, SCHX, VV, RWM, DDM, SRTY, VTWO, QQEW, QQQE, FEX, ILCB, SPLX, EEH, EQL, SFLA-OLD, QQXT, SPUU, IWL, FWDD, SYE, SBUS, SMLL, SPXE, UDPIX, JHML, OTPIX, RYARX, SPXN, USSD, HUSV, RYRSX, SCAP, SPDN, SPXT, SPXV, USWD
By Robert Waldmann
The great recession of 2008-09 followed an extraordinary house price bubble. The sluggish growth was characterized by a very slow recovery of residential investment. Oddly, the extensive revision of macroeconomic models, which implied a very low probability of great recessions has not involved a focus on housing. Instead, it has focused on financial frictions - essentially, it is assumed that the 2008-09 recession was extraordinary because a major financial crisis occurred.
Dean Baker dissents (as he often does) arguing that the severity of the recession could have been predicted given the massive decline in housing prices and earlier estimates of the effect of home equity on consumption. This note attempts to being to assess that claim. It also asks if it is possible to forecast GDP growth over the medium term. Finally, it is part of the Rip Van Keynes series, because I will use an empirical strategy, which has been out of fashion for at least four decades - basically an ad hoc OLS regression (sometimes I even include an exponential trend).
The basic result is that if the relative price of housing is high (compared to an exponential trend) then GDP growth over the following 5 years is low (compared to an exponential trend). Aiming to test out of sample forecasting, I start using 20th century data only.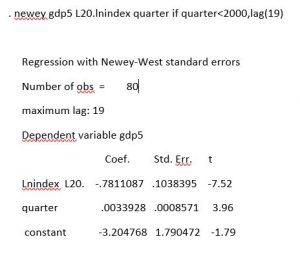 -7.52 is a fairly impressive t-statistic.
Lnindex L20 is the logarithm of the ratio of the all transactions house price index to the consumer price index lagged 20 quarters. Gdp5 is the growth of the logarithm of real GDP over the past 5 years. Quarter is the calendar quarter up to the 4th quarter of 1999 = 1999.75. The data were downloaded from Fred and are described in what might be generously considered a sort of data appendix. One point must be mentioned here - the all transactions house price index is available only starting in 1975, so the first useful observation is growth of GDP from 1975q1 to 1980q1.
The series are quarterly, so the dependent variable is a moving average of changes summed over 20 quarters. In the crudest attempt to deal with this, I calculate Newey West standard errors with 19 lags. These would be valid if log GDP were a random walk with drift (the constant) and trend (growth slowdown).
This regression is at least a hint that 8 years before the great recession began, there was already evidence that extremely high relative price of housing was likely to be followed by low GDP growth. Because the regression is, at best, barely presentable, I focus on out of sample forecasting. pgdp5 is the fitted value, which can be considered a very crude forecast of real GDP growth over the following 5 years.
Out of sample the forecasts and outcomes are positively correlated. The correlation of pgdp5 and gdp5 over 2000q1 through 2018q1 is over 0.86. Out of sample forecasts of GDP growth over the following 5 years seem to be quite useful. This may be simply due to the estimated trends.
The following regression shows that forecasts of deviations from trend are correlated with deviations from trend.
. newey gdp5 pgdp5 quarter if quarter>1999.9,lag(19)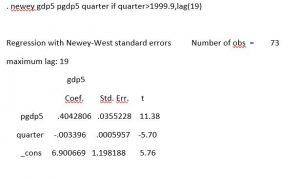 This is a test of out of sample forecasting performance. It is, to put it mildly, rather more successful than out of sample tests of long-term macroeconomic forecasts usually are. The data are, perhaps, more usefully summarized with a graph. Figure 1 (finally) is a scatter of the logarithm of the relative price of housing and GDP growth over the following 5 years.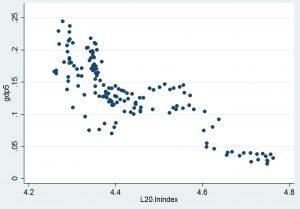 This ignores even the deterministic trends. Also the whole sample is graphed. Notably while some periods show extraordinarily high relative prices of housing and extraordinarily low subsequent real GDP growth, the GDP growth does not look anomalous. The computer is not surprised by the severity and duration of the great recession given the early 21st century housing bubble. Here are the time series. L20.lnindexm4 is lnindex lagged 20 quarters - 4.0 (the base years for the all transactions housing price index and the CPI are different).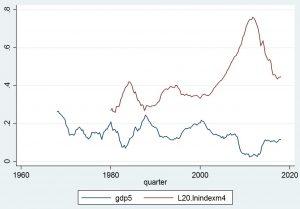 Notice that the first observation for the index lagged 20 quarters is 1980q1 because the index is available from 1975q1 onward.
Here are the series of outcomes and forecasts. The only anomaly is that the great recession was so mild. The computer forecast 5-year GDP growth as low as -10% and it never actually was less than zero. Still this is unusually successful out of sample forecasting of medium term GDP growth.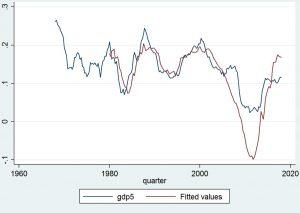 Robustness checks etc., after the jump. Also this post is available as a pdf here.
Robustness Checks
The deterministic trend in the regressions reported above is especially utterly out of fashion. If a time series is integrated (non-stationary with a stationary first difference) then there will be spurious mean reversion of deviations from a deterministic trend. T-like statistics from regressions of one integrated series on another do not have a t-distribution. These concerns explain my strong focus on out of sample forecasting. A more standard approach to a non-stationary series is to differentiate it and hope the resulting series is stationary.
So I consider the change in the ratio of the all transactions housing price index to the consumer price index over 5 years index5 = ln(indext /CPIt) - ln(indext-20/CPIt-20). This means that I lose 10 years of data, 5 for the growth of GDP and 5 for the growth of the relative price of housing and the first useful observation is GDP growth up until 1985q1. With a mere 60 quarters of data I get: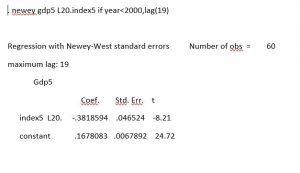 The out of sample correlation is lower being only 0.37. The scatter is much less impressive. Basically, the computer expected a major boom to follow the extreme decline in housing prices from 2006 to 2011.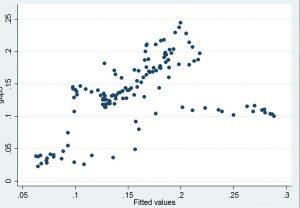 The decline in the relative price of housing from 2006 onward was unprecedented and the simple regression is no more able to forecast the resulting recovery than any other method.
Another robustness check is to use a different series for housing prices. The standard series is the Case-Shiller index, but it is only available from 1987 on making estimates with 20th century data and 5-year lags pointless. Instead, I used an index even cruder than the all transactions house price index.
The median price of new homes is available from 1963q1 onward. This series can't be interpreted as a price index as no correction is made for changes in the quality of houses. This makes it much more necessary to include a time trend and much less likely that detrending will really yield a stationary series. That said, the results are similar to those obtained with the all transactions house price index.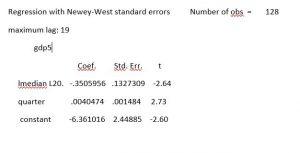 lmedian L20 is the log of the ratio of the median price of a new home to the consumer price index lagged 20 quarters.
The correlation out of sample in the 21st century of the predicted 5-year GDP growth and actual 5-year GDP growth is greater than 0.66.
Finally, I consider the growth over 5 years of the log of the ratio of the median new house price to the cpi median5.

lmedian5 L20 is the growth of the log of the ratio of the median house price to the cpi over 5 years lagged another 5 years.
This gives the smallest coefficient and t-statistic, but the computer remains convinced that the variable is hugely important. Again the 21st century correlation of forecasts made using the 5-year difference and outcomes is lower than that of forecasts made with levels and a trend and outcomes. The correlation is just 0.3847 . This is still pretty good for medium-term macroeconomic forecasts. Again the problem is that the dramatic decline in house prices from 2006 to 2011 causes the computer to forecast an boom.
Mechanism
It isn't hard to make at least a plausible guess as to the path from high relative housing prices to low subsequent GDP growth. Housing prices appear to be mean reverting and declining house prices cause low demand through three well-known paths. First residential investment depends on the relative price of houses, because the profits of builders depend on those prices. Second consumption is affected by wealth including home equity. Finally, home equity loans relax liquidity constraints.
In fact, there is strong evidence that the relative price of housing is mean reverting and that a reduction is correlated with low contemporaneous GDP growth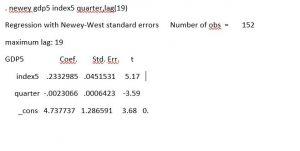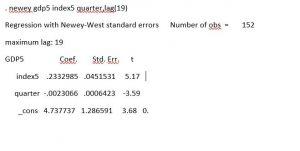 In fact the OLS coefficient on lnindex L20 (the 5-year lagged log relative price) is roughly equal to the 2SLS coefficient, suggesting that other pathways might not be too important.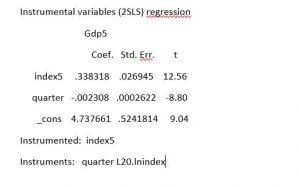 Conclusions
A high relative price of housing is correlated with low subsequent GDP growth over the following five years. This makes it possible to forecast 21st century 5-year growth rates using coefficients estimated with 20th century data. The data suggest the obvious path: mean reversion in housing prices and a negative effect of declining house prices on demand. The extremely simple regression suggests that a great recession should have followed the extraordinary early 21st century housing bubble. In fact, the model dramatically over-estimates the severity of the forecast recession.
Given the extreme ease of forecasting medium-term GDP growth, it is odd that so much attention is devoted to models, which give useful forecasts only a few quarters out. It is also odd that a huge literature focused on quite different mechanisms was developed after the great recession. But the oddest thing is that, in spite of the very clear evidence, macroeconomists often ignore residential investment and housing prices.
This article was written by
In 2010 24/7 Wall St. named Angry Bear among the top twenty independent financial blogs on the net. Quote: "The Angry Bear www.angrybearblog.com. Half a dozen professionals, including a tax law expert, a historian, PhDs in economics, business consultants and financial professionals provide perspectives on the financial world. Despite their expansive coverage of economic issues, their articles are as deep as their coverage is extensive. Topics include world trade, industrial production, U.S. Government programs, and major regulatory issues." 2010 FINS from The Wall Street Journal named Linda Beale's Ataxingmatter in The Top Five Tax Accounting blogs to read for 2009-2010. Our current economists are Mike Kimel, Spencer England, Robert Waldmann, and Rebecca Wilder. Linda Beale is an expert in tax law and matters related to taxes. Ken Houghton has expertise in finance. Bruce Webb has added his expertise in particular on Social Security. Daniel Becker brings a small business perspective to his writing. Daniel Crawford: aka Rdan and Angry Bear blog Bios in alphabetical order: Linda Beale: I am a law professor at Wayne State University Law School who teaches various courses in the area of federal income tax, such as introduction to federal income tax, corporate taxation, partnership taxation, international taxation and perhaps in the future a course in statutory interpretation focussed on tax. Daniel Becker: I have two businesses: a practice in the health care field and a retail business of flowers and plants. I have served as an officer of 2 non-profits and my state society. I have testified before my state legislature. I have personally won in my state supreme court. Ken Houghton: A principle in his own company and former economist for several major financial companies. Spencer England: Before I started my own consulting business I was an economist for the CIA for 10 years and worked for a couple of Boston investment management firms as their in house economist, investment strategist for some 12 years. My original field of study was international economics and international finance. I celebrated the 20th anniversary of publishing SEER -- my equity strategy product. I model the S&P industries and advise portfolio managers on how to structure their portfolios by recommending industry weights. Mike Kimel: Formerly an economist for a Fortune 500 company and now an economist for a private corporation and author of Presimetrics blog and the book Presimetrics: How Democratic and Republican Administrations Measure Up on the Issues We Care About to be published August 2010. The book can be pre-ordered. RobertWaldmann: I have a PhD in economics (Harvard 1989) and teach economics at the University of Rome "Tor Vergata". Oddly, I don't blog much at my own site rjwaldmann about economics or Italy. As an economist (roughly) I am interested in behavioral economics, growth, and the economics of inequality. Actually much of my current research, such as it is, is really in econometric methodology and statistics. I was very unorthodox in the 80s, but the orthodoxy is much less rigid now. Bruce Webb: is a current member of the National Academy of Social Insurance (NASI). I am by training a historian who then has spent my working career in information retrieval and land use regulation. My interest in Social Security arose when I noticed in passing that the dates related to 'crisis' were moving but that nobody seemed to be noticing that and still less asking the key questions 'why?' and 'can this go on?' Rebecca Wilder: After receiving my Doctorate in Economics, I was an assistant professor for two years. However, I realized that teaching just wasn't for me and took a job in private sector. Now, I am an Economist in the financial industry. As an economist in finance, I analyze data, write commentary, and offer economic insight to traders, chiefs of staff...