Namaste Technologies - Vaporizing Shareholder Value (80% Downside)
Summary
Management has a well-documented history of failure coupled with repeated misses on their financial/operational targets; CEO used to be in the knock-off purse business.
Management is operating in a viciously competitive/fragmented market and acquisitions appear to be the only source of growth; vape revenues declined 44% recently despite M&A.
Namaste elicits many signs of being a rollup of unprofitable companies, resulting in ceaseless dilution and mounting losses; impairments are but another red flag.
CannMart poses significantly less benefit than the company suggests; Cronos Group (a top 5 cannabis player) just recently valued its investment in CannMart at nil.
Even if CannMart gets a sales license, Shoppers Drug Mart (and other big players) will likely dominate, as they are better funded and established; CannMart is already behind in the medical market.
Executive Summary: Vaporizers Segment Seems Broken; Cannabis Distribution Is Not Namaste's Game (CannMart); Questionable Management Histories
Namaste Technologies (CSE:N) (NXTTF) has taken full advantage of the recent cannabis market hype, proclaiming itself to be a world-class leader in vaporizers and smoking accessories with a massive option for revenue growth via its very own direct-to-consumer cannabis sales portal. This report aims to prove otherwise and bring into question the lofty valuation Namaste has achieved. Namaste's performance in the vape market has been steadily worsening and is obscured from investors through temporary revenue-increasing acquisitions.
Namaste's other growth strategy may have as many issues as the vape business. While CannMart lags way behind larger, more established competitors like Canopy's Tweed Main Street and Aurora's Aurora Certified program, it will likely also have its hands full with Shoppers Drug Mart and competitors on more established tech platforms like Shopify. But its problems don't end there, there is always Leafly (acclaimed to be the best online destination to source cannabis), Weedmaps, and many others.
One of the reasons we question Namaste's lofty growth projections is the track record of management. Faced with tremendous competition in both the vape and cannabis markets, this team's track record does not give us confidence that Namaste will succeed. The latest acquisition reinforces this stance, as Namaste is acquiring Findify AB for US$12 million in cash and stock.
That valuation is a whopping 31 times Findify's 2017 sales of C$503,170. Findify is described as a "global leader in A.I. powered e-commerce personalization." It is hard to believe that it is much more than an e-commerce company because they disclose 1200 customers in 60 countries, which means that the average customer only paid C$419 to Findify in 2017. I suspect true, in-depth AI would cost multiples of that.
Introduction: The Namaste Pitch… Vaporizers

Today And A Fortune From Medical Cannabis In The Future.
Namaste Technologies is a publicly traded company in the ultra-hot cannabis sector. Its current business is primarily the online sales of vaporizers and accessories, which are often used as cannabis delivery systems. Namaste distributes vaporizers and smoking accessories through e-commerce sites in 26 countries through 5 distribution hubs located around the world. And over the last two years, it has achieved large increases in revenue with sales almost tripling in the past year.
Namaste modestly claims on its website that it is "a worldwide collective of industry experts focused on providing the best cannabis products & services available." Namaste has even trademarked "We are the future of cannabis." Its corporate presentation lays out how they plan to become the 'dominant player' in the medical cannabis industry worldwide. But, just because a company states that it intends to accomplish something doesn't mean that success will actually follow. Success depends on execution and gaining a competitive edge, which in turn depends a lot on the people involved.
Namaste lists a simple roadmap to success. First, it will use Online Retail to "Prove the correlation between vaporizer customers and medical cannabis patients." Next they are going to use Data Collection from its existing consumer databases and site traffic to build a global medical cannabis patient database. Then using special software, it will conduct 'Patient Acquisition'. And this feeds into their projected money maker, 'Online Retail' which will disrupt the Canadian medical cannabis industry by clever use of buzzwords like 'e-commerce', 'advanced technology', and 'machine learning'.
All of this magic starts with their simple sale of vaporizers over the Internet, and ends up with some fantastical projections of number of customers gained over the next five years and the theoretical value of those customers over future years to justify that Namaste is going to be worth billions. Billions! Caveat emptor!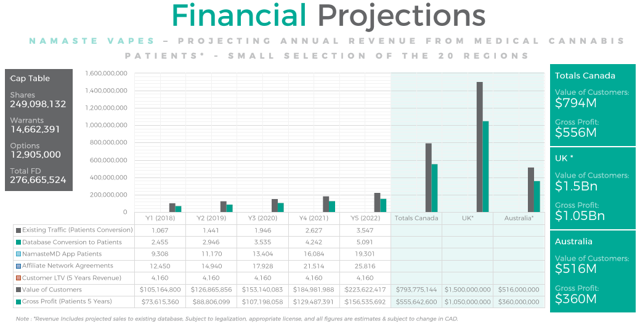 Source: Company Presentation
Vaporizers: All that glitters is not gold – let's explore a dose of reality – does this plan make sense if you aren't smoking the good stuff?
Anyone can do a Google search for 'Online Vaporizer Store' and find over 1 million results. The Grumpy Bear did not get around to going through all of them, but did find that only Namaste claimed that selling vaporizers online would naturally lead to making billions in medical cannabis. So, just to try to understand their concept, The Grumpy Bear stayed sober and went through each element of their grand plan to see how realistic it was.
First, they state that they needed to "Prove the correlation between vaporizer customers and medical cannabis patients." That seemed pretty reasonable, but also not very hard to do. A quick look at Wikipedia shows that vaporizers are used for cannabis. And since some cannabis users are actually using it for medicinal purposes, we can safely conclude that there is in fact a correlation between vaporizer customers and medical cannabis patients. That took less time to prove than to actually make a slide discussing the need to prove it.
Next step was 'Data Collection' to leverage data from existing consumer databases and site traffic to build a global medical cannabis patient database. The Grumpy Bear would think that any company selling products online would actually have a customer database. Just to make sure, The Grumpy Bear went to the Namaste Vaporizers website, selected a product and then went to checkout. Sure enough, an email address and shipping address are required. It would seem the 'machine learning' they were referring to was learning a user's email address when they type it in. So, they seem to have that step well in hand.
None of this seems revolutionary nor do we see something proprietary that could lead to a competitive advantage. Vaporizers are a commoditized business. Like a lighter at a convenience store, there is little differentiation. Sure, you can spend more on quality products, but the reality is that lots of companies can make them. That means margins are going to be low, as is typical of any commodity business.
Vaporizers: What About That Smoking Hot Vaporizer Business?
The vape market is hot and expected to grow at more than a 20% rate over the next several years. And cannabis is reported to be a big driver of the growth. Namaste has expanded its annual revenues over 200%. Not only does Namaste claim to be growing rapidly, but it claims to already be "the largest online retailer for medical cannabis delivery systems globally." And it claims to be particularly dominant in Australia where it purportedly will "control approximately 90%" of the vaporizer online retail market. It doesn't provide any data to support these claims.
Unfortunately, we don't have revenue numbers for Namaste's competitors. But thanks to the plethora of website traffic analysis tools, we can get a good estimate of how they compare (Namaste-owned websites highlighted.)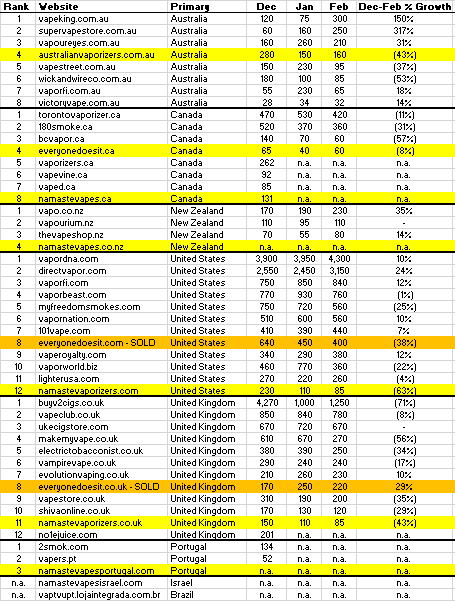 Source: Alexa, Similar Web, and other web analytic tools
It seems hard to believe Namaste will control 90% of the vaporizer online market in Australia with less than 10% of the vaporizer web traffic. And you would certainly think the largest online retailer globally would have a top website in at least one market. Namaste's relative position is particularly weak in the largest markets (US and UK) where they actually sold their best performing websites. Even all their traffic combined together is just a fraction of the top three websites on that list. Their claims of being the largest global retailers seems to be quite an exaggeration.
Namaste's management team seems to be very impressed with their own revenue achievements, claiming "strategic acquisitions and consolidation of industry competitors, as well as through the implementation of advanced e-commerce technologies targeted to grow organic traffic and increase on-site conversion rates." Looking back at how they got those revenues paints a much different picture.
Namaste's Sept 15, 2016 press release covering the agreement to acquire vape related assets from URT1 stated (emphasis ours):
"Following from the acquisitions of VaporSeller and URT1, revenues for the fiscal year ending August 31, 2017 are expected to be C$15.7 million and C$24.9 million for the fiscal year ending August 31, 2018. It is expected that the company will generate positive earnings before interest, depreciation and amortization by December 31, 2016."
Namaste provided the following update on revenues for the fiscal year ended August 31, 2017 (emphasis ours): "Net revenue of $11.0 million (2016 - $3.5 million), an increase of $7.5 million or 215% year-over-year. The increase in net revenue is primarily due to organic growth, and the acquisitions of Australian Vaporizers PTY Ltd., URT1 Limited and Haze Industries, Inc., which provided revenues of $2.1 million, $1.7 million and $1.3 million, respectively."
Revenues for the year fall a whopping 30% short of Namaste's very own internal expectations. So what happened? Breaking out specifics of each company shows the real level of value destruction.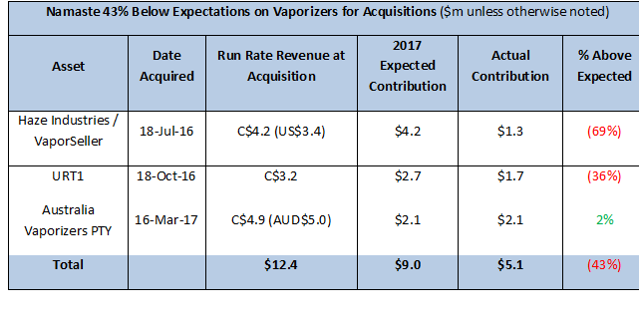 (Sources: Haze Industries | URT1 | Australia Vaporizers)
Acquired entities Haze and URT1 appear to be struggling per the above analytic – down 43% is a mess. And even Australia Vaporizers looks bad considering it had been growing at rates from 27-44% in the years before Namaste took control. Consecutive revenue reductions of 20% in a market growing more than 20% per year calls into question Namaste's competence and ability to grow organically. A monthly analysis of Namaste's revenues indicates substantial under performance over recent months:

The above table effectively illustrates that Namaste's core vaporizer business, its primary revenue source, is deteriorating on a monthly basis (for the months that the information is provided). In summary, the vape business has slowed 44% from November 2017 to March 2018, despite acquisitions.
A closer look into Namaste's company filings yields crucial information regarding the underperformance and confirms our view of the competitive environment Namaste operates in. The vape and vape accessory markets are extremely fragmented, where no single enterprise holds enough market share to influence the industry, and no exclusivity exists. The majority of products are (largely) the same, with only slight variations in branding, design and capability.
Any entrepreneurial individual could set up a site, reach out to manufacturers and form wholesale agreements, and market their products, using drop shipping or a fulfillment center for distribution. This lack of competitive advantage is where one of Namaste's problems lies. What sort of features could create a competitive advantage?
1. Price: The online market for vapes is viciously price competitive, and as a consequence prices are largely standardized across all sites. Namaste has taken a massive hit from price competition, stating in a recent corporate update (emphasis ours):
"As a percentage of sales, the gross margin declined to 13% during the period, as compared to 32% in the prior year. The gross profit decline was primarily due to a non-cash inventory write-down of $0.6 million. Gross margin further declined due to a decrease in the price mark-up of products sold to retail customers, an increase in discounts issued to customers, an increase in shipping cost related to product sales, and a foreign currency depreciation in sales generated in British Sterling relative to the Canadian Dollar" (Source)
2. Product Offering: Namaste carries the same products as most established sites. Manufacturers are keen to attract new affiliates and channels to sell through, therefore little to no exclusivity exists with respect to product mix (the only one we could find is Aurora's BC Northern Lights product line sold on Namaste sites).
3. Popularity: As discussed in 'Market Presence', Namaste sites are often far from first in their respective market, faced with a multitude of competitors who offer a similar online experience. Brand loyalty is hard to justify as Namaste's sites vary in name and branding, making it difficult to identify that they are part of the same parent company.
With no advantage in any of these categories, Namaste has turned to brute force, acquiring competitors (at least one of which is straight up unprofitable) in a bid to grow traffic and revenues, while incurring massive losses and failing to solve their lack of competitive advantage. With so many active competitors, and so few barriers to entry, we see this strategy as a clear destruction of shareholder value.
Cease Trade Orders, Intangible Impairment, And Undisclosed Related Party Deals = Low Confidence
Namaste faces further problems outside of its business model, primarily its inability to file accurate and timely financials, as well as properly disclosing related party transactions.
Namaste has been subject to two cease trade orders, one in January 2017 and one in January 2018, both for failing to file annual financial statements by the prescribed deadline. To make matters worse, Namaste also took a $9.2M hit in the form of impairment of goodwill and intangibles related to their acquisitions of VaporSeller and EveryoneDoesIt in its audited 2017 financial statements. This is but another sign that the vape businesses Namaste is acquiring appear to underperform. The impairment came after a financial audit yielded different opinions in the valuations of the purchased assets. These two points raise serious red flags regarding management's competency in reporting appropriate financial figures within the necessary time frame.
CannMart: Competition Is Far Too Strong And Cronos Wrote CannMart Investment Down To Zero
Next we get to the 'Patient Acquisition' step and the launching of the NamasteMD virtual patient acquisition portal. The website says it is a beta version, but it seems to be functional. And the mobile app is listed in the Google play store and on iTunes. Both sources say the app was launched in January 2018 and most reviews are 5 stars. Curiously, of the 27 reviews posted for the android app, 21 were in December (how could reviews exist before the app was launched?
Seems sketchy, similar to how ten of those reviews were all posted on the same day, which is in stark contrast to only six reviews posted since the app was supposedly launched. Potential fake reviews aside, without question the app is up and running, so that step is at least completed.

But then we get to the roadblock. The 'Online Retail' portion of the grand plan that was a combination of machine learning and advanced technology that was going to disrupt the entire Canadian medical cannabis e-commerce industry. So far the only thing it has disrupted is Namaste's plans. This was the whole purpose of the CannMart subsidiary, which has a 'sales only' license for cannabis under Access to Cannabis for Medical Purposes Regulations (ACMPR).
They have a 4,000 square foot facility capable of selling a variety of strains of cannabis to the public. Namaste actually acquired CannMart back in April, 2017 for $3.5 million, of which most was in stock. At that time they claimed that CannMart was a late stage applicant and had completed the 'security clearance' stage and was currently in the 'review' stage. There are 7 stages to getting an ACMPR license and the review stage is the 5th.
So it seemed like they were getting close. But then in November they announced they were 'excited' to announce that the updated ACMPR application has been submitted. Since they had previously been in the review stage and now are submitting an updated application, it would seem they took a step backwards in the process. In January 2018, Namaste announced CannMart has been provided with a 'Confirmation of Readiness' for the license and as the facility nears completion, they are focused on "providing all additional information as required." Finally on March 16, 2018, they announced CannMart had gotten their license.
CannMart's journey to licensing has been long and winding. In 2014, years before being acquired by Namaste, they had submitted their application. And later that year Cronos Group (then PharmaCan Capital) had invested $25,000 and agreed to provide another $325,000 for a 3.5% equity interest once they obtained their license. That investment implicitly valued CannMart at $9.3 million (i.e., $325,000 / 3.5% = $9.3 million), almost three times what Namaste ultimately paid.

Source: PharmaCan Capital Corp. (now Cronos Group) Consolidated Financial Statements, Year Ended December 31, 2014
Cronos is now a top five licensed producer in Canada, but it is no longer an investor in CannMart. After waiting three years, Cronos announced in April 2017 that it wrote off the CannMart investment entirely and was later repaid their entire $25,000 investment by Namaste.
But a four year delay in getting a license and being dropped by Cronos were not the biggest problems for CannMart. While it eventually did get a license (as almost anyone with a pulse can get one these days), its market has changed since they started the process. Namaste mentions 'first mover' advantages in their presentation, but the problem is that CannMart is far behind the real first movers. Another simple Google search of "Canada medical marijuana online" got over four million results.
While there are not actually 4 million different online dispensaries, there are a lot. And most of them just require you to prove you are at least 19 and a Canadian to order. And there were multiple offerings of online prescriptions with helpful videos to show you how to get your prescription online if you want to actually conform to all legal requirement (ex: MMS and Greendoctor) So you do not even have to leave the comfort of your home.
Even being very late to its own niche business is not the worst news for Namaste and CannMart. Shoppers Drug Mart, a Canadian retail pharmacy chain, is also applying for a sales license. With over 1,300 physical locations, shelf space that it can dedicate specifically to cannabis and a network of pharmacists that can onboard patients and prescribe the product, Shoppers can offer the convenience of buying cannabis at the local drug store.
And the whole future of the medical marijuana market itself is in doubt. In July, cannabis is scheduled to become fully legal in Canada. Customers won't even need a prescription. The Provinces themselves are lining up to offer their own online services to any adult. No doctor visit needed.
Namaste's lack of action further extends to patient count, with NamasteMD soft launching in November 2017 according to a January 2018 strategic update. Due to provincial regulations surrounding selling to the recreational market, Namaste's CannMart will have to pursue medical patients only.
In this regard Namaste is far behind competitors, with only 375 patients signed onto its NamasteMD platform as of March 2018. Canopy Growth's Tweed Main Street follows the same general business model and had 69,000 patients at the end of 2017, whereas Aurora Cannabis sells a variety of re-branded strains from other LPs through its Aurora Certified program, and has 45,000 patients between it and CanniMed (source). With a Medicinal Cannabis Patient Space with well over 200k patients, Namaste is now 0.1% of the space, and doesn't appear to be growing.
Namaste and CannMart had a feasible plan for 2014. It's a different market now and it is difficult to see how they can ever catch up to, let alone surpass the true early movers.
Company History And Management Backgrounds
Namaste History
Namaste Technologies started out as Next Gen Metals, an exploration stage mining company developing mineral resource properties in North America. In February of 2014, with mining revenues yet to materialize, Next Gen announced it would "diversify into the legal medical marijuana and industrial hemp industries."
Harry Barr, avid miner and CEO of Next Gen, stated, "Next Gen's vision is to be a leading provider of venture capital, management expertise, education and a facilitator for this explosive new industry." To his credit, Barr wasted no time in entering this new markets, establishing GreenRush Financial Conferences Ltd., aimed at organizing conferences delivering B2B opportunities, investment and education within the cannabis space.
GreenRush Financial Conferences hosted two events in May and June before falling off the map, never hosting another event. The second target market was cannabis testing. In June 2015, Next Gen stated: "At this time the Company has decided not to pursue this business."
On June 23, 2014 Next Gen announced its third cannabis venture: GreenRush Business Brokerage. GreenRush Business Brokerage relied on "utilizing a standard agreement with businesses that require finance to interested parties who can provide Professional Management, Investment Expertise and Venture Capital for the Medical Marijuana, Industrial Hemp and Alternative Medicine business sectors." (isn't that what they were supposed to do?). GreenRush Business Brokerage never generated any revenue and seems to have disappeared into obscurity.
Next Gen Metals continued to trudge along for several quarters until February 2016, when Next Gen entered an RTO with Dollinger Enterprises, the company that would become Namaste Technologies.
Namaste Management
Namaste management doesn't seem to be making good business plans or decisions. Research on their background produces some other interesting observations. Sean Dollinger is the President, CEO, co-founder and largest shareholder of Namaste. And that is no surprise since Namaste was a reverse takeover of Dollinger Enterprises.
Dollinger Enterprises was a bizarre miniature conglomerate composed of web development assets (primarily sites selling vaporizers) , restaurants and gyms (Carbone Coal Fired Pizza and My Gym: Children's Fitness) and property in Bahamas (consisting of one rental property in Nassau and two parcels of land in Lyford Clay, to our knowledge). Though it's an interesting and diverse group of assets, even more interesting is the offer to investors, stated on the "Invest in Our Company" page.
"When you invest in Dollinger Enterprises, we'll contractually bind ourselves to pay you at least 8% a year. On top of that, you get a stake in our company. That means if our company does well, the value of your shares will give you an additional return as well. Furthermore, should we switch from our aggressive growth strategy to a cashflow generating strategy, you'll also receive healthy dividend checks from your shares." (Source)
8% contractually binding! Wow, sounds too good to be true.
Selling Knock-Off Purses… literally!
In June 2009, Dollinger and Tamara Simon (Chairman & Secretary at Dollinger Enterprises USA | Source) were sued by a group of luxury brands for setting up multiple ecommerce sites and selling replica luxury purses). All of the big name brands were made available through sites such as MyPurseWorld.com and Phoenix-Luxury.net, and came with promises that products were "virtually indistinguishable from the designer originals in every way" (source).
'Virtually indistinguishable' proved to be a bit too much, as Dollinger and Simon were sued twice, settling the first for US$2.5M, and going to trial in the second. MyPurseWorld.com was among several websites that were taken away from Dollinger and Simon, and used as examples of what would happen to other sites selling replicas. Selling knock-off purses isn't what you would expect of a transformational CEO.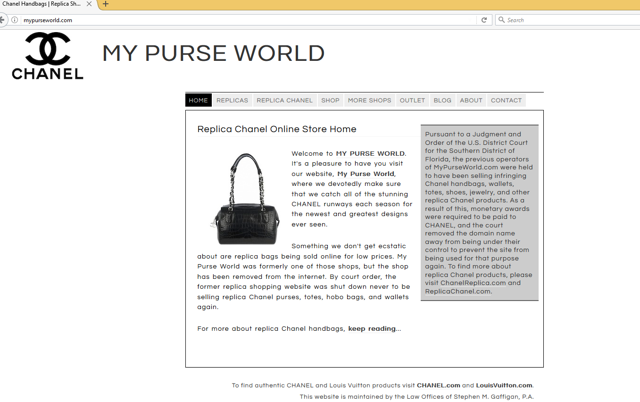 Dollinger isn't the only Namaste executive with a checkered employment history. Namaste co-founder, Chief Investor Relations Officer and second largest shareholder, Kory Zelickson also has roots in e-commerce. Zelickson and Dollinger were both directors of a company called Mobile Booster UK Ltd., an enterprise that sold signal repeaters in the UK through mobilesignal.co.uk, a website registered to Kory Zelickson.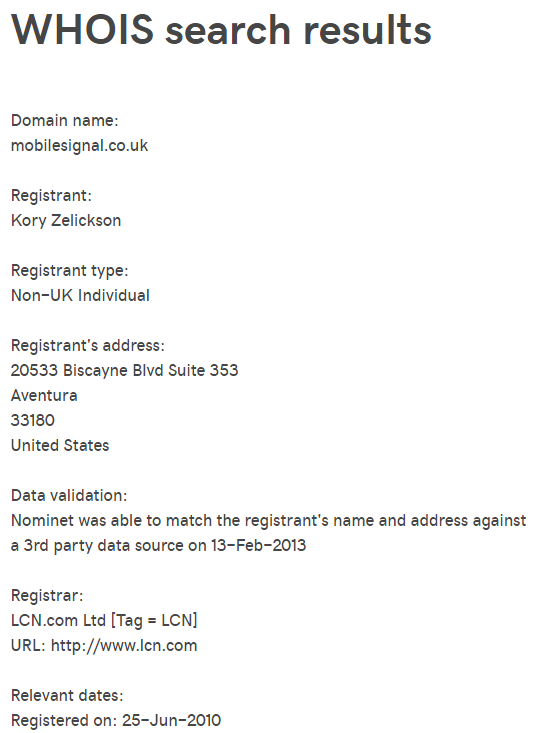 This business had a slight problem because "installing or using a repeater is a criminal offence unless it is CE marked and specifically authorized for use in the UK, because they can cause interference." (source). Unfortunately, it doesn't seem the repeaters Zelickson's website was selling were in fact authorized. Furthermore, the PC Pro Excellence Awards 2011 gracing his site's top banner was an award that mobilesignal.co.uk had never even been nominated for, let alone won (Tech journalist and PC Pro Editor Barry Collins' chronicling of the take down of the logo (it took multiple attempts) is available here).
Obviously Namaste is not the first time Dollinger and Zelickson have applied their business talents together. But with these backgrounds it is hard to believe that Namaste can achieve its dream of becoming "the future of cannabis."
Grumpy Bear Valuation
What does an investor get for Namaste's hefty market cap of CAD$435 million? A management team with an unimpressive track record, an outdated business plan and a track record of acquisitions with declining performance.
The one thing Namaste shareholders have experienced is massive equity dilution. Shares for payment, shares for acquisitions and issuing shares for cash. It seems like everybody gets shares (or warrants or options). Since Namaste completed its reverse merger with Dollinger Enterprises, shareholders have been diluted an incredible 76% with fully diluted shares increasing by over 4 times (based on financial statements for Namaste, available at SEDAR.com).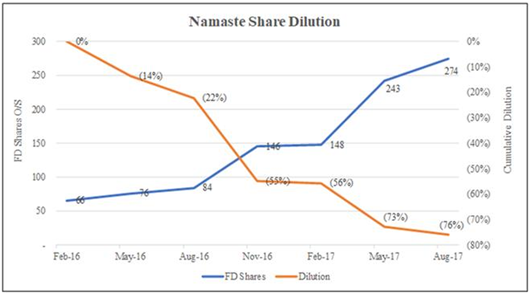 But that pales in comparison to the increase in the stock price. At the time of the merger, Namaste traded for around 10 cents. Fueled by investor enthusiasm for investment in cannabis related business in general along with Namaste's own steady parade of touting press releases, the stock price has increased over 20 times.
Namaste's current sales are mostly derived from vaporizer sellers which it bought for around 1x sales. If we assume Namaste can stabilize the revenue decline in those businesses and it acquired them at a huge discount to their actual worth we could value them at 3x sales. So, given the past year's sales of $17.5 million, that part of the business could be valued around $53 million. Namaste bought CannMart for $3.5 million before it had acquired its license.
If we take an incredibly generous view of the value of that license, we could estimate it is worth 3 times what Cronos was willing to pay after licensing a few years ago. So that gives us $40 million. Add it together and it looks like Namaste is generously worth less than $100 million. The Grumpy Bear deems there to be 80% downside in Namaste's stock price as growth projections fail to be achieved.

Namaste shares many similarities with another venture that existed in the cigarette alternative space, ECIG. ECIG burst onto the scene in 2013 with electronic cigarettes and vaping products that were seen as safer, healthier alternatives to ordinary cigarettes. (In)famously, ECIG diluted and acquired its way to the grave, promising market dominance and revenue figures that it simply could not meet, and eventually succumbing under the massive losses and debt it had incurred in the process.
Namaste seems to be following a very similar trajectory, claiming to be #1 while acquiring seemingly unprofitable competitors, diluting heavily, and compounding losses quarter after quarter. ECIG's stock went to $0, and as such we are concerned for Namaste which operates a similar business: roll up, commoditized product, fragmented space, similar industry, and more.
Conclusion: Don't Forget Your ABCs (Always Be Cautious)
The public's enthusiasm for marijuana stocks has allowed Namaste to buy up private online sellers of vaporizers faster than vape clouds dissipate. Namaste has spun a good tale of turning its vaporizer customers into medical marijuana customers and investors seem to be valuing Namaste on its lofty growth projections. The way this grumpy analyst sees it, management backgrounds fail to convince him that Namaste has the talent to pull off these projections.
Namaste is ramping up focus on medicinal cannabis just as the Canadian market appears to be on the verge of legalizing recreational cannabis use, meaning that users will no longer require a medical prescription to buy marijuana. Namaste is a business with dim future prospects and a valuation more than four times what can be justified by its actual business. Shareholders of Namaste should proceed with caution and keep a close eye on financial results relative to growth projections.
Editor's Note: This article covers one or more microcap stocks. Please be aware of the risks associated with these stocks.
This article was written by
Grumpy Bear is a former research analyst who now invests his own money and provides independent research opinions.  Most of the research is focused on short ideas because there are enough sell side analysts and paid promoters hyping stocks on the long side.
Analyst's Disclosure: I am/we are short NXTTF. I wrote this article myself, and it expresses my own opinions. I am not receiving compensation for it (other than from Seeking Alpha). I have no business relationship with any company whose stock is mentioned in this article.
Seeking Alpha's Disclosure: Past performance is no guarantee of future results. No recommendation or advice is being given as to whether any investment is suitable for a particular investor. Any views or opinions expressed above may not reflect those of Seeking Alpha as a whole. Seeking Alpha is not a licensed securities dealer, broker or US investment adviser or investment bank. Our analysts are third party authors that include both professional investors and individual investors who may not be licensed or certified by any institute or regulatory body.