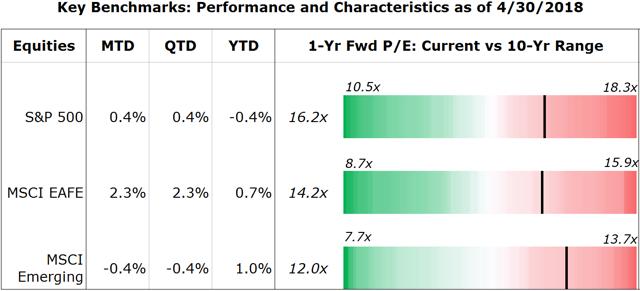 Data Source: Bloomberg
Momentum to Market: 'I'm Not Dead (Yet)!'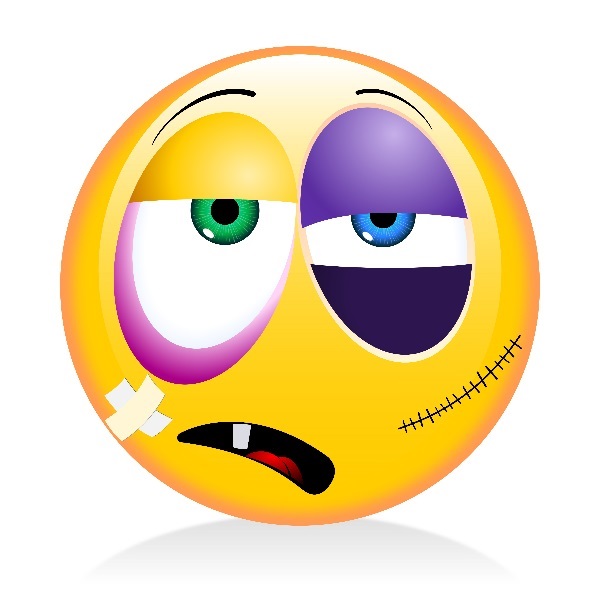 Source: istockphoto.com
When 'momentum' style of investing is on a roll, it's hard to bet against it without getting steamrolled. By 'momentum', we mean overweighting top performing assets (performance typically measured over 3-, 6-, and/or 12-month trailing periods) while underweighting or shorting poor performing assets. The 'momentum' anomaly is generally acknowledged within investment academia although there lacks a consensus on what is driving this anomaly (is it risk- or behavioral-based?) as well as its investability. For a more in-depth look at 3D's perspective on momentum investing, we refer readers to this ETF.com article, "A Simple Explanation of Momentum."
'Momentum' can be viewed as the sexiest of major market risk factors (the others being size or small cap, value, quality, dividend yield, and low volatility). Its sexiness transcends even the Fama/French 5-factor model as momentum is quarantined to its own section on Professor Ken French's factor data website. And momentum's effects can act like a tractor beam pulling other factors into its gravitational force (think 'value' investing in the mid-2000s or 'low volatility' investing from 2012 to 2016).
About two years ago, we participated on a panel hosted by Inside ETF discussing Smart Beta. The audience asked the panel a question concerning the nature and practice of momentum investing. The consensus view expressed by the panel was that when momentum is working, it's 'really working'; but when it stops working, it 'fails spectacularly'.
This 'spectacular' behavior of 'momentum' can be seen through its statistical properties such as standard deviation (how much of its returns move back and forth) and skewness (how much of its performance skews negatively or positively). Figure 1 displays the distribution of monthly returns for the Fama/French 5-Factor Model and Momentum (market risk and long-short factors capturing size, value, profitability, asset growth, and momentum) from June 1963 through year-end 2017, along with the historical monthly standard deviation and skewness.
Figure 1: Fama/French U.S. 5-Factor Model and Momentum: Historical Distribution of Monthly Returns and Summary Statistics (July 1963 through December 2017)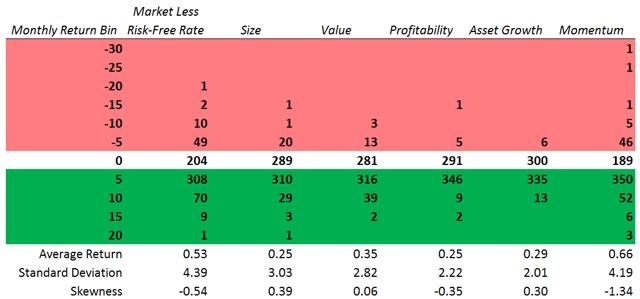 (Source)
Momentum is the best performing factor but also the most volatile out of the major factors (outside of market risk). Momentum tends to have more sizeable monthly returns relative to the other factors on both the positive and negative side. In other words, momentum has more tail risk than the other factors, with greater risk on the negative side.
Is Momentum Facing Its Negative Skew Moment?
During the first quarter, it appeared that 'momentum's' run was unstoppable following strong performance in 2017, a market characterized by exceptionally low volatility. Primarily driven by U.S. technology stocks, momentum performed well even during the early February sell-off that saw the S&P 500 Index drop 10% at one point. However, 'momentum' seized up in mid-March due to a number of negative headlines affecting the tech sector (see our 1Q2018 Market Commentary for a review of the mid-March tech sell-off).
'Momentum's' weakness in March spilled over into April due to ongoing negative sentiment across social media stocks and warnings from overseas technology component providers that were interpreted by investors as signs of a slowdown in technology consumption and capital spending. In early April, 'Momentum' (proxied by iShares MSCI USA Momentum ETF (MTUM)) trailed the S&P 500 by over 1%. But then large-cap growth technology companies favored by 'momentum', such as Facebook (NASDAQ:FB) and Amazon (NASDAQ:AMZN), reported strong 1Q earnings which led to a rally in 'momentum'. After trailing much of the month, 'momentum' ended up outperforming the S&P 500 as well as the other major factor categories (Figure 2).
Figure 2 - Momentum Edges Out Other Factor Styles in April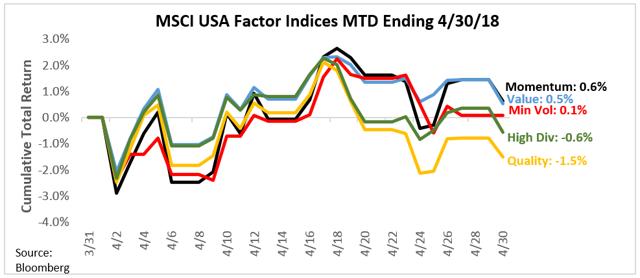 Concerns over elevated valuations in risky assets (equity valuations, narrow credit spreads) have elevated investor anxieties. It appears that many investors who enjoyed strong market gains in 2017 have an itchy trigger finger and are looking for excuses to exit the 'momentum' trade. On April 23, Bloomberg reported that $487 million had exited MTUM over the trailing week despite net inflows of $773 million into U.S.-listed smart beta exchange-traded funds (ETFs).
Sensing that the 'momentum' trade has possibly run its course, and knowing the historical negative skewness associated with 'momentum', are we about to see the investor masses run for the exit? As is the nature of the style, 'momentum' adapts to the current market environment. If investors are shifting to late cycle positioning, as represented by commodities and cyclicals, then 'momentum' will eventually pick that up. The risk to the trade is a sudden inflection point (like what was experienced with growth technology) that could cause investors to violently pivot from 'risk-on' to 'risk-off'. 'Momentum' may yet still have some life left in it.
Rotation into Value?
A sizable portion of the net inflows into smart beta found their way into 'value' style ETFs. Even though 'momentum' slightly outperformed all other factors in April, 'value' performed nearly as well (Figure 3) despite the early sell-off in financial stocks following key earnings releases from large banks like Citigroup (NYSE:C) and Wells Fargo (NYSE:WFC). Cyclicals came back into favor as the energy sector led all major sectors (Figure 4) in April helped by the strong performance in commodities (Figure 5).
Figure 3 - Small Cap and Value Outperformed in April
Figure 4 - Energy Runs Ahead of All Other Sectors in April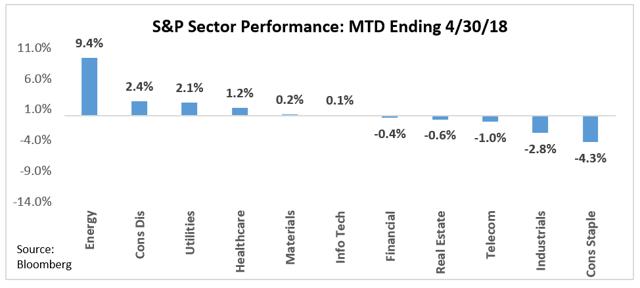 Figure 5 - April Saw Strong Performance in Industrial Commodities Led by Oil Prices

Mixed Picture for Global Growth Outlook
Prevailing sentiment has shifted from global growth recovery to global growth slowdown as captured by key macroeconomic indicators, yet the strong performance of cyclical risk assets seems to be expressing a contrary view of the macro picture. The view now being priced into the markets is a diverging growth picture between the U.S. and the rest of the world that is being expressed through a strong recovery in the U.S. dollar (Figure 6). This could be a result of the increased trade friction between the U.S. and major trading partners; it could also reflect some signs of economic deceleration coming out of China, although this has not been confirmed by commodity prices.
Figure 6 - Dollar Spot Index (DXY) Recovers in April

In recent periods, a U.S. dollar rally coincided with 'risk-off' defensive positioning, but April may be signaling a breakdown in expected correlations as both the U.S. dollar and commodities posted strong performance, despite weakness in emerging market equities and currencies. Investors are expressing signs of concern over a 'topping out' of key global macro indicators such as purchasing manufacturer indices and business sentiment (Figures 7 and 8).
Figure 7 - Global PMIs Rolling Over?

Figure 8 - A Top Reached in German and Japanese Business Sentiment?

However, these same concerns are not showing up in the U.S. Inflation expectations are rising in the U.S. (Figure 9) while U.S. business sentiment and employment remain robust (Figures 10 and 11). With market expectations for Federal Reserve rate hikes catching up with Fed official communications (a reversal from the pre-Brexit period), we could be witnessing a different form of late-cycle positioning, with the U.S., rather than overseas markets the prime beneficiary of late cycle growth.
Figure 9: 5-Yr/5-Yr TIPS/Nominal Treasuries Breakeven Spread: Inflation Expectations Rising in the U.S.

Figures 10 and 11: U.S. Business and Employment Conditions Remain Strong


Despite the strong U.S. dollar and a more positive growth outlook, the U.S. equity market performed in the middle across major regional markets with Europe leading major regions and emerging markets lagging (Figure 12). Emerging markets are beginning to feel the adverse effects of a strong U.S. dollar and higher U.S. rates as evidenced by the poor performance of emerging market debt (Figure 13).
Figure 12: Europe Leads Major Regions in April While Emerging Markets Lagged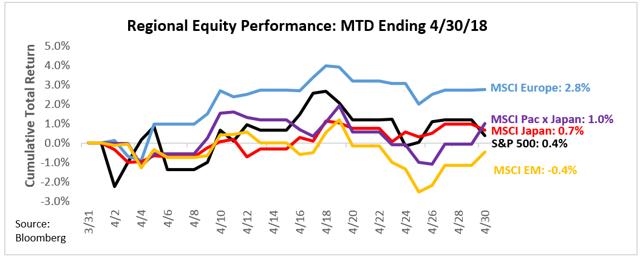 Figure 13: U.S. High Yield Performs Well in April But Emerging Market Debt and Foreign Currency Bonds Underperform Partly Due to Strong U.S. Dollar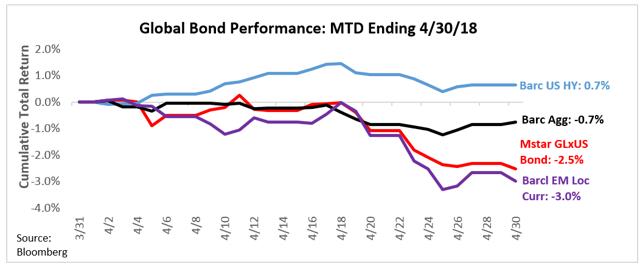 As highlighted in Figure 13, U.S. high yield emerged unscathed from the April sell-off in fixed income that saw the 10-Year Treasury briefly spike above 3% from 2.74% at the beginning of the month before settling at 2.95% at month end. Despite higher rates and rising inflation expectations, the 2-10 year term structure remains flat (Figure 14) while investment grade credit spreads remain wide; the bond market may be signaling the upper limit on Fed rate hikes or disinflation to emerge once the current business cycle ends.
Figure 14 - The Investment Grade Fixed Income Market Reflecting Signs of an Upcoming Slowdown

Mixed Picture for Global Growth Means Risk Re-Normalization
What has emerged from April's market activity is the continued move towards risk re-normalization. Although high-yield credit spreads have narrowed to near-term low levels and commodity prices have rallied in the face of a decelerating growth environment, many risk assets are being repriced to more normal levels from their abnormally high levels at the end of January. Global market equity valuations have come back in (Figure 15) and are now facing the competitive pressures from higher interest rates preening themselves for the attention of global asset allocators.
Figure 15: Global Market Valuations Look More Attractive as Long as the Earnings Picture Holds Up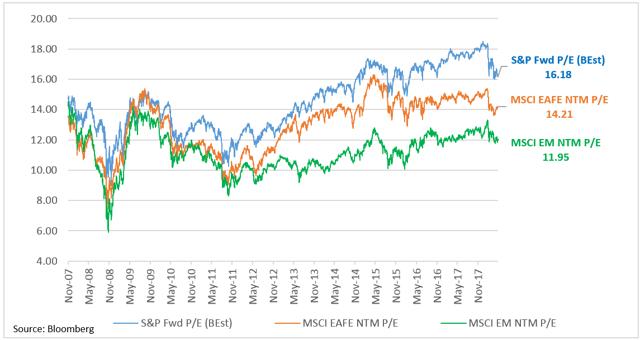 More attractive valuations from their peak levels don't necessarily inoculate global markets from further corrections, but investors are now seeing a market more attractively priced even if we are in the late stages of the current business cycle.
Disclosure:
At the time of this writing, 3D held positions in MTUM. The above is the opinion of the author and should not be relied upon as investment advice or a forecast of the future. It is not a recommendation, offer or solicitation to buy or sell any securities or implement any investment strategy. It is for informational purposes only. The above statistics, data, anecdotes, and opinions of others are assumed to be true and accurate however 3D Asset Management does not warrant the accuracy of any of these. There is also no assurance that any of the above are all inclusive or complete.
Past performance is no guarantee of future results. None of the services offered by 3D Asset Management are insured by the FDIC and the reader is reminded that all investments contain risk. The opinions offered above are as May 2, 2018, and are subject to change as influencing factors change.
More detail regarding 3D Asset Management, its products, services, personnel, fees and investment methodologies are available in the firm's Form ADV Part 2 which is available upon request by calling (860) 291-1998, option 2 or emailing sales@3dadvisor.com or visiting 3D's website at www.3dadvisor.com.
Disclosure: I am/we are long MTUM. I wrote this article myself, and it expresses my own opinions. I am not receiving compensation for it. I have no business relationship with any company whose stock is mentioned in this article.