We're flush in earnings season and that tends to shake out some opportunities one way or another. The best investors can anticipate when an earnings move is going to happen, right? Or maybe they wait and then act when the facts are in. Or they pay attention to the long term, slotting in earnings as a single data point.
Welcome to Editors' Notes! I aim to sort through the ideas we publish each day and highlight a few that may be of interest to readers, along with comments that may add a helpful gloss. Today's edition touches on a few earnings-related ideas, and a few unrelated ideas.
I'm planning to post this once or twice a week, and I'm most interested in seeing what you as readers think about it and what you find useful, so I can make it better. If you have thoughts, comment below or send me a direct message and let me know what you think. Read Wednesday's edition here.
Long Ideas
We published 80 long ideas the last two days. Here are four that I found interesting, ranging from a mega-cap to a couple of micro-caps.
Busting out of the value trap?
The prior two headlines on Travelzoo (TZOO), from 2016, are Travelzoo: Welcome To The Bungle and Travelzoo: Classic Value Trap. Each author is sharp. So that's not a good sign. Neither is this chart: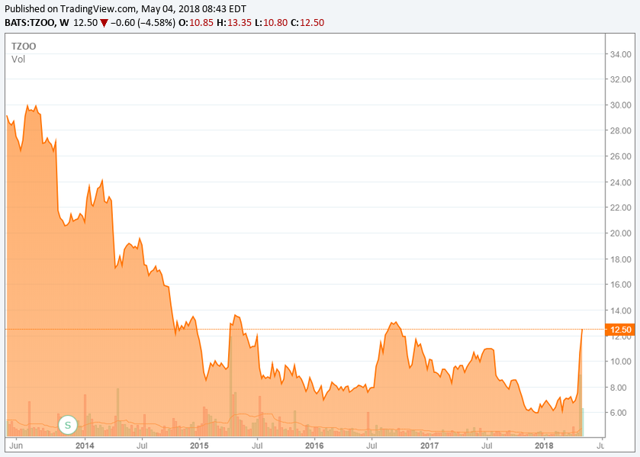 But, you see a spike on the right side? That's what Shareholders Unite writes about this week. So what happened?
The author goes to the earnings presentation and finds two consecutive quarters of YoY revenue growth. Then there's a slide showing consistently better EPS results in North America and Europe (and just flatly bad ones in Asia Pacific). New growth investments are bearing fruit. And margins and efficiency are improving. So that makes for a strong quarter.
TZOO's valuation is lofty - $1M in trailing twelve months free cash flow vs. a $155M Market cap, e.g. - but the company has no debt on the balance sheet, and this quarter suggests they have refound growth and operating leverage. What if they figure out the Asia Pacific market?
Sentiment Check - Envoy Global Research, a contributor and regular commenter, argued in reply to the article that there's room to go higher. As mentioned, it's been a while since anyone covered TZOO on SA. And the investors following it on SA most often follow other travel stocks or other tech companies like Yelp (YELP) and Pandora (P), suggesting there's more room to find an audience.
Another obscure potential value trap, but there may be puffs left.
Dan Stringer updates on Quarterhill (QTRH). The company, formerly known as Wi-Lan, has historically been a patent company. I'm not sure whether that industry model ever played out well, but even when it does it requires a lot of patience. QTRH has apparently grown impatient and started diversifying to add value to their business. Stringer cites a risk of overpaying for acquisitions, but also a lot of upside and potential catalysts. This is obscure, but may be of interest.
Sentiment check - The market isn't paying much attention - Stringer is the only one to cover this since the diversification effort has begun. Commenters seem to be people who know the story well.
Always pay attention when a short seller shares a long thesis.
Citron Research is one of the better known short-sellers in today's market. Alibaba (BABA) is one of the better known stocks in the market, and the most shorted stock in the market per Citron (I couldn't confirm at a quick glance, though math suggests that it is based on this chart).
Betting against a high short interest always attracts my attention - oftentimes investors get caught up in the 'squeeze' potential and forget that if there are a lot of people short, that probably means a lot of smart people think the prospects for that business are poor. And when a short seller makes a long case, I sit up and pay attention; they know what it's like to be on the other side of the trade, and to stake reputation on a company positively holds real weight.
This is a bit of an odd piece. There are three main tenets: The stock is cheap as compared to Amazon (AMZN), which as seen below may not be the most stable comparison of value; the market opportunity in China is huge, which, of course is true; and the company is going to beat earnings which, with a heavily shorted stock and a tightly held float, could spring the stock higher. That has already started to play out based on this morning's earnings.
Which is all well and good. I'm just surprised at how dismissive of the short case Citron is. The short case as I understand it is that you can't trust Alibaba's numbers (for example or here). That isn't really addressed in this case.
But maybe that's right - if there is a fundamental problem with BABA's numbers, it will likely play out over a longer period, while in the short term earnings will drive things. Maybe this Citron Research knows what they're doing.
Sentiment Check - We've periodically published short ideas on BABA in the past, but none as of yet in 2018. This is the 35th long case. Commenters are mixed, but mostly because readers are not a big fan of Citron Research.
Can a dermatology based company succeed?
John Engle looks at Paratek Pharmaceuticals' (PRTK) pipeline and prospects. The company is applying for approval of omadacycline, its antibiotic. The case Engle makes is brief - namely that the company has a good chance of approval given results, and that the market is big enough to outearn its valuation.
I flag it because I have Paratek lumped in with dermatology-related companies like Novan (NOVN) and Tetraphase (TTPH). These companies never seem to do well. Is it because of the approval process or a tough market? I don't know. And I'm not 100% sure it's fair to lump them in that way. There are a lot of smart investors who are bullish on PRTK, but the reverse merger roots and the fact the stock is trading near all-time lows despite this opportunity and nearly universal bullishness on SA would concern me.
Sentiment Check - We've had 8 different bullish authors over the last 18 months, and no short ideas. Readers who follow PRTK are most likely to follow Synergy Pharma (SGYP), Achaogen (AKAO), and Dynavax (DVAX).
Short Ideas
We published 10 short ideas on Wednesday and Thursday. 3 talk about Tesla (TSLA) in the wake of the curious earnings call performance. We'll skip those. Here are the other ones that caught my eye.
The latest twist in a micro-cap battleground story. Short author argues the numbers don't add up.
One of my favorite things about Seeking Alpha is how investment discussions can pop up in the most curious places. Sure, I tease our Tesla obsession, but we also have bulls and bears on relatively tiny companies. USA Technologies (OTC:USAT) is an example of that (and woah! looks like the bulls have been right there).
Hudson Technologies (HDSN) is a similar story. A lot of value investor types have written about it - I count 11 different authors writing up a long thesis since 2012, and many of them authors I really like. Rota Fortunae emerged as a prominent bear last September. So far, the market agrees with them: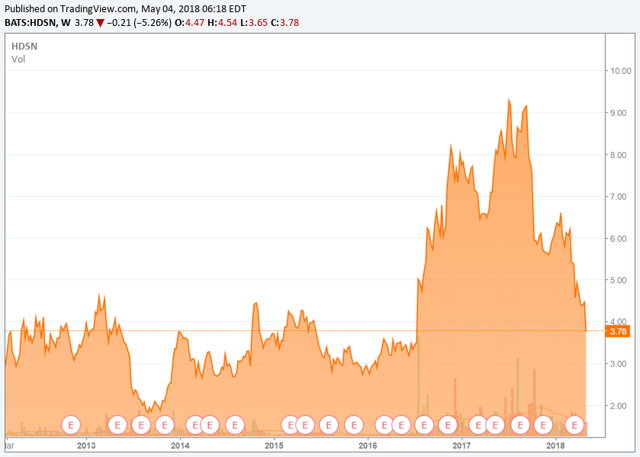 This week's article argues that HDSN is in a bad commodity pricing environment. The refrigerant R-22 and HFC (hydrofluorocarbon) pricing are down, and HDSN bought its inventory at a peak situation. The author estimates that revenues will be hit much worse than analysts are modeling, and that margins will suffer as well, which flows down the income statement and affects debt to EBITDA ratios. The model is in the article and interesting. The stock is down 15% since the article came out. The company reports Q1 earnings next Wednesday, so there may be vindication one way or another soon.
Sentiment Check - The comment stream saw one bullish contributor take the other side. We haven't published a focus article that is long HDSN this year, though Artko Capital's Q1 letter includes a pretty good argument for the long side. In a happy coincidence, the five stocks that most often are followed by the readers who follow HDSN are Applied Optoelectronics (AAOI), Oclaro (OCLR), Meet Group (MEET), Health Insurance Innovations (HIIQ), and USAT. Each of those battlegrounds in their own way. A new investment style?
Another battleground in the BDC space. Could the dividend cut pattern repeat next week?
I looked at OXSQ in the previous Editor's Notes. Medley Capital (MCC) is better known, but with more of a mixed perspective. Jim Roumell pops up again and has written a few articles on his long position. William Packer has been vocal on the other side of the trade.
While he appears to have an axe to grind with Medley Management (MDLY), which runs MCC, he does dig deep here. BDCs can be opaque as you have to trust the marks management reports; Packer looks at the companies to whom MCC has loaned to highlight problems. He also addresses the history of MCC as reason to expect a rhyming dividend cut when the company reports earnings next week.
Sentiment check - Roumell has been the notable bull on SA, and other articles are mixed to negative. The comment stream here reflects an investor base that has dealt with the chart above for too long.
It's possible, though challenging, to hold two contradictory views in mind - that Amazon is an incredible business, and that Amazon shares are very, very expensive. But Amazon shares have looked expensive as long as I've been following the markets, and they've gone up nearly 1000% over that time. To paraphrase a recent Jeff Bezos quote, if the business and stock performance disagrees with the valuation, you may be valuing the wrong thing.
Bishop Research and Analytics tackles this windmill by focusing on free cash flow, Bezos's preferred metric. The financial analysis is compelling - FCF/share has decreased since a high-water mark in 2016, but the stock keeps going up. Factor in a change in accounting for leases in 2019 (especially salient post Whole Foods), stock-based compensation, and historic multiples, and the company's shares are significantly overvalued based on free cash flow.
The analysis is compelling, and yet... what is Amazon's OCF likely to be in 5 years? What will the cap-ex levels be like then? What does that mean for the company's opportunity set? I think those are unanswered here, and that would be where to go next with any Amazon analysis.
Sentiment Check - 22 comments, with a mix of 'missing the forest for the trees' commentary from bulls and 'great article' from other commenters. We publish about one short idea a month on Amazon, vs. 9 long ideas a month (YTD).
***
That's it for today. Have any favorite ideas you saw recently? Let me know below. Follow me if you want to get more of these posts. And if you have feedback on what would be more useful to see, get in touch, I'd love to hear from you. Have a great weekend!
Disclosure: I/we have no positions in any stocks mentioned, and no plans to initiate any positions within the next 72 hours. I wrote this article myself, and it expresses my own opinions. I am not receiving compensation for it. I have no business relationship with any company whose stock is mentioned in this article.
Editor's Note: This article covers one or more microcap stocks. Please be aware of the risks associated with these stocks.