Oil Production Vital Statistics April 2018
On the world stage, momentous events are unfolding. The USA, UK, and France have bombed Syria risking confrontation with Russia. The Israelis are more than a little concerned about Iranian involvement in Syria. And on the Korean peninsula, peace between N and S is on the cards, spreading prosperity and more energy consumption for all. On the second tier, oil production in Venezuela and Mexico continues to tank. No one should be surprised, therefore, that Brent has breached $74/bbl. The only thing standing in the way of another severe oil price spike is the N American frackers going back more seriously to work. They may one day be joined by frackers in Saudi Arabia, China, and Russia.
The chart below from the February OMR is one of the more important produced by the IEA showing the balance between supply and demand leading to either stock draw or additions. So important, in fact, that I have decided to leave it there from the last report 2 months ago so that it can be compared with the equivalent chart from the April OMR that is reproduced just below it.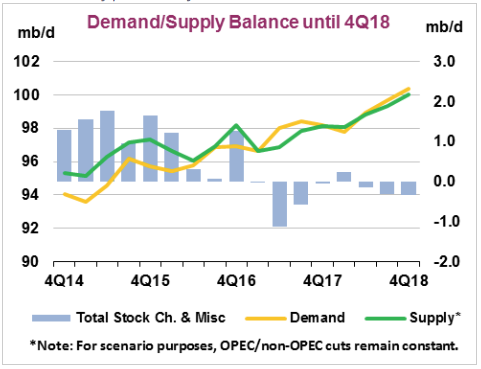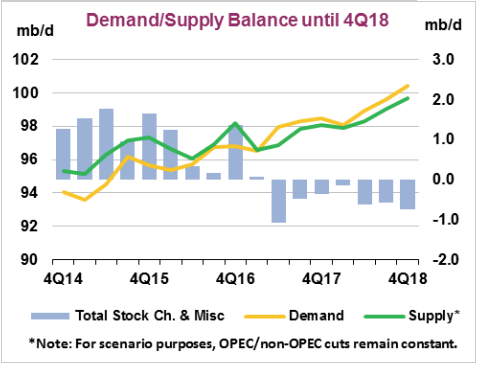 The difference between the two charts is quite subtle but with dramatic impact. Data revisions result in crude oil stock draws for 7 quarters backdated from 4Q 18. This has meant that the IEA now sees OECD crude oil stocks at the 5-year mean at the present day. The momentum of the trend will see OECD crude oil stocks shooting to the low side. Even higher oil prices may be on their way.
Readers should note that since January 2018 I have been employed as a consultant at ETH Zurich. ETH are a well-kept secret, but are in fact the number 10 ranked university in the world, up there with CalTech, MIT and Imperial College. My intention is, with Roger's help, to keep the blog going but with my significantly reduced participation. I will be aiming for reduced quantity but increased quality and impact. This edition of vital statistics therefore is abbreviated to bullet points - that may actually serve as an advantage to readers. Neil Mearns, who now works at Cornwall Insight updates the Google Sheets data base that the live charts read.
Note that Vital Statistics is produced using the Global Energy Graphed database employing Google Sheets. Since these graphs are live, they will update automatically in future as more data are added, meaning that the narrative of this post will no longer match the data in the months ahead.
Oil Price
Oil price data updated to 30 April 2018 using data from the EIA.
Figure 1 Oil prices are heading higher since the double bottom of January 2016. The WTI - Brent spread, a symptom of the high oil price era has re-opened.
Figure 2 Longer term view of daily oil price. Note how the Brent-WTI spread was a feature of the high oil price era.
Figure 3 WTI minus Brent. At its peak, the spread reached $30 per barrel. Is this a significant indicator of things to come?
Rig Counts
Rig count charts for North America, the USA, South America, The North Sea, and OPEC are shown below. Additional charts for Europe, The Middle East, Africa and Asia-Oceania can be found here.
Rig counts provided by Baker Hughes are updated to 27th April 2018 for N America and to March 2018 for all the rest.

Figure 4 Stacked area chart showing North America total rig count. Not much to comment on here.

Figure 5 Stacked area chart of US Total rig count showing the oil - gas split. Signs that the US rig count is picking up pace with a renewed marginal shift towards gassy plays.

Figure 6 Same data as above but plotted as an unstacked line chart. The response of US frackers returning to work is so far very muted. But the efficiency of what they are doing must be factored in.

Figure 7 US rig count broken out by sedimentary basin / petroleum systems play. The Permian play in Texas remains by far the most important.
Figure 8 Drilling has slumped in the North Sea to a record low since 1995. Precious little sign yet of a drilling revival in the North Sea.
Figure 9 Drilling within OPEC remains close to a cyclical high. Signs of an uptick in OPEC drilling.
Figure 10 The near-term top in S American rigs was 329 in August 2014. By June 2016, this had crashed to 158 and it remained at about that level for the remainder of the year. No signs of a major drilling recovery here.
Oil Production
Monthly oil production data are compiled from the IEA OMR. The public data are normally released towards the end of the month and relate to the previous month, meaning that we are always running 4 to 5 weeks behind real time. The oil production graphs are updated to March 2018.
The 15 graphs below are mainly composite production groups. Graphs for individual countries reproducing the whole of the IEA OMR oil production data can be found GlobalEnergyGraphed as follows:
OPEC 16 charts
OECD 10 charts
Rest of World (including Russia) 21 charts

Figure 11 The OECD has only 4 significant oil producers: the USA, Canada, Mexico and Norway. The UK has now become a small player with production ~ 1 Mbpd alongside small producers Denmark and Australia. OECD production is heading higher, led by the USA and Canada.
The notch down in Canada in May 2016 was down to the Fort McMurray wildfire. Mexican production continues its long term decline (below).

Offshore Mexican production that is dependent upon nitrogen injection appears to be on the skids.

Figure 13 European oil production is dominated by the North Sea and in particular by Norway. The "other" category is dominated by Denmark with a contribution from Italy. The high on this chart is 7.1 Mbpd in April 2002, the low is 2.94 Mbpd in September 2013. North Sea production has now declined so far that it has become easier for operators to staunch percentage declines.

Figure 15 Details of OPEC spare capacity. At the end of 2016, spare capacity was approaching historic lows of 1.99 Mbpd with most countries pumping flat out. The IEA has not published spare capacity data since December 16.

Figure 16 Iran pumped 3.81 Mbpd in January and has hit a production plateau following the lifting of sanctions. What next?

Figure 17 Libya achieved 1.1 Mbpd in July, 0.92 Mbpd in September and pumped 1.00 Mbpd in January 2018. Stability may have returned to the part of Libya where production has been restored.
Figure 18 Rest of World production has been glued to a plateau of 30 Mbpd since January 2010. However, this statistic hides winners and losers. Russia is the most prominent winner and China the most prominent loser.
Figure 19 In October 2016, Russian production stood at 11.6 Mbpd. Russia remains compliant with the agreed cut of 250,000 bpd in the historic deal. Note that Between August 2016 and October 2016, Russia ramped up production by 550,000 bpd (the OPEC++ datum).
Figure 20 Production in SE Asia remains in slow decline, led by China. This can have significant geopolitical implications.
Figure 21 South America, excluding OPEC countries Venezuela and Ecuador, is dominated by Brazil. Production for the group is stable.
Figure 22 The Middle East excluding OPEC is dominated by Oman. Other Middle East will be dominated by Bahrain. The group decline reflects wars in Syria and Yemen. Oman is party to the OPEC++ deal.
Figure 23 Africa, excluding OPEC (Libya, Algeria, Nigeria, and Angola), has only one other major producer in the shape of Egypt. There are a host of smaller producers in the other category that includes countries like Equatorial Guinea, Republic of Congo, Gabon, South Sudan, Chad, and Tunisia. The group is in slow decline. Note that Gabon and Equatorial Guinea have recently joined OPEC.
Figure 24 Summary of global C+C+NGL production. Note that OPEC countries' NGL production is reported separately. The record C+C+NGL production remains 94.18 Mbpd set in November 2016 when OPEC++ were pumping flat out ahead of "The Deal".
Figure 25 Global total liquids showing the constituent parts. Processing gains and biofuels are not shown in Figure 24. Chart not zero scaled.
This article was written by
I was born in India in October 1957 during the waning years of British colonialism. I returned home to native Scotland as a infant and grew up in the small country town of Kirriemuir, famous as the birth place of J. M. Barrie, the creator of Peter Pan, and of Bon Scott, lead singer with rock band AC DC. In 1979 I graduated from The University of Aberdeen with a BSc degree in geology and went on to defend a PhD in 1984 that examined Crustal Evolution in Western Norway based on radiogenic isotope data. In 1983, my wife and I moved to Norway where we both worked at The University of Oslo. In this period I worked on developing methods that employed natural radiogenic isotope ratio variations in rocks and fluids to help characterise the layering and connectivity of oil and gas reservoirs and have since published a number of papers on this topic. In 1993 we returned home to Aberdeen with a one year old infant and I would establish an isotope geochemistry analysis and consulting business that would eventually employ 12 people and operate 3 mass spectrometers. Business boomed during the early years with a spate of large new field developments that would fuel the second peak in UK oil production in 1999. But a glut of oil on the market would see the oil price fall below $10 / barrel in 1998 that would lead to one of the periodic busts in the industry which my company survived but would never fully recover from. On September 11th 2001 I decided to throw in the towel and sold the analytical part of the business but continued doing consultancy work for the oil industry until 2005. In 2003 I fortuitously invested some money in a range of small oil stocks and had become intrigued to understand why their value and the price of oil seemed to be set on an ever upwards trajectory. I had for a long while been fascinated by the concept of peak oil and read a few books including Richard Heinberg's The Party's Over, Matt Simmons' Twilight in The Dessert and Daniel Yergin's The Prize. And then one day in 2006 I stumbled upon The Oil Drum blog without realising at the time that this enterprise would consume the greater part of my time for the following 7 years. At that time The Oil Drum provided unique insight to the pandoras box of the energy world that society was struggling to understand. Escalating oil and energy prices meant spreading energy poverty through the poorer parts of OECD society and throughout the developing world. Politicians and policy makers were caught off balance and did not know how to respond. Not much has changed. I have two sons, both recently graduated from university, a wife who works for the oil industry and two dogs who take me for a long walk every afternoon. I am under a certain amount of pressure to contribute to family income and so undertake occasional consulting jobs for the energy industries. But my real passion is to try and understand the various components of how The Earth energy system works and to educate politicians, policy makers and the public on Energy Matters so that better choices can be made. I hope the articles I write for Energy Matters may one day build into a book and that I may somehow make a living from data analysis, writing and public speaking. In 2009 I was appointed as Honorary Research Fellow at The University of Aberdeen where I teach occasional courses.