Ready To Celebrate? - Today's Editors' Picks
Happy weekend! I'm your curator, Michael Hopkins. Hopefully, you're enjoying a day or two off. Maybe you're preparing for what the Oracle of Omaha has to say today. Or, maybe you're recovering from a hangover after celebrating Wall Street's big gains Friday, boosted by a strong jobs report. Or, maybe you're preparing for Cinco de Mayo festivities.
Whatever the case, we have a list of long ideas from Brian Bain, Laurentian Research, Brad Thomas, Stephen Simpson, David Alton Clark, and DoctoRx, and a short idea from Gabriele Grego. William Koldus opines on what's next for the Fed. And should we put the government on an allowance?
Long Ideas
Short Ideas
General Outlook
Chart of the day: Rise of the S&P 500.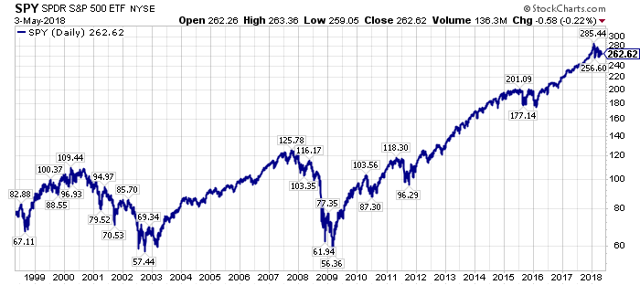 Some context: No doubt, low rates have helped the record-breaking U.S. stock market advance. What happens to equity prices when interest rates normalize?
Comment of the day, from DivviesRule, on CenturyLink.
My play here has been with their subsidiary's Baby Bonds - Qwest (ex CTDD). Over 7% interest, trading at a nice discount to par (so there might even be some capital appreciation), and they have to pay under any scenario short of bankruptcy.
Fun fact of the day:
Cinco de Mayo is observed to commemorate the Mexican Army's victory over the French at the Battle of Puebla on May 5, 1862, under the leadership of General Ignacio Zaragoza.
Thanks for reading. Please share your "Editor's Pick" with fellow investors by posting it in the comments.
Have a great day!
Michael
This article was written by
We're the folks who pick the best articles on SA every day and share them with you. Follow us to get a daily email with the day's best articles.