The last company one might have expected to spring news about a capital investment in an earnings report is Hornbeck Offshore Services (HOS). But that is exactly what the offshore provider of OSVs (offshore supply vessel) and MPSVs (multi-purpose support vessel) did in its 2018 first quarter release. Hornbeck has been extremely conservative with its cash balance since the downturn in the offshore drilling industry. Thus, the announcement seemed to dwarf the quarter's dismal results.
Capital Constraints
Hornbeck announced its fifth newbuild program in November 2011. After several expansions, the program now consists of the build of four 300 class OSVs, five 310 class OSVs, 10 320 class OSVs, three 310 class MPSVs and two 400 class MPSVs. As of February, 2018, 22 vessels have been placed in service. The two remaining MPSVs should be placed in service in 2019. Over 95% of the cost of the program has been paid.
At year-end 2017, Hornbeck had a cash balance of $186.8 million. Installments for the remaining capital commitment of $62 million on the last two MPSVs will be due in 2018 and 2019. Debt obligations that helped fund the program also are coming due. On April 1, 2020, $367 million of 5.875% senior notes will mature. Then, $450 million of 5% senior notes mature March 1, 2021.
".....the Company does not currently expect to have sufficient liquidity to repay the full amount of its 5.875% Senior Notes and 5.000% Senior Notes as they mature in fiscal years 2020 and 2021, respectively."
Though Hornbeck is negotiating with note holders, an agreement has not yet been reached.
The Surprise
Hornbeck has been quite transparent about the situation it is trying to survive. It doesn't see demand growing. It has called market conditions "anemic." Its competitors have already filed for bankruptcy and emerged with less debt. Throughout the downturn, Hornbeck has insisted there are simply too many vessels available in the Gulf of Mexico.
In an effort to remedy the situation, Hornbeck idled the majority (by quantity) of its fleet. Nearly two-thirds of Hornbeck's vessels have been stacked. But, barely half of its capacity, as determined by deadweight tonnage, is stacked.
By quantity, it could appear Hornbeck had stacked every vessel it owned before the latest newbuild program. However, in actuality, the company has even stacked vessels delivered as part of the program. In the 2017 annual report, the company details fourteen 200 class OSVs, twenty-three 240 class OSVs, four 280 class OSVs and three 300 class OSVs were stacked.
With all of this in mind, the last thing many expected was for Hornbeck to purchase vessels. And, yet, it did.
"On April 13, 2018, the Company entered into a definitive vessel purchase agreement with Aries Marine Corporation and certain of its affiliates to acquire four high-spec OSVs and related equipment for $36.6 million in cash, plus the cost of fuel and lube inventory."
Hornbeck announced the acquisition would be "fully funded with cash on hand." The four vessels also will be pledged as additional collateral against the company's debt facility
Comparing The Acquisition To The Existing Fleet
By quantity, 41% (29) of Hornbeck's vessels are less than five-years-old. Approximately 63% (44) are less than 10-years-old. Only ten of Hornbeck's vessels were placed in service before 2000. Because its vessels have a longer useful life left and because its vessels have more extensive features providing greater capabilities, Hornbeck feels its fleet offers clients a more practical and cost-effective alternative.
The four vessels acquired include two 280 class OSVs built in 2014 and 2015 and two 300 class OSVs built in 2010 and 2011. All four are U.S. flagged.
The two Aries Marine 280 class OSVs have capacities of 3,800 deadweight tonnage and 13,000 barrels of liquid mud. Leevac Shipyard built the vessels.
"Leevac Shipyard will deliver the first and second vessels, which are expected in October 2014 and February 2015, respectively. The LDS 270 DE platform support vessel (PSV) will have a deadweight capacity of 4000 LT and will be capable of carrying more than 13,000 barrels of liquid mud. On top of this, it will be powered by four 3516C Caterpillar generators at 1825 kw each."
Of Hornbeck's four existing 280 class OSVs, all are stacked. They are older than the vessels being acquired. They also are smaller regarding deadweight tonnage and liquid mud capacity.

Source
The two Aries Marine 300 class OSs have capacities of 5,500 deadweight tonnage and 19,500 barrels of liquid mud. These two OSV's are STX-designed Tiger Shark Class PSVs. In 2014, crews were enthused about the vessels' performance.
"The fuel economy made possible by using only the number of engines required to do the job at hand is pleasing to both owners and charterers. The flexibility in engine placement afforded by the absence of a long drive shaft between the generators and propulsion motors allows for engine placement on the main deck resulting in increased cargo capacity in the vessel's hull."
Of Hornbeck's nineteen 300 class OSVs, only three are stacked. However, only one of the 19 is older than the vessels being acquired.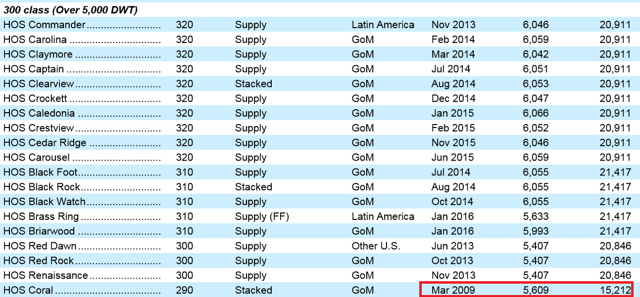 Source
Ties to Aries Marine
Aries Marine is a privately-owned company headquartered in Lafayette, Louisiana. It was formed in 1981. The company even bought three vessels from the old Hornbeck Offshore in 1994 via ship broker Marcon International.
Leevac Shipyard, builder of Aries' 280 class OSVs, has built dozens of vessels for Hornbeck, the latest being 310 MPSVs. Hornbeck's 310 MPSVs are designed based on the Tiger Shark Class Series by STX Marine as were the Aries' 300 class OSVs.
Hornbeck Called Its Shot
One report called Hornbeck's acquisition a raid.

Source
But, in February, 2017, Hornbeck actually called its shot. In the fiscal 2016 fourth quarter earnings call, Hornbeck noted acquisitions would eventually transpire.
"We believe value creation in the offshore vessel space cannot begin, again, without meaningful acquisitions of high-spec assets and businesses over the over-leveraged industry players. Given our ultra high-spec fleet profile, successful operating track record, ample cash position, and public company platform, we think we are the natural acquirer in such a transaction, especially in the domestic Jones Act market." (emphasis added)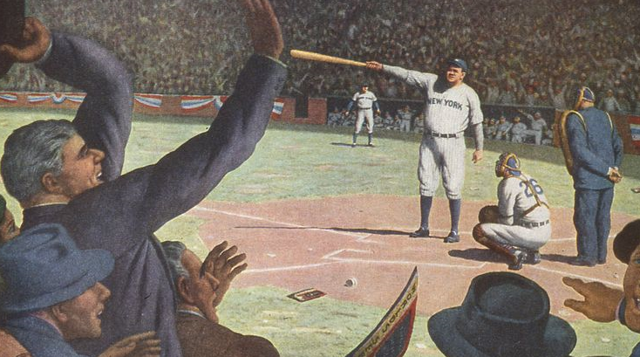 Disclosure: I am/we are long HOS. I wrote this article myself, and it expresses my own opinions. I am not receiving compensation for it (other than from Seeking Alpha). I have no business relationship with any company whose stock is mentioned in this article.
Additional disclosure: I belong to an investment club that owns shares in HOS.