Malls: Secular Decline Or Cycle?
Summary
Mall REITs have taken a beating since mid-2016.
Total retail sales slumped in 2015 and 2016, it is not a surprise that weaker companies are being washed out.
Increasing sales in 2017 and 2018 will be a catalyst that strengthens the survivors and newcomers.
Prices are low and fundamentals are improving.
Mall REITs have been crushed over the last year. Tenant bankruptcies and substantial store closures have disrupted operations. Much of the price action appears to be driven more by fears of what might happen than actual reported results.
Simon Property Group (SPG) reported 4.7% year/year FFO growth, raised their dividend over 11% year/year and raised guidance. Taubman Centers (TCO) reported 3.5% year/year FFO growth, 13% AFFO growth and raised their dividend 4.8%. Despite positive performance, shares remain under pressure.
Source: Tradingview.com
Meanwhile, even a whiff of bad news sends mall REITs crashing. Most recently, Tanger Factory Outlet Centers (SKT) revised their guidance down slightly due to higher than expected vacancies. A downward revision of 1% of FFO caused an almost 10% drop in share price.
Bears will tell you that malls are a failing business model. That e-commerce is going to crush traditional retail and anyone investing in malls today is going to end up holding buildings that will eventually make their way to deadmalls.com.
Clearly, the market as a whole has a dim view of the future of brick and mortar retail and especially of malls. Are mall REITs a bargain or are they falling knives which should be avoided?
Fundamentals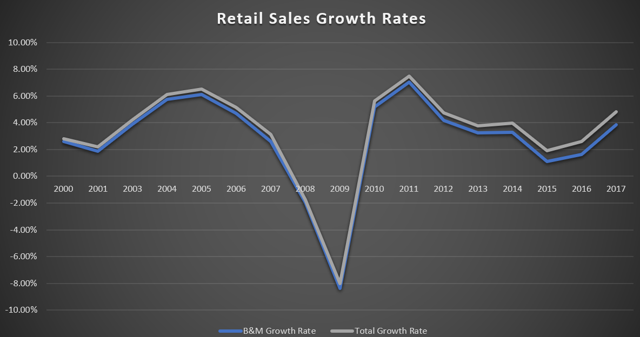 Source: Data from Census.gov, Chart Authors
One of the nice things about retail is that sales information is widely available and is released on a regular basis. Above is a chart of year over year growth rates for retail sales. The blue line is brick & mortar sales and the grey line is all sales.
As you can see, the two run almost perfectly together in 2000, but by 2017 there is a gap of almost 1%. This is due to the growing amount of e-commerce sales.
If you believe that e-commerce is taking sales from B&M on a 1 to 1 basis, the grey line is where things would be if e-commerce did not exist. Personally, I suspect that e-commerce takes some market share from B&M, but also creates market share. After all, I know I buy junk I didn't even know I needed until Amazon (AMZN) threw it in my face. I am sure I am not the only one.
As you can see, 2015 and 2016 were pretty tough years for retail, with or without e-commerce. It should not be a surprise that a couple of low growth years had a negative impact on retailers that were lagging in the recovery from the recession.
Most of the mall REITs did quite well until mid-2016. Most of these names peaked in July or August of 2016, before the prices began to fall due to a combination of rising interest rates and market recognition of troubles in retail.
Ironically, mall REITs are hitting all time lows after a year where retail growth returned. The first quarter of 2018, retail sales were up 5.1% year/year. Real estate is a slow-moving business. It does not react instantaneously to changes, positive or negative.
Looking at mall REITs in particular, we can easily track sales in their locations.

Source: Data from company supplementals, chart authors
Every mall REIT reported growing sales per square foot, with some doing better than others. Only TCO was able to buck the occupancy trend and report growing occupancy.
The occupancy rate is mostly a function of tenant churn. It takes time when tenants leave to find a new tenant, negotiate a lease and customize the space. 2017 saw more store closings than there has been in decades and 2018 will have fewer closings, but still above average.
Closings & Openings
A lot of attention has been drawn by high-profile bankruptcies and store closings. Coresight Research provides weekly updates of major store openings and closings.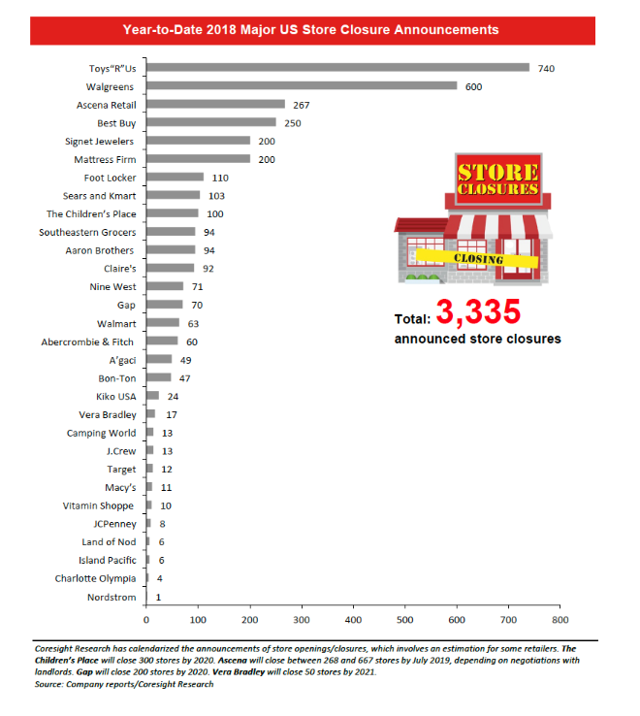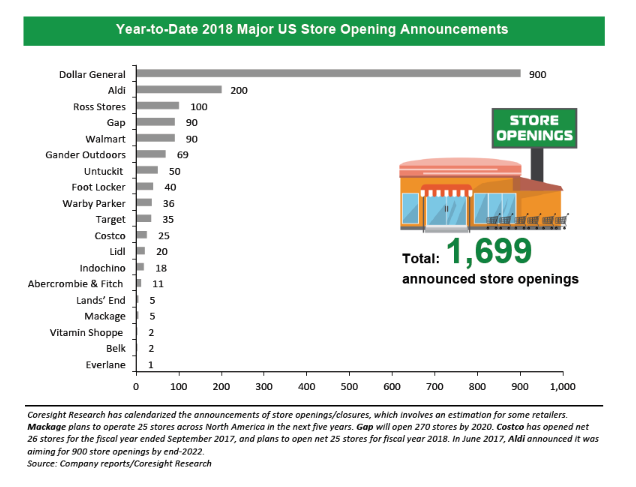 Source
Store closings continue to outpace openings, although closings are likely to be significantly less than last year. Closings tend to be announced early in the year. Probably the largest question mark remaining is what will happen to Sears Holdings (SHLD) and the potential for a full liquidation.
Thoughts On E-Commerce
I love e-commerce and I do a substantial portion of my shopping online. Wherever I am, I usually have a computer of some type within reach almost 24/7. E-commerce is having an increasingly large impact on how we shop.
Yet despite the accessibility of e-commerce, 91% of retail still occurs at brick & mortar locations. Furthermore, the line between B&M and e-commerce is blurring. Most B&M companies are starting to offer at least some online experience. Similarly, more and more online retailers are branching out into B&M.
Technology changes things, but it does not necessarily eliminate what existed before. The most successful retailers of the future will be those that can operate effectively in both arenas and effectively provide the consumer with a high quality omni-channel experience.
The process of companies figuring out how to balance their online and offline presence is ongoing. Retailers will adapt or they will go out of business and a new retailer will take their place.
People love the convenience of ordering whatever they need from their smartphone. But people still like to "go shopping" too.
Conclusion
Retail sales slumped in 2015 and 2016. Retailers that were too highly leveraged, were experiencing declining popularity and/or failed to adapt to ever-changing consumer preferences started failing.
2017 saw an improvement in sales and so far, so has 2018. The underlying fundamentals point to Americans having more spending money and they are buying more both online and off. This should provide relief as the weaker retailers are washed out and the strong survive.
The most significant challenge REITs have right now is tenant churn. Replacing tenants takes time. As their current tenants and prospective tenants see strengthening fundamentals, those vacancies will be filled.
With the current skittishness, it is difficult to determine if this is the bottom. Investors need to be prepared for more volatility and be especially careful with the riskier investments like CBL and WPG.
Fundamentally, retailers are better off today than they were a year ago. Revenue is improving and eventually that will lead to higher rent. REITs can trade against the fundamentals for a period of time, but ultimately strengthening tenants will lead to a rebound.
This article was written by
The #1 Service for Income Investors and Retirees, +9% dividend yield.
As a professional in commercial real estate, my investment focus is on REITs. My goal is to provide detailed research on the properties being acquired and sold by REITs, as the quality and value of the real estate purchased by a REIT has an impact on the long term health of a REIT.
Beyond Saving is a contributing author for High Dividend Opportunities Seeking Alpha's #1 Service for Income Investors and Retirees
https://seekingalpha.com/author/rida-morwa/research

Analyst's Disclosure: I am/we are long MAC, SPG, WPG, SKT, AMZN. I wrote this article myself, and it expresses my own opinions. I am not receiving compensation for it (other than from Seeking Alpha). I have no business relationship with any company whose stock is mentioned in this article.
Seeking Alpha's Disclosure: Past performance is no guarantee of future results. No recommendation or advice is being given as to whether any investment is suitable for a particular investor. Any views or opinions expressed above may not reflect those of Seeking Alpha as a whole. Seeking Alpha is not a licensed securities dealer, broker or US investment adviser or investment bank. Our analysts are third party authors that include both professional investors and individual investors who may not be licensed or certified by any institute or regulatory body.