Starwood Property Trust (NYSE:STWD) is a commercial mortgage REIT which primarily issues loans backed by commercial real estate and other related investments. STWD offers a very attractive 9.2% dividend yield, which is well covered by adjusted earnings. Management has a very good track record, with no significant credit losses recorded in its Lending segment. The REIT's predominantly floating-rate loans offer upside potential from higher interest rates, with potential for a dividend hike.
This article builds on the analysis we previously published, which you can find here.
Company Overview
Starwood Property Trust is a mortgage REIT with operations in 3 distinct segments:
Lending ($7.4bn): STWD extends loans backed by commercial and residential real estate across the full capital stack (first-lien, second-lien, mezzanine, and preference equity). This segment also includes certain investments in RE loan related securities (RMBS, CMBS, and residential mortgages).
Property ($3.0bn): The company invests in commercial real estate to generate rental income and capital appreciation, including exposure to an office portfolio in Dublin, Ireland.
Investing & Servicing: STWD provides primary and special servicing of CMBS loans, has a $1bn investment portfolio of CMBS (primarily mezzanine tranches), originates loans which it sells to CMBS trusts at a premium, and has a small portfolio of real estate assets bought from CMBS trusts.
The company's portfolio has been steadily growing over the course of 2017, but experienced a contraction in the first quarter of 2018 ($300m reduction). The overall portfolio reduction was due to a significant reduction in the Lending portfolio, only partially offset by a growing Property portfolio, and stable Investing portfolio. As of March 2018, STWD's portfolio was valued at $11.9bn.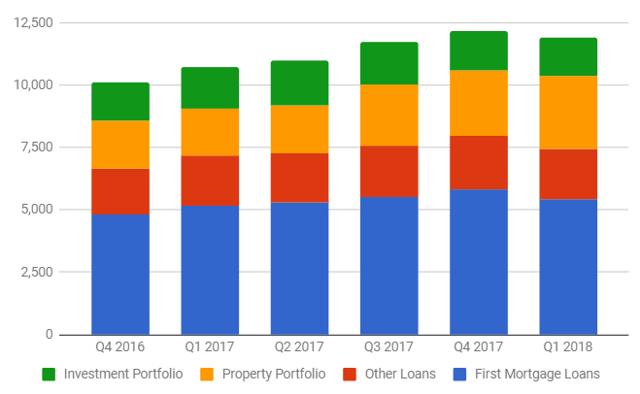 Source: Quarterly Results, Pandora Capital
Q1 Performance
STWD published a strong set of results for the first quarter of 2018, supported by record revenues despite the shrinking portfolio. The company reported core earnings of $0.58 per share, which compares very favourably to its flat quarterly dividend of $0.48 per share.
The higher revenues were supported by increased revenues in its Property and Investing segments, partially offset by lower Lending revenues due to the reduced portfolio.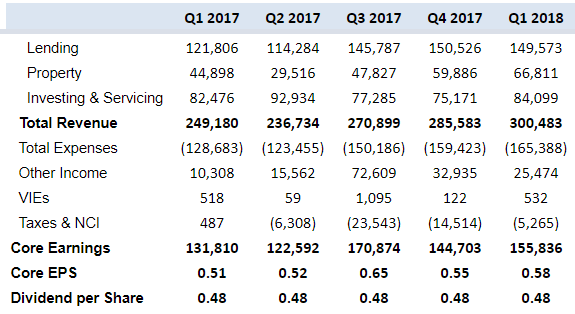 Source: Quarterly Results, Pandora Capital. Note: The above P&L reflects the allocation of "Core Earnings" adjustments on a line-by-line basis
STWD's Lending segment remains its core segment, accounting for the majority of its core earnings (73% of consolidated Q1 2018 core EPS) and providing a stable support to the REIT's quarterly dividend.
The Lending segment generated core EPS of $0.42 per share, sufficient to cover 88% of the quarterly dividend, which confirms our view of the quarterly dividend being safe. The segment's return on allocated equity remained stable at an impressive 10.0%.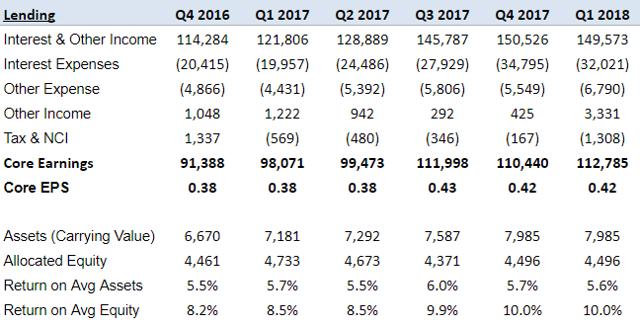 Source: Quarterly Results, Pandora Capital.
STWD declared another quarterly dividend of $0.48 per share, equivalent to a dividend yield of 9.2% based on the current share. The quarterly dividend was covered by core EPS in the quarter (121% coverage), bringing the LTM dividend coverage to 120%, which compares very positively to STWD's peers and supports continued dividend payments in future quarters. We believe a dividend cut to be very unlikely in the short/medium term.
Source: Quarterly Results, Pandora Capital
In addition, STWD retains upside potential from higher interest rates, thanks to its predominantly floating-rate portfolio (93% of its Lending commercial loan portfolio). Management estimates that a 1.0% increase in LIBOR would result in an additional net interest income of $0.06 per share. We expect high interest rates to continue to feed into higher net interest income in coming quarters.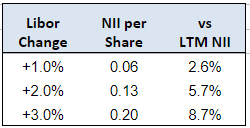 Source: Q1 2018 Results Presentation, Pandora Capital
Valuation & Conclusion
STWD is currently trading at 9.2x adjusted EPS, which compares very favourably to the peer average of 11.4x. The REIT's dividend yield currently stands at 9.1%, higher than the peer average of 8.3%. STWD's dividend coverage ratio of 120% is ahead of the peer average of 91% (or 109% excluding the recently launched GPMT and KREF).

Source: Quarterly Results, Pandora Capital
We continue to rate STWD a BUY due to the high and well-covered dividend yield and attractive P/Adj EPS valuation.
Disclosure: I am/we are long STWD. I wrote this article myself, and it expresses my own opinions. I am not receiving compensation for it (other than from Seeking Alpha). I have no business relationship with any company whose stock is mentioned in this article.