Fitbit Earnings Redux And Possible Future Developments
Summary
Fitbit reported earnings yesterday and beat estimates on both the top and bottom lines.
Nonetheless, with tracker revenue declining, leading to an overall y/y revenue drop, Wall Street has shied away from FIT.
Due to this most recent sell-off, FIT has returned to trading at about its asset levels and I believe it is an opportune time to continue to accumulate shares.
Yesterday, Fitbit (NYSE:FIT) reported earnings, after the bell, and beat on both the top and bottom lines, but is nonetheless trading lower today. FIT reported revenue of $248 million, beating estimates by $0.65 million and Q1 EPS of -$0.17, beating estimates by $0.02 per share. Despite beating estimates, FIT has traded down today and is currently sitting just below $5.00 per share. I welcome this sell-off, as it affords me more time to add to my position at this undervalued level.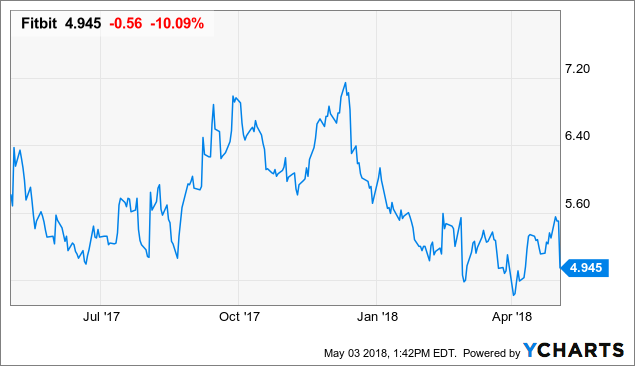 I believe the main reason for this sell-off has been the falling revenue, as demand for trackers has been turning more tepid. This weakened demand for their trackers led to revenue declining 17% y/y, which has spooked many investors. Additionally, Q2 guidance has worried many. Management guided that they expect revenue to decline for revenue to drop 19% (between $275 million-$295 million). Moreover, they guided that free cash flow will drop around $85 million. However, on a positive note, management reiterated its FY guidance of $1.5 billion and for free cash flow to be break-even for 2018.
Another huge positive announcement was that smartwatch revenue nearly doubled on a q/q basis and now represents 30% of revenue. FIT also announced that Versa pre-orders were very strong "and the best-sell through sales in North America of any device in the company's history in the first week of availability." The reviews for the Versa have been phenomenal and I was sent one from Fitbit to try and personally love it.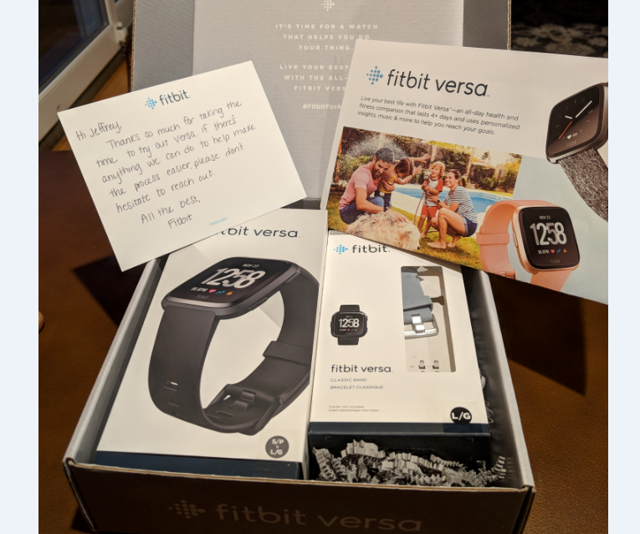 I purchased the Fitbit Ionic watch and really enjoyed its fitness features, but to be honest, did not think it was very aesthetically pleasing and didn't believe it was a great watch to wear to work, professionally speaking. However, FIT has definitely created an aesthetically pleasing watch with the Versa and I am not concerned at all about looking professional enough - especially with this leather band. I thought the Ionic was a wonderful smartwatch, but believe Fitbit has struck gold with the Versa.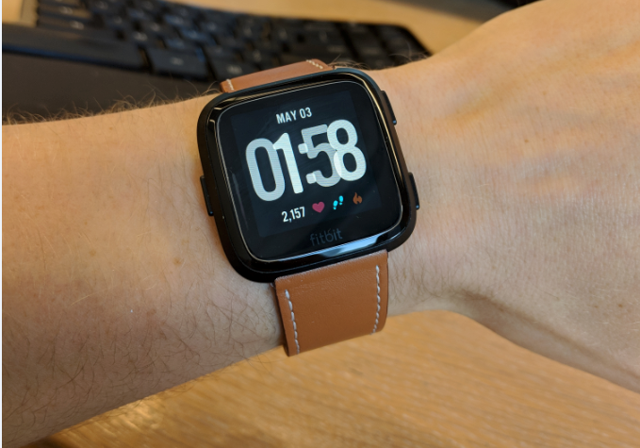 Demand has been very strong for the Versa and it has been on back-order on numerous sites, including Amazon, Nordstrom, and Fitbit.com.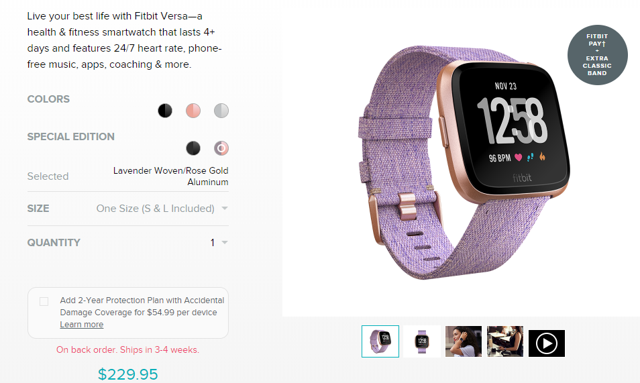 Source: Fitbit.com
In fact, demand has been so strong that Fitbit's CFO, William Zerella, even discussed that they set up another production line in their factory to meet demand for the Versa. It appears that FIT has met its goal to make a smartwatch for the masses.

Source: Earnings Call Transcript
I believe that the Versa can be the product that helps turn this company around and stem the revenue declines. Moreover, Fitbit is aiming to get their tracker for kids, the Fitbit Ace, onto shelves in Q2, but it will surely be on them by Q3. FIT has never introduced a product aimed at kids so this could present a nice opportunity for them to diversify into a new demographic category and drive incremental revenue growth. With privacy protections, a 5-day battery life, and the ability to gamify building healthy habits, surely there will be many parents that will be interested in purchasing an Ace for their children.
Recurring Revenue Streams
Another largely important announcement was that management guided that smartwatch revenue will be the majority of their revenue in the second half of the year. Not only will this help drive gross margin dollar growth, but it also presents a larger opportunity for FIT to generate revenue from ancillary sources, such as with Fitbit Coach, a personal training app which costs $39.99 for an annual subscription or $7.99 per month.
This app is available on the Ionic and Versa, and with a growing number of these users, there is an expanded opportunity to cross-sell them this app. Each additional user that pays for Fitbit Coach represents revenue growth that flows down to the bottom-line, since there is no added cost of adding more users.
There is a fixed cost of developing this app and no marginal cost to sell to more users. This is why SAAS companies are so highly sought after on Wall Street - this business model lends itself to exceptionally high margins. Moreover, by diversifying its revenue base towards subscriptions, FIT will be less reliant on hardware sales. This revenue grew 30% q/q, but "remains immaterial to overall results," which basically means it did not amount to at least 10% of overall revenue in the quarter.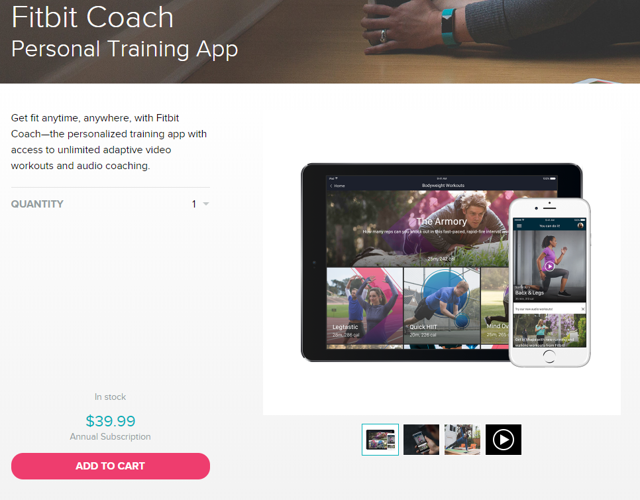 Source: Fitbit.com
Although Fitbit has yet to announce anything yet, I believe it is only a matter of time before they announce a new service based on their Twine Health acquisition. Fitbit has been extending its relationship into the health care industry and I believe there is a tremendous opportunity for Fitbit to drive enormous revenue growth by partnering with insurers. To date, it has a few partnerships, such as with UnitedHealthcare, but they have centered around hardware sales.
With the Twine Health acquisition, I think it is inevitable that they will soon announce a partnership with an insurer to create software to establish a better relationship with their insured customers and shift towards preventive-based medicine and offer real-time support.
This snippet from the earnings call provides some evidence about Fitbit's desire to create such software: "We believe this is just the beginning as we continue to evolve our software platform, our intent is to begin offering a premium experience where features, insights and programs can be offered in a paid membership model." Moreover, this snippet below provides a nice overview of this opportunity: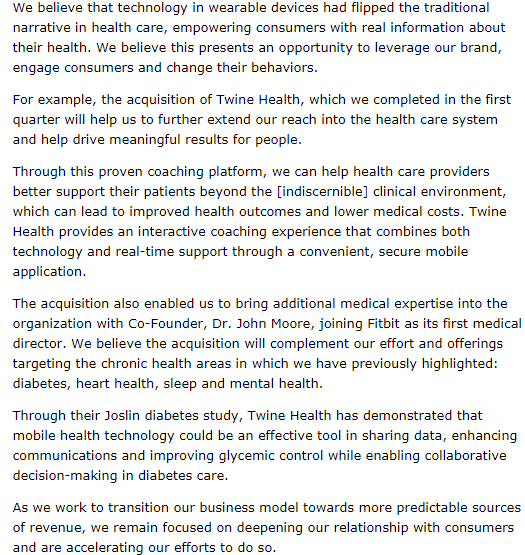 Source: Earnings Call Transcript
By creating software that will enable better care for patients, all parties involved will benefit. Fitbit will drive incremental revenue growth through a recurring revenue subscription service, insurers will see lower costs to keep their customers healthy, and most importantly, people will be healthier from receiving better, more personalized care.
Furthermore, I believe such a service will be offered sooner than some expect. Fitbit's recent announcement of its partnership with Google is a significant development to creating this service. Fitbit will leverage Google's Healthcare API to further integrate their data with the health care system and connect it with electronic medical records. Once connected with these EMRs, this data can provide a more comprehensive view of a patient's overall well-being and allow for better management of both chronic conditions and deliver prophylactic solutions to problems.
Valuation
Despite these very significant, near-term opportunities on the horizon for Fitbit, it is trading at a severely depressed level. Its market capitalization stands at just below $1.2 billion, which is incredibly undervalued, in my opinion, when considering these opportunities and Fitbit's balance sheet.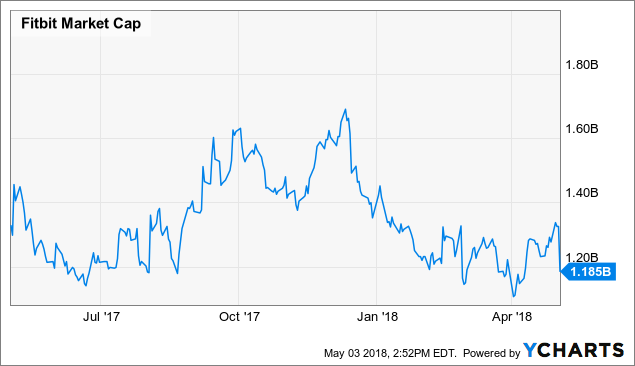 At the end of the quarter, FIT ended with $658 million in cash on its balance sheet, which represents over half its market capitalization! If Fitbit was hemorrhaging cash, then I would understand why it's trading at such a low multiple to its assets, but management guided for free cash flow to break-even in 2018.
Moreover, this does not even include the rest of its assets. When you add back FIT's accounts receivables and consider some of its other assets, such as its inventory and brand value, FIT is trading at about around its asset levels and it has zero debt.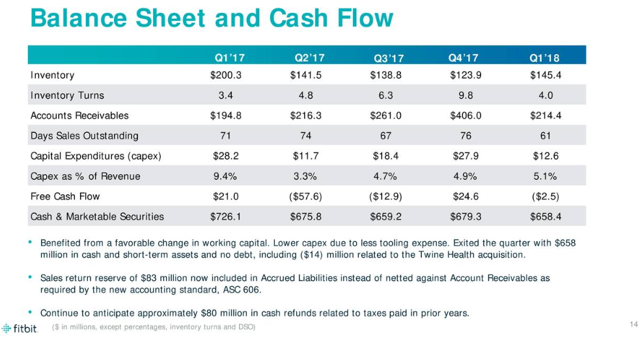 Source: Earnings Call Slides
Parting Words
I'm unsure why Wall Street is pricing this stock as if it is positioned for bankruptcy, but I'm not going to complain about this sell-off since it presents me with more time to continue to accumulate shares at this undervalued level. The opportunity to accumulate shares at this level will not last for too long, so I suggest you follow me and continue to accumulate shares of FIT at this level.
This article was originally published yesterday on my exclusive marketplace service, Invest with a Stacked Deck.
This article was written by
Jeffrey Himelson is a corporate lawyer practicing in NYC. He previously worked as a research analyst at a hedge fund and graduated from Columbia Law School in 2017. He is best known on Seeking Alpha for his article "The Trade That Netted Me More Than a 2000% Return."Mr. Himelson is also the author of a book series to teach kids about business: Kimmy and Jimmy's Business Adventures.
Analyst's Disclosure: I am/we are long FIT. I wrote this article myself, and it expresses my own opinions. I am not receiving compensation for it (other than from Seeking Alpha). I have no business relationship with any company whose stock is mentioned in this article.
Seeking Alpha's Disclosure: Past performance is no guarantee of future results. No recommendation or advice is being given as to whether any investment is suitable for a particular investor. Any views or opinions expressed above may not reflect those of Seeking Alpha as a whole. Seeking Alpha is not a licensed securities dealer, broker or US investment adviser or investment bank. Our analysts are third party authors that include both professional investors and individual investors who may not be licensed or certified by any institute or regulatory body.