FANG's Deliver On Earnings But Fail On Price Action
Summary
Fangs deliver on earnings better than expected.
Earnings forward guidance boosted as well.
Will Goldilocks have a hangover?
It's dividing into an advertising/nonadvertising world.
Never trust an analyst again.
Alphabet (NASDAQ:GOOGL) did a great job alleviating fears that large-cap tech would be dragged through the mud and fading earnings would dishearten investors.
The major takeaways from the recent deluge of tech earnings are large-cap tech is getting better at what they do best, and the biggest are getting decisively bigger.
Of the 26% rise to $31.1 billion in Alphabet's quarterly revenue, more than $26 billion was concentrated around its mammoth digital ad revenue business.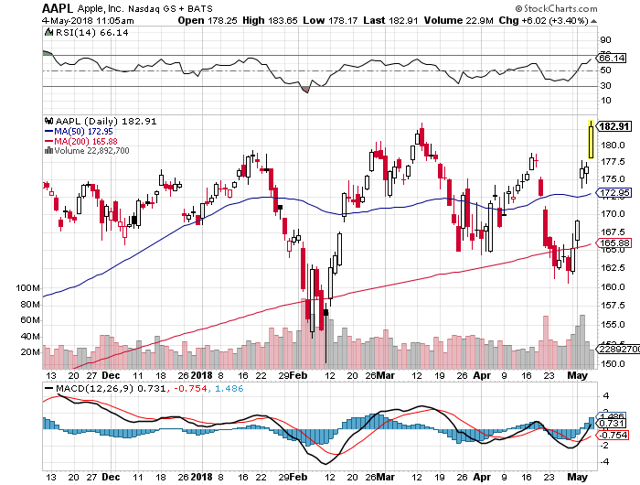 Alphabet, even though rebranded to express a diverse portfolio of assets, is still very much reliant on its ad revenue to carry the load made possible by Google search.
Its "other bets" category failed to impact the bottom line with loss-making speculative projects such as Nest Labs in charge of mounting a battle against Amazon's (NASDAQ:AMZN) Alexa.
The quandary in this battle is the margins Alphabet will surrender to seize a portion of the future smart home market.
What we are seeing is a case of strength fueling further strength.
Alphabet did a lot to smooth over fears that government regulation would put a dent in its business model, asserting that it has been preparing for the new EU privacy rules for "18 months" and its search ad business will not be materially affected by these new standards.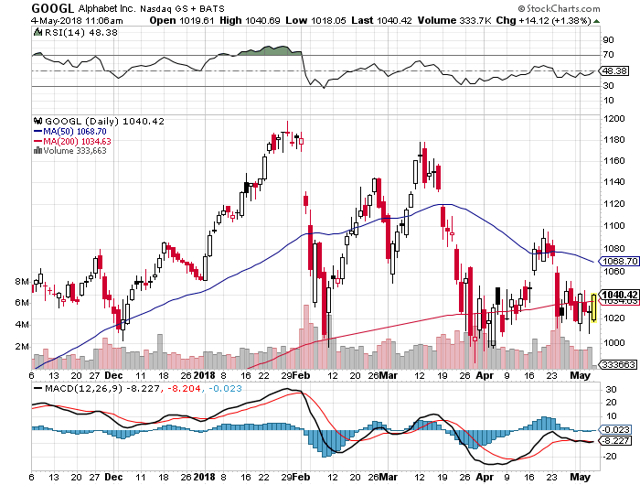 CFO Ruth Porat emphasized the shift to mobile, as mobile growth is leading the charge due to Internet users' migration to mobile platforms.
Google search remains an unrivaled product that transcends culture, language, and society at optimal levels.
Sure, there are other online search engines out there, but the accuracy of results pale in comparison to the preeminent first-class operation at Google search.
Alphabet does not divulge revenue details about its cloud unit. However, the cloud unit is dropped into the "other revenues" category, which also includes hardware sales and posted close to $4.4 billion, up 36% YOY.
Although the cloud segment will never dwarf its premier digital ad segment, if Alphabet can ameliorate its cloud engine into a $10 billion per quarter segment, investors would dance in the streets with delight.
Another problem with the FANGs is that they are one-trick ponies. And if those ponies ever got locked up in the barn, it would spell imminent disaster.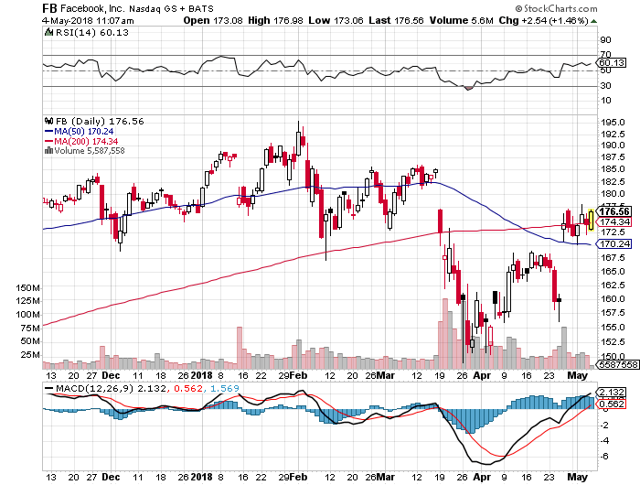 Apple (NASDAQ:AAPL) is trying its best to diversify away from the iconic product that which consumers identify.
The iPhone company is ramping up its services and subscription business to combat waning iPhone demand.
Alphabet is charging hard into the autonomous ride-sharing business seizing a leadership position.
Netflix (NASDAQ:NFLX) is doubling down on what it already does great – create top-level original content.
This was after it shed its DVD business in the early stages after CEO Reed Hastings identified its imminent implosion.
Tech companies habitually display flexibility and nimbleness of which big corporations dream.
One of the few negatives in an otherwise solid earnings report was the TAC (traffic acquisition costs) reported at $6.28 billion, which make up 24% of total revenue.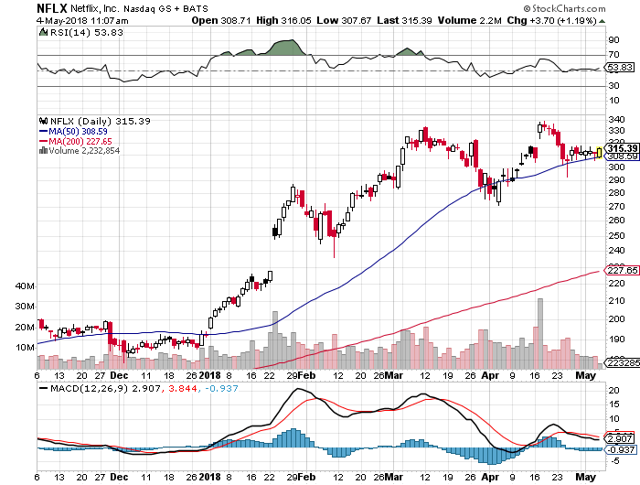 An escalation of TAC as a percentage of revenue is certainly a risk factor for the digital ad business. But nibbling away at margins is not the end of the world, and the digital ad business will remain highly profitable moving forward.
TAC comprised 22% of revenue in Q1 2017, and the rise in costs reflects that mobile ads are priced at a premium.
Google noted that TAC will experience further pricing pressure because of the great leap toward mobile devices, but the pace of price increases will recede.
The increased cost of luring new eyeballs will not diminish FANGs earnings report buttressed by secular trends that pervade Silicon Valley's platforms.
The year of the cloud has positive implications for Alphabet. It ranks No. 3 in the cloud industry behind Microsoft (NASDAQ:MSFT) and Amazon.
Amazon and Microsoft announce earnings later this week. The robust cloud segments should easily reaffirm the bullish sentiment in tech stocks.
Amazon's earnings call could provide clarity on the bizarre backbiting emanating from the White House, even though Jeff Bezos rarely frequents the earnings call.
A thinly veiled or bold response would comfort investors because rumors of tech peaking would add immediate downside pressure to equities.
The wider-reaching short-term problem is the macro headwinds that could knock over tech's position on top of the equity pedestal and bring it back down to reality in a war of diplomatic rhetoric and international tariffs.
Google, Facebook, and Netflix are the least affected FANGs because they have been locked out of the Chinese market for years.
The Amazon Web Services (AWS) cloud arm of Amazon blew past cloud revenue estimates of 42% last quarter by registering a 45% jump in revenue.
Microsoft reiterated that immense cloud growth permeating through the industry, expanding 99% QOQ.
I expect repeat performances from the best cloud plays in the industry.
Any cloud firm growing under 20% is not even worth a look since the bull case for cloud revenue revolves around a minimum of 20% growth QOQ.
Amazon still boasts around 30% market share in the cloud space with Microsoft staking 15% but gaining each quarter.
AWS growth has been stunted for the past nine quarters as competition and cybersecurity costs related to patches erode margins.
Above all else, the one company that investors can pinpoint with margin problems is Amazon, which abandoned margin strength for market share years ago and that investors approved in droves.
AWS is the key driver of profits that allows Amazon to fund its e-commerce business.
Cloud adoption is still in the early stages.
Microsoft Azure and Google have a chance to catch up to AWS. There will be ample opportunity for these players to leverage existing infrastructure and expertise to rival AWS's strength.
As the recent IPO performance suggests, there is nothing hotter than this narrow sliver of tech, and this is all happening with numerous companies losing vast amounts of money such as Dropbox (NASDAQ:DBX) and Box (NYSE:BOX).
Microsoft has been inching toward gross profits of $8 billion per quarter and has been profitable for years.
And now it has a hyper-expanding cloud division to boot.
Any macro sell-off that pulls down Microsoft to around the $90 level or if Alphabet dips below $1000, these would be great entry points into the core pillars of the equity market.
If tech goes, so will everything else.
If it plays its cards right, Microsoft Azure has the tools in place to overtake AWS.
Shorting cloud companies is a difficult proposition because the leg ups are legendary.
If traders are looking for any tech shorts to pile into, then focus on the legacy companies that lack a cloud growth driver.
Another cue would be a company that has not completed the resuscitation process yet, such as Western Digital (NYSE:WDC) whose shares have traded sideways for the past year.
But for now, as the 10-year interest rate shoots past 3%, investors should bide their time as cheaper entry points will shortly appear.
This article was written by
John Thomas is a 50-year veteran of the financial markets. He spent 10 years as a financial journalist, ten more years trading for a major investment bank, and another decade running the first dedicated international hedge funds. Seeing the incredible inefficiencies and severe mispricing offered by the popping of multiple bubbles during the Great Crash of 2008, and missing the adrenaline of the marketplace, he returned to active hedge fund management. With The Diary of a Mad Hedge Fund Trader, his goal is to broaden public understanding of the techniques and strategies employed by the most successful hedge funds so that they may more profitably manage their own money. He publishes a daily research newsletter, and offers one of the most successful trade mentoring services in the industry. He currently has followers in 134 countries. In his free time, John Thomas climbs mountains, does long distance backpacks, practices karate, performs aerobatics in antique aircraft, collects vintages wines, reads the Japanese classics, and engages in a wide variety of public service and philanthropic activities. His career has taken him up to 20,000 feet on Mount Everest, to the edge of space at 90,000 feet in the Cockpit of a MIG-25, and to the depths of a sunken Japanese fleet in the Truk Lagoon. Why they call him "Mad" he will never understand.
Analyst's Disclosure: I/we have no positions in any stocks mentioned, and no plans to initiate any positions within the next 72 hours. I wrote this article myself, and it expresses my own opinions. I am not receiving compensation for it (other than from Seeking Alpha). I have no business relationship with any company whose stock is mentioned in this article.
Seeking Alpha's Disclosure: Past performance is no guarantee of future results. No recommendation or advice is being given as to whether any investment is suitable for a particular investor. Any views or opinions expressed above may not reflect those of Seeking Alpha as a whole. Seeking Alpha is not a licensed securities dealer, broker or US investment adviser or investment bank. Our analysts are third party authors that include both professional investors and individual investors who may not be licensed or certified by any institute or regulatory body.