Comcast Ready To Get Out Of Its Slump
Summary
EPS in Q1 2018 grew by 17% compared to Q1 2017.
Dividends expected to grow by 21% in 2018.
NBC is partnering with Google on a Virtual Reality project.
Fair value estimates and price targets indicate between 20%-50% upside.
Comcast (NASDAQ:CMCSA), the largest media conglomerate in terms of revenue, has significantly under performed the market in the last year. Investors seem to be favoring up and coming companies such as Netflix (NFLX), which has resulted in a decrease in price for Comcast. This has created a great opportunity to invest in a well-established company at a discount.
In the last 12 months, Comcast's stock has lost around 22% of its value, while the S&P 500 is up about 10.18% in that same span. The severe drop in price, coupled with a sharp increase in EPS, resulted in Comcast's P/E ratio dropping significantly to 6.39, the lowest it has been in decades. However, that P/E is skewed because of a one-time $12.7 billion benefit due to changes in their deferred income tax liabilities that drastically increased their EPS in Q4 2017. Without it, Comcast's P/E (ttm) would likely be around 14. Nonetheless, a PE of 14 it is still relatively low, considering that Comcast had a P/E of between 17 and 23 from 2013 to 2017, and the average PE of the S&P 500 is about 24. With no signs of slowing down their growth, I believe Comcast is undervalued at the moment.
Q1 Results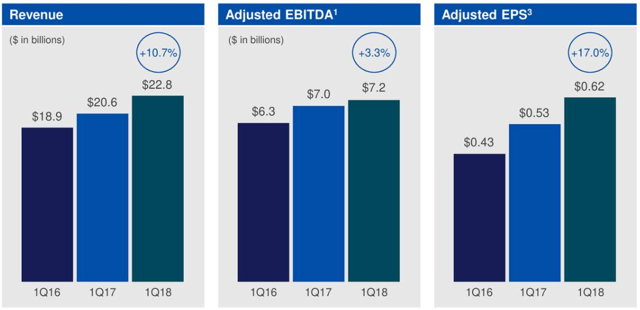 (Chart from Comcast Investor Presentation)
In Q1 2018, Comcast's revenue grew by over 10% compared to last year's Q1. The company saw strong growth in the High Speed Internet service (8.2%), while only moderate growth in their cable revenue (3.6%). NBC saw strong growth in theme parks (14.5%), while Cable Networks (6.6%) and Broadcast TV (4.3%) saw moderate growth. This last two figures are excluding the Super Bowl and Olympics, both of which made a significant impact in actual revenue.
EBITDA grew by only 3.3%, while EPS increased by an outstanding 17%. This rise was probably aided significantly by the Tax Cuts and Jobs Act of 2017, which resulted in their tax rate dropping from around 35%-37% to 24%-26%. Overall Comcast had very positive growth, continuing their trend of the past few years.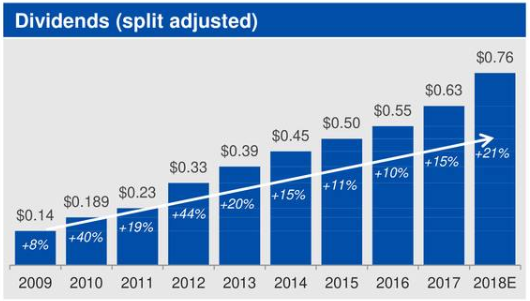 (Chart from Comcast Investor Presentation)
Dividends are expected to make a big jump of 21% this year to $0.76 per share. Over the past nine years, they've grown their dividends per share at a CAGR of 20.6%, which is remarkable. Comcast has a great track record of increasing dividend payouts, which is a very positive sign, and their payout ratio of 13.3% indicates the company is not increasing the dividends at the expense of investment and growth. Lastly, the stock's fall in price coupled with the rise in dividends has resulted in a very attractive dividend yield of 2.45%.
It's also worth noting that Comcast returned capital to shareholders not only by paying $738MM in dividends, but by repurchasing $1.5Bn in shares. The company expects to repurchase at least $5Bn in shares throughout 2018, which is in line with previous years.
Financial Indicators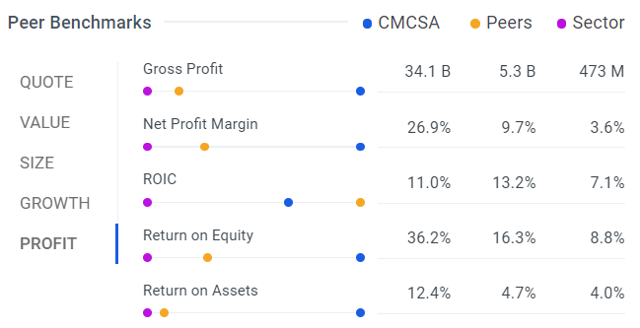 (Chart taken from Finbox.io)
In the above chart we can compare some of Comcast's benchmarks to the average of its peers and sector. The peers used were: Disney (DIS), Verizon (VZ), Time Warner (TWX), Sprint (S), CBS Corp. (CBS), and AMC Networks Inc (AMCX).
Comcast's net profit margin of 26.9% implies that for every dollar the company receives in revenue, 26.9 cents end up as earnings. This is a good indicator of efficiency and is almost three times the average of its peers. Their ROIC however is slightly below peers but above the sector. Finally, their return on equity and assets is substantially above its peers and sector, implying Comcast has been making an efficient use of its resources to generate earnings.
One thing that might worry investors is their debt/equity ratio of 0.96. However, the fact the company is generating significant amounts of free cash flow (P/FCF of 9.41), and they currently have a quick ratio of 1, makes me believe they will have no trouble repaying their debt.
Virtual Reality Projects
NBC Universal, the media conglomerate and Comcast subsidiary, recently announced it will work with Google to bring more virtual reality content to existing shows and networks.
"We are constantly looking for opportunities to bring consumers new ways to experience content from across the NBCUniversal portfolio. This partnership combines the creative expertise of NBCUniversal with Google's VR capabilities to create these engaging experiences. We look forward to working with Google and YouTube on more collaborations like this in the future." - Ron Lamprecht, Executive Vice President, NBCUniversal Digital Enterprises.
Using Google's Jump platform, the companies plan to work together on episodes of shows like Saturday Night Live, Bravo's Vanderpump Rules and Syfy Wire, with the plan to follow up with projects from E Entertainment, NBC, NBC News, NBC Sports, Syfy, Telemundo and USA Network. Google, one of the most innovative companies in the world and a leader in VR technology, is probably the best partner they could've gotten. I believe this is a very smart move considering that VR is probably the future of entertainment.
Price Targets and Fair Value Estimates
In a recent article, a fellow author of Seeking Alpha, The Dividend Guy, used a discount dividend model to calculate Comcast's intrinsic value. He assumed a stable payout ratio, 10% dividend growth for 10 years, and then a 6% dividend growth to perpetuity, all of which I consider fair assumptions. The result was a value of $37.42, which represents a 20.6% upside.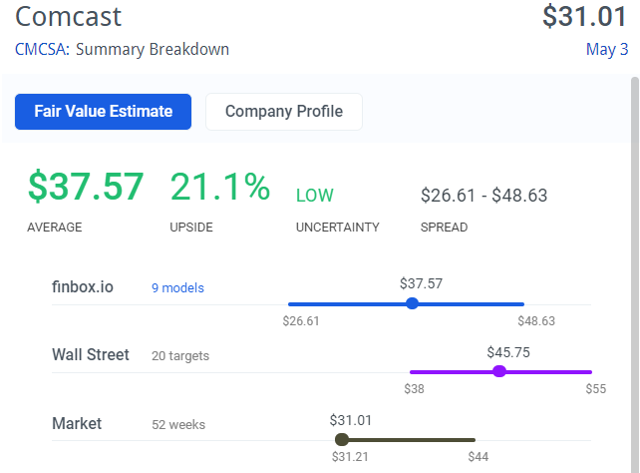 (Chart taken from Finbox.io)
Using 10 different models, Finbox calculated Comcast's average intrinsic value at $37.57 (21.1% upside). However, the range of values is considerably large, with Comcast's values ranging from $26.46 to $61.13, so the average must be taken with a grain of salt. In terms of Wall Street price targets, Finbox found the average to be $45.75 (47.5% upside). Tipranks and Finviz calculated very similar price targets, with the former giving Comcast an average of $44 (41.88% upside) while the latter of $46.52 (50% upside). It's clear that most analysts expect Comcast to get over the slump and rise considerably over the next 12 months. It's also worth noting Comcast is trading at its 52-week low, which might indicate a rebound is coming.
Conclusion
Comcast seems to be undervalued relative to the market at the moment. Their performance has been great, with double-digit growth in revenue, EPS and dividends this past quarter. A low P/E ratio and a high dividend yield makes this an attractive investment, and the continued diversification bodes well for future growth. Lastly, fair value estimates and price targets all indicate significant upside. Given the stock has been decreasing considerably, investors might want to wait a bit to see if they can enter at a lower price. At the moment, I consider Comcast a good investment and believe it's due for a rebound.
This article was written by
Financial Analyst at Fincredible. I'm focused on finding quality growth stocks with significant potential for outperformance. I look for companies with sound business models and economic advantages that can deliver strong results over the long term. I studied Economics at the Universidad Metropolitana in Venezuela, and I'm currently pursuing a Master's Degree in Finance com IESA Business School.
Analyst's Disclosure: I/we have no positions in any stocks mentioned, and no plans to initiate any positions within the next 72 hours. I wrote this article myself, and it expresses my own opinions. I am not receiving compensation for it (other than from Seeking Alpha). I have no business relationship with any company whose stock is mentioned in this article.
Seeking Alpha's Disclosure: Past performance is no guarantee of future results. No recommendation or advice is being given as to whether any investment is suitable for a particular investor. Any views or opinions expressed above may not reflect those of Seeking Alpha as a whole. Seeking Alpha is not a licensed securities dealer, broker or US investment adviser or investment bank. Our analysts are third party authors that include both professional investors and individual investors who may not be licensed or certified by any institute or regulatory body.