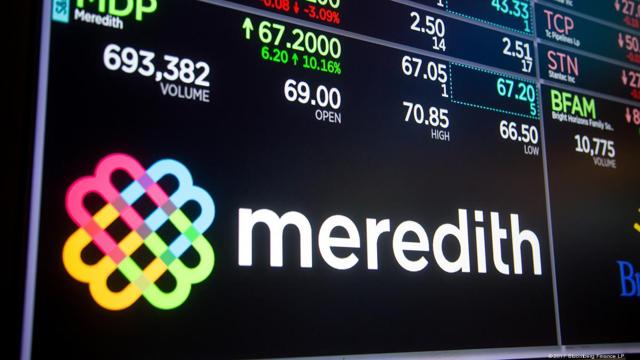 I consider now a good time to buy Meredith Corporation's (MDP) stock for the following reasons:
Meredith's operating history has been impressive and underscores a competent management team. The publishing and media sector has been increasingly difficult, but Meredith has demonstrated consistent revenue growth and free cash flow generation.
The Time inc. acquisition could be a game-changer for the company. New media properties provide a larger, more diversified revenue base and a compelling financial opportunity.
Meredith's dividend currently yields 4.21% and has almost achieved aristocrat status.
The stock is significantly undervalued based on a discounted cash flow model.
Meredith Corporation Financial Snapshot
I won't focus too much on these figures given the Time Inc. acquisition will transform all of these operating lines. The bottom line here is that Meredith (MDP) as been able to grow revenue, report strong earnings, and consistent free cash flow on an annual basis. That gives me confidence in the management team and the ability to successfully integrate the two companies and achieve cost synergies.


Time inc. Acquisition
Last November, Meredith announced it would be acquiring Time Inc. This is a game changer for Meredith and is expected to more than double revenues to a combined total of $4.8 billion. That figure includes $2.7 billion of total advertising revenues with nearly $700 million of digital advertising revenues, which I consider to be particularly important given where the market has been headed:
"Meredith will be transformed into a Top 10 digital media company with 170 million unique monthly visitors in the U.S., over 10 billion annual video views, and nearly $700 million in digital advertising revenues. It will operate the No. 1 premium digital network for American consumers with unmatched reach to Millennials. Additionally, Meredith will be a top-tier data player with a database of more than 250 million email addresses/device IDs, paired with leading advertising technology platforms and shopper marketing capabilities."
Altogether, here's the financial expectations:
Combined revenues of approximately $4.8 billion.
Adjusted EBITDA of $800 million.
Cost synergies of $400 million to $500 million in the first full two years of operation.
Meredith expects the transaction will be accretive to free cash flow in the first full year of operations.
Increased scale and cost synergy achievement is expected to allow debt to be paid down. The goal is a leverage ratio of approximately 2x by 2020.
Meredith has secured $3.55 billion in debt financing (including a $350 million revolver for working capital), which will be used to fund the Time transaction and refinance existing debt. Meredith also secured $650 million in preferred equity commitment from Koch Equity Development. I estimate that after the Time acquisition closes, Meredith will have approximately $2.85 to $3.2 billion worth of debt, not including anything drawn on the revolver.
Dividend Analysis
Meredith's dividend, which yields 4.21%, is one of the main reasons to own the stock. Meredith has paid a dividend for 70 consecutive years and has increased it for 24 straight years, which almost makes it a dividend aristocrat. The company expects to continue paying its dividend and increasing it both before and after the Time inc. acquisition. Most of that transaction is being financed with debt, so the dividend coverage ratio should remain safe.

Discounted Cash Flow Model: 53% Upside Potential
In my opinion, the market is severely undervaluing Meredith based on free cash flow. This first model assumes free cash flow of $172 million and no Time inc. acquisition. This is basically the average annual free cash flow over the last five years. I've also assumed a 2% growth rate and a beta of 1.25x. Both of those measures are conservative and lower the estimated stock price. The point here is that the market is slightly undervaluing the stock just on Meredith's current operations.

Risk-Free Rate - I used the yield on a 30-year Treasury bond.
Equity Risk Premium - This figure is calculated every month by Aswath Damodaran, a Stern Business School Professor.
Required Rate of Return - Calculated by multiplying the Equity Risk Premium by Beta and then adding the Risk-Free Rate.
Value of Equity = CF1/(r - g).
CF1 = estimated annual free cash flow
"r" is the required rate of return, and "g" is the long-term growth rate.
This next model assumes the Time inc. acquisition closes as planned. I've increased free cash flow to $300 million, which Meredith should easily be able to accomplish in the future. Realistically, free cash flow will likely be much greater than that given an expected $400 to $500 million in cost synergies. I've also increased shares outstanding given the preferred shares that Koch Equity is going to receive. As you can see, the stock is significantly undervalued if Meredith can successfully integrate the two companies.

This analysis is in line with Wall Street. According to MarketWatch, Wall Street analysts have a consensus price target of $66.60, which represents 30% upside potential in the stock.
Historical Valuation Multiples
Meredith looks cheap based on forward earnings and a number of other valuation multiples (data source: Reuters):
Forward P/E of 12.4x (5-year average of 15.6x)
Forward PEG of 2.5x (5-year average of 2.9x)
Price/sales of 1.2x (5-year average of 1.2x)
EV/FCF is at the high end of Meredith's 10-year range, but I do expect this ratio to trend down after the Time inc. acquisition, even though debt levels will be high.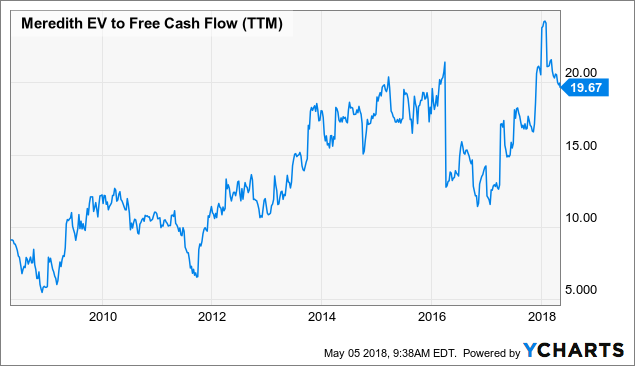 Conclusion
Meredith Corporation provides an interesting opportunity to buy a stock that's discounted both on current free cash flow and significantly discounted should everything go well with the Time inc. acquisition. I believe that Meredith's management team is well equipped to handle such an integration based on performance over the last five years. I also like Meredith's large, reliable dividend that's almost achieved aristocrat status. Now is a good time to pick up this yield while the stock still trades at a discount.