Welcome to the weekly natural gas recap editionof Natural Gas Daily!
Natural gas prices finished the week lower by 2.17%.
In our public articles last week, we disclosed that we were long DGAZ going into the weekend. And on Monday following the price drop, we disclosed that we have now exited our long DGAZ position for a return of 11.42%.
But following the release of our Monday NGD, we received a lot of questions on why we were closing our short position at a time when we said natural gas fundamentals are turning bearish?
Because in summer gas trading, it's all about figuring out where the "price band" is. As we explained in our exclusive dailies to HFI Research subscribers this week:
The logic of going long here has nothing to do with fundamentals, but everything to do with the price band trading effect.

Traders looking at trading natural gas on fundamentals during this time of the year will be more often confused by the logic of the market. One day, it's up 2%, the next, it's down 2%. The market is trying to find where the natural state of buyers and sellers are willing to step in at without fundamental forces dictating the action.

Now, of course, the price band is determined by fundamentals such as where is storage, what is production, and what does the implied balance look like. But the price action of natural gas is solely determined by the price for the time being.

As time goes on, the more and more the price band gets tested, the more concrete these price bands get. This is also why traders were saying yesterday that the $2.75/MMBtu needed to be retested many times over before it can be called a new floor.
Following the bearish EIA natural gas storage report on Thursday, we noted to readers that we went long UGAZ. And we see the price band taking shape between $2.70/MMBtu and $2.85/MMBtu for now.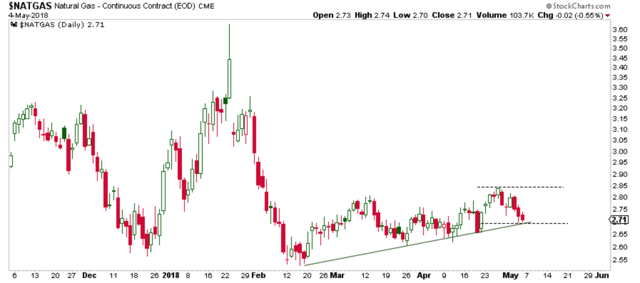 In addition to prices approaching the lower part of the price band, mother nature (e.g. weather) will start impacting demand by the second half of May as cooling degree days start to increase. For the time being, total degree days are still showing below average reading from now to the middle of May, but the latest ECMWF-EPS long-range weather forecast shows a warmer than normal finish to May.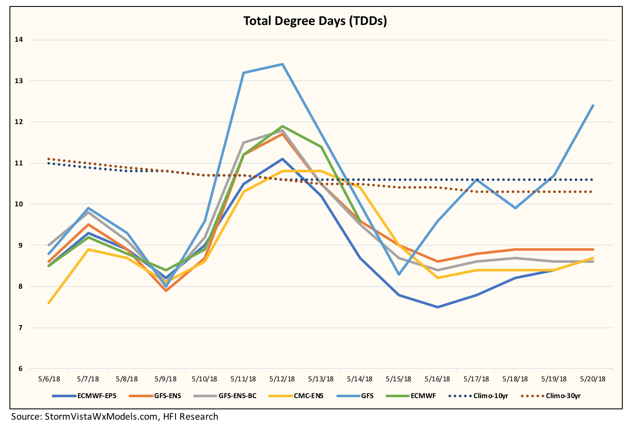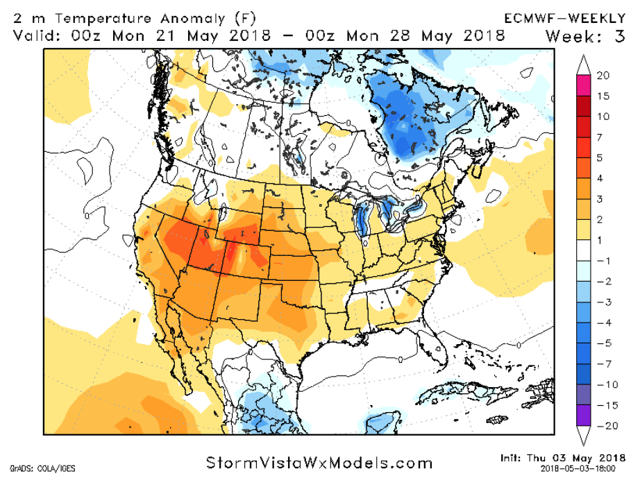 Source: StormVistaWxModels.com
For now, we are bullish natural gas through a long in UGAZ. As prices are now approaching the lower bound of the price range, most of the bearish news has already been priced in, in our opinion. If so, we think the bullish weather demand backdrop in the last part of May could boost prices to the upper bound of the trading range.
All trade updates will be posted live to HFI Research subscribers. If you would like to start receiving live updates on how we are trading our positions, what the traders are saying, or how the fundamental set-up is shifting, we think you should give our premium service a try. See here for more info.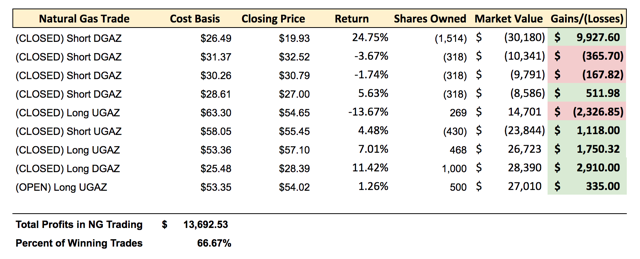 Disclosure: I am/we are long UGAZ. I wrote this article myself, and it expresses my own opinions. I am not receiving compensation for it (other than from Seeking Alpha). I have no business relationship with any company whose stock is mentioned in this article.