Rounds Report: Solid Biosciences Bull Charged Ahead While Portola Gained FDA Approval Of AndexXa
Summary
Overall bioscience market closed the week with a robust rally. Solid Biosciences topped our list, as its trading momentum is increasingly stronger by the day.
We expect the Solid's shares to be catapulted to the new high when the FDA remove its clinical hold going forward.
Portola shares rallied due to the FDA approval of AndexXa.
My habit of committing far more time to learning and thinking than to doing is no accident. - Charlie Munger
Trading Analytics
Welcome to the edition of Integrated BioSci Rounds Report for May 04, 2018. As usual, we'll elucidate notable trading analytics for the day, recent insider transactions, and interesting market developments. Without further ado, let's take an overall assessment of the bioscience space. As follows, the iShares of NASDAQ Biotechnology Index (NASDAQ:IBB) traded up $1.01 (+1.06%) at $102.35. Moreover, the SPDR S&P Biotech (NYSE:XBI) exchanged hands $1.45 higher at $87.37 (for +1.69% gains). It's likely that investors were trading with a positive sentiment for the day. Regardless of the daily inclination, there are substantial prospects in the bioscience sector: one that delivers hope for patients while rewarding supporters with substantial wealth in the long haul.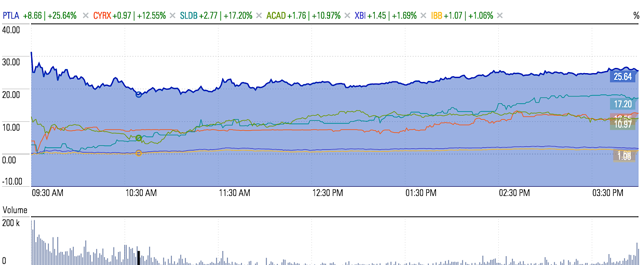 Figure 1: Notable BioSci movers. (Source: Morningstar)
Moving to specific equities, Solid Biosciences (NASDAQ:NASDAQ:SLDB) won the highlight spot for the day. The stock rallied aggressively by logging over $2.77 to trade at $18.87 (for 17.21% profits). Based in the innovation hub (Cambridge, MA), Solid is powering by the innovation of corrective gene therapies, disease-modifying therapeutics, and assistive devices (as shown in figure 2). The company seeks to service the lucrative Duchenne muscular dystrophy ("DMD") market. Notably, Duchenne muscular dystrophy ("DMD") is an X-linked rare genetic condition, resulting in muscle weakness, inability to walk (in their early teens), as well as heart and lungs failure.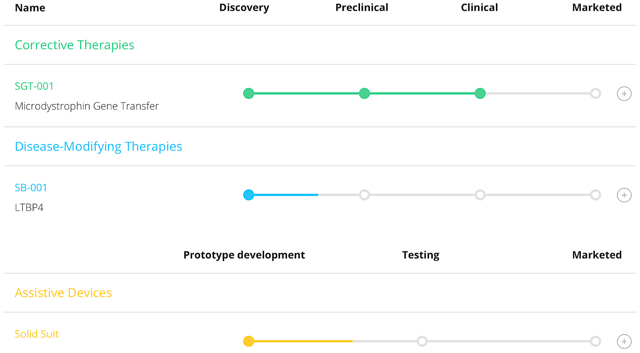 Figure 2: Therapeutic pipeline. (Source: Solid Biosciences)
It's highly likely that the silver bullet to DMD is SGT-001, a gene therapy that employed the adeno-associated virus ("AAV") - to transfer the correct dystrophin genes dubbed microdystrophin (to patients suffering from DMD). Already earned the rare pediatric disease designation in both the US and the EMA, the stellar molecule can potentially slow or stop the disease progression regardless of stage or genetic mutation. We expect the stock to continue to trade northbound. And, the shares should be catapulted to a new high (when the FDA to remove the clinical hold on SGT-001 in the near future).
Bioscience Catalyst
Next up, the agency approved AndexXa. As an antidote to Factor Xa inhibitors, the said molecule is used to reverse the life-threatening bleeds that can occur with the novel oral anticoagulants (NOACs), i.e. rivaroxaban and apixaban. Commenting on the recent development, Dr. Stuart Connolly (Chairman and professor at McMaster University) enthused,
Today's approval represents a significant step forward in patient care and one that the medical community has been eagerly anticipating. Andexxa's rapid reversal of the anticoagulating effects of rivaroxaban and apixaban will help clinicians treat life-threatening bleeds, where every minute counts.
Already gained both the orphan and breakthrough therapy designations, AndexXa was approved through the accelerated pathway. As with other approved medicines, Portola is required to conduct a phase IV post-marketing surveillance. Notably, the company will initially conduct a soft-launch for AndexXa as early as June. If the drug receives the FDA approval to launch the Generation 2 manufacturing process in early 2019 (the same time as the final EMA approval decision), the firm will commence an aggressive launch. We explicated in the prior research,
Based on our calculations, the annual peak revenues from AndexXa is approximately $2.25B. After the 50% discounts (for the reduced market penetration, launch delay, and unforeseen variables), the peak estimate is still in the $1.12B ballpark. Evidently, the said figure is comparable to the $1.65B sales of Praxbind. Taking $1.12B with the ($1.5B to $2.0B) figures for Bevyxxa should add up to roughly $2.6B annual revenues. Interestingly, there are two industry tailwinds to help launch AndexXa into a blockbuster drug. First, the use of NOACs - for stroke, pulmonary embolism ("PE"), venous thromboembolism ("VTE") - is increasing robustly due to their superior efficacy and safety profile versus enoxaparin and warfarin as well as the user convenience edge. With more prescription, there is an increasing chance of NOACs' associated bleeding. In 2016, there were roughly 117.0K hospital admissions pertaining to Factor Xa inhibitor bleed and nearly 2.0K bleeding-related death monthly.
Final Remarks
In all, the bioscience market closed out the week with an exclamation mark. Many firms under our coverage appreciated strongly. Solid biosciences procured solid gains for the shareholders. Better yet, that might only be the commencement of what will be a gargantuan bull run later in the year with clinical hold removal catalyst. Moreover, the Portola shares rallied strongly following the approval of AndexXa. There should be much more upsides ahead come year-end when the EMA makes the regulatory decision for the said molecule. On the longer horizon, there are significant unlocked values in the form of blockbuster sales as well as cerdulatinib clinical binary.
Author's Notes: We're honored that you took the time to read our market intelligence. Founded by Dr. Hung Tran, MD, MS, CNPR, (in collaborations with Analyst Vu, and other PhDs), Integrated BioSci Investing ("IBI") is delivering stellar returns. To name a few, Nektar, Spectrum, Atara, and Kite procured over 310%, 113%, 188%, and 83% profits, respectively. Our secret sauce is extreme due diligence with expert data analysis. The service features a once-weekly exclusive Alpha-Intelligence article, daily analysis/consulting, and model portfolios. Of note, there is an IBI version of this article that is a higher-level intelligence with extensive details, in which we published in advanced and exclusively for our subscribers. And, we invite you to subscribe to our marketplace now to lock in the current price and save money for the future.
This article was written by
The #1 Biotech Service for Growth Investing and Catalyst Power Trading
As an astute devotee of Warren Buffet, Ben Graham, Phillip Fisher, Sir John Templeton, and Peter Lynch, Dr. Harvey devoured any resources/books on these gurus to learn their craft for over two decades. In the process, he refined their investment approaches specifically to biotech and founded Integrated BioSci Investing: The Number #1 Biotech Service for Long-Term Growth Investing and Power Catalyst Trading. 

Since inception, our flagship portfolio has delivered over 31.23% annual average (i.e. 187.39% for roughly six years). As you can appreciate, we're adept at assisting and serving institutional/retail investors/traders who are looking for alpha. Dividend investors wanting to boost your return can also benefit greatly from our investment research. We currently have over 20 docs in our service for us to tap into their clinical insight for your gains.

Check out some of our binary event forecasts that lead to meteoric gain like the 359% single-day pop from Madrigal Pharmaceuticals (MDGL)'s NASH data release. During his training at the world-renown Columbia University, Harvey Tran, M.D., M.S., developed a passion/edge for analyzing the intricacies of various preclinical/clinical studies, biostatistics, and science/medicine. Importantly, it allowed the physician-scientist Harvey to realize the internal working of various therapeutic in-development that the market tends to overlook.

In recent years, Dr. Harvey founded and led two healthcare roll-up companies. The endeavor helped him gain deep insight into the inner working of a corporate board. His experience as a consultant to common/professional investors and institutions gave him a huge advantage in biotech analysis. The combination of elite training and a passion for biotech provided Dr. Harvey with an aptitude for delivering highly accurate clinical data forecasting that is crucial to picking winning biotech investments for you.

Follow us for the latest research. And, take our FREE 2-week trial to Integrated BioSci Investing to start your winning process now!

Check out Dr. Harvey's LinkTree for his complete experience. You can make your one good decision a year as Mr. Buffett recommended by checking out  Integrated BioSci Investing!
Analyst's Disclosure: I/we have no positions in any stocks mentioned, and no plans to initiate any positions within the next 72 hours. I wrote this article myself, and it expresses my own opinions. I am not receiving compensation for it (other than from Seeking Alpha). I have no business relationship with any company whose stock is mentioned in this article.

I like to inform our readers of Seeking Alpha's recent policy change, in which the company implemented the paywall (not only to my articles but to all articles that are published over 10-day). This is in place, as the company is, after all, a business. And, the revenues from ads are not adequate to support the high-quality research that the company is providing. If you are a REAL TIME FOLLOWER, you will be notified immediately of our new research for you to continue to benefit from our due diligence. You can also gain access to all of my old articles and much more by taking the 2-week FREE trial of my marketplace, Integrated BioSci Investing.
Seeking Alpha's Disclosure: Past performance is no guarantee of future results. No recommendation or advice is being given as to whether any investment is suitable for a particular investor. Any views or opinions expressed above may not reflect those of Seeking Alpha as a whole. Seeking Alpha is not a licensed securities dealer, broker or US investment adviser or investment bank. Our analysts are third party authors that include both professional investors and individual investors who may not be licensed or certified by any institute or regulatory body.