Introduction
U.S. real interest rates have historically had a high correlation to the price of gold. Specifically, the 5-year real interest rate and the inverse price of gold has seen correlations that regularly approach 100%. Over the past year, the positive correlations have actually turned negative. While this has happened before, the correlation has never been this negative.
We see four possibilities from this recent divergence in correlation:
Real interest rates will eventually fall;

Gold prices will eventually drop;

A combination of 1 and 2 above; or

The divergence is evidence that the correlation between gold and real interest rates has ended.
The figure below shows the 5-year real interest rates (currently near +0.69%) charted together with the inverse of the gold price. The annual correlation coefficient is plotted below.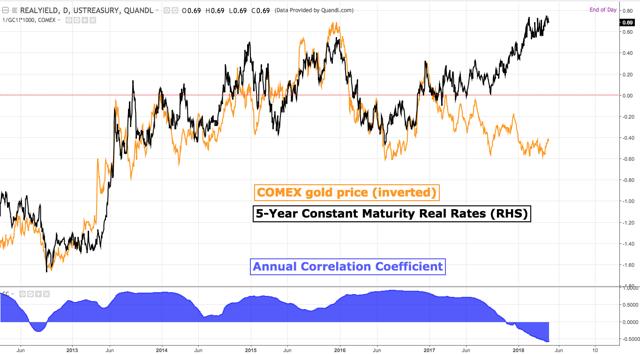 Source: Trading View
In the upper graph, we can see how the values of these two items has diverged and in the bottom portion, we see that the correlation goes from near 100% to below -50% in less than a year. We can also see how dips in correlation have tended to coincide with nearby drops in the value of gold.
The last time that the annual correlation dipped below zero was in late 2012. It is interesting to note that Operation Twist ended in 2012, and 2013 was the beginning of QE3.
If we pull the camera out a few more years, we can see more data and other periods of price divergence. The chart below goes back to the zenith of the financial crisis in 2008. During the period 2008 through 2012, annual correlation between the 5-year real rates and gold ranged from a low of 65% to a high near 98%.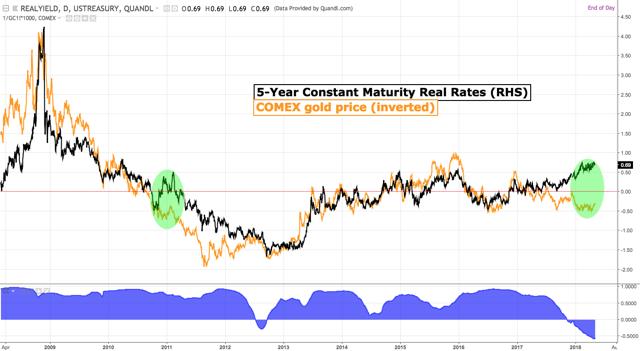 Source: Trading View
On the other hand, in late 2010 and early 2011 (during QE 2), there was a temporary divergence in values between real interest rates and gold (highlighted in green). Following this divergence, the price of gold rapidly accelerated.
Reader Feedback
We wrote this piece to solicit feedback from readers and other contributors. We don't have all of the answers and are interested to begin a dialogue on this subject.
Some questions include:
Has the correlation ended? If so, why?

Do you believe the early 2011 timeframe is a good comparison for today? Why or why not?

QE 2 coincided with rapidly increasing gold prices, and QE 3 was happening while gold prices fell substantially. Are we due for another round of QE? If so, what do you expect might happen to the price of gold in the next round?
Disclaimer: This article was written for information purposes, and is not a recommendation to buy or sell any securities. All my articles are subject to the disclaimer found here.
Commodity Conquest
In my Commodity Conquest service, I write a daily report on the OPEX Price magnets for many key commodities, including natural gas, crude oil, gold and agriculture. I also do in-depth coverage of many commodity firms.
My verifiable trading record from on all completed trades through early May has included a win rate of over 65% with an average return of 2.9% and an average holding period of 11.8 days.

Disclosure: I/we have no positions in any stocks mentioned, and no plans to initiate any positions within the next 72 hours. I wrote this article myself, and it expresses my own opinions. I am not receiving compensation for it (other than from Seeking Alpha). I have no business relationship with any company whose stock is mentioned in this article.