It was a pretty great week for Midstream (AMEI +1.9%), but not so much for MLPs (-0.2%). The busiest week for 1Q earnings started exciting with a big merger of MLP sponsors and very strong 1Q results from big MLPs EPD and MPLX. As the week continued, however, MLP investor sentiment was dealt another blow with a surprise distribution cut from TCP and weak results from BPL.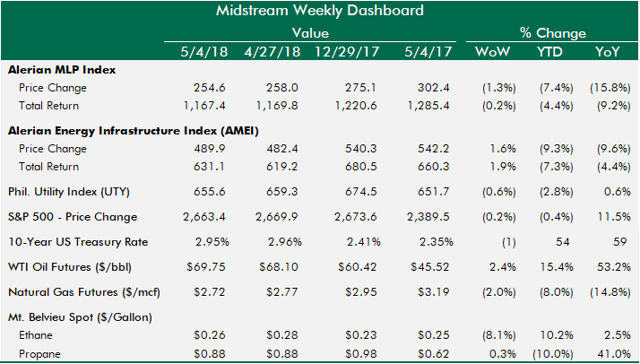 Because it was Kentucky Derby weekend, I'm going to run through a few horse related idioms to contextualize a dizzying week.
Beating a Dead Horse
Midstream results were strong this week, especially for non-MLPs (ONEOK (NYSE:OKE), Pembina (NYSE:PBA), Cheniere (NYSEMKT:LNG)). Association with the MLP sector hurt even those MLPs with good results (like EPD).
OKE operates outside the MLP sector and continues to benefit from a disassociation with MLPs. EPD and MMP have said the MLP structure still makes the most sense for them, but this week's price action hurts their case. TRGP falls somewhere in the middle: premier assets, but low coverage and a perpetual funding gap holding it back.
Don't Look A Gift Horse in the Mouth
There were exceptions on the smaller end of the MLP spectrum where good results and lack of FERC exposure were rewarded (ENLK, CNXM, CEQP). No complaints that some MLPs have righted their ships and are proceeding along with strategies that will result in DCF/unit growth and value creation for unitholders.
Put Out to Pasture, Destined for the Glue Factory…
This week, BWP, TCP, and ANDX were added to the list of zombie MLPs, which already includes EEP, ENBL, DM, and a few others. A slew of zombie MLPs, or lame MLPs destined for the "glue factory", doesn't inspire generalist investors interest in MLPs. Repeated reminders of poor corporate governance for limited partners in MLPs isn't attracting a crowd of institutional investors either.
Don't Change Horses Midstream
ANDX's carefully crafted strategy of growth through sponsor-supported projects and M&A changed abruptly when ANDV and MPC announced their merger. The hunter becomes the hunted with ANDV having just finished acquiring Western Refining in a $4.1bn merger that closed last year. ANDX management knows all too well how the ANDV merger would impact ANDX, having previously orphaned two other MLPs (QEPM and WNRL).
Being so aware of the likely impact for believers of ANDX's pre-MPC strategy makes the announcement and lack of clarity for ANDX's future even worse than prior orphan cases. The argument could be made that this time it's different because there are no IDRs to financially engineer a better outcome by shifting growth from one MLP to another, but the market didn't ascribe such nuance to the situation, punishing ANDX with a 12% decline on Monday.
Holistically, I am for MLP consolidation, but would prefer it comes from grown up midstream companies merging together, not Brady Bunch situations where MLPs have to share a room now that their parents are married.
Cart Before the Horse…Horse out of the Barn
The market continues to expect WMB to rollup WPZ, but it hasn't happened yet. It appears WMB wants to make its analyst day (5/17) extra special, but the market doesn't like to wait (just ask AM and EQM investors). Analyst day timing dictates earnings come first and with fewer updates, so no strategic announcements this week for WPZ. The risk is that like with the Kentucky Derby sometimes, all the build-up isn't worth the payoff in the end…
The Home Stretch
This upcoming week is the final push of earnings season, with PAA, ETP, DCP and Enbridge set to report results. We get to hear straight from the horse's mouth about volumes, basis differentials and competition in the Permian Basin. Who knows what other news we'll get…
Winners & Losers
Results drove the best performing MLPs this week. CNXC extended its distribution growth runway by an additional 2 years, and it benefitted from the one day every quarter when the market pays some attention to that stock. ARLP, ENLK and CEQP posted solid results and their lack of any FERC exposure helped their stock prices hold up over the balance of the week.
The real action was on the downside this week. TCP's surprise distribution cut and lack of strategic direction from sponsor TransCanada (NYSE:TRP) sent its stock spiraling lower. EEP and other FERC-sensitive MLPs traded off in sympathy. BWP was impacted by a truly unique situation where its sponsor is evaluating a potential buy-in based on a formula that works in the sponsor's favor the longer they wait to exercise the option. ANDX was essentially orphaned after the big refinery merger involving its heretofore very supportive sponsor.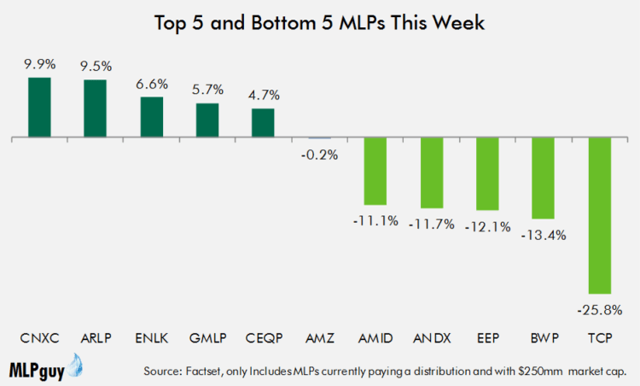 ENLK made it two straight weeks among the top 5, validating the enthusiasm last week with 1Q results announced this week. CNXM returned to the winners circle of the YTD leaderboard this week, replacing MMLP. Among the big YTD losers, SHLX climbed out of the bottom, replaced by EEP, and TCP took over the "Mr. Irrelevant" spot at the bottom of the group.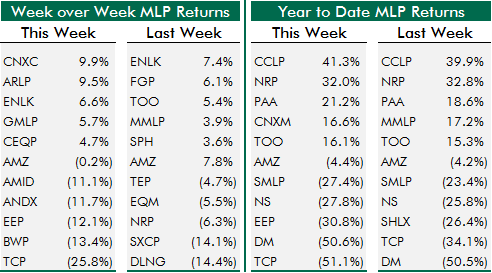 General Partners & Midstream Corporations
GPs and midstream corporations outperformed MLPs this week, headlined by consistent outperformers LNG and OKE, but also joined by ENLC after the above-mentioned results. ETE and NSH both make the top 5, reflecting news that ETE continues to aggressively pursue the acquisition of NSH.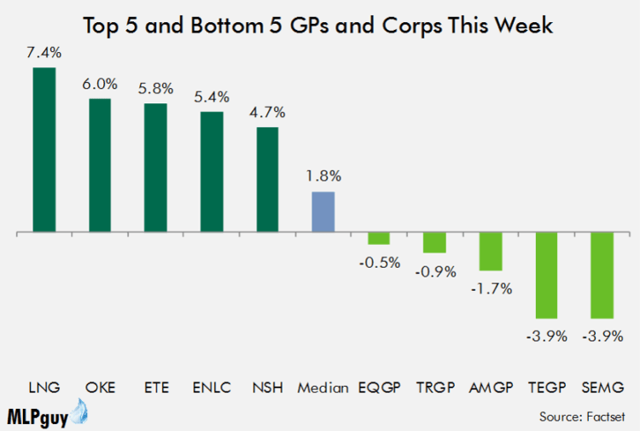 TRGP and TEGP-OLD announced results this week, and both were met with selling pressure. TRGP has perpetual funding questions, despite an ever-improving long-term outlook. TEGP bounced on the initial announcement of the simplification, but its price has faded the last few weeks.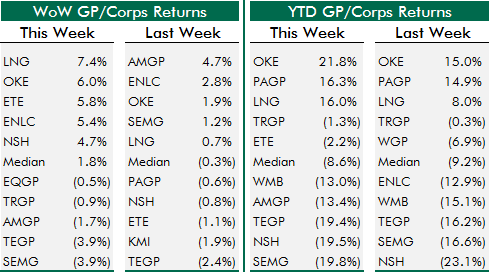 Note: Removed AHGP from this group, after removing AROC last week, making this group purely midstream focused going forward.
Canadian Midstream
Canada outperformed the U.S. this week, helped by strong results out of Pembina Pipeline. ENB has quietly gained some traction after the downdraft around the Line 3 ALJ recommendation. TRP traded up, but seems to be a source of funds for better ideas as questions mount on funding and its subsidiary MLP.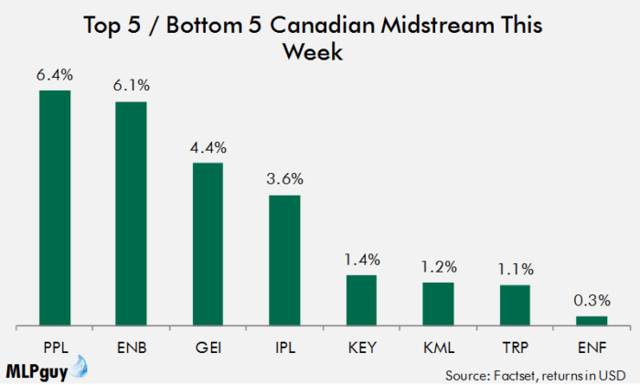 On the YTD leaderboard, there are still no Canadian Midstream companies with positive YTD returns in US Dollar terms. Pembina's big day Friday has it closer to the top than the bottom. The biggest two companies are the worst two performers.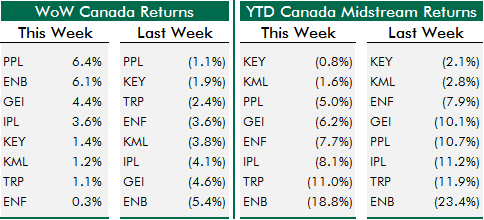 Status Update
It seems like forever ago, but just this past Monday, we passed through the end of another month. MLPs had their strongest month of the year, gaining 8.1%. The gains followed a seasonal pattern where April tends to be stronger than the months around it, particularly after weak first quarters.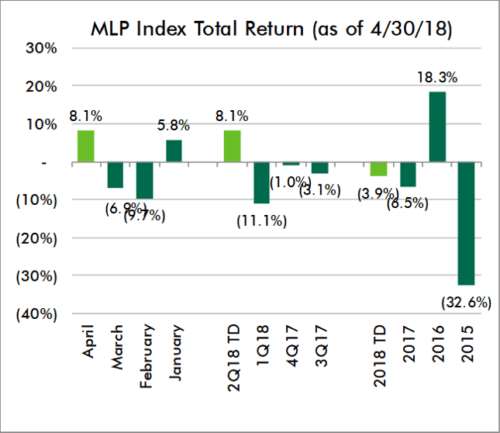 The AMEI, which has only 25% MLPs, underperformed the MLP Index in April, like when MLPs took off in early January and left the AMEI behind. Canada represents 25% of that index and Canada has underperformed consistently year to date.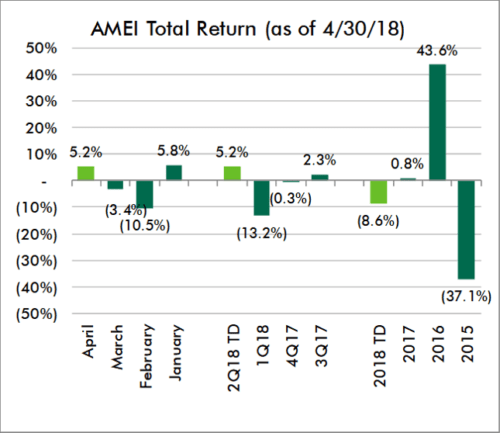 News of the (Midstream) World
News this week was all about sponsors. Sponsors merging and enabling much needed, but painful sector consolidation. Also, sponsors have been efforting behind the scenes to clean up structures through negotiated unit purchases (Cheniere) or by engaging a legal team to pursue options embedded within the partnership agreement (BWP). Still other sponsors (ETE) are trying to buy other sponsors (NSH) before they simplify. Oh, and there were some promising project expansions and participations announced.
Capital Markets
Cheniere acquired 12mm Cheniere Energy Partners (NYSEMKT:CQH) shares from Zimmer Partners, 3.4mm shares from Adage Capital, and 6mm shares in other privately negotiated transactions bringing LNG's ownership of CQH up to 91.19% and giving it sole voting control (press release)
Growth Projects/M&A
Marathon Petroleum, the sponsor of MPLX, announced the acquisition of Andeavor, the sponsor of Andeavor Logistics, for $23.3bn (press release)

Because MPC has an existing MLP, the merger makes it unlikely that ANDV will drop-down the Gray Oak Pipeline (announced last week) into ANDX, leading to large sell-off in ANDX
NuStar (NYSE:NS) filed revised S-4 with updated details on the pursuit of NSH by Energy Transfer Equity, including a second offer made April 12th to acquire NSH for all cash at $14.70/unit (filing)

NS's board unanimously rejected that offer formally in letter sent to ETE this week (5/1)

Apparently in the letter, ETE indicated it was prepared to pursue a transaction without support of Chairman and largest NSH holder Bill Greehey
Western Gas Partners (NYSE:WES) announced that it secured the option to participate at cost in two long haul crude pipelines from the Permian Basin (press release)

20% interest in Enterprise's Midland-to-Sealy pipeline

Up to a 15% interest in PAA's Cactus II pipeline from West Texas to Corpus Christi
CNX Midstream announced strategic transaction with its sponsor, CNX Resources (NYSE:CNX), and HG Energy II Appalachia (press release)

CNXM will gain 16,100 dedicated Utica acres in DevCo I, 52 minimum well commitments, a high-pressure pipeline adding $4mm in EBITDA, and $2mm in cash

In exchange, CNXM will release from dedication 18,000 HG net acres, the majority of which are in less developed, lower return DevCo's II and III
Enterprise Products and Energy Transfer announced 50/50 JV to resume service on the Old Ocean natural gas pipeline which has been essentially idled since 2012 (press release)

ETP will operate the 240-mile pipeline

ETP and EPD also are in the process of expanding their jointly owned North Texas pipeline that will provide more capacity from West Texas for deliveries into the Old Ocean pipeline
Enterprise Products, Western Gas, and DCP Midstream announced a binding open season for additional capacity on the Front Range Pipeline (press release)

The pipeline is expected to expand by 100,000 bpd to a total capacity of 250,000 bpd and EPD will be responsible for construction
Complementing the Front Range Pipeline, EPD, Enbridge (ENB-CA), WES, and DCP announced a binding open season for additional capacity on the Texas Express Pipeline which connects to Front Range (press release)

The pipeline is expected to expand by 90,000 bpd and EPD will be responsible for the construction

Expansions are expected to be in service by 2Q19
Energy Transfer's Rover Pipeline received FERC approval to place additional Phase 2 facilities into service (press release)

Magellan Midstream increased scope and extension for potential expansion of the western leg of its refined products pipeline in Texas (press release)

The pipeline's capacity could increase to 145,000 bpd from 100,000 bpd
Targa Resources announced the sale of its inland marine tank barge business to Kirby Corp. (NYSE:KEX) for $69.3mm in cash (press release)
Distributions
Only 8 distribution announcements this week, but among them was one cut (TCP) that rocked the sector.