In a world of rising asset prices, one commodity is hitting multi-year lows.
Recently, sugar prices fell to around 10.7 U.S. cents a pound. That's the lowest level since September 2015. The price of sugar is down 45 percent since the beginning of 2017 compared to an 8 percent increase in the broad Dow Jones Commodity Index.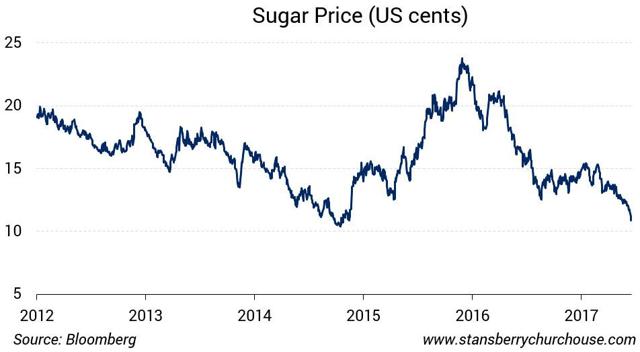 What's up with sugar?
For starters, there's just too much sugar.
Thanks to record harvests, production in India and Thailand is expected to soar this season. And the European Union has dramatically boosted its output of sugar since limits on sugar beet production were abolished in September 2017. The European Commission estimates a 23 percent increase in average sugar production in the EU for the 2017/2018 season, and it expects production to increase by 12 percent from 2017 to 2030.
As a result, the world's largest sugar trader, Alvean, estimates there will be a global sugar surplus of 25 million tonnes for the combined 2017/2018 and 2018/2019 seasons. In the context of global production of 170 million tonnes, that's a lot.
And long term, the demand for sugar is decreasing as consumers get more health conscious. Analyst group Platts Kingsman expects that global sugar consumption in 2017/2018 will grow at its slowest pace in seven years – at just 1 percent. That's nearly half the average growth over the last decade.
Governments around the world have also started implementing taxes on sugar. For example, Ireland, the UK, South Africa and 26 other countries have all raised the price of sugary drinks in the hopes of making their citizens healthier.
This all points to a slow decline in sugar demand. But it's not happening overnight. And it's possible that, if current trends continue, sugar production could decline.
No one is making much money in sugar
Right now, the cost to produce sugar is higher than the cost of selling it.
It costs around 15.5-17 cents per pound to produce sugar. With the current price less than 11 cents, many sugar producers are operating at a loss.
However, it's important to note that sugar is produced all over the world, and production prices different by country. (The biggest producers are Brazil, India, the EU, China and Thailand.) Also, many countries have sugar subsidies (financial aid from the government or a public body to help an industry or business).
For example, Brazilian government programs provide nearly US$2.5 billion a year in sugar subsidies, according to the American Sugar Alliance. This includes direct payments, debt forgiveness, usage mandates, lower tax rates for sugar producers and special interest rates on government loans.
And under the U.S. sugar programme, sugar beet and sugar cane farmers have the advantage of minimum prices, cheap loans and tariffs to keep out competitors.
So sugar prices can vary wildly by country. And even with a cost of production that's above the market price, it's entirely possible to still turn a profit.
But still, at around 11 cents, sugar margins are very thin – and a lot thinner than they used to be.
So it's likely that higher-cost producers will exit the sugar market soon. This will help push down sugar production and oversupply… which should help boost prices.
Everyone thinks sugar is going lower
There's also a powerful technical indicator that points to higher sugar prices.
As you can see in the below chart, we're seeing multi-year highs in short futures positions. That means that a lot of investors are betting on sugar going lower.
But such a large number of people betting one way often means that the opposite is going to happen… that is: Sugar is not going lower.
As we've shown before, when everyone in the market is sure one thing is going to happen, the opposite tends to happen.
That's what contrarian investing is all about. It's the belief that when everything seems pitch-black, blood-red bad, when everyone else is selling, that's the time to buy, because things can't get any worse. And then they get just a bit better, and the brave investor makes a killing.
And if things get just a little bit better in the sugar market – if we see supply level off – prices could rise sharply.
If you're interested in betting on higher sugar prices, the easiest way to invest is through an exchange-traded fund (ETF). The most commonly traded sugar ETF is the iPath Bloomberg Sugar Subindex Total Return ETN (NYSEARCA:SGG). This fund tracks an index consisting of one sugar futures contract, making it easy to monitor. So, you don't need to own any actual sugar – but you can still benefit when the price of sugar rises.
Disclosure: I/we have no positions in any stocks mentioned, and no plans to initiate any positions within the next 72 hours. I wrote this article myself, and it expresses my own opinions. I am not receiving compensation for it. I have no business relationship with any company whose stock is mentioned in this article.