Seaspan Corporation: A Low-Risk 5.48% Yield-To-Maturity For One Year
Summary
Brief introduction of the company itself, the products of interest to us and how they compare to one another.
One of Seaspan's baby bonds popped up as a good candidate for our portfolio.
Explaining why and how to carry out the trade.
Introduction
The market continues with its huge, sharp highs and lows which makes every investor weary of whether her or his money are in a safe place. Because of that, we managed to find a calm place for our money in one of Seaspan Corporation's (SSW) baby bonds.
The Company
Seaspan Corporation, incorporated on May 3, 2005, is an independent charter owner and manager of containerships. The Company charters pursuant to long-term, fixed-rate time charters with various container liner companies. As of February 20, 2017, it had operated a fleet of 88 containerships and had entered into contracts for the purchase of an additional eight new building containerships.

...

The Company is engaged in the operation and management of vessel, including maintaining the vessel, periodic dry-docking, cleaning and painting and performing work required by regulations. The Company also provides limited ship management services to Dennis R. Washington's personal vessel owning companies, and ship management and construction supervision services to Greater China Intermodal Investments LLC.
Source: Reuters.com - Seaspan Corporation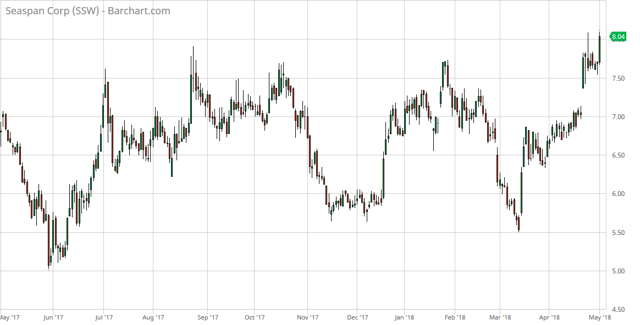 Source: Barchart.com - SSW Daily Chart (1 year)
The common stock has performed well enough in the past year since it bottomed in the middle of 2017 for us to consider the preferred stocks. There is not much more we can add in terms of value as to whether the company is priced correctly in the market and such, and it is completely outside our area of expertise. Therefore we will let the following chart speak for itself and focus on the places where we can contribute in terms of knowledge.
The Seaspan Corporation Family

Source: Author's database
As you can see the family of the company is not small and there are various preferred stocks ''brothers''. Today in our trade proposal I am going to introduce you to SSWN - the baby bond. And the reason why we chose to trade exactly this financial instrument is that its maturity date is nearly a year from today (4/30/2019).

Source: QuantumOnline.com
The stock trades at a current price of $25.25. And its Yield-To-Maturity is 5.48%, which I consider a bargain. What I mean is that this is a decent and relatively safe return for a one-year period.

Source: Author's database
Let us take a look at how the market has been treating this "baby":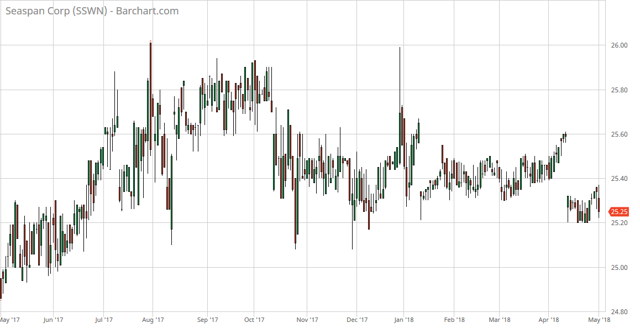 Source: Barchart.com - SSWN Daily Chart (1 year)
There has not been much going on. And if we go back five years, we can observe the same thing. The only big drop we can notice here is in the middle of 2015 to the early 2016. Aside from that, I do not think that this bond has the habit to do chaos on the market neither on its investors' emotions.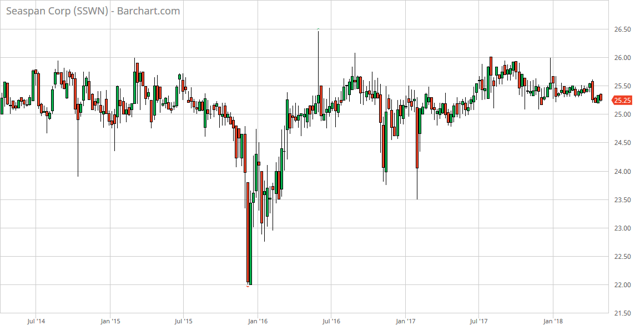 Source: Barchart.com - SSWN Weekly Chart (5 years)
The Trade
There are several reasons why we determined SSWN for the best trade from the whole family. The logic here is really simple. First of all there are a lot of preferred stocks that are lower in the capital structure of the company. Let us not forget that we are talking about a baby bond here. This automatically makes it one of the undisputed assets from the family.
From a basket full with eggs, we now have reduced our choice only to the two baby bonds of the company. And between them we prefer the N Series baby bond (SSWN). Like I said the reason behind my decision is that the bond matures only a year from today. Also adding the security that bond gives us, seeing how the market treats it and let us not forget that it trades around its par price, I think that with a little patience we could celebrate our choice with some fresh money in our accounts.
The concept is rather simple - in terms of risk SSWN is the safest product of interest from the Seaspan family. Yes, the yield is not as tempting as the one provided by some of the other products, but it definitely is not a bad option risk-wise, especially with the wild ride the market is taking us through.
Conclusion
There seldom are opportunities in the market where one can really capitalize on a risk-free, or anything near, investment. However, we believe that SSWN is very close to that and while the Yield-To-Maturity is nothing truly impressive, it might be worthwhile until the fixed income market finds a direction, at the very least.
Note: This article was originally published for our subscribers on 5/1/2018 and some figures and charts may not be entirely up to date.
Trade With Beta
Do you want to be ahead of the curve and have early access to ideas like this one? Then you're invited to join my team and the great community we have formed at "Trade With Beta."
This article was written by
Income arbitrage ideas along with managed portfolios and pair trades
Day trader whose strategy is based on arbitrages in preferred stocks and closed-end funds. I have been trading the markets since I started my education in Finance. My professional trading career started right before the big financial crisis of 2008-2009 and I clearly understand what are the risks the average investor faces. Being a very competitive trader I have always worked hard on improving my research and knowledge. All my bets are heavily leveraged(up to 25 times) so there is very little room for mistakes. Through the years my approach has been constantly changing. I started as a pure day trader. Later I added pair trades. At the moment most of my profits come from leveraging my fixed income picks. I find myself somewhere in between a trader and an investor. I am always invested in the markets but constantly replace my normally valued constituents with undervalued ones. This approach is similar to rebalancing your portfolio and I just do this any time there is some better value in the markets. I separate my trading results from my trading/investment results. I target 40% ROE on my investment account and since inception in 2015, I am very close to this target.
My main activity is running a group of traders. Currently, I have around 40 traders on my team. We share our research and make sure not to miss anything. If there is something going on in the markets it is impossible not to participate somehow. Some of my traders are involved in writing the articles in SA. As such Ilia Iliev is writing all fixed-income IPO articles. This is part of their development as successful traders.
My thoughts about the market in general:
*If it is on the exchange it is overvalued and our job is to find the least overvalued.
*Never trust gurus - they are clueless.
*Work hard - this is the only way to convince yourself you deserve success.
*If you take the risk it is you who has to do the research.
*High yield is always too expensive.
We are running a service here on SA. It is a great community with very knowledgable people inside. Even though we are not in the spotlight as often as we would like to our articles' results are among the strongest on SA. You can always contact me to share some of our articles and best picks so far.

Analyst's Disclosure: I am/we are long SSWN. I wrote this article myself, and it expresses my own opinions. I am not receiving compensation for it (other than from Seeking Alpha). I have no business relationship with any company whose stock is mentioned in this article.
Seeking Alpha's Disclosure: Past performance is no guarantee of future results. No recommendation or advice is being given as to whether any investment is suitable for a particular investor. Any views or opinions expressed above may not reflect those of Seeking Alpha as a whole. Seeking Alpha is not a licensed securities dealer, broker or US investment adviser or investment bank. Our analysts are third party authors that include both professional investors and individual investors who may not be licensed or certified by any institute or regulatory body.