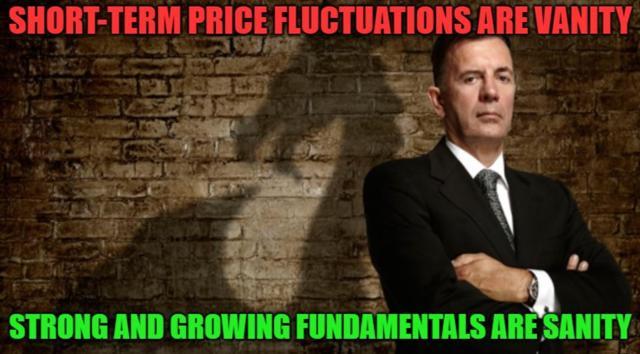 (Source: Imgflip)
A recent survey found for the first time since November 2016 most investors are expecting the stock market (SPY) (DIA) (QQQ) to be lower in a year. That's understandable given current fears about rising interest rates and a potential trade war with China.
However, at the end of the day, the most important thing for investors to remember is that the stock market has proven to be the best long-term wealth generating engine in history. In fact since 1871, the S&P 500 has generated 7% annual inflation adjusted total returns and turned each $1 invested into $19,756. Or to put another way, adjusted for inflation, the stock market has doubled an investor's money every decade despite the economy being in recession 30% of the time.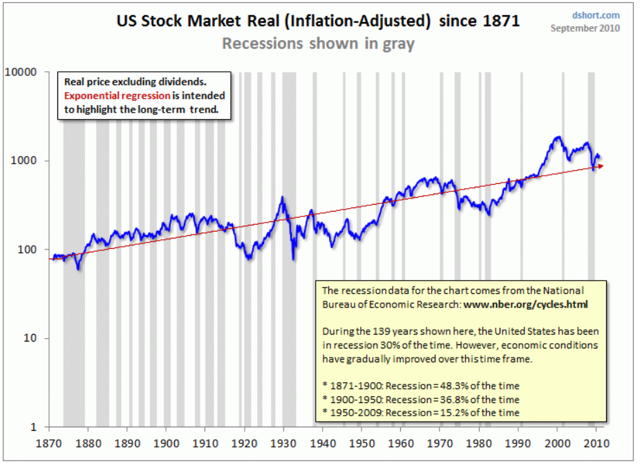 (Source: Business Insider)
And let's not forget those returns were generated during: two world wars, two major energy shocks, a killer flu pandemic that wiped out 5% of humanity, and the cold war that threatened nuclear annihilation of all life on earth. The point is that the market never enjoys times of zero uncertainty, and is always climbing a wall of worry higher.
Rolling Total Returns of S&P 500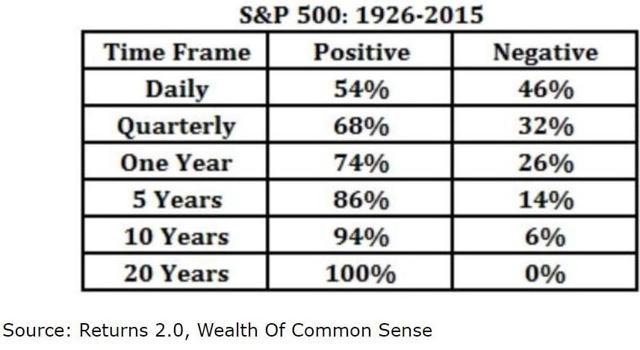 What's more 74% of the time, the market is up in any given year, and the longer your time horizon, the closer that approaches 100%. That's why it's important for investors to focus on what matters, which are the very solid fundamentals facing us today. In fact there are three reasons why I'm confident that disciplined investors who avoid trying to time the market will be pleased over the coming year.
Best Job Market In 18 Years
Friday's jobs report was potentially disappointing if you were hoping for a repeat of February's blow out figures of 324,000. In fact some might say that April's net jobs gains of 164,000 were lackluster. But here's something important to consider.
The government jobs report is a survey of 150,000 businesses and government agencies. It's revised twice (in the next two months) and has a margin of error of plus or minus 120,000. That means that the official figure that is reported has a 90% probability of being either 120,000 higher or lower than the initial estimate.
Because of these revisions, it's important to not fixate on any one month's figures. For example, in April, the Bureau of Labor Statistics, or BLS, revised up February's and March's totals by 30,000 and the average net job creation rate over the past three months is 208,000. That's compared to the average over the past 12 months of 191,000.
In addition both the headline U3 unemployment rate (those looking for work within the last month), and U6 unemployment rate (includes marginally attached workers and part-time workers wanting full-time work) fell significantly.
U3 unemployment: 3.9%, down from 4.1% last month
U6 unemployment: 7.8%, down 0.2% from last month and down from 8.6% in April 2017
And of course some areas are enjoying far better employment rates, including some states that have U3 rates as low as 2.1%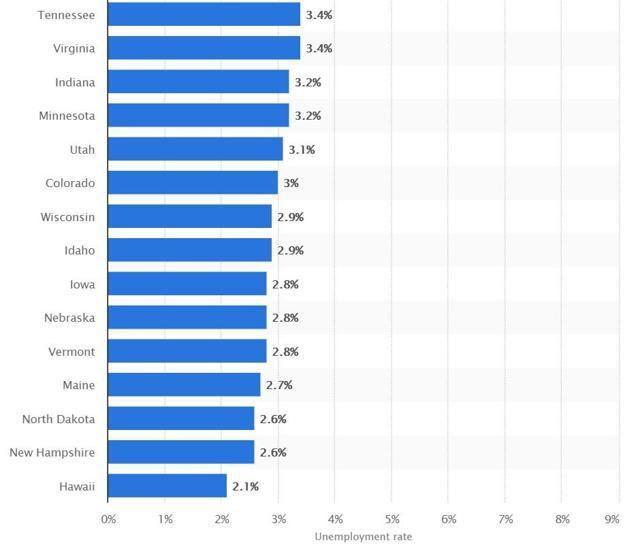 (Source: Statista)
But ultimately what matters is that the strong hiring is widespread. For example, according to the BLS, unemployment was down from a year ago in 302 of 388 major US metro areas. Meanwhile 40 US cities have unemployment at 3.0% or lower (U3). The lowest unemployment rate in the country is in Ames, Iowa (a suburb of Des Moines), at 1.7%. That gives us a potential idea of just how low unemployment can fall over time.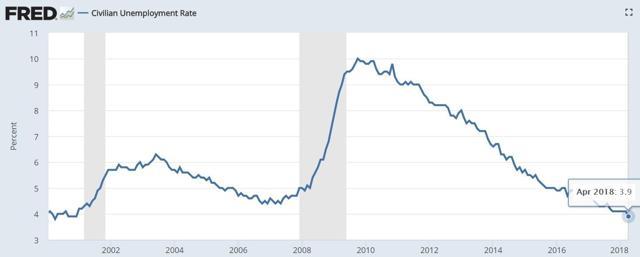 (Source: St. Louis Federal Reserve)
All told we're now in the tightest job market since April of 2000, when U3 unemployment bottomed at 3.8%. And by using the more accurate U6 unemployment rate? Well, we are doing just as well.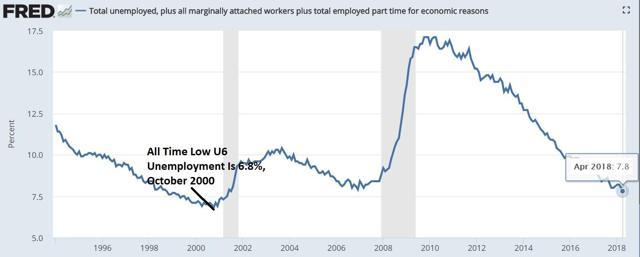 (Source: St. Louis Federal Reserve)
And that strong labor market is translating into slowly growing wages which help drive a strong economy (70% of GDP driven by consumer spending).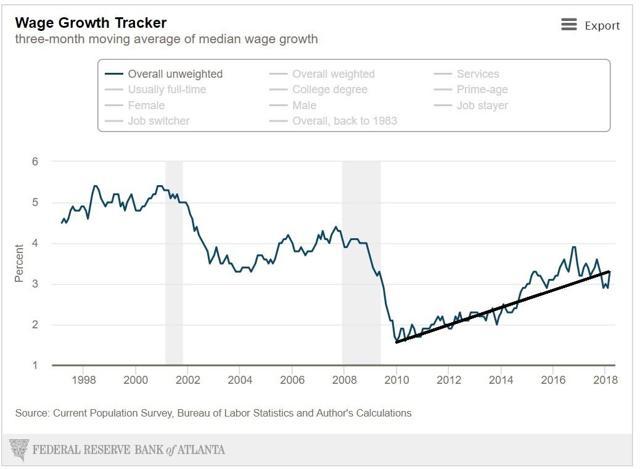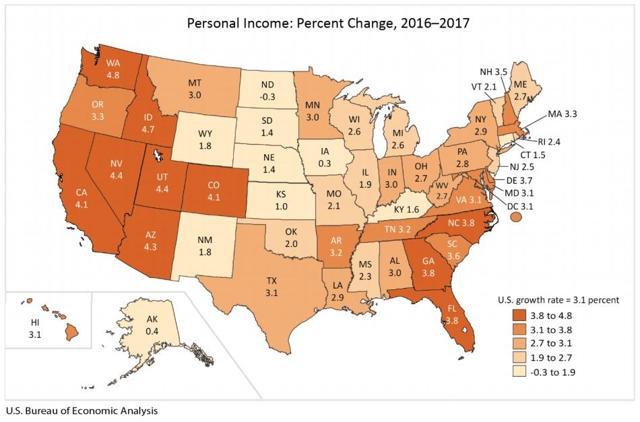 And in some Western and South Eastern states? Well, according to the Bureau of Economic Analysis, wage growth is already back to pre-recession levels (or better). Nationwide it will likely still take a year or two before labor participation rises high enough to get us back to those levels, and in some states it might take two to three years.
Fortunately it appears that the economic expansion has plenty more gas in the tank.
Economic Fundamentals Remain Strong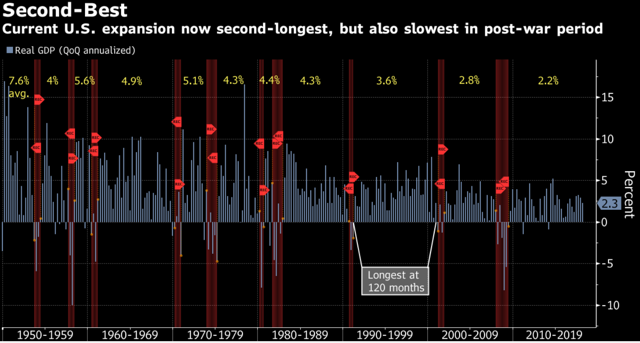 (Source: Bloomberg)
In May the US economic expansion became the second longest in history (we break the record July of 2019). Now it is true that at an average growth rate of 2.2%, it's been the slowest expansion since WWII. While that's disappointing, keep in mind that it also means we've avoided the kind of extremes that have led to things like an overheating economy. That's growth fast enough to cause high inflation that can result in the Fed hiking rates fast enough to trigger a recession (what happened the last two times).
In fact slow but steady growth has been the key for the two longest economic expansion in history; Holland and Australia. Both countries enjoyed over 25 years without a recession. Australia's streak continues to this day with the company about to enter its 27th year without a recession.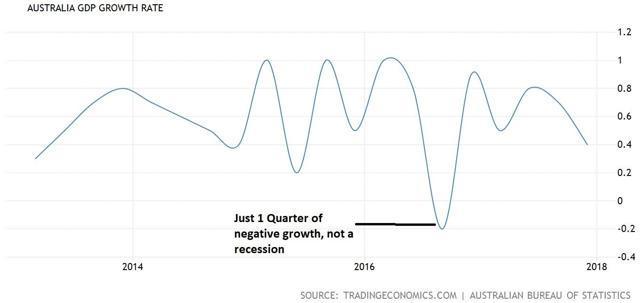 Of course, the trade off when it comes to that kind of streak is slow growth. As you can see, Australia's growth rate has been stuck near or under 1% for several years now.
Which is why I'm personally very happy to see US growth picking up steam, but also staying the goldilocks zone. That means strong enough to fuel more job growth, rising wages, and increasing corporate earnings but not strong enough to spike inflation above the Fed's symmetrical target range of around 2% (likely 2% to 2.5%).
2016: 1.6% GDP growth
2017: 2.3% GDP growth
2018 Q1: 2.3% GDP growth (first reading usually gets revised by 0.6% by final reading)
2018 Q2 (estimate): 3.0% according to New York Fed's real time GDP tracker
2018 full-year projections: 2.4% to 2.9% range
2019 full-year projections: 2.4% to 3% range
Note in March US inflation, per the Fed's official metric (core PCE) hit 1.9%, right below its long-term target. More importantly long-term inflation expectations are rising, indicating that the bond market believes that stronger US growth is here for the long-term.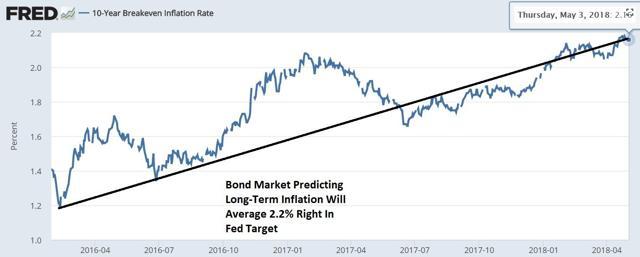 (Source: St. Louis Federal Reserve)
In fact, over the last two years, long-term inflation expectations have risen from 1.2% to 2.2%, which is right where the Fed wants it. But won't that mean that interest rates will rise? Yes, they will, but since stocks usually do best in a rising rate environment, that's potentially a very good thing.
Corporate Earnings Roaring Higher
According to FactSet Research (FDS), of the 81% of S&P 500 companies that have reported earnings so far, 78% and 77% have beaten on earnings and revenue expectations respectively. And those beats aren't by a little but a lot, by an average of 1.3% on revenue and 7.9% on earnings to be precise.
What's more Q1 2018 corporate earnings are on track to grow 24.2% YOY compared to expectations of 17.1% on March 31st (fastest rate since Q3 2010). Meanwhile revenue is on track to grow 8.5% YOY for the quarter (fastest since Q3 2011). Now it is true that much of the earnings growth is due to tax reform. While a permanent benefit, it won't fuel growth like this every year. But revenue growth? Well, that's not directly affected by tax cuts, but rather a sign of a stronger economy including higher investments by companies.
So far companies have reported massively higher capex, with annual growth rates the best since 2011.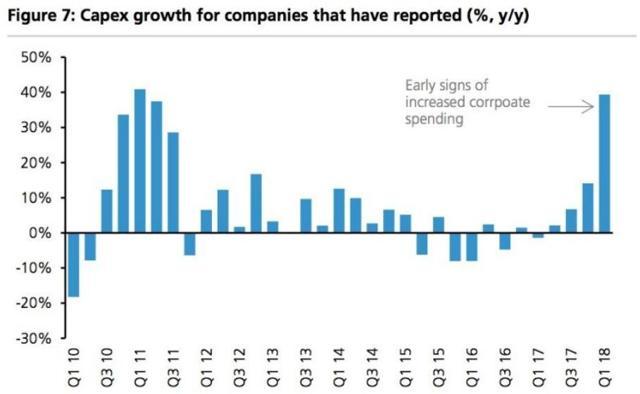 (Source: UBS)
That means not just stronger revenue growth for other companies but also potentially greater economic and productivity growth in the coming years. Productivity growth is also vital because it allows wages to rise without pushing up inflation, and thus would allow the Fed to not overdo it on rate hikes (thus potentially killing the expansion).
What about earnings growth for the rest of the year? For full-year 2018, analysts are now expecting 7.2% revenue growth and 19.5% earnings growth. That means the S&P 500's forward PE is down to 16.0, which is actually slightly below its 5-year average of 16.1. Worried about a dangerous bubble? Well, earnings growing faster than stock prices (which are flat for the year) means you have less reason to worry about a big valuation fueled crash.
Now some companies (like Caterpillar (NYSE:CAT)), analysts, and investors have pointed out that these kinds of growth rates are not sustainable in 2019 and beyond. That's true. Barring another corporate tax cut, corporate America will have to make due with organic revenue and earnings growth rates.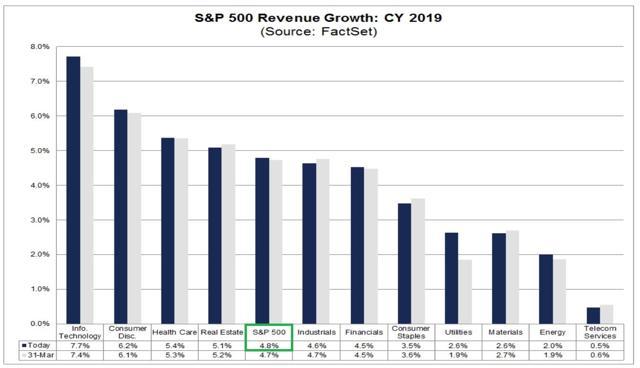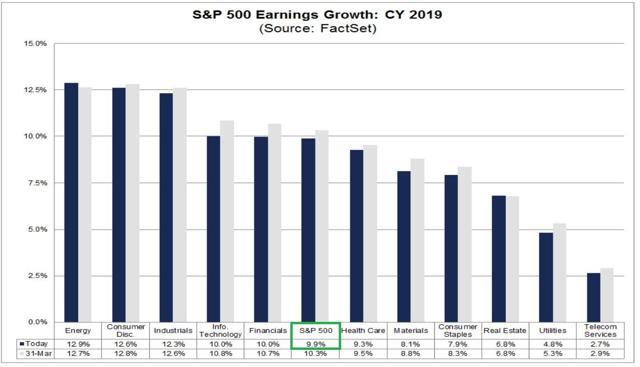 (Source: FactSet Research)
But those growth rates are expected to be very good, with 4.8% revenue growth and 9.9% EPS growth in 2019. I don't know about you, but I consider nearly double-digit earnings growth to be pretty darn good.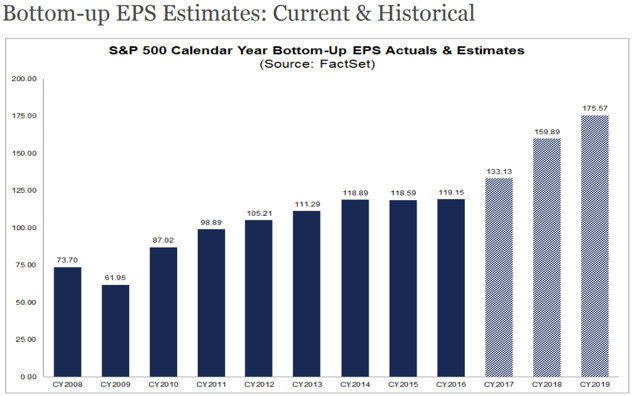 (Source: FactSet Research)
In fact if companies hit those earnings targets, then it will mean over 47% earnings growth in three years. More importantly 2020 through 2022 should continue to benefit from major tax changes including the ability to instantly deduct 100% of capex immediately (expires end of 2022).
If we can avoid a recession over the next few years (I track the risks of a downturn in detail in my weekly portfolio updates), then we might be set for some of the strongest earnings growth in the past decade. More importantly that will be backed by fundamental investment and economic growth, and not primarily financial engineering.
Bottom Line: Daily Price Swings Are Vanity, But Strong and Growing Labor Market, Economic, and Earnings Fundamentals Are Sanity
As someone who spends 14 hours a day researching and writing about the economy, stock market, and companies, I understand how easy it is to fall into the trap of short-term thinking.
But the truth is that while all the things that investors worry about are real and could potentially matter in the long-term, fixating on those risks means you can lose a sense of the bigger picture. And that picture includes the best job market in nearly 20 years (and gradually rising wages), robust economic growth, and the best corporate earnings growth in nearly a decade.
More importantly those trends are likely to persist for several more years, potentially triggering a positive feedback loop that could keep the goldilocks economy (faster growth but not too fast) going for much longer than people expect.
Disclosure: I/we have no positions in any stocks mentioned, and no plans to initiate any positions within the next 72 hours. I wrote this article myself, and it expresses my own opinions. I am not receiving compensation for it (other than from Seeking Alpha). I have no business relationship with any company whose stock is mentioned in this article.