Short The Whole F***ing Thing
May 07, 2018 9:11 AM ET
GLD, TLT, TBT, IAU, UUP, PHYS, TMV, IEF, SGOL, RINF, UGLDF, SHY, TBF, UGL, EDV, UDN, DGP, TMF, GLL, GTU, GLDI, OUNZ, DZZ, TTT, DGL, DGLDF, ZROZ, PST, USDU, VGLT, IEI, DGZ, TLH, PLW, BIL, VGSH, VGIT, UST, UBT, DTYS, GOVT, GYEN, TYO, SHV, SCHO, GSY, DLBS, SCHR, BAR, GEUR, GLDW, VUSTX, GHS, UBG, TBX, TYD, SPTI, DTYL, EGF, TYBS, DLBL-OLD, TAPR, RISE, DTUS, FTT, QGLDX, GHE, TUZ, DTUL, FIBR, GBIL, HYDD, DFVL, TYNS, DFVS, PHYS:CA
38 Comments
Summary
It's easy to be a short seller when you're a skeptic and/or cynic by nature.
Some people choose individual companies to short.
While I also do this, I'm equally as skeptical about our government, our Federal Reserve and Central Banking policy globally.
Driving policy based on spending and consumption instead of saving and underconsumption simply doesn't make sense to me – not how I was raised.
Best way to position against the system: own gold.
The following slides accompanied a presentation by Quoth the Raven at the Kase Learning event "The Art, Pain, and Opportunity of Short Selling" on May 3, 2018 in New York.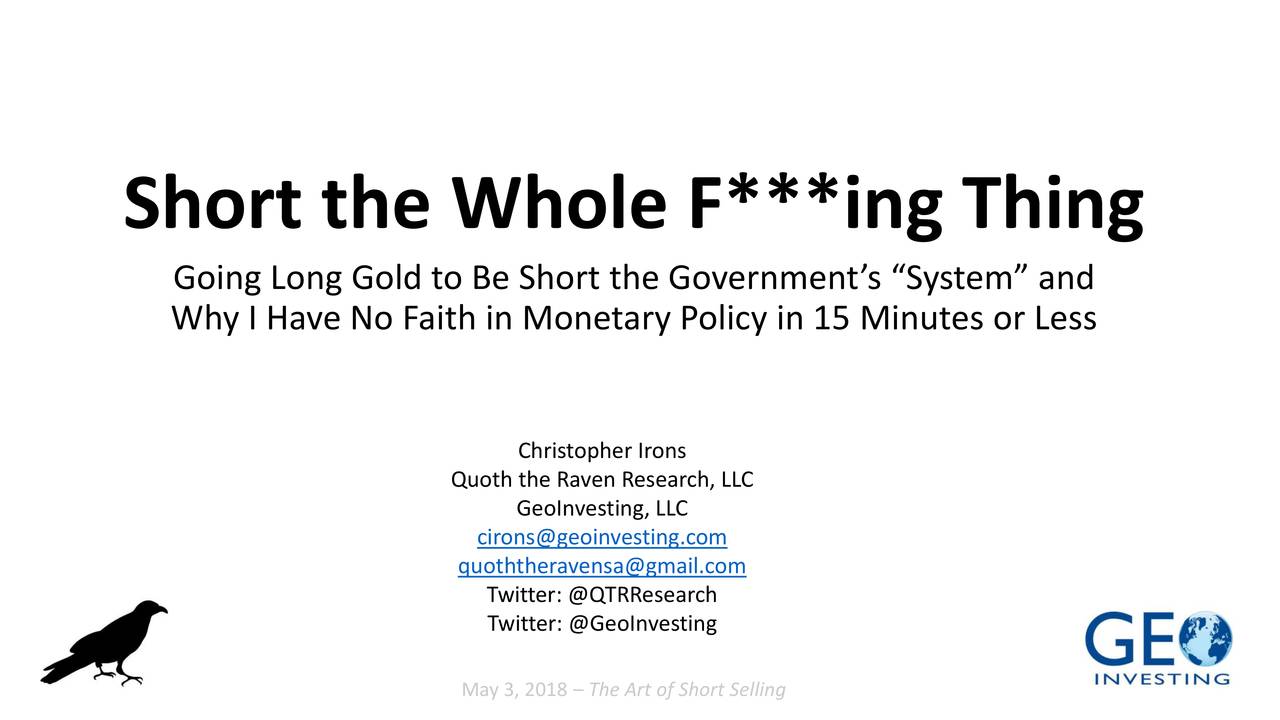 This article was written by
This page and all of its contributor content is operated by Quoth the Raven Research, LLC. Please read this disclaimer first and foremost: https://quoththeravenresearch.com/disclaimerterms-of-service/ Quoth the Raven is Christopher Irons from Philadelphia, PA. Commentary by QTR has been featured in Barron's, the Wall Street Journal, Financial Times, Yahoo Finance, Reuters, Bloomberg and many other financial outlets. QTR is a speaker at numerous financial conferences annually. QTR was named to Benzinga's "10 Financial Twitter Names to Follow in 2018" and in late 2017 was named to Forbes' "Top 100 Twitter Accounts for Finance". In 2016, QTR's work was selected as a finalist for the Sohn Investment Conference Idea Contest. In 2014, he was named to Seeking Alpha's Top List of Best Performing Financial Bloggers and was TipRanks' #6 Performing Financial Blogger (Out of 4,000+). View QTR's track record on TipRanks: https://www.tipranks.com/bloggers/quoth-the-raven View QTR's website: http://www.quoththeravenresearch.com View QTR's Twitter: https://twitter.com/QTRResearch Listen to the QTR podcast: http://quoththeraven.podbean.com All content contained herein is bound to both Seeking Alpha's terms of service, as well as the terms of service found here: https://quoththeravenresearch.com/disclaimerterms-of-service/