Novo Nordisk: Q1 Earnings Results Show Bullish Thesis Continuing
Summary
Novo Nordisk reported solid Y-O-Y growth, marred only by currency fluctuations.
These currency fluctuations caused the company's headline numbers to look much weaker than they actually were.
Saxenda, the company's weight loss product exhibited 69% growth, fulfilling my earlier predictions that this could prove to be a growth engine for Novo Nordisk.
The company's diabetes care products all showed significant growth and its long-lasting basal insulin captured a growing share of the US market.
The company remains an excellent way to play both the global diabetes epidemic and the pharmaceutical industry in general.
On Wednesday, May 2, 2018, Danish diabetes-focused pharmaceutical giant Novo Nordisk A/S (NVO) announced its first quarter 2018 earnings results. The market as a whole seemed pleased with these results as the stock surged 5% in pre-market trading. This does make some sense as these earnings were quite good, particularly from the diabetes care division that accounts for the majority of the company's business. Overall, investors in the business are likely to be quite pleased with the company's performance.
As my long-time readers are likely well aware, it is my usual practice to share the highlights from a company's earnings report before delving into an analysis of its results. This is because these highlights serve as a background for the remainder of the article and provide a framework for the resultant analysis. Therefore, here are the highlights from Novo Nordisk's first quarter 2018 earnings results:
Novo Nordisk reported total sales of DKK 26.9 billion in the first quarter of 2018. This represents a 5% decrease compared to the prior year quarter.
The company had an operating profit of DKK 12.4 billion in the most recent quarter, representing an 8% decrease compared to the year-ago quarter.
Novo Nordisk launched Ozempic (subcutaneous semaglutide) in the USA in February 2018. The drug was also approved for the treatment of type-2 diabetes in both the European Union and Japan during the quarter.
The company completed its phase 3a trial of oral semaglutide for the treatment of type-2 diabetes in February. The trial was successful.
Novo Nordisk reported a net profit of DKK 10.8 billion in the quarter. This represents a 6% increase year-over-year.
The first thing that anyone reading these results will likely notice is that both revenue and operating profit declined sharply year-over-year. However, this is not nearly as negative as it might seem due to the fact that all of this decline was caused by currency fluctuations. As is the case with all global businesses, Novo Nordisk sells its products in a variety of different countries and therefore is paid for its products with a variety of different currencies. The company then has to convert these currencies into Danish kroner for reporting purposes. If the Danish currency (which is pegged to the euro) is increasing in value relative to other national currencies then the money that it received will convert into fewer kroner. This was the case in the most recent quarter. We can see proof of this by the fact that sales actually grew 5% and operating profit grew 6% year-over-year when we look at the actual currencies that it collected from its customers.
The company saw the majority of its growth come from regions outside of the United States, although that nation did make up a significant fraction of Novo Nordisk's sales growth.

Source: Novo Nordisk A/S
This shows us that the diabetes epidemic is truly a worldwide problem and not one limited solely to the United States. This is likely to be the case going forward, particularly as emerging nations become wealthier and increasingly adopt a Western lifestyle and diet. As I have stated before, these things lend themselves to the spread of the condition. Thus, while this is not at all a good thing for the health systems of these nations, it will likely prove to be beneficial for Novo Nordisk.
In the latter stages of last year, the company began marketing Saxenda, a reformulation of its diabetes care product Victoza, as a weight control medication. In previous articles, I predicted that the drug would prove to be a growth center for the company. That has proven to be the case thus far. During the first quarter, sales of Saxenda grew 69%, representing 23% of Novo Nordisk's overall growth in the quarter. The overwhelming majority of the remainder of the company's quarterly growth came from its diabetes care division, with Victoza and Ozempic, the company's two GLP-1 analogues, responsible for most of it.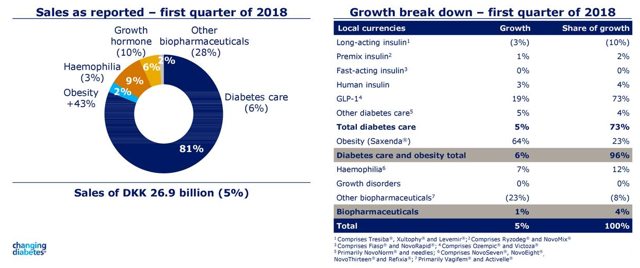 Source: Novo Nordisk A/S
The final product that is a growth center for the company is its basal insulin product Tresiba. Tresiba is a long-lasting insulin that patients typically take once per day to improve glycemic control and better control their blood sugar. During the first quarter, sales of this product increased 18% quarter-over-quarter to DKK 1.8 billion. As mentioned earlier, currency fluctuations had the effect of decreasing the company's apparent growth in the quarter, which was also the case here. When we look at the sales growth of this product using the currencies in which the company was actually paid, we see quarterly sales growth of 33%. This is clearly an impressive figure that shows the confidence that doctors have in the ability of this product to assist their customers. In fact, it would appear that doctors in aggregate have more confidence in Tresiba than in competing basal insulins. We can see evidence of this in the fact that Tresiba's share of the U.S. basal insulin market increased during the quarter.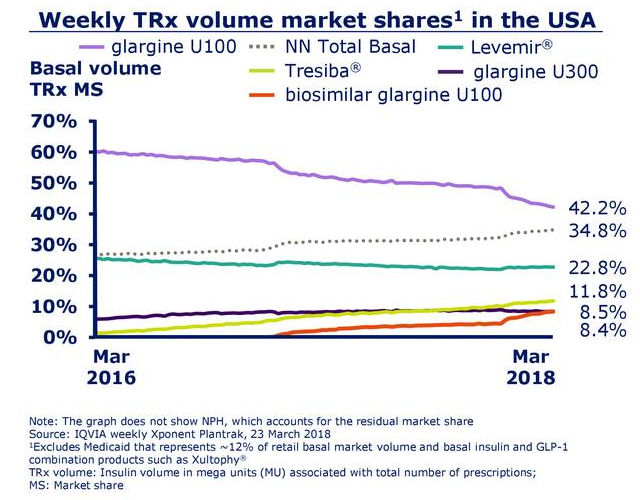 Source: Novo Nordisk A/S
In conclusion, Novo Nordisk delivered another positive quarter of growth, unfortunately driven by the diabetes epidemic that has become a global health concern. Perhaps the only negative factor that marred the company's results was the strength of the Danish currency that caused its growth to appear much weaker than it actually was. Overall, the company remains an excellent way to invest in the pharmaceutical industry.
This article was written by
In-depth Research on underfollowed dividend stocks with 7%+ yields
Power Hedge is an independent stock research and analysis firm with a passion for macro- and microeconomic analysis. Power Hedge focuses our research primarily on dividend-paying, international companies of all sizes with sustainable competitive advantages. Power Hedge is neither a permabear nor a permabull. However, we believe that, given the current structural problems in the United States, the best investment opportunities may lie elsewhere in the world. The firm's strategy is primarily buy and hold, but will stray from that strategy on occasion. Our ideal holding period is forever, however we realize that both internal and external forces can impact an investment. For this reason, we believe that it is vital to keep a close eye on all of your investments. We do not believe in changing an investment based on short-term market swings.

Traditionally, we have not always responded to comments but in order to improve the quality of our research, comments will be reviewed and we will respond to issues regarding errors or omissions. This does not include our premium service, "Energy Profits In Dividends" which is available from the Seeking Alpha Marketplace. This service does include detailed discussions with our team both on the reports themselves and in a private forum.
Analyst's Disclosure: I/we have no positions in any stocks mentioned, and no plans to initiate any positions within the next 72 hours. I wrote this article myself, and it expresses my own opinions. I am not receiving compensation for it (other than from Seeking Alpha). I have no business relationship with any company whose stock is mentioned in this article.
Seeking Alpha's Disclosure: Past performance is no guarantee of future results. No recommendation or advice is being given as to whether any investment is suitable for a particular investor. Any views or opinions expressed above may not reflect those of Seeking Alpha as a whole. Seeking Alpha is not a licensed securities dealer, broker or US investment adviser or investment bank. Our analysts are third party authors that include both professional investors and individual investors who may not be licensed or certified by any institute or regulatory body.