In April 2017, the United States slapped countervailing duties of up to 24.12% on Canadian lumber imports, followed by additional anti-dumping duties of up to 7.72% in June 2017. Normally, when your biggest customer starts putting up big taxes on your product, that's not good for business. Other countries are taking away market share from Canadian firms. Exports of Canadian lumber are also getting hammered because moving anything on rail in Western Canada is a disaster right now. Naturally, Canadian lumber companies have rallied, seeing their shares rise roughly 50%. Wait, what?
Here's West Fraser Timber (WFTBF), the biggest Canadian forestry company. All quotes in $CAD via the Toronto market.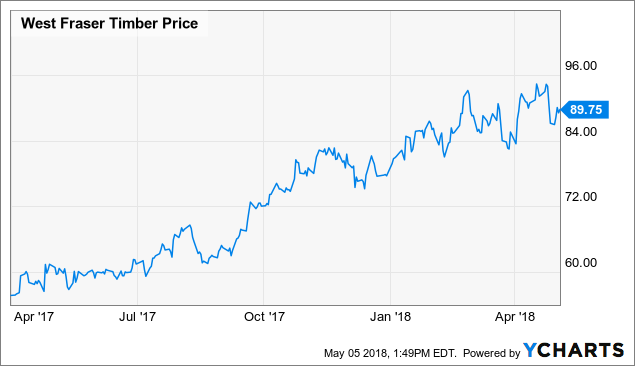 And here's Canfor, (OTCPK:CFPZF) the second-biggest: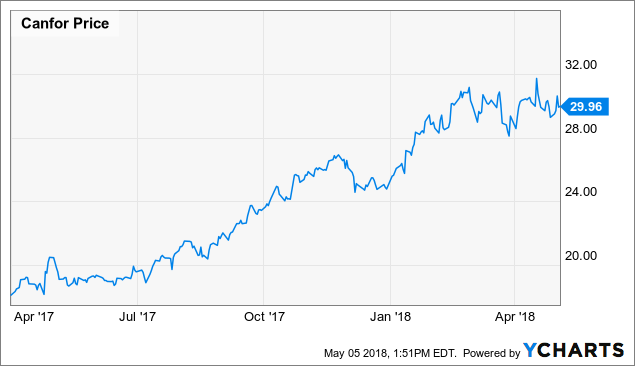 And Western Forest Products (OTCPK:WFSTF):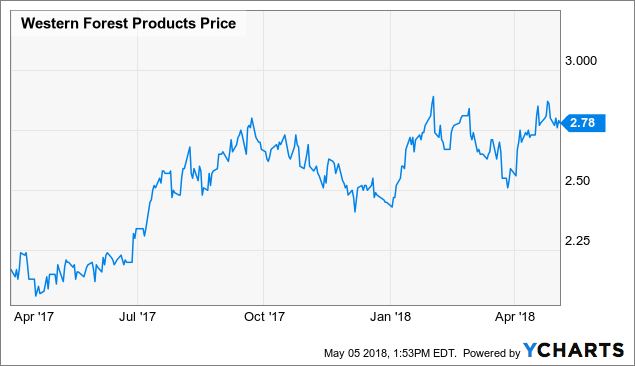 I wrote at length about the dispute last year, suggesting that the US was tackling the softwood lumber issue differently this time around in the courts and likely to come out with a better settlement than in previous editions of the trade spat. The brief summary is that the British Columbia government charges a tax to take raw logs out of province, depressing the price of logs. They then use this artificially depressed price of logs to determine the cost of cutting down trees on Crown land, which leads to lower costs for forestry companies.
The economics of tariffs are straightforward. When the US taxes cheap imported lumber, it drives up the price of lumber. That's great for American producers of lumber [e.g. Weyerhaeuser (WY)] or foreign producers of lumber outside North America and bad for American consumers of lumber [e.g. D.R. Horton (DHI) and American homebuyers). Since America is mostly applying the tariff to west coast producers of Canadian lumber (because there's less Crown land in the east) I thought that the tariff would be great for Resolute Forest Products (RFP) as well, which is increasingly turning itself into a lumber play and less pulp and paper. Unfortunately, that article never made it to print.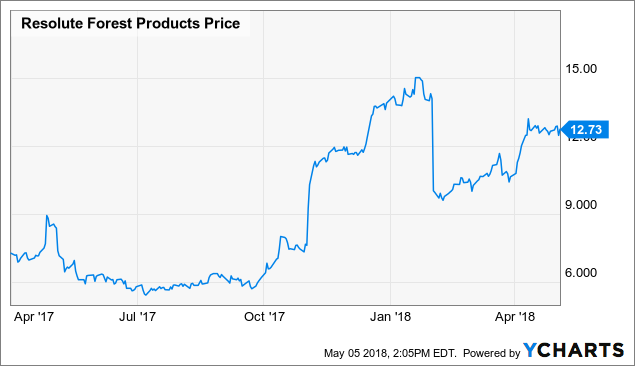 So where did I go wrong? My story was that the market was treating the forestry sector like it could both have and eat the cake at the same time. Yes, lumber prices were driven up by the tariff. But if you look at history and decide that the tariffs are getting repealed, you can't have it both ways - when the tax comes off, the price should fall. If the tax sticks, then you can't treat the tax as temporary anymore.
There is one exception. Recently, South Korea agreed to "voluntary export restraints" (VERs) on its steel industry, and the US is pushing the EU for the same style of settlement. If this new American approach to trade carries over to other industries, VERs would be the best of both worlds for the forestry companies - and the worst of both for anyone else. A VER is when the exporting country commits to a certain maximum level of exports - a quota. This keeps supply low and prices high - American lumber companies are still just fine with this. But now there's no tax, so all the benefit from the higher prices flows directly through to the bottom line of lumber companies, right out of a principles of microeconomics textbook.
Another issue is that lumber prices have other drivers besides trade policy, and have continued to rally strongly.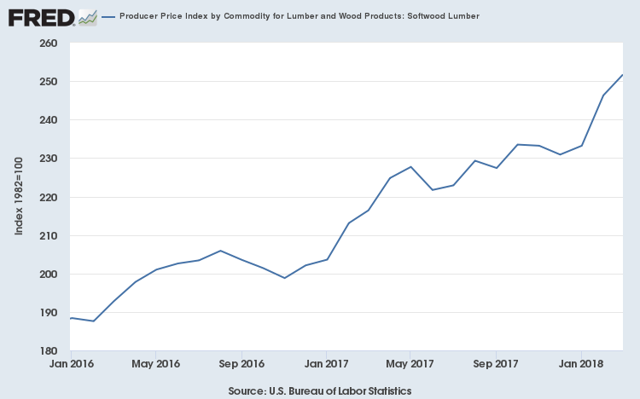 Even before tariffs were being contemplated, lumber prices were on the rise. Not unexpectedly, as US homebuilding continues to recover post-recession. However, I largely think that the extent to which homebuilding is expected to recover is oversold - US population growth has never recovered from the Great Recession.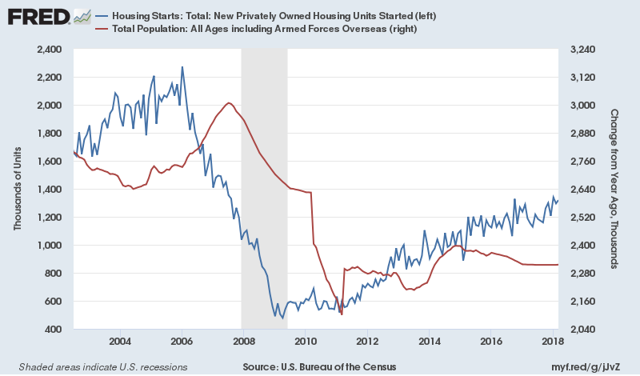 The final thing I was missing was how reallocation of production between countries could dodge taxes. Let's look at the recent Q1 West Fraser income statement.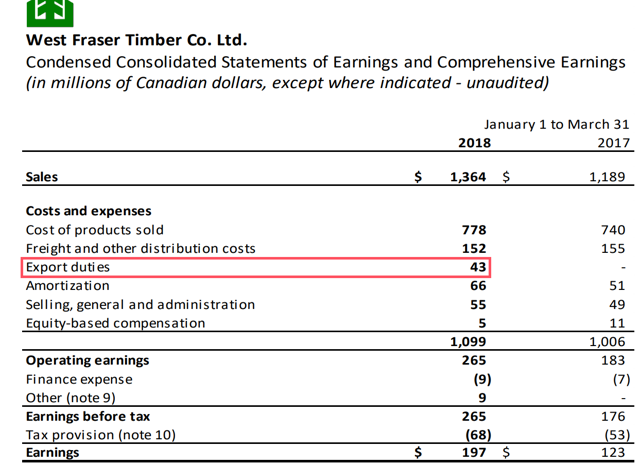 The effective tariff rate they're paying on sales is only 3.15%. West Fraser operates about 57% of its capacity in Canada and 43% in the United States. Let's suppose they sell 60% of its products in the United States and 40% in Canada and the rest of the world. Using all the duty-free US production to satisfy the US market first, West Fraser only needs 17% from Canadian mills to make up the 60% US market. At a 25% tariff, my tariff relative to total sales is 17%*25% = 4.25% - right in the ballpark of the 3.15% from the income statement. Some basic modelling would have gone a long way to understanding the situation. In general, I shouldn't underestimate the number of margins along which well-operated companies can adjust.
So, all that said, is the sector a good buy? I struggle to see it, and the charts are reflecting it, showing some consolidation recently after the massive rally. A VER agreement would be a nice little bump, but it might already be partially priced in and from the perspective of the Canadian lumber sector, the raised prices dominate the effect of whether the taxes are collected or not. Sawmill profits are also going to eventually push up competition for logs and timber, cutting away at profit margins as input prices rise. P/E and other metrics are reasonable, but only marginally cheaper than the Canadian market as a whole.
Maybe the best comparison for the lumber industry is the auto parts industry. Competitive, cyclical, capital-intensive industries levered to durable goods purchases. Maybe not coincidentally, West Fraser is trading at a P/E of 10.5, and Magna is 10.3, suggesting there's no relative bargain.
If homebuilding really isn't going to recover to pre-recession levels, I don't see where a fundamental push can come from to support a further move up - and if the tariffs fall, it might actually be bad news for the sector. Maybe war is better for business than peace.
Disclosure: I/we have no positions in any stocks mentioned, and no plans to initiate any positions within the next 72 hours.
I wrote this article myself, and it expresses my own opinions. I am not receiving compensation for it (other than from Seeking Alpha). I have no business relationship with any company whose stock is mentioned in this article.
Editor's Note: This article discusses one or more securities that do not trade on a major U.S. exchange. Please be aware of the risks associated with these stocks.