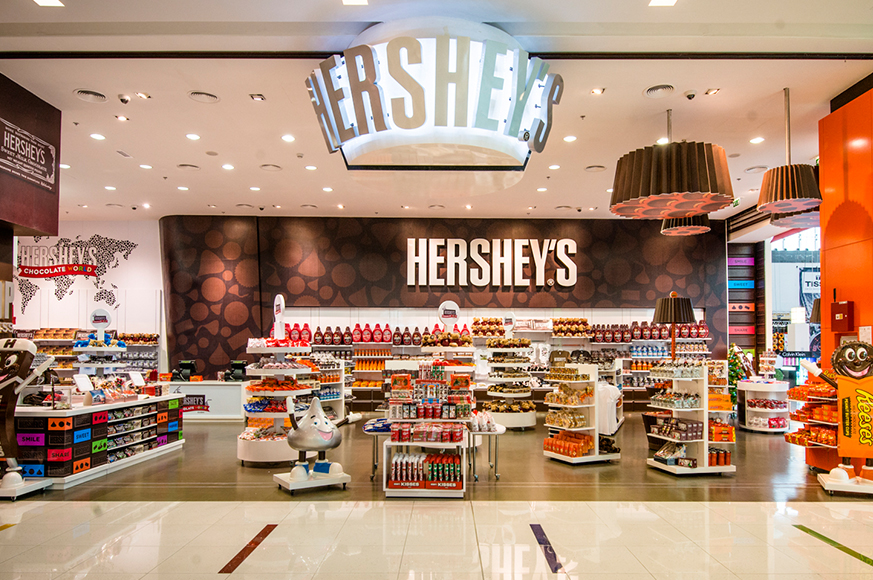 Hershey Company (NYSE:HSY) is one of those reliable dividend stocks you never have to worry about. In my opinion, now is a good time buy based on the following:
Sales and earnings are on a good trajectory, and based on 2018 guidance, this trend is expected to continue.
The 2.86% dividend is well supported by free cash flow and likely to continue growing.
Hershey is valued attractively based on multiple approaches, including a discounted cash flow model, historical valuation multiples, and a comparables analysis.
Financial Snapshot
Hershey is a steady performer. For 2017, net sales increased 1.0%, including the impact of acquisitions and foreign currency exchange rates. GAAP EPS came in at $3.66 and $4.76 adjusted. 2018 has gotten off to a decent start too. Net sales increased 4.9% versus the first quarter of 2017 (this increase would have been 1% when adjusted for acquisitions and exchange rates). Adjusted EPS was $1.41, an increase of 8.5% versus 2017.
Hershey does have some issues with leverage after the acquisition of Amplify. That deal was mostly funded with debt, which has led to a large negative net cash position and a weak current ratio. The good news is the company does produce excess free cash flow after the dividend, so it can work this down if it chooses to do so.


Data Source: Hershey's SEC filings
Dividend Analysis
One of the main reasons to own Hershey's stock is the dividend, which currently has an annual yield of 2.86%. I also expect the dividend to continue increasing based on the coverage ratio below. Hershey's payout ratio has averaged 56% over the last six fiscal years, which leaves plenty of room for growth or safety if performance slips.

2018 Guidance
In its latest earnings release, Hershey provided the following guidance for fiscal-year 2018:
Net sales increase of 5% to 7% (includes an approximate 5 point benefit from the Amplify acquisition).
Adjusted gross margin decrease around 125 basis points from an unfavorable sales mix, freight and logistics inflation, packaging initiatives, and costs relating to increased complexity.
The recently passed U.S. Tax Cuts and Jobs Act of 2017 will have a favorable impact on net income, EPS and cash flow. Hershey expects its tax rate to be in the 19% to 20% range.
Given the tax savings, capital spending will be increased by $25 million ($355 million to $375 million total capital spend for the year).
EPS expected to be $4.73 to $4.98, including items impacting comparability of approximately $0.45 to $0.60 per share
Adjusted EPS of $5.33 to $5.43, an increase of 14% to 16% versus 2017.
Discounted Cash Flow Model: 10% Upside Potential
Based on free cash flow, I view the stock as undervalued. This model assumes that Hershey produces $790 million in free cash flow during 2018. This is basically the average annual free cash flow over the last six years. I've assumed a beta of 1x, which increases the required rate of return and lowers the estimated stock price. Hershey typically has a lower beta, so I also consider this a conservative measure. For example, if I reduced the beta to 0.75x instead, the projected stock price would increase to $133.24, or 45% upside potential.

Risk-Free Rate - I used the yield on a 30-year Treasury bond.
Equity Risk Premium - This figure is calculated every month by Aswath Damodaran, a Stern Business School Professor.
Required Rate of Return - Calculated by multiplying the Equity Risk Premium by Beta and then adding the Risk-Free Rate.
Value of Equity = CF1/(r - g).
CF1 = 2018's estimated free cash flow of $790 million.
"r" is the required rate of return, and "g" is the long-term growth rate.
Historical Valuation Multiples
Based on historical valuation multiples, Hershey looks attractively valued across the board (Data sources: Yahoo Finance & Reuters):
Forward P/E of 16.37x (5-year average of 22.3x)
Forward PEG of 1.7x (5-year average of 2.5x)
Price/Sales of 1.8x (5-year average of 2.1x)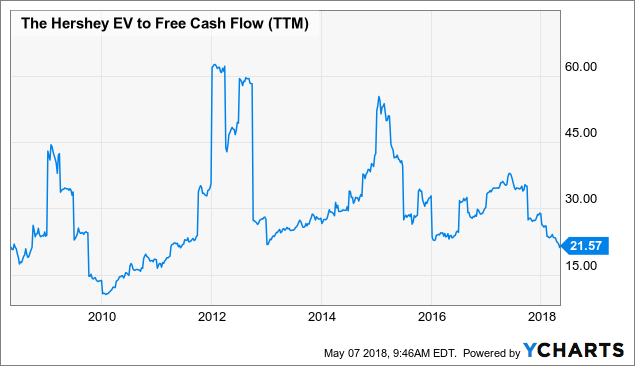 Comparables Analysis
Hershey looks appropriately valued relative to peers. The stock trades at a premium based on forward earnings, but I consider EV/FCF and PEG ratio the most important and Hershey trades at a slight discount on those multiples.

Enterprise Value, Forward P/E, and PEG, provided by Yahoo Finance
LT Growth Rate derived from Forward P/E and PEG Ratio
EV/FCF provided by YCharts
Conclusion
I have a price target of $100.69, which represents a 10% upside in the stock. This is consistent with my other valuation models and also Wall Street's expectations. According to MarketWatch, the average price target is $97.45. Hershey is what I consider a perfect dividend stock. The company produces consistent free cash flow, which helps support a growing dividend. While the company isn't a fast grower, the performance trajectory is positive, which is being aided by acquisitions and tax reform. Now looks like a perfect time to buy.
Disclosure: I/we have no positions in any stocks mentioned, and no plans to initiate any positions within the next 72 hours. I wrote this article myself, and it expresses my own opinions. I am not receiving compensation for it (other than from Seeking Alpha). I have no business relationship with any company whose stock is mentioned in this article.