Icon PLC Enjoying Wall Street Bonanza And FDA Tailwind
Summary
ICON is one of the market share leaders in a fast growing market industry that has penetrated only about half of its target market.
The industry position and free cash flow makes ICON an attractive takeover candidate in an industry that is experiencing heavy M&A activity.
The industry is receiving favorable FDA tailwinds.
Icon PLC (NASDAQ:ICLR) is an Irish based Contract Research Organization. CROs conduct clinical research, gather patients and doctors and leads their drug developing clients through the regulatory approval process. The company has a competitive position in a rising industry, is a potential acquisition target and benefits from current FDA policies.
Competitive Position
Icon is one of only a handful of companies that is able to provide all services to drug developers from molecular to all phases of the regulatory approval process on a global basis. Additionally, it is customer friendly as it does not offer its services on an all or nothing basis as is the case with some competitors. Icon allows the customer to choose from its ever expanding menu.
The company has consistently grown revenues by acquisitions as well as organically, with the stock price doubling since I first wrote about it in early 2015. Client retention is not a problem due to the cost to the customer in switching to a competitor and because competition is more driven by reputation than by price consideration. This is an ideal environment for the big guys to get bigger as well as richer.
The CRO industry is fragmented with over 1000 companies competing in a market currently worth $38 billion last year and projected to grow at a CAGR of 7.6% to $56 billion by 2023 according to this study.
COMPANY 2017 REVENUE IN BILLIONS
| | |
| --- | --- |
| Lab Holding (LH) | $10441 |
| Quintiles (IQV) | 9739 |
| Syneos Health (SYNH) | 2672 |
| Parexel | 2441 |
| PRA Health (PRAH) | 2259 |
| Pharmaceutical Product Dev. | 1900 |
| Charles River (CRL) | 1857 |
| icon (ICLR) | 1758 |
| Wuxi Aptec | 1011 |
| Medpace Holdings (MEDP) | 436 |
Acquisition Target
All of the above companies have grown by merger and acquisition in an industry that is undergoing "deal bonanza" according to Bloomberg. Acquisition of smaller companies will continue but KMPG forecasts that these top ten companies will narrow to five or six in the near future as CROs have realized that they are able to expand their product offering, expand their territory, offer more cost saving solutions and increase their ability to obtain patients through merger and acquisition.
Last year PRXL was acquired by a private equity firm at almost a 30% premium to its market share price or at 24x its forward PE at the time. Applying a similar valuation to ICLR results in a price of $142, coincidently about the same premium as the PRXL deal.
What makes ICLR an ideal acquisition besides its position in the industry is the free cash flow. Free cash flow has grown from cost cutting efforts, revenue growth, and from the current share buy back program. The Irish business tax rate of approximately 10% adds in a competitive advantage.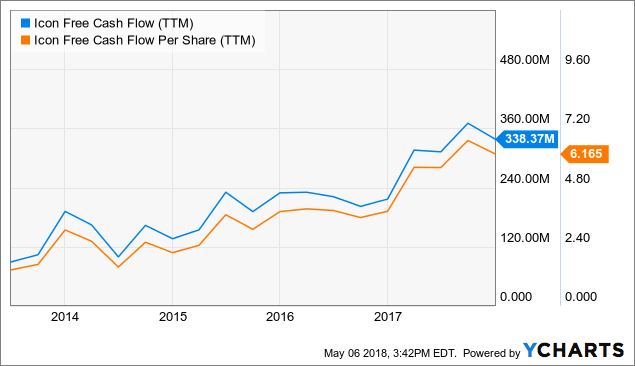 A notable development from the recently released 1Q FY 2018 earnings report was $590 million in new net business as the company continues to reduce its dependence away from one major customer, Pfizer (PFE) which was at 31% of total sales in 2015 and now reduced to 12%. Overall revenues grew by 7.1% and EPS by 11.6% over the same quarter, prior year. Backlog grew by over 17% year over year to over $5 billion as the company hired over 1000 new employees over the last 12 months to address the new business.
FDA Tailwind
The FDA approved 46 novel drugs in 2017 after approving only 31 per year on average over the prior ten year period. To illustrate the change in climate, 36 of the 46 approved novel drugs where approved in the U.S. before they where approved anyplace else. Additionally, 18 of the 46 where for rare diseases which means they were likely tested with CRO assistance due to patient recruitment issues.
Much of the revenue growth for CRO revenue has come from rare disease and oncology drug testing. It is difficult to recruit patients for rare diseases because they are fewer in number. The difficulty in finding patients for oncology trials is also the number of potential candidates being fewer as cancer drugs have increasingly become more specifically targeted.
Patient recruitment is a big deal as it accounts for 30% of the costs of a drug trial and because of a lack of information sharing. A study by Tufts University found that fewer than .2% of doctors refer their patients for clinical trial with almost all of the doctors responding that they were not comfortable doing so. Pharma companies lack the resources to satisfy patient recruitment requirements, turn to CROs who with a nod of approval from the FDA, initiate direct contact with patients using data analytics. CROs also offer scientific machinery and wearables to make data collection less costly, reducing the stigma to the patient associated with participating in a clinical trial and allowing in many cases for the patient to remain at home while undergoing testing.
Icon's FIRECREST Pre Screen is a recently released digital solution for patient recruitment. The company recently announced a collaboration with Intel (INTC) to offer cloud based data collectors and medical wearable devices.
Conclusion
Icon has been gaining market share from small to medium size pharmaceutical companies. These customers are attracted by being able to pick and choose from the menu rather that being forced to take all or none. CRO customers tend to be sticky but there is negative outcome for Icon should R & D budgets undergo reductions. Another risk factor is potential changes in regulations which are unlikely to be unfavorable in this administration's hands off to business approach. And there is also the risk that competitors such as MEDP will change their sales approach to become more competitive.
Taking the company's projected FY 2018 guidance of $5.91 to $6.11 and applying a PE of 24, similar to the PRXL acquisition price results in a price target in the low 140s.
I cover mostly small cap ideas in market sectors that are generally not in the mainstream limelight. If you enjoyed this article please click to follow me. I welcome any discussion on this stock and my article.
This article was written by
I write about and invest in mostly early commercial stage companies that have a large TAM and zero to little direct competition. I will provide updates on companies that I introduce as long as the goalposts set by management are met. Of course, there are always unforeseen developments more often in the microcap world than otherwise and there are macro conditions that are beyond the control of company management. I'm also not always right but I like the risk/reward characteristics of investing in micro-caps.My articles are reflective of my investment interests and hopefully provide readers with ideas that they can further explore. I tend to be on the long side and generally abstain from writing negative or short themes. Besides my articles on SA, readers can find my work at MicroCapClub.com and StockPick.app
Analyst's Disclosure: I/we have no positions in any stocks mentioned, and no plans to initiate any positions within the next 72 hours. I wrote this article myself, and it expresses my own opinions. I am not receiving compensation for it (other than from Seeking Alpha). I have no business relationship with any company whose stock is mentioned in this article.
Seeking Alpha's Disclosure: Past performance is no guarantee of future results. No recommendation or advice is being given as to whether any investment is suitable for a particular investor. Any views or opinions expressed above may not reflect those of Seeking Alpha as a whole. Seeking Alpha is not a licensed securities dealer, broker or US investment adviser or investment bank. Our analysts are third party authors that include both professional investors and individual investors who may not be licensed or certified by any institute or regulatory body.