Popular stocks tend to have their share of skeptics. This holds true for Facebook (FB) and Apple (AAPL). These companies continue to defy the rumors, skeptics, and naysayers with their actual performance. It typically pays to buy the fear with these stocks.
There tends to be a lot of rumor related news with Apple. Just over one month before Apple reported Q2 earnings, USA Today published an article stating that the iPhone X was experiencing sluggish sales which were less than what analysts were expecting.
However, this article was not based on actual sales figures. It was based on lowered estimates from Goldman Sachs (GS) and RBC Capital Markets. The estimates weren't about the iPhone X specifically, it was about total iPhone sales including all models currently in the sales funnel.
Although Goldman lowered sales estimates by 1.7 million units, the revised figure of 53 million units was still 1 million units over the consensus estimate of 52 million units for Apple's fiscal Q2. RBC Capital's estimate was right on par with the consensus for 52 million units. Apple's actual iPhone sales figures for Q2 were 52.2 million. This was 2.9% higher than iPhone sales figures from Q2 2017.
The headline from the USA Today created the fear that Apple's iPhone X sales were slowing. The reality is that Apple customers chose the iPhone X over other models every week during Q2. So, the reality of iPhone sales trumped the fears of certain headlines leading up to the actual quarterly results.
It wasn't just the USA Today with fear-producing headlines. CNN Money published an article a few weeks before Apple's earnings with the title, "Apple Sinks on Fears of Slowing iPhone Sales". This article cited lowered iPhone sales estimates from Morgan Stanley (MS) and Canaccord Genuity (OTCPK:CCORF). The article also cited warnings from supplier Taiwan Semiconductor (TSM) that there would be continued weak demand for mobile devices.
I think it is more important for Apple to show year-over-year sales and earnings gains rather than trying to compare sales with individual analysts' estimates or the fears associated with lowered estimates. Apple also achieved a 15.5% increase in total revenue and a 30% increase in EPS. Wall Street agreed that Apple's results were strong as the stock jumped 8% for the remainder of the trading week after earnings were reported. That's the reality.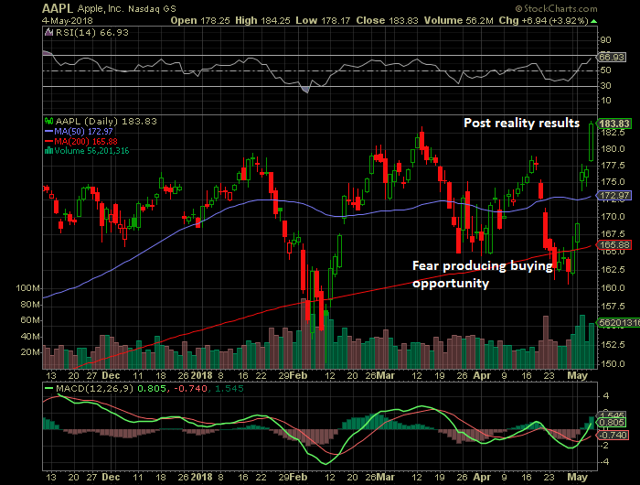 Facebook faced similar fear-producing news before earnings. The pre-earnings fear for Facebook stemmed from the Cambridge Analytica scandal. Cambridge Analytica was found to have user data that was obtained from a survey facilitated by Cambridge University professor, Dr. Kogan.
The ethical problem with this situation is that Dr. Kogan provided Cambridge Analytica with the data of 50 million Facebook users. This is a violation of Facebook's rules as the company prohibits user data from being sold or transferred. The fear associated with this issue is that many Facebook users would be upset with this situation and delete their accounts.
The reality is that Facebook's daily active users [DAUs] increased 13% in Q1 2018. Granted that this achievement only reflects a couple of weeks after the Cambridge Analytica scandal was revealed. However, since Facebook is taking this situation seriously and is making adjustments to improve data privacy, I don't think there will be a significant number of users that will quit Facebook.
A Pew Research survey from a few years ago shows that respondents considered online searches, religious/spiritual views, friends and what they are like, political views, media that you like, and purchasing habits as the least sensitive types of information to be protected. These were the types of information that Cambridge Analytica obtained. The survey also showed that respondents considered social security numbers, medical information, content of phone conversations, and email messages as the most sensitive types of info. Cambridge Analytica did not get the most sensitive types of info. That is one of the main reasons I think there won't be a significant number of users quitting Facebook.
Another reason I think there won't be a major exodus from Facebook is because the company did make changes for improved data control. Facebook is now limiting the amount of data that is shared when signing up for apps. The company is also limiting the amount of data that apps can obtain from Facebook groups, events, and pages. Since Facebook took steps to limit access to data, I think there will be fewer users willing to give up the Facebook App.
What really matters for Facebook is the company's ability to continue to grow advertising revenue. So, even if Facebook lost 9% of its users like a survey claimed, the company would still have the most users as compared to any other social media firm. This makes Facebook one of the main go-to sites for advertisers.

Outlook for Apple and Facebook
These are two recent examples of how fears regarding stocks can turn out to be just fears and not reality. The media tends to hype the fears to grab readers' attention. So, it can pay off to dig into the information to determine if these fears are exaggerated and likely to be unfounded.
Although the stocks for Apple and Facebook already made strong moves after earnings were reported, I still see plenty of upside potential for both companies over the long term. Apple's strong customer loyalty rate of about 92% will help drive growth going forward. Since Apple has such a high loyalty rate, Apple customers who are parents are more likely to purchase iPhones for their children or at least hand down their older phones to them, while upgrading to new models for themselves. Those customers who aren't parents are likely to upgrade to new models as well. This creates an ongoing sales cycle that can drive growth.
Apple's high profitability and strong free cash flow will lead to continued dividend growth and large share repurchases in the future. This will keep investor demand strong and the stock price to appreciate at a strong pace.
Facebook is also likely to perform well over the long term. The company is poised to benefit from continued advertising revenue growth. The reason for this is because Facebook has the most users as compared to other social media companies. Those users can be targeted effectively based on their interests. So, I expect Facebook to grow ad revenue in the future as more businesses see the value of the company's advertising platform.
Facebook's ROE and ROIC of 25% will help drive above-average earnings growth. Facebook's strong above-average earnings growth will lead to strong above-average gains for the stock.
The next time a negative headline appears for Apple, Facebook, or another company with a solid track record, read between the lines and think how the situation that they are conveying will actually turn out. In many cases, the fears won't turn out to be reality. That creates buy-the-dip opportunities.
Let me know your thoughts on this topic in the comment section below. If you like getting free analysis for great investment ideas, click on FOLLOW at the top of the article near my name. That will allow my articles to display on your homepage as they are published.
Disclosure: I am/we are long AAPL, FB. I wrote this article myself, and it expresses my own opinions. I am not receiving compensation for it (other than from Seeking Alpha). I have no business relationship with any company whose stock is mentioned in this article.
Additional disclosure: The article is for informational purposes only (not a solicitation to buy or sell stocks). I am not a registered investment advisor. Investors should do their own research or consult a financial advisor to determine what investments are appropriate for their individual situation. This article expresses my opinions and I cannot guarantee that the information/results will be accurate.