Summary
Elon Musk needs to have the heavy lifting taken off of his shoulders.
The latest announced shakeup coming May 7 to the contractors and subcontractors around the globe will only add to the chaos at Fremont and the Gigafactory.
Managers are being asked to personally vouch for every contractor and subcontractor in use, potentially putting their own necks in a noose.
A company in Chaos
Recent behavior, tweets, emails, and phone calls were not enough damage to the brand costing investors $billions in just the last week. Elon Musk, CEO of Tesla, Inc (NASDAQ:TSLA) has apparently decided to ramp up the pressure even more with an email to employees detailed Sunday night in an article on the Electrek.co website.
Tesla, under Musk's orders, will begin barring contractors, subcontractors and presumably their employees from entering any Tesla facility on Monday, May 7th unless each individual person has been personally vetted by an actual Tesla employee. Details from the Electrek article repeat Musk's comments from the CC last week and go on to detail the latest employee email from Musk that appears to have gone out to employees last week:
Please note my comment below about contractor companies and consultants. I extended the performance evaluation deadline to provide more opportunity to demonstrate excellence, but now time is up.

Please send a note to HR before Monday justifying the excellence, necessity and trustworthiness by individual (not just the contractor company as a whole) of every non-Tesla person who has badge access to our buildings or network access to our systems.

By default, anyone who does not have a Tesla employee putting their reputation on the line for them will be denied access to our facilities and networks on Monday morning. This applies worldwide.

Time to scrub off the barnacles.

Thanks, Elon

(emphasis by the author)
From what we already know many of the people manning the productions lines are not actual Tesla employees but hired hands through subcontractor employment centers. Many are recent hires. Who knows if any of them have actual daily contact with a Tesla employee or manager who brokered their company's employment contract.
Elon Musk is repeating a common mistake of CEOs and presidents in crisis: Micro-management. Sadly, it never works out well. Essential to any organization spread out over long distances are three employee layers:
Executive Management: We have heard them referred to as "Mahogany Row", the "suits", etc. These are the founders and senior managers who set the course for the company and chart its progress. In the military, we are talking the President, Pentagon brass, and the battlefield generals.
Middle Management: These are the division or product managers who actually manage the workers responsible for the production of the products or services sold by the company. They take the orders from up the ladder and turn them into actions. In the military, these are the colonels down to the lieutenants who command and fight alongside the infantry, etc. At Tesla, these are the floor managers assigning and monitoring the activity of actually building the vehicles.
Workers/Soldiers: These are the men and women tasked with getting the job done.
A sound, well-managed production company needs all three working in perfect harmony. At this time, Tesla is in clear disharmony.
The responsibility, for monitoring all employees, contractor or not, is an on-going task that should be incorporated into the "fabric" of the company. Instead, we have been watching Tesla, and Elon Musk, running from one fire to the next. And it is not his managers working the fire lines but the CEO himself. That is flat out impossible to do for any length of time.
In recent emails and reports we know that in addition to running multiple companies, Musk is now also the Global President of Service, (he passed sales off to Robin Ren) and is personally reviewing and approving any expenditure over $1 million cumulative (does he not trust Deepak to do this?), and is sleeping down on the factory floor (on a new couch purchased by his horde of fans).
Now here we are with literally everyone on pins and needles tomorrow morning not sure if they will be allowed into work at Tesla. It is equally stressful for the employees too. First, how many of their co-workers will show up tomorrow to assist in the tasks at hand, and if they get in, could their future actions come back to bite those who vouched for them? Good God. This is not how to run a $50 billion car company!
One of my early mentors shared his belief that in business "you can attack problems in one of two ways; with a sledgehammer or a scalpel". The best CEOs and presidents are like surgeons removing and dealing with problems with surgical precision careful not to further injure/damage the patient/company. Elon Musk clearly prefers the sledgehammer approach and I believe it will be his undoing. The question now is will he inadvertently kill Tesla along the way?
Tesla's new focus on profits.
Someone is needed now to take the reins of the day-to-day operations. Elon Musk needs to refocus his energies. While a COO could take on the challenges of service, and production ramps, it is too little, too late?
For years now Tesla has been spending money like a drunken sailor on shore leave. Cost containment was not even on Musk's radar or his pay plan. Suddenly, now just as the ramp is at a critical point he wants to turn the factories upside down looking for unproductive contractors and subcontractors? It makes no sense unless Tesla is getting desperate to cut costs and conserve cash.
In the latest conference call we heard Musk say:
Our focus is on the Model 3. We need to get that to above 5,000 a week at a good margin. We need to become a profitable company. That is a good criticism that has been leveled to Tesla, inaccurate one, it is high time we became profitable. And the truth is, like you're not a real company until you are, frankly.
So here we are in 2018, with record high losses quarter after quarter and now after going public 8 years ago, Musk is suddenly focused on profits? That should be telling everyone there is a problem brewing. One that goes beyond the well-known fact that the more cars Tesla sells and the more revenue comes in, the more money they lose.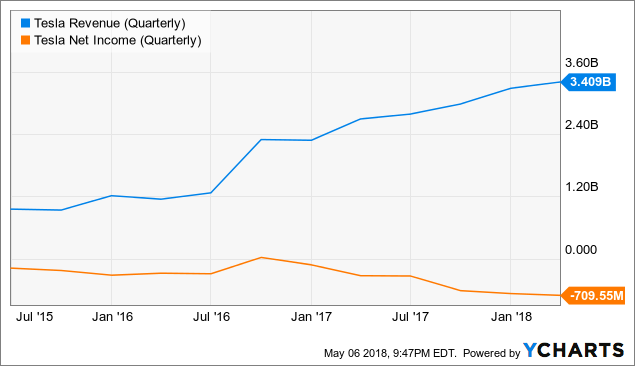 So the cash stress is much more structural than Tesla wants investors to believe. There are other key points from the conference call that point to a shift in direction at Tesla presumably driven by the cash shortage. First, we have this response to Phil LeBeau of CNBC:
Phil LeBeau - CNBC LLC

With the Tesla Semi, how many reservations do you guys now have approximately? And where are you in the process as far as the development and the rollout of the first model in terms of timeline, when you guys expect that to happen, et cetera?

Elon Reeve Musk - Tesla, Inc.

I actually don't know how many reservations we have for the Semi. About 2,000? Okay. I mean, we haven't really tried to sell the Semi. It's not like there's like an ongoing sales effort, so sales – orders for Semi are like opportunistic, really companies approaching us. Yeah, it's not something we really think about much.
This exchange was very important for three reasons. First, Musk actually gave out a current reservation number. Second, Musk completely bypassed any time frame discussion. And third, I am sure that Walmart, Pepsi Co, and others were not aware of the lack of effort on Tesla's part.
I predicted months ago that a cash-saving measure for Tesla would be to scrap the Semi program since the customer reservation funds received in Q4 resulted in a poor showing in my estimations. In February I estimated Tesla had 2,010 Semi reservations and it seems I was overly optimistic at even that horrible number since they only now reached that number. This is a program that was supposed to begin making deliveries next year. So is Musk too preoccupied with other problems or has Tesla shelved the program? If Tesla sold every unit for $180,000 and could achieve a 25% GM from day one the $90 million in gross profit would not even cover the fixed costs to produce the final tooling let alone the costs for a new factory and recovery of the development costs. Which brings us to item two.
This pearl fell from the lips of Mr. Musk for those awaiting the Model Y.
Phil LeBeau - CNBC LLC

And a follow up. Given the fact that you're already packed to the gills in Fremont, when will you make a decision regarding a second manufacturing facility?

Elon Reeve Musk - Tesla, Inc.

So that's probably later this year. It has to be later this year. So I'm not sure of the exact time but I don't know, maybe next quarter, but not later than fourth quarter for Model Y. And then we also expect to announce the location of the Tesla Gigafactory in China soon.

Phil LeBeau - CNBC LLC

And will that second factory, when you announce it, will it be in North America? Or is that going to be in China?

Elon Reeve Musk - Tesla, Inc.

Well, I just said it's in China.

Phil LeBeau - CNBC LLC

So the Gigafactory is there, but the second manufacturing plant will be in China as well?

Elon Reeve Musk - Tesla, Inc.

Sorry. Oh, I mean, yeah, so, in the future, all Gigafactories will include vehicle production. So, right, now we've got vehicle production and battery production. Like, battery production and motor and power electronics and charger production are at Giga and (01:03:52) Fremont car factory. But future Gigafactories will all incorporate vehicle production.
That last statement is key. The next factory which will be a combo plant for both batteries and vehicles will be located in China and presumably be shipping Model Y's for sale back to the U.S. Sounds like Tesla is learning from General Motors (GM) who is building Buick Envisions there for sales in the U.S. (I recently visited a Buick dealer and looked at one. The build quality was as good as any Buick produced here in the U.S.)
Musk made it very clear there will be no new models produced from the Fremont plant. I still remember Musk at last year's shareholders' meeting in June, saying we would be hearing about Gigafactories 2, 3, & 4. Are we down to just one new factory on the drawing board now?
So for those expecting a Model Y to be rolling off assembly lines in 2020 you can scrap that idea unless the Model Y replaces the Model 3 at Fremont or gets built on a shared line like the S & X are today.
As far as manufacturing, why did Tesla need such a huge facility for battery production in Nevada if Tesla is going to top out at about 350,000 units at Fremont and build battery packs at all future facilities? Seems like just another colossal waste of money considering the Gigafactory is only about 35% utilized now and according to Musk, the Gigafactory is already achieving 5,000 unit rate production at peak. What is Tesla going to do with the unfilled/incomplete spaces?
Conclusion
Has Elon Musk been reading my articles? Months ago I wrote that a better solution would be smaller, strategically placed factories near certain global market centers instead of single massive factories like the Nevada plant. These would not only cut shipping time and costs but could take advantage of potentially lower labor costs versus California.
Then again I am sure Deepak had the same thoughts when he returned to Tesla. Actually, anyone with an ounce of common sense and some manufacturing/shipping knowledge would already know this. Do you see Ford, Toyota, Honda, or Mercedes building and shipping cars from a single plant?
Tesla needs more executive management at the highest ranks. If Musk is going to be working to get a Chinese factory built, hitting 5,000 units of weekly production for Model 3 will just be the beginning of more problems in distribution, service, and deliveries and Musk will not be able to handle that from China. He needs to act and perform like a CEO and let a COO do his/her job.
If he cannot let loose of the reins then investors need to give serious consideration to a shareholder proposal to be voted on later this month, and find a new independent CEO. With Musk's recent performances, institutional investors have to be considering the idea.
This article was written by
Donn is Co-Manager of his family-controlled investment portfolio of mortgages, real estate, and publicly traded stocks. Donn grew up in Mexico and Ecuador before moving to the U.S. for college. He holds a Bachelor's degree in Business Management. He spent a decade in the aerospace industry before his passion for cars took him to GM and Ford dealerships. An avid ocean fisherman, he "semi-retired" to Florida in 2015. Never idle, he stays busy now as a licensed realtor and author on the real estate and auto industries.
Analyst's Disclosure: I am/we are short TSLA VIA OPTIONS. I wrote this article myself, and it expresses my own opinions. I am not receiving compensation for it (other than from Seeking Alpha). I have no business relationship with any company whose stock is mentioned in this article.
Seeking Alpha's Disclosure: Past performance is no guarantee of future results. No recommendation or advice is being given as to whether any investment is suitable for a particular investor. Any views or opinions expressed above may not reflect those of Seeking Alpha as a whole. Seeking Alpha is not a licensed securities dealer, broker or US investment adviser or investment bank. Our analysts are third party authors that include both professional investors and individual investors who may not be licensed or certified by any institute or regulatory body.