Whitestone REIT Proxy Vote Could Unlock 25% Upside
Summary
WSR's proxy vote takes place on May 17 at the annual shareholder meeting.
The blue voting form will attempt to reduce management compensation to a reasonable level.
The reduced compensation could improve FFO by $0.25 per share and increase market price by about 25%.
As of 5/1/18, 2nd Market Capital holds 815,031 shares of Whitestone REIT (NYSE:WSR) or roughly 2% of outstanding shares and we have recently voted our shares against management in the proxy battle over director elections.
The Buy Thesis
Whitestone REIT has beautiful assets in some of the best submarkets with superior household income and population growth in the relevant trade areas. This has led to strong same store growth which we think will continue for the foreseeable future. Despite the quality of its portfolio, WSR trades at a sizable discount in both NAV and Core FFO multiple as a result of its major problem - management compensation. This problem is on the cusp of being remedied through a proxy vote and once dealt with, we believe 25% upside will be unlocked.
This article will detail the egregiousness of compensation and follow with a discussion of the proxy, which could be a catalyst for substantial value recognition for shareholders.
Misalignment and gouging
Even in these challenging times for retail, Whitestone's shopping center assets have performed wonderfully with continual favorable leasing, including significant improvements in occupancy levels.

Source: SNL Financial
In recent quarters, many shopping center peers have struggled just to maintain occupancy. WSR has a 100-basis point improvement over the last 12 months and is guiding for another increase of 20 to 120 basis points in 2018 (per the 4Q17 earnings release).
Further, while other shopping centers are giving rent concessions, WSR is increasing same store NOI. In 2017, same store NOI in the wholly owned portfolio grew 2.6%. Guidance for 2018 calls for another 2.5% to 3.7% same store NOI growth in the wholly owned portfolio (2.0% to 3.5% for total portfolio).
But here's the problem; almost none of the growth has actually made it to shareholders with almost all of it going straight to management's pockets.
Note that FFO core/share has grown from $0.92 in 2011 to $1.25 in 2017. However, FFO, as defined by NAREIT, is still languishing at $0.93.

Source: WSR 2017 supplemental
What's the difference?
Well, in calculating FFO Core, management likes to add back share-based compensation which came in at a whopping $0.28/share.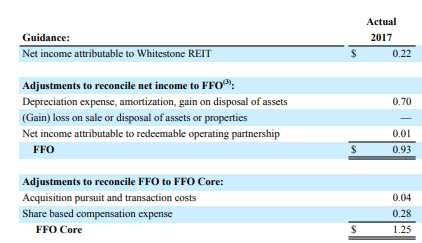 Source: WSR 2017Y supplemental
All those shares issued to management dilute shareholders and are a real expense. Management compensation is not just high, but extreme. Allow us to compare WSR's G&A with that of peer shopping center REITs.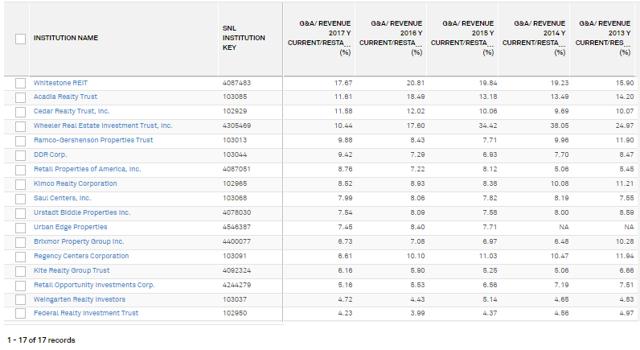 Source: SNL Financial
WSR's G&A/revenue in 2017 was 17.87%. A majority of the shopping center REITs are single-digits on this metric and even Acadia, the second most expensive, comes in at 11.61%. This compensation is truly egregious and is preventing shareholders from realizing the value that should have been created by their investment. Further note that this gouging is not a 2017 phenomena, but a consistent pattern for the last 5 years.
In absolute dollars, 2017 G&A came in at $22.324mm which is about 5.2% of WSR's market cap.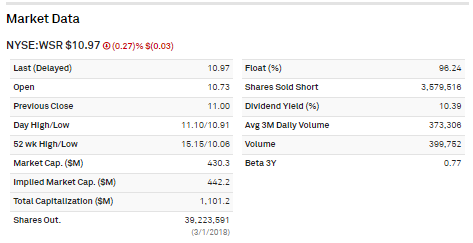 Source: SNL Financial as of 5/2/18
It is exceedingly difficult for a company to grow when 5% of its market cap is going out the door each year.
G&A has been a problem since WSR's inception, but for the first time, shareholders now have an opportunity to do something about it.
The Proxy Vote
At the May 17th annual meeting of shareholders there will be a vote to elect board trustees along with a vote on a compensation package.
The white voting form put out by WSR is calling for nomination of
Mahaffey

Mastandrea

Berry
In addition, the management supported white voting form is calling for approval of the compensation package.
An activist, KBS, which owns approximately 10% of outstanding shares, has put out an opposing blue proxy. This is calling for the appointment of
The blue form also requests that voters deny the compensation package.
KBS has stated that its goal in replacing certain directors is to keep WSR's management in place, but to bring compensation down to a reasonable level. While two directors would not be a majority and therefore cannot enforce this goal, it will go a long way toward improving oversight on compensation.
So far, Mastandrea (WSR's CEO) and his team have done a reasonably good job on the operations side. The acquisitions have been well-located and at prices that have produced excellent IRRs. It seems reasonable to us to leave this skill in place and simply bring their pay package back down to earth.
Therefore, we have voted our roughly 2% of shares outstanding with the challenger's blue voting form.
Chances of passing
Potential obstacles to the new directors winning are the couple percent of the stock owned by management which will almost certainly vote on the white form and the large passive ownership.

Source: SNL Financial
With 13.5% owned by BlackRock (BLK) and 11.8% by Vanguard, these will be the swing voters. It can often be hard to predict how ETFs will vote or if they will vote at all. That being said, recent news greatly improves the chances Vanguard and BlackRock will vote blue.
NEWPORT BEACH, Calif., May 4, 2018 /PRNewswire/ -- KBS Strategic Opportunity REIT, Inc. ("KBS") today commented on the recommendation by a leading proxy advisory firm, Institutional Shareholder Services ("ISS"), that its clients vote FOR the election of KBS's independent nominees Kenneth H. Fearn, Jr. and David E. Snyder to the Whitestone REIT ("Whitestone") (NYSE: WSR) Board of Trustees (the "Board"). ISS also recommended that shareholders vote in favor of the proposal to declassify the Board."
ISS is quite influential for mutual funds and other big entities. As such, its blue recommendation will likely swing quite a few votes in favor of change.
The blue vote can win even if the passive investors and management vote white, but it will be more difficult as it would require a large percentage of the active investors to vote blue.
I think it is more likely than not that the blue voting form will win. The shareholders with whom we have discussed WSR are fed up with the excessive compensation and would like to see some change. Most of those with whom we have discussed this idea are retail investors so I do not know how many shares they control, but the opinions on management compensation seem unanimous in agreement with us.
As an investor, we are always looking at intrinsic value and if blue wins, this value can be unlocked. To ascertain what WSR is worth, let us go over its property portfolio.
Beautiful portfolio with excellent fundamentals
WSR's properties are in significantly more affluent areas than those of its peers.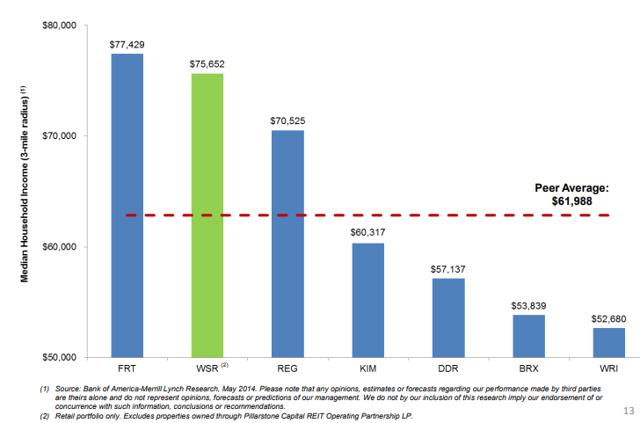 Source: WSR presentation
Only FRT has wealthier locations and FRT trades at a premium multiple. If we look at population growth and income growth, WSR actually looks better than FRT.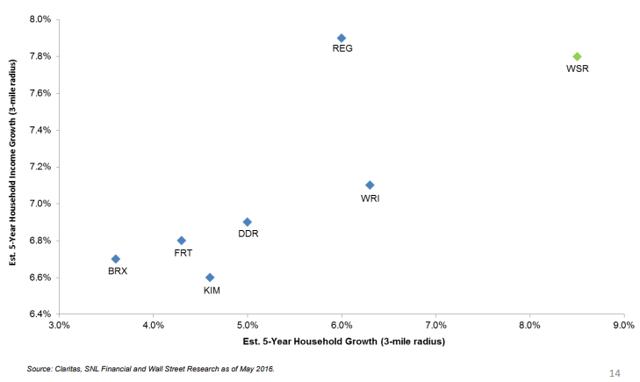 Source: WSR presentation
While there is obviously bias inherent in these charts as they were created by WSR, the information they present is factual in nature.
$75.6K median household income growing at about 7.8% along with nearly 9% household population growth is quite impressive. These excellent locations have translated to consistently strong same store NOI as seen below.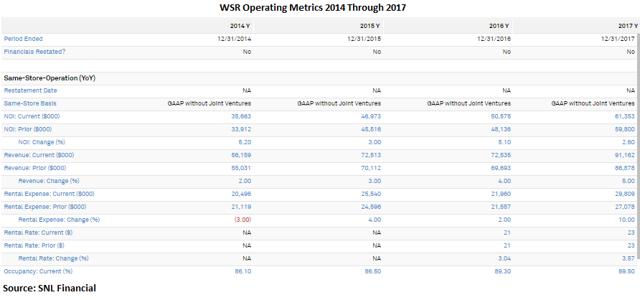 Note that WSR's same store NOI has remained positive even in this period in which retail is struggling.
With this quality in mind, let us look at valuation.
Valuation
Consensus NAV for WSR is $14.38, or roughly 30% above today's price.

Source: SNL Financial
NAV refers to the value of the assets. In other words, it does not factor in things like G&A as this expense is after the NOI line and not tied to the assets.
The current market price reflects the value of the assets less the dilution from excessive G&A expense.
Given $0.93 of NAREIT FFO in 2017, WSR is trading at about 12X 2017 FFO. This multiple strikes us as appropriate and I think WSR is approximately fairly valued at the current level of compensation. This is where the value unlock comes in.
If the blue vote wins, the new directors along with pressure from shareholders would likely be able to bring compensation in line with peers. This would knock approximately $10mm off of the G&A annually which divided over roughly 39mm shares is about $0.25 of annual savings.
This would bring run-rate NAREIT FFO up to $1.18 which at the same 12X multiple would generate a market price of $14.16. Unsurprisingly, if compensation is appropriate, the proper trading price would be fairly close to NAV. A fair value of $14.16 implies just over 25% upside from the unlocked value.
Risks to ownership
While WSR has thus far been fundamentally nearly immune to the retail downturn, macro retail health remains a concern. Anyone participating in this trade should keep a close eye on retail sales and potential bankruptcies.
More specific to the WSR situation, there is risk that the white voting sheet wins the vote. In this case, NAREIT FFO will likely remain below a dollar a share and not cover the dividend. WSR has existed in this fashion since its inception so it would not be a critical failure, but it would remove the upside potential associated with unlocking the value.
There are also some risks to the blue voting sheet winning the vote as KBS often operates through external management. If the new directors were to steer WSR into an externally managed direction it would likely reduce the multiple at which the stock trades. This is not what their stated intentions are, but perhaps once they get a foothold they may become emboldened and try something of this nature.
Disclosure: 2nd Market Capital and its affiliated accounts are long WSR. This article is provided for informational purposes only. It is not a recommendation to buy or sell any security and is strictly the opinion of the writer. Information contained in this article is impersonal and not tailored to the investment needs of any particular person. It does not constitute a recommendation that any particular security or strategy is suitable for a specific person. Investing in publicly held securities is speculative and involves risk, including the possible loss of principal. The reader must determine whether any investment is suitable and accept responsibility for their investment decisions. Dane Bowler is an investment advisor representative of 2MCAC, a Wisconsin registered investment advisor. Commentary may contain forward looking statements which are by definition uncertain. Actual results may differ materially from our forecasts or estimations, and 2MCAC and its affiliates cannot be held liable for the use of and reliance upon the opinions, estimates, forecasts and findings in this article. Positive comments made by others should not be construed as an endorsement of the writer's abilities as an investment advisor representative.
This article was written by
2nd Market Capital Advisory specializes in the analysis and trading of real estate securities. Through a selective process and consideration of market dynamics, we aim to construct portfolios for rising streams of dividend income and capital appreciation.
Our Portfolio Income Solutions Marketplace service provides stock picks, extensive analysis and data sheets to help enhance the returns of do-it-yourself investors.
Investment Advisory Services
We now offer a variety of ways to invest with us.  Our focus is on maximizing client returns while staying within their risk parameters.  To learn more about our advisory services you may schedule a 15 minute intro meeting here: https://calendly.com/2mc/15minintro?month=2023-08
Dane Bowler, along with fellow SA contributors Simon Bowler and Ross Bowler, is an investment advisory representative of 2nd Market Capital Advisory Corporation (2MCAC). As a state registered investment advisor, 2MCAC is a fiduciary to our advisory clients.
Full Disclosure. All content is published and provided as an information source for investors capable of making their own investment decisions. None of the information offered should be construed to be advice or a recommendation that any particular security, portfolio of securities, transaction, or investment strategy is suitable for any specific person. The information offered is impersonal and not tailored to the investment needs of the specific person. Please see our SA Disclosure Statement for our Full Disclaimer.
Analyst's Disclosure: I am/we are long WSR. I wrote this article myself, and it expresses my own opinions. I am not receiving compensation for it (other than from Seeking Alpha). I have no business relationship with any company whose stock is mentioned in this article.
Seeking Alpha's Disclosure: Past performance is no guarantee of future results. No recommendation or advice is being given as to whether any investment is suitable for a particular investor. Any views or opinions expressed above may not reflect those of Seeking Alpha as a whole. Seeking Alpha is not a licensed securities dealer, broker or US investment adviser or investment bank. Our analysts are third party authors that include both professional investors and individual investors who may not be licensed or certified by any institute or regulatory body.