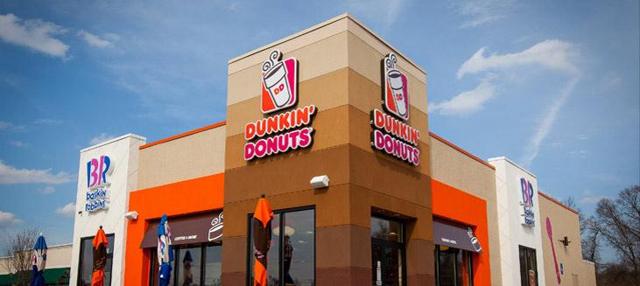 Source: Dunkin' Brands
Dunkin' Brands (DNKN) closed up 2.8% on Friday and is up nearly 10% from a low in early April. We believe that Dunkin' is one of the best coffee stocks currently on the market. The company performs at an impressive level, with effective cost reductions driving margin expansion.
Additionally, the industry outlook for coffee remains bright, and with Dunkin' rolling out new stores over the next several years, we are confident in top line prospects. Given their comfortable pricing, simplified menu, and product offerings, we believe that the company is well positioned to capture the growing demand for coffee among consumers.
Financial Overview
Dunkin' saw Q1 revenue grow just 1.7% q/q (+2.8% y/y), driven primarily by increased royalty income and ad fees, offset by lower ice cream sales. For the most part, revenue has performed quite nicely over the last several years, growing at 5-year CAGR of nearly 5%.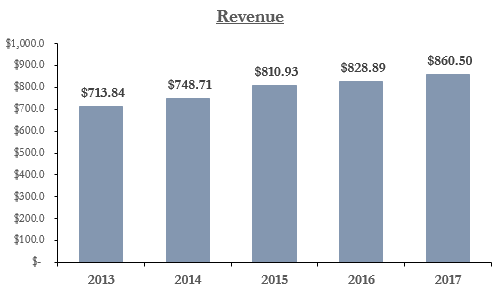 Source: Morningstar
U.S. system-wide sales, however, grew ~3% as a result of new store openings. Unfortunately, lagging foot traffic brought comps into the red this quarter, down 0.5%, despite larger ticket sizes. Given the strong coffee consumption trends which are expected to continue, we remain confident that foot traffic should not be a large issue going into the future.
We commend management for their menu simplification efforts, which we feel will play a key role in increasing ticket sizes and keeping costs manageable. Management's views are in-line with ours, with David Hoffman stating that:
We continue to believe that over the long run, the simplified menu is an investment in a better environment for our people by taking complexity out of the restaurants. This in turn will enable the crew to deliver a better guest experience, improve order accuracy, drive franchisee profitability, and ultimately, increase restaurant level margins.

Source: Earnings Call
The approach management is taking is one we refer to as "today's pain, tomorrow's gain", as they make short-term sacrifices for long-term value. Test markets showed that the menu change hit SSS by ~100 basis points, which is more than worth it.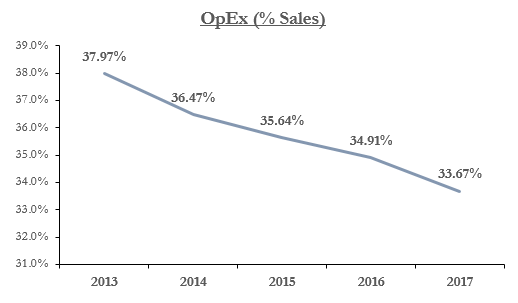 Source: Morningstar
Management has done a great job keeping costs under control, with operating expenses ("OpEx") down over 400 basis points since 2013 (124 bps y/y). It doesn't end there, with management expecting further reductions to SG&A expenses by 500 bps this year.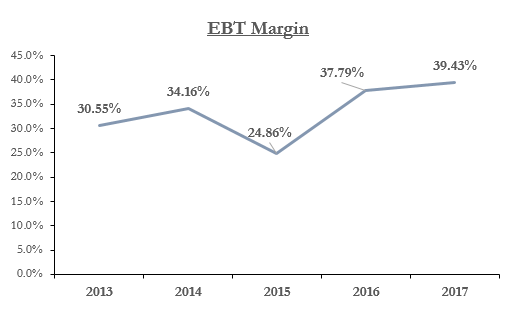 Source: Morningstar
Of course, the lower OpEx has sent margins rising, with the company's EBT margin up nearly 900 basis points since 2013 (+164 bps y/y). As mentioned above, we believe the menu simplification efforts will further expand margins as item costs become much more manageable. (Note: we utilize EBT margin given the impact of a non-recurring tax benefit witnessed in FY2017).
Risks

Source: Dunkin' Donuts
Potential risks which are present include commodity costs, which fluctuate quite often. With Dunkin' utilizing Arabic beans as a main ingredient in their coffee, a solid portion of their COGS basket should be comprised of the commodity.

Source: IFC Markets
Arabica coffee prices were forecast to end the first quarter of 2018 down 1 percent from the end of 2017. Prices are projected to finish the calendar year at $1.344, +6.5% y/y. Normal price changes such as these are not where risks lie, but rather in unusual events (e.g. weather catastrophes) which can adversely affect the supply of such commodities, sending prices skyrocketing.
We believe that normal variances in commodity prices won't adversely affect margins in any noticeable way, and long-term inflation could be offset by healthy menu price increases.
Industry Outlook
Many of us drink coffee, whether it be store-bought or home-made. The demand for coffee products has been consistently growing over the past several years, with the average cups of coffee/day now at 3 (vs. 2 in 1999).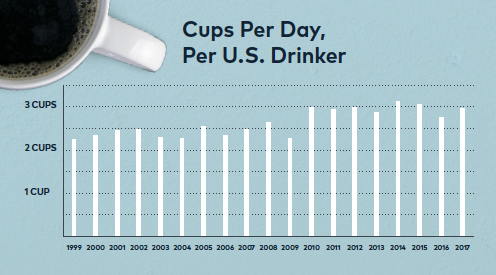 Source: National Coffee Assn.
Additionally, the percentage of adults drinking specialty coffee in the U.S. has nearly tripled in the last three years, with 41% of adults drinking specialty coffee on a daily basis.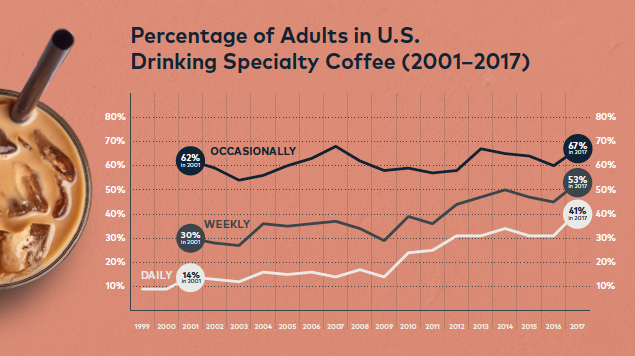 Source: National Coffee Assn.
The trends seem poised to continue, with coffee becoming an increasingly popular drink choice among Millennials. Overall, the industry outlook remains bright, and given the low-priced menu items at Dunkin' as well as the assortment of home-products they sell, Dunkin' seems well-positioned to capture this trend going into the future.
Relative Valuation
Dunkin' trades at a more than reasonable valuation when compared to other players in the coffee space. Their 2017 net margin was impacted by a non-recurring tax benefit; median net margin since 2013 was ~23%, above industry average/median of ~17.5%/21%.

Source: Intrinio, S&P Capital IQ, Bloomberg
Despite competitive margins, a healthy dividend yield well-covered by earnings, and consistent revenue growth, the stock trades at ~27.6x LTM earnings, in-line with its peer group average/median of ~28x/24x earnings.
When adjusting for capital structure, the company's EBITDA multiple again falls in-line with industry peers; 15.8x EBITDA vs. peer average/median of ~16.8x/15x.
The stock is valued appropriately in our eyes (some may even say undervalued given the quality traits of the company). We would not hesitate entering a position in Dunkin' at this time, as a long-term investment in the growing coffee market.
Conclusion
Dunkin' Brands is certainly a stock to consider for investors wishing to gain exposure to a solid coffee stock. With a growing top line, expanding margins, and healthy dividend, Dunkin' remains an attractive investment in today's market. New store openings stand to drive revenue for years to come, also complemented by a growing demand for coffee. With a new simplified menu in place, item costs are now much more manageable, with the potential to drive further margin expansion going forward.
Valuation-wise, the company is trading in-line with industry peers, turning up performance metrics and growth prospects we believe to be slightly superior to that of competitors. That said, the valuation is reasonable; not exactly a screaming bargain, but certainly justifiable.
We believe the industry average 28x multiple is appropriate, and when applied to Bloomberg's 2018 EPS estimate of $2.71, we derive a price target of ~$76 reflecting upside of nearly 20%.
Disclosure: I/we have no positions in any stocks mentioned, but may initiate a long position in DNKN over the next 72 hours. I wrote this article myself, and it expresses my own opinions. I am not receiving compensation for it (other than from Seeking Alpha). I have no business relationship with any company whose stock is mentioned in this article.