Why Nvidia's GeForce Partner Program Saw A Quick Demise
Summary
Nvidia canceled its GeForce Partner Program or GPP. GPP was Nvidia's effort to persuade top equipment manufacturers to exclusively use GeForce video cards on their high-end PC gaming products.
Some people accused GPP as a Ngreedia move after top PC vendor Asus unveiled its new Arez brand of AMD Radeon GPU-using gaming PCs.
Asus' original high-end gaming brand was Republic of Gamers [ROG]. Asus did not hesitate joining the GPP program.
I suspect Intel was behind HP and Dell's reported objection to Nvidia's GeForce Partner Program. Intel's nascent GPU chip collaboration with AMD will die quickly from GPP.
The other problem was other OEMs do not want to spend their own money to promote/develop a new brand for Radeon-using computers or discrete video cards.
The gaming segment generates the majority of Nvidia's (NASDAQ:NVDA) revenue (59.74% as of Q4 2017). I was upset with Nvidia's hasty cancellation of its GeForce Partner Program [GPP]. Nvidia only unveiled its GeForce Partner Program two months ago. It was the company's attempt to persuade vendors of PCs and add-in boards to exclusively use GeForce video cards on their brands of high-end PC gaming products.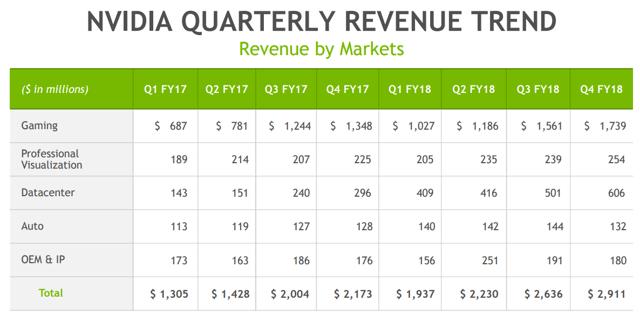 (Source: Nvidia)
Unfortunately, misinformation that GPP was anti-competitive and a strong-arm tactic compelled Nvidia to prematurely abort it. Bad propaganda killed what could have reinforced Nvidia's leadership in high-end gaming graphics accelerators.
Nvidia ended 2017 with around 66.3% of the discrete GPU market. Nvidia only wanted to preserve its big lead in discrete GPUs through the GeForce Partner Program. Advanced Micro Devices (AMD) took market share in Q4 2017. From just 29.5% in Q4 2016, AMD's share in discrete GPUs in Q4 2017 rose to 33.7%.
Leaders Have The Right To Protect Their Moat
My takeaway is that Nvidia was only trying to protect its lead over AMD. Legal threats about anti-trust or monopolistic tactics do not apply here. The GeForce Partner Program was not a compulsory thing or a move against PC and GPU vendors. Third-party companies were free to sign up or ignore it. Fears that Nvidia might not supply (or restrict shipments) GeForce GPU chips (or withhold Marketing Development Funds [MDF]) to vendors who do not sign up were unfounded.
MDF is the incentives/assistance that companies extend to their sales channel partners. It could be financial or in-kind sort of help. PC vendors often compete under low operating margins. They obviously need marketing development funds from chip/processor makers like Nvidia. An example of MDF is for Nvidia to help cover the overhead costs of promoting a brand new high-end gaming PC using GeForce GPU via paid events, online ads, and print ads.
MSF could also apply when Nvidia gives away free Founders Edition of its discrete GPUs to website/YouTube tech review sites and influencers.
GeForce Partner Program Was Unlike Intel's Old Contra Revenue Strategy
The incorrect comparison to Intel's (INTC) old practice of incentivizing PC OEMs (Original Equipment Manufacturers) to not use AMD processors was a flagrant foul. Nvidia's GPP only required PC and add-in board vendors to use GeForce GPUs on their brands of high-end PC gaming products. These vendors could still use AMD Radeon GPUs on their other brands. Nvidia's GPP did not care if gaming computers use AMD processors in conjunction with a GeForce GPU.
For example, Asus (OTCPK:ASUUY) has its Republic of Gamers [ROG] brand for its high-end gaming PCs and laptops. Asus did not hesitate to join Nvidia's GeForce Partner Program. It enrolled its Republic of Gamers brand under GPP and it made a new brand for Radeon GPUs, Arez.
Arez is Asus' brand for AMD Radeon-equipped gaming computers, and ROG became the GeForce-exclusive brand. Arez and ROG computers are the same except for the GPU brands they are using.
I say that whining over Nvidia's GeForce Partner Program was due to more self-serving reasons of other bigger industry players.
Intel Made Sure GPP Got A Quick Abortion?
It was reported last month that HP Inc. (HPQ) and Dell said no to Nvidia's GeForce Partner Program. It is also ironic that Intel was also reported to be in opposition to Nvidia's GPP. I have no evidence but I suspect Intel flexed its muscle to strong-arm HP Inc. and Dell (both dependent on Intel x86 desktop and server processors) to reject the GeForce Partner Program.
Common sense told me this so Intel can be a bigger bully than Nvidia could ever be. Intel knew its nascent Vega M GPU chip collaboration with AMD could quickly wilt from GPP. The early abortion of GPP means Intel will find it easier to capture more of the mid-range and high-end segments in the $30-billion industry for PC gaming hardware.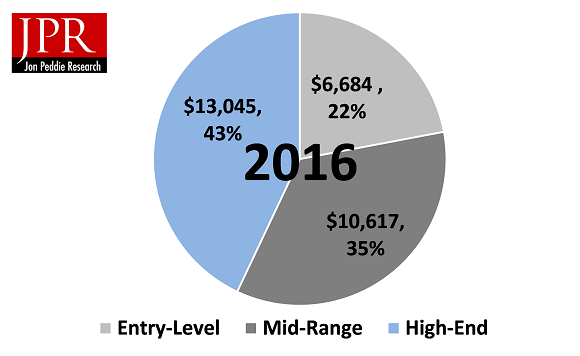 (Source: Jon Peddie Research)
The chart above illustrates the total 2016 revenue from hardware and accessories. Notice that high-end (like GeForce GTX 1080 Ti video cards) and mid-range products account for 78% of this niche industry's annual revenue. If Nvidia pushed through with the GeForce Partner Program, most brands of high-end gaming PCs and laptops would have remained a bridge too far for AMD Radeon GPUs.
Nvidia will now find it harder to keep its position in the $30 billion/year PC gaming hardware industry. The GeForce Partner Program could have been a neat way to exclude Radeon GPUs out of the high-end segment of PC gaming. Nvidia will have to covertly use more of its MDF to inspire its partners to prioritize its GeForce GPUs.
Another Reason Why OEMs Were Unhappy With GPP
It is not fair for Nvidia to supply Marketing Development Funds for Republic of Gamers computers when they aren't exclusively using GeForce video cards. GPP was conceptualized because Nvidia wanted to maximize the returns from the marketing and engineering support it extends to PC and add-in board/GPU vendors.
Given enough marketing support by AMD, the Arez brand could quickly become as popular as Republic of Gamers. The problem is AMD is still saddled with debt and has negative free cash flow. OEMs obviously cannot expect any substantial marketing assistance from AMD for Radeon-equipped gaming computers. I hope this explained why some OEMs were unhappy with Nvidia's GeForce Partner Program.
PC and third-party discrete video card vendors do not want to spend their own money to promote/advertise a new brand of Radeon-using computers. They like receiving Nvidia's MDF for their current brand of high-end PC gaming products without them having to exclusively use GeForce GPUs.
Unlike AMD, Nvidia is rich and fat with $7.01 billion in cash. Nvidia's quarterly free cash flow is also outstanding, $942 million. Like Intel, Nvidia can afford being generous with its marketing development funds to its partners.
Final Thoughts
In spite of the early demise of GPP, Nvidia will still persist as a leader in PC gaming hardware. I, therefore, rate NVDA as a buy. Yes, the quick death of the GeForce Partner Program made it easier for Advanced Micro Devices to compete in discrete GPUs.
Intel will find it easier now to capture more PC gaming customers through its Radeon Vega M GPU-equipped Core i7 processors. Nvidia will just have to work harder in growing its non-gaming business segments. This can balance out the intensified competition in high-end PC gaming.
Going forward, PC gaming brands like HP's Omen, Dell's Alienware, Lenovo's (OTCPK:LNVGY) Legion, and Acer Predator will continue receiving technical/engineering support and Marketing Development Funds from Nvidia. This is irrespective of whether they are using GeForce or Radeon GPUs.
Like it or not, Radeon GPUs get indirect help from Nvidia's MDF to its sales channel partners. Like it or not, Omen or Alienware computers that are promoted using Nvidia's marketing money actually make those brands more popular first, GeForce only second.
Editor's Note: This article discusses one or more securities that do not trade on a major U.S. exchange. Please be aware of the risks associated with these stocks.
This article was written by
Motek Moyen is a financial analyst, technician, and Adobe multimedia content creator. He studied Mathematics, Commercial Advertising, and Computer Science in the 1990s. He does not trade stocks.
Analyst's Disclosure: I am/we are long NVDA, INTC, AMD, LNVGY HPQ. I wrote this article myself, and it expresses my own opinions. I am not receiving compensation for it (other than from Seeking Alpha). I have no business relationship with any company whose stock is mentioned in this article.
Seeking Alpha's Disclosure: Past performance is no guarantee of future results. No recommendation or advice is being given as to whether any investment is suitable for a particular investor. Any views or opinions expressed above may not reflect those of Seeking Alpha as a whole. Seeking Alpha is not a licensed securities dealer, broker or US investment adviser or investment bank. Our analysts are third party authors that include both professional investors and individual investors who may not be licensed or certified by any institute or regulatory body.