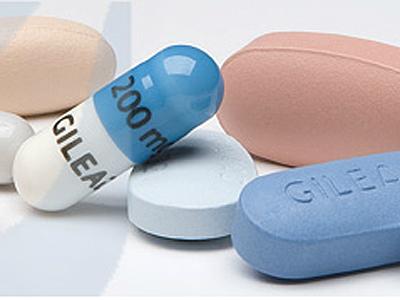 Gilead's (NASDAQ:GILD) Q1 financial results were a disaster. The poor financial results may have surprised the market, and the stock is off by double digits since earnings were released. The decline in Gilead's HCV revenues has been well-documented; I expected Q1 HCV sales to be down substantially after the stellar results from AbbVie's (NYSE:ABBV) Mavyret. AbbVie's total HCV sales were $919 million, up 80% sequentially and more than double its HCV sales in the year-earlier period. That growth had to have come from somewhere. Secondly, since Mavyret has an eight-week duration, there was a chance Gilead had to cut prices in order to compete.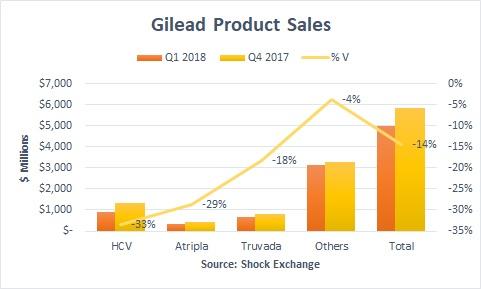 Gilead's Q1 HCV sales were $884 million, down over 30% sequentially. This followed a 36% decline in Q4. Total revenue was off by 14%, which gave the impression the company currently does not have a moat. HCV is less than 20% of total revenue, compared to 40% in the year-earlier period. Its decline should have had less of an impact on total top line growth. However, growth in other segments has not muted HCV's demise. I found this disconcerting.
HCV experienced downward pressure on pricing and market share. Management also expects a slow, steady decline in patient starts. That, in addition to the onslaught from Mavyret, will likely quicken the run-off throughout the rest of the year.
Meanwhile, Atripla and Truvada sales fell 29% and 18%, respectively. These HIV regimens are being cannibalized by Genvoya and Descovy which generated over $1.4 billion in sales during the quarter. Of note is that Biktarvy, a once-daily single-tablet regimen for the treatment of HIV, generated $35 million during the quarter. Biktarvy is expected to help beat back threats from GlaxoSmithKline's (NYSE:GSK) two-drug HIV combo. The lion's share of Biktarvy sales was generated by switches from Genvoya and HIV regimens from GSK. It was launched during the quarter and could be the next catalyst for Gilead's HIV franchise.
Gilead's total HIV/HBV revenue fell 10% sequentially. Management intimated it could have been due to seasonality, so Q1 results may not have been as bad as once thought. If Q2 HIV/HBV revenue flattens or rebounds, then it could be a positive sign.
Yescarta Did Not Soften The Blow To HCV
On a dollar basis, HCV revenue fell sequentially by about $442 million. Yescarta, Gilead's CAR-T cell therapy which treats B-cell non-Hodgkin lymphoma, generated Q1 revenue of only $40 million. Given HCV revenue of $884 million, it could take several quarters before Yescarta offsets HCV's demise, if at all. Nonetheless, management was encouraged by how quickly the marketplace adopted the novel therapy:
And finally, sales of Yescarta were $40 million in the first full quarter since approval in October... we are making great progress in training and certifying additional centers. In terms of access in the U.S., we are seeing the payer mix play out as expected, with approximately two-thirds of Yescarta patients covered by commercial and fee-for-service plans and approximately one-quarter of patients covered by Medicare. There is broad coverage of Yescarta-eligible patients with commercial insurance. It's encouraging to see the strong execution by our commercial, medical affairs and manufacturing teams, the positive feedback from centers, and the growing awareness of Yescarta in the hematology and patient communities.
The $40 million in sales was also more than I had expected. I anticipated many of the treatments would take place in-hospital, where the costs could have been prohibitively more expensive than Yescarta's $395 thousand list price. I expected this to be a bottleneck; it appears that it was not. Market chatter suggested Gilead could have potentially treated 1,000 patients in 2018; that could have equated to over $350 million in 2010 Yescarta revenue. Though the company is not currently on that pace, Yescarta sales were encouraging.
Conclusion
Continued traction in Yescarta and a rebound in HIV/HBV revenue could energize GILD bulls next quarter. I remain focused on the company's $32 billion cash hoard, which may not be worth much with financial markets still inflated. GILD is a long-term sell until the HCV demise has run its course and Gilead can realistically put its $32 billion war chest to work.
Disclosure: I am/we are short GILD, ABBV. I wrote this article myself, and it expresses my own opinions. I am not receiving compensation for it (other than from Seeking Alpha). I have no business relationship with any company whose stock is mentioned in this article.