In the three quarters it's reported since going public last October, online used-car research site CarGurus (NASDAQ:CARG) has never missed a beat, and Q1 was no exception. The company passed Wall Street's expectations with flying colors, in particular showing several more points of top-line growth than analysts were expecting. Unlike most internet companies, which may tend to see more volatile growth trajectories as they scale (for proof, look no further than Snap (SNAP), which last week reported its worst-ever earnings with deceleration warnings on both user growth and revenues), CarGurus' business is much more stable due to the fact that it derives the majority of its revenues from dealer subscription fees. Dealers rely on the CarGurus platform to drive business, and the total number of dealers and average fee per dealer keeps going up, a major tailwind for the company.
Since going public, CarGurus' stock has also never really taken off. Though shares have gained 2x from their IPO price of $16, most of those gains came from the 80% pop in the first day - and since then CarGurus' shares haven't really staged a major rally. Last quarter, when CarGurus was making moves toward $40, I turned cautious on the shares, but now back in the low $30s, CarGurus looks attractive especially given the robust growth data we saw this quarter.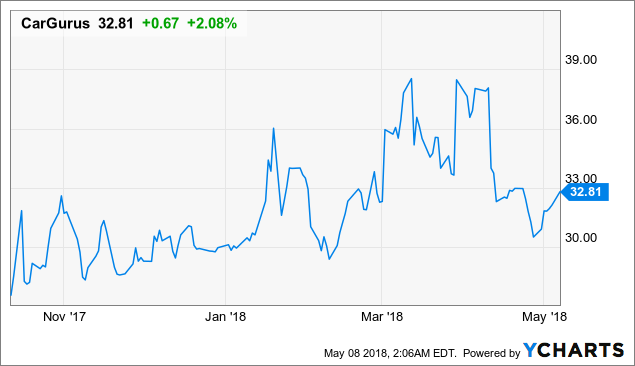 Guidance boost makes shares especially appealing
A quick valuation check - at CarGurus' current share price near $33, the company carries a market cap of $3.46 billion. Netting out the company's $144 million of cash on its most recent balance sheet, the company has an enterprise value of $3.32 billion.
Along with this quarter's earnings, CarGurus has also refreshed its guidance for the full year, from which we can calculate CarGurus' valuation. The company is now guiding to revenues of $415-$418 million for the year, up substantially from a prior guidance range of $396-$400 million in last quarter's earnings release. This implies a growth range of +31% y/y to +32% y/y for FY18, which still feels somewhat conservative given the robust growth this quarter:

Source: CarGurus investor relations
So against current guidance, CarGurus has an enterprise value of 7.97x EV/FY18 revenues. That's not especially cheap, but we have to view CarGurus from the lens of a high-growth SaaS company that's also showing positive GAAP profits - a rarity among small and mid-cap technology companies, let alone software names. Add that into the fact that most of CarGurus' revenues are recurring, and you get a formula for a premium valuation. Software companies of a similar profile like Adobe (ADBE), which also generate strong top-line growth along with profits on a recurring revenue base, can trade well in excess of 10x revenues.
Then there's also the high likelihood that CarGurus exceeds its guidance for the year. CarGurus exceeded its guidance range for Q1 by nearly $5 million, so if the company is being systematically conservative with issuing guidance and sees the same level of beat through the remainder of the year, the company could end up at roughly $435-$440 million in actual revenues for the year.
With a company growing as quickly as CarGurus, while maintaining positive profit margins, I believe 9.5x EV/FY18 revenues - implying a price target of $39 and 19% upside from current levels - isn't too much of a stretch to ask for.
Q1 recap: growth decelerates much less than expected
Here's a look at CarGurus' results in the first quarter: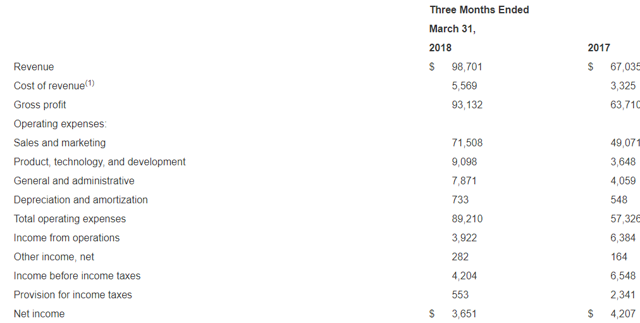 Source: CarGurus investor relations
Total revenues grew 47% y/y to $98.7 million, a massive beat over Wall Street's expectations of $94.2 million (+41% y/y), which was already on the high end of CarGurus' stated guidance of $93.5-$94.5 million for the quarter. Thus far, CarGurus has done a fantastic job managing expectations from its analysts, with a substantial beat to each of its earnings quarters since going public. This growth rate shows barely any deceleration from the 49% y/y growth that CarGurus enjoyed in Q4, making its guidance range of 31-32% y/y a fairly obvious lowball number.
Also notable in the quarter was how strongly the business metrics trended. On the user and traffic side, as previously mentioned, CarGurus has retained its crown as the most-visited site for online car shopping. The company has seen 33% y/y growth in average unique monthly visitors in the U.S., and a startling 64% y/y internationally.
This has fed into higher dealer fees, as they continue to rely on CarGurus as a primary marketing channel. Average revenue per subscribing dealer rose 15% y/y to $12,470 in the U.S., continuing the same pace of growth from last quarter. Total paying dealers also rose 24% y/y to 29,026, with International representing just 10% of the total - indicating how large CarGurus' opportunity is as it continues to expand abroad.
On the profit side, the additional burdens of becoming a public company and marking down stock comp at market values has made CarGurus' 1Q18 profits fairly uncomparable to 1Q17. Stock comp, in particular, rose from $0.1 million in 1Q17 to $3.8 million this quarter, largely because CarGurus' stock grants to employees now have a much higher nominal dollar value that gets recorded as expenses
However, if we look at CarGurus' adjusted EBITDA of $9 million that excludes the stock comp effect, CarGurus saw 27% y/y growth over $7.1 million in last year's Q1. Additionally, the company's pro forma EPS of $0.06 (which excludes stock comp effects) showed substantial upside to consensus targets of $0.02. Free cash flow also showed minor growth of 18% y/y to $5.5 million in the quarter.
How should investors react?
As those who have followed CarGurus since it's gone public, you'll recognize that the trading is especially spotty on this name, with shares unable to stage a major rally. I believe, however, that CarGurus' time in the spotlight is soon to come - it's difficult to ignore a company that is growing as quickly as CarGurus while still producing positive free cash flows and growing EBITDA.
With yet another earnings beat on its belt, CarGurus remains a solid pick if sideways trading continues.