Buy when there is blood in the streets is a conventional stock investment wisdom known to investors.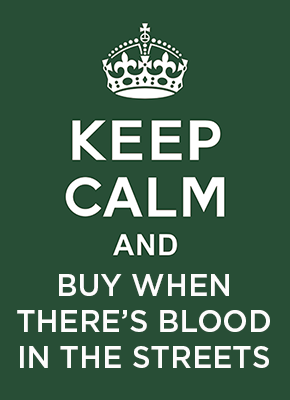 Stock of German car manufacturer BMW (OTCPK:BMWYY) is not necessarily hated right now but it is underperforming the broad market due to various concerns.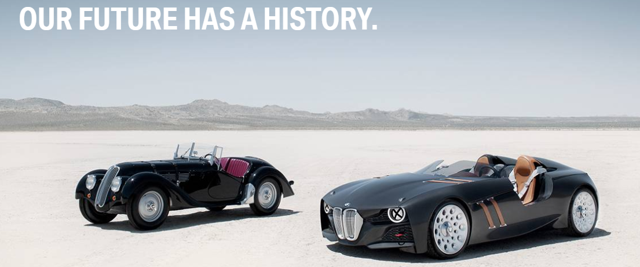 Source: BMW Investor Relations
A toxic cocktail of risks such as anti-competitive investigations due to illegal price talks, ongoing accusations related to emission values, loss of value for old diesel cars, and ultimately, the fear that BMW is far behind in the development race related to future technologies does not paint a promising picture.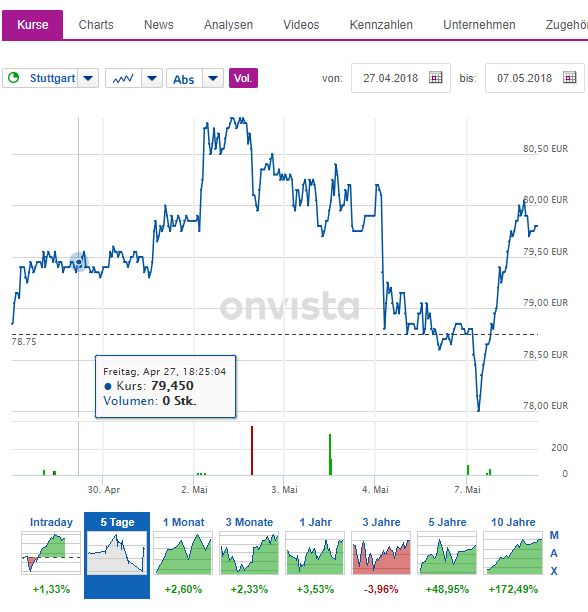 With the stock yielding above 5% and thus offering some degree of downside protection, is this the right time to add to the stock? Let's find out!
What is going on at BMW?
For 2017, BMW recorded sales of €98.7B (+5% Y/Y) and record pre-tax profit of €10.7B (+10% Y/Y). After-tax profit rose even stronger from €6.9B to €8.7B, beating expectations.
BMW's key target metric for its Automotive segment, the EBIT margin, came in at 8.9%, meeting the target range of 8-10%. BMW's seventh consecutive year of record sales helped the company maintain its spot as the world's number one premium automotive company. Driven by very strong growth in BMW's X vehicles segment (+9.6%) and the all-new BMW 5 series, the brand recorded record sales figures. Beyond that, BMW also managed to exceed its target of selling at least 100,000 electrified vehicles (103,080 were sold), cementing its leading position in electro-mobility in the premium car segment.
At BMW's most recent annual meeting, CEO Harald Krüger formulated an ambitious goal for the company, i.e. BMW wants to regain the top spot as the world's leading premium car manufacturer by 2020, a position it has lost to fellow German competitor Daimler (OTCPK:DDAIF).
Given record profits and sales for the 8th consecutive year, the situation at BMW is actually much better than what it appears judging on current news. It is true that rising commodity costs and an appreciating euro (although it has already retreated considerably from its EUR/USD 1.25 high down to around $1.19) put pressure on the bottom line, but these are rather temporary "problems" which will balance out in the long run and not fundamentally related to the company?
As such, it is important to concentrate on the crucial factors going forward and blend out irrelevant noise from the press. Make no mistake, the diesel scandal has been huge, but rather in terms of the financial burden placed on Volkswagen (VLKAY) and not related to sustained loss in customer trust. More importantly, although BMW has not been directly affected by the diesel scandal, it has reached the right conclusions in how to respond to it. Considerably raising the R&D budget for electrified automobiles will lead to an all-new product range with BMW targeting to offer up to 25 different models with electric drive by 2025.
As this is still many years away, earlier efforts will result in an unprecedented product drive in 2017 and 2018 with around 40 new and overhauled models. Further up on the timeline, BMW expects to launch several more models to the market by 2020 priced at the upper end of the scale spearheaded by the BMW 8 series and the giant X7 SUV which should lead to a higher profit per car.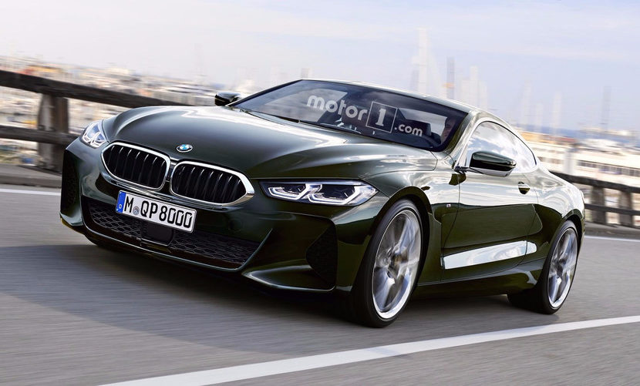 Source: BMW Blog - BMW 8 Series M8 preview
Already in 2017, BMW has sold more than 100,000 models, either hybrid or fully electrified (mostly the BMW i3) and thus almost the same amount of vehicles as overhyped Tesla Motors (TSLA) achieved in the very same year with around 103,000 vehicles. This does not confirm concerns that Tesla has already overlapped BMW by a distance, and with R&D being ramped up at BMW (an additional €1B was spend in 2017 alone), BMW should be able to maintain and extend its reach in that segment going forward. For 2018, BMW is targeting to sell at least 140,000 cars with electric drive.
On top of that, the company plans to cut back on indirect costs by at least €1BN by 2019. This is the intended result of an internal investigation on costs which are not related to the actual car production but basically everything else. It also means that the company intends to downsize its production of steering wheels and seats with the goal to make production leaner and more efficient.
What's in store for dividend investors?
The company is listed with two types of shares on the Frankfurt stock exchange: preferred stock and common stock. The preferred stock is currently trading at a discount of approximately 15% to the ordinary stock. The company has recently announced an unexpectedly strong 14.2% boost to its annual dividend, sending the yield on the preferred stock to a juicy 5%.
Despite the automobile industry being one of the most cyclical industries, BMW, over the last 11 years, has increased its dividend by factor 5.7 raising it nine times and cutting it once at the peak of the financial crisis in 2008. The company is now on a dividend streak of eight consecutive years of dividend increases, growing it at a CAGR of 33.4%. As staggering as this may look at first glance, it clearly benefited from a very low starting dividend in that time period. A clearer picture can be achieved by calculating the five-year CAGR, which stands at around 10%, and thus even below the latest dividend increase. For the last two years alone, the dividend rose by a staggering 25%.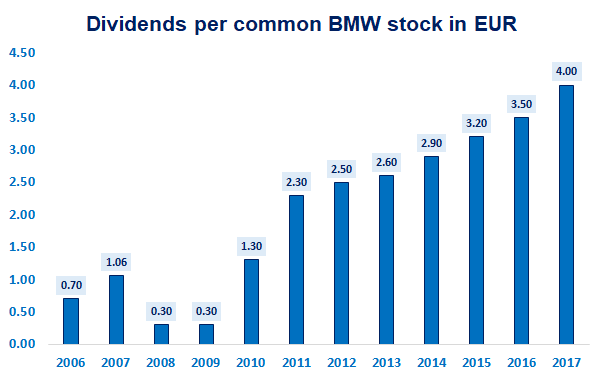 More importantly, the stock will go ex-dividend on May 17 and then pay out its annual dividend of €4. Factoring in the expected €4 drop on that date would already result in a 2019 forward dividend yield of 5.3% (assuming the company holds its dividend at least steady).
Investor takeaway
There is not necessarily blood on the streets with BMW but still the stock offers an attractive investment opportunity.
Transportation will be one of the key challenges for the future, particularly in growth markets such as Asia. BMW is perfectly positioned with its vast network of dealers and wide variety of models it can produce at cost-effective units to benefit from this trend. In its "The Next 100 Years" vision the company has identified six mega trends it will focus on.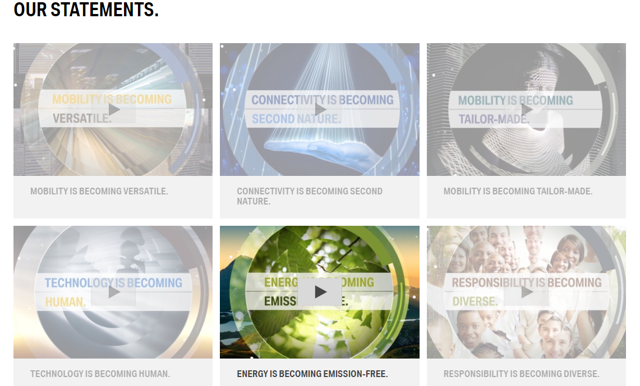 Source: BMW Investor Relations - The Next 100 Years
This represents a sound strategic approach and shows that the company is actively seeking to shape and serve future needs.
BMW can get an edge in electric mobility solutions but will have to invest much more money to keep up with technology rivals Apple (AAPL) and Google (GOOG) as it relates to autonomous vehicles. This for me represents the biggest risk for the company. The amount of data Google is collecting with Waymo is absolutely staggering, and with AI being the competitive advantage for autonomous vehicles, it is very difficult to say just how far ahead these two companies really are. In the worst-case, BMW will only offer the shell as the technology powering the car will be dominated by Google and Apple. In the best-case, the dangers and unsolved questions surrounding autonomous vehicles will still take many more years to be resolved which would give BMW sufficient time to develop and tweak its own technology.
While Google and Apple have been focusing on Level 5 automation from the very beginning, traditional car manufacturers have concentrated on Level 1 and 2 and are currently implementing Level 3. On the bright side, German companies are holding by far most of the patents related to autonomous driving which shows that the thesis that Big Tech will just overrun the car manufacturers is not that realistic either.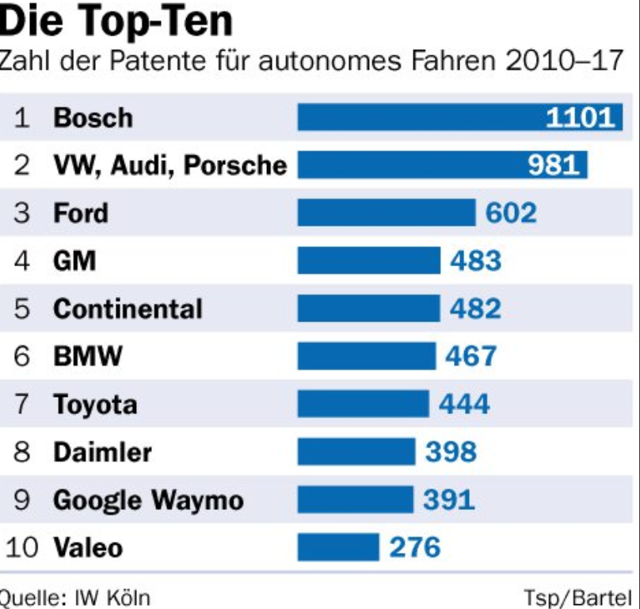 Source: IW Köln
On top of that BMW has also recently opened a new centre of excellence for autonomous driving. This state-of-art facility will help "offer greater capacity for innovation and increased development efficiency" and thus "ultimately secure the company's future sustainability". This shows that BMW is also seeking unconventional and innovative ways to respond to the disruptive change in the automobile industry.
Investors accepting that risk can get a 5% yield right now while remaining patient and actively monitoring how the company's future will evolve.
Personally, I still do not own Google stock but having read more and more about that interesting topic as well as Morgan Stanley's $70B valuation assessment of Waymo has given me a lot of food for thought to finally start investing into Google as well.
Disclosure: I am/we are long BMWYY, DDAIF, AAPL. I wrote this article myself, and it expresses my own opinions. I am not receiving compensation for it (other than from Seeking Alpha). I have no business relationship with any company whose stock is mentioned in this article.
Additional disclosure: I am not offering financial advice but only my personal opinion. Investors may take further aspects and their own due diligence into consideration before making a decision.
Editor's Note: This article discusses one or more securities that do not trade on a major U.S. exchange. Please be aware of the risks associated with these stocks.