In our previous analysis on the pound, we claimed that the number of catalysts driving the currency's bullish trend were running out. At the time, we warned that the rally was running out of momentum, but did not see any evidence that would suggest adopting a bearish stance. Following recent weakness in the British pound, we downgraded our longer-term outlook on the currency to bearish on April 27. Beyond a significant deterioration in price, the recent fall in the currency has been accompanied by accelerating trading volumes and rising volatility. These are all signs that bears are selling the currency with high conviction.
While the pound is currently looking oversold and due for a short-term rebound, the longer-term picture is bleak. Specifically, we expect the pound to continue weakening thanks to renewed political uncertainties regarding the Brexit process, slowing economic growth across Europe, and falling expectations for another rate hike this year.
Theresa May's government has few ways to win, many ways to lose
In an observation of the Brexit process published a few months ago, we contended that the dynamics of the negotiation meant that Theresa May was destined to concede on many of the EU's demands. Between her objective to deliver a "smooth and orderly" Brexit and Parliament's final say on the terms, the Prime Minister's hands are fairly tied. In recent days, May's government has struggled to find a solution to the customs union issue.
Looking at the EU, the organization has rejected British proposals to avoid joining a customs union. Theresa May first pitched the idea of a "customs partnership", whereby the UK would collect tariffs on EU goods entering the UK, but destined for other member states. This was seen as too complicated. The other proposal, "maximum facilitation", would keep the UK outside the customs union but would involve a hard border with Ireland. This has also been rejected.
Looking at the UK, neither the pursuit of a customs union agreement nor a deal that involves a hard border with Ireland has enough votes in the House of Commons. While the DUP and pro-Brexit members of the Conservative Party have enough votes to stop May from pursuing a customs union, pro-European Union Conservatives and the opposition parties are equally powerful. As May's government has few ways to win and many ways to lose, pound traders are increasingly nervous regarding May's weak grasp on power.
Pound sterling not being helped by slowing British and Eurozone growth
Turning to regional economic prospects, the picture for both the United Kingdom and the Eurozone is looking increasingly bleak. After Q1 GDP growth came in below expectations thanks to a downturn in construction (both winter weather and the Carillon issue), even forward-looking data has deteriorated. Thanks to a deceleration in Eurozone economic data, pound traders have been on the edge regarding UK growth in 2018. Now that British data is following Eurozone growth lower, hopes for a sustained recovery are wearing thin. A comparison of Eurozone manufacturing sentiment versus British services sector sentiment is illustrated below:
Eurozone manufacturing PMIs vs. UK services PMIs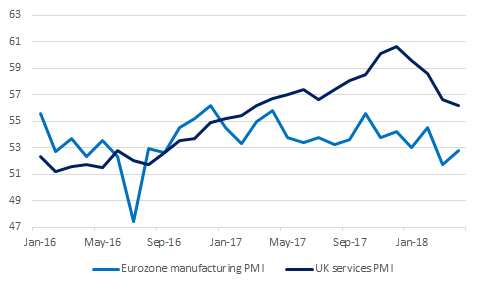 Source: CFTC, MarketsNow
As can be seen above, forward-looking Eurozone data has deteriorated markedly after peaking in early 2018. Last week, UK services PMIs also missed expectations (52.8 vs. 53.5 expected), as the outlook for British services is being weighed down by a slowdown in the Eurozone. As regional growth enters a slowdown, the UK is likely to follow.
As European central bankers turn skittish, speculators flee for the exits
As growth slows markedly, monetary policy expectations are following suit. Earlier this year, both the ECB and the Bank of England provided confident guidance regarding the future. In the ECB's case, the Bank pointed to strong and sustained growth helping the inflation outlook. In the Bank of England's case, Governor Mark Carney pointed to strong wage growth and said that inflation drivers were becoming "more conventional".
Following weak data, European central bankers appear to have lost their mojo. In late April, Carney downplayed the possibility of a May rate hike stating that there were also "other meetings" this year. Given Carney's risk-averse nature, expectations for a rate hike this month have now fallen dramatically. This is most clearly reflected in speculator net positioning on leading futures and options markets. This is shown below:
Sell sell sell! Speculators dump the pound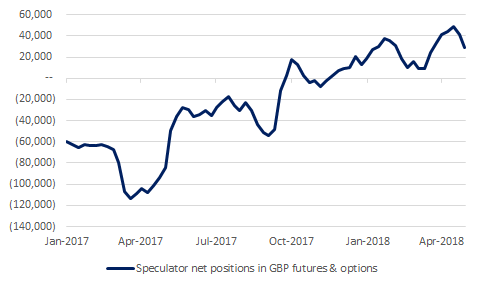 Source: CFTC, MarketsNow
As can be seen above, net speculator positioning in British pound futures and options flipped to net long (from net short) only in late 2017. In typical fashion, speculators missed the big move up in early 2017, and chased momentum later in the year. More recently, the number of speculator net long contracts peaked in mid-April earlier this year (at +49,216 contracts). Since that time, the net position has fallen to around +29,000 contracts. As both growth and monetary policy expectations fall, speculators will be busy unwinding their "long British pound" trades. As a result, the pound should remain under pressure.
British pound goes from boom to bust
All in all, almost every driver of the pound is now working in reverse. While pound bulls enjoyed a brief respite from Brexit fears, political instability has returned as the government struggles with the custom union issue. Looking at economics, the "Euroboom" is looking more "Eurobust", dragging down both the euro and the pound. Fear of a slowdown is also affecting monetary policy, with future rate hikes looking decidedly less likely. While the currency is due for a short-term relief rally following substantial weakness, our longer term outlook is now bearish.