In this article, I would like to list four reasons to short the Japanese Yen against Australian dollar (or to buy Australian dollar against the Japanese Yen).
Reason one: Technical Setup
AUD/JPY is sitting on a strong support level. 82 is approximately 50% Fibo level of a massive decline that began in November 2008 (global financial crisis) and ended in January 2009. Even if this level is broken, it will almost certainly be re-tested later and generally would serve as a magnet for the nearest future. The AUD/JPY exchange rate is also very close to the lower bound of an upward-sloping trend-line that formed in October 2008 and has not been broken since (on a monthly chart). The same goes for monthly Relative Strength Index, which has actually been bottoming out over the past three months. Trend-based Fib-extension analysis indicates that AUD/JPY may be gravitating towards 84 level. Furthermore, on a daily chart, the lower bound of the Ichimoku cloud is trending up this week and may pull the exchange rate together with it.
AUD/JPY Monthly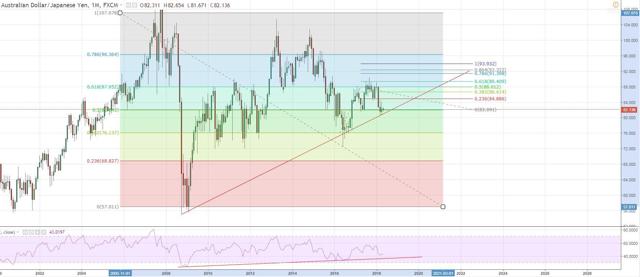 Source: TradingView
AUD/JPY Daily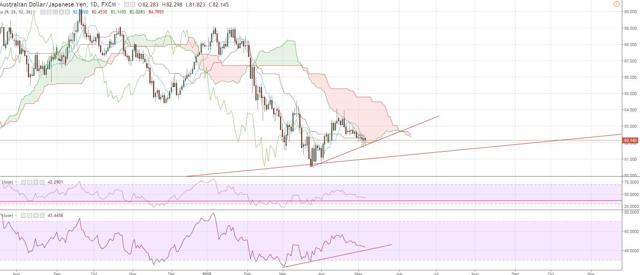 Source: TradingView
Reason two: Relative Valuation
In my standard relative valuation analysis of major global currencies, I look at five indicators: technical overextension, secular performance relative to gold, oil correlation, economic divergence and traders' positioning. I rank the currencies on the scale of -2.5 to +3.5 for each of the studies, where -2.5 indicates oversold conditions and +3.5 indicates overbought conditions. Therefore, the overall minimum score that any currency can have is -12.5, while the maximum is +17.5.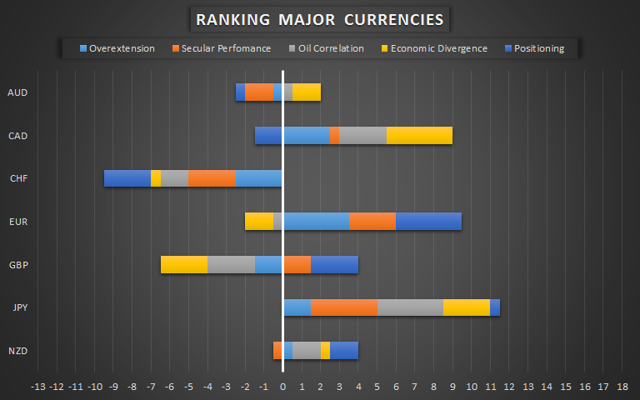 Source: Personal calculations; ranking as of May 4, 2018
On balance, the Japanese yen appears to be the most overrated currency among the majors with the total net score of 11.5 (see the chart above). While the most "underrated" currency is a Swiss Franc, Australian dollar also finds itself in the undervalued camp with a total net score of -0.5.
Reason three: Divergent Monetary Policy
Interest rates in Australia are 160 basis points higher than in Japan, which means that AUD/JPY still qualifies for a carry trade.
Carry trade involves funding the purchase of a high-yielding currency with low-yielding currency. In other words, you borrow the currency of a country with low interest rates and use it to purchase the currency of a country with high interest rates. Therefore, you should be able to receive some overnight swap points for holding AUD/JPY longs (depending on the terms and conditions of your broker agreement).
Most importantly, however, divergent monetary policy is exemplified in a bullish divergence between AUD/JPY exchange rate and the spread between 2-year government bond yields. As you can see from the chart below, the spread (orange curve) is now more than 210 basis points, which has been historically associated with a higher exchange rate (i.e., Australian dollar appears undervalued in terms of the yield spread).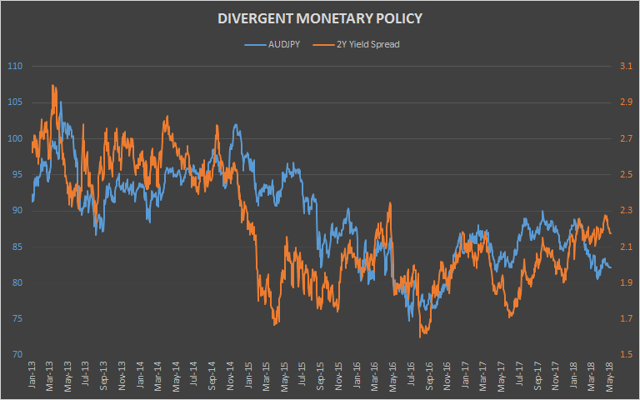 Source: FXCM, investing (website), personal calculations
Furthermore, the Reserve Bank of Australia (RBA) is much closer to its inflation target than its Japanese counterpart (BoJ). Both central banks pursue and inflation-targeting approach to monetary policy, but monetary sentiment (which measures the gap between inflation target and actual inflation) is more dovish in BoJ than it is in RBA (see the chart below).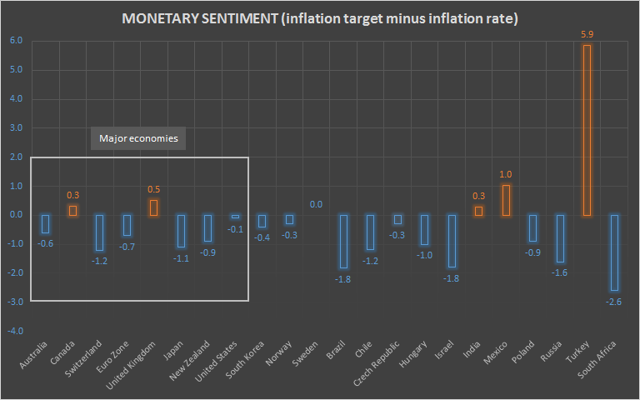 Source: central banks websites, personal calculations
In other words, BoJ is further away from normalizing its monetary policy than RBA is.
Reason Four: Commodities
The global economy is so interconnected that even if we imagine that Japanese economy suddenly starts to outperform Australian economy, that would still be good news for Australia because Japan is its second largest export market. Indeed, when we talk about Australian economy, we must always remember that it is one of the key commodity exporters in the world and commodity prices are on the rise. Oil prices are up more than 18% since February, which bodes well for Australian trade balance. Last week, March trade balance data bet market expectations allowing 12-month average balance to stay positive for 13 straight months, which is the longest period since 2013 (at least).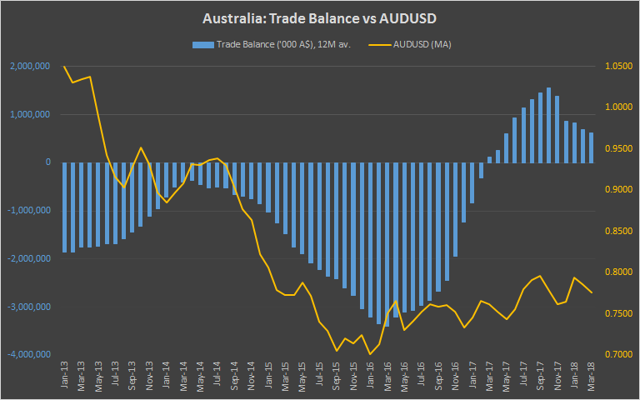 Source: Australia Statistics Bureau, FXCM
Depreciating Aussie would only improve the trade balance and exert an upward pressure on inflation, thus making the currency more appealing relative to Japanese Yen.
Conclusion
I have to tell you, long AUDJPY is not a risk-free trade. The pair is very sensitive to "risk-on / risk-off" environment. In other words, it is closely correlated with U.S. equities, which clearly do not look particularly cheap (if you take a long-term view). So, I would advise to be very careful with AUDJPY. I have initiated a mid-size long position in AUDJPY today. The notional value of the trade is 16,000 euros. The entry is from 81.99.
Follow me for weekly updates on high-probability trading set-ups in 25 global currencies and more than 500 currency pairs.