My instincts take me away from battlegrounds. While there may be entertainment value in following Bausch Health (NYSE:BHC)/Valeant Pharmaceuticals (VRX) or Herbalife (HLF) or Tesla (TSLA), and there is usually a lesson or two to be learned as things shake out, but I'm not smart enough or patient enough to weed through the noise and find the opportunity. I read one investor say that they use Seeking Alpha primarily to spot and then avoid battlegrounds, which makes sense.
BUT, I do find them to be fascinating studies of investor psychology and sociology as we pick sides and scores get settled one way or another. In today's Editor's Notes, I look at a couple names that have come up as hot topics and were recently written up. We'll see if we can pull anything out of them. I'm planning to do a deeper dive on a popular battleground later this week as well.
Welcome to Editor's Notes! I aim to sort through the ideas we publish each day and highlight a few that may be of interest to readers, along with comments that may add a helpful gloss. If you have thoughts, comment below or send me a direct message and let me know what you think. Your feedback will be super helpful as we develop this. I'm aiming to do this twice a week, tentatively Tuesday and Friday. Read Wednesday's edition here and Friday's edition here for background.
Today's edition includes dividend ideas for the first time. We classify these differently, but I think they may be worth your time all the same. They will get their own header. Without further ado:
Long Ideas
We posted 113 long ideas from Friday to Monday. For whatever reason, most of the ones that stood out to me were Biotech ideas. Let's start with a very popular small-cap on Seeking Alpha.
Unjustified Sell-Off In Achaogen After FDA Panel Vote Provides A Golden Opportunity by Terry Chrisomalis
Rounds Report: Exelixis Rallied Due To Positive Earnings While Achaogen Is Set For A Strong Comeback by BioSci Capital Partners
Achaogen After Ad Comm by Bret Jensen
Your Daily Pharma Scoop: Achaogen Mixed Ad Com, Esperion Mixed Results, InVivo Up On Old Data by Avisol Capital Partners
The bulls smell blood in the water. But if there's one consensus on SA and another on Wall Street, what does that mean?
Achaogen (NASDAQ:AKAO) is a biotech company and has a chart that looks as follows: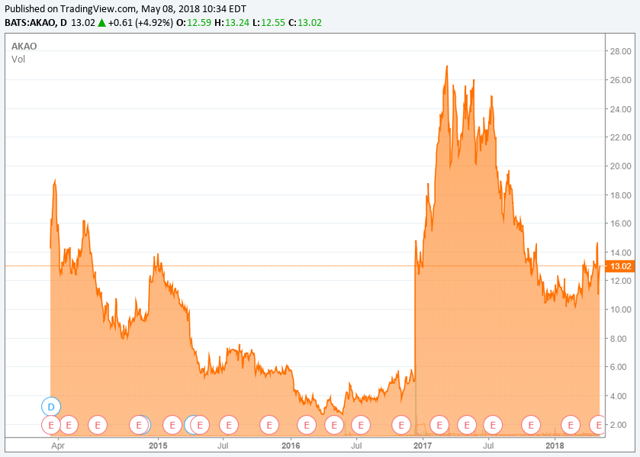 Whether it is tail wagging the dog or vice versa, that's the sort of chart and company that comes with a lot of passionate investors.
The chart doesn't show last week's behavior, where the stock dropped from the 14s to the 10s, before climbing higher. What's going on?
Achaogen is a one-drug story. Plazomicin is the drug, an anti-bacterial drug targeted at bacterial infections. The company aims to tackle two problems - complicated urinary tract infections (cUTI) and carbapenem-resistant enterobacteriaceae (CRE), which are a class of bacteria that has acquired resistance to antibiotics. On the bullish side, I found these two articles useful for background. On the bearish side, this article and this article mark good starting points.
What happened last week? The FDA's Advisory Committee recommended Achaogen for cUTI but not for CRE (or as it seems to be referred to in the recent news, bloodstream infections (BSI) - flame me below if I misunderstood). cUTI is the much bigger market, but CRE/BSI is the unaddressed one. The market didn't like that and dropped the stock heavily before a recent rebound.
What do these recent articles say? Three of the four are bullish right now and the fourth speculatively bullish. The themes I pick up - Scott Gottlieb's FDA is more permissive for approving drugs, off-label is a possibility for treating BSI, cUTI is the bigger market, and sell-side analysts are still bullish.
The thing that is left unsaid for me - if the BSI data isn't convincing enough for the Ad Comm, and cUTI is addressed by other drugs, how likely is AKAO to win market share? A lot of biotech analysis seems to work from the presumption that once approved, a drug will sell, but there are plenty of execution challenges, especially as AKAO builds out a sales force. Does this loom as a risk? Thoughts?
Sentiment Check - There's a good mix of commentary among the articles, with 64 comments across the 4 articles I looked at. Concerns are about competition in cUTI and the need to raise capital. On the bullish side, many feel there's still a real opportunity here. There is also some anger at the FDA and shorts, of course.
Investing In The Liberty Media Empire by Yale Bock
A where to look for GARP investors' favorite stock cluster.
I'm not sure whether the best analogy for John Malone fans is sports - mid-2000s era basketball bloggers like Free Darko; music - too many examples to think of, but Phish or Animal Collective fans circa 2004-5; or cults - pick whatever comes to mind. But it's a real subculture in investing - adherence to EBITDA, stock trackers, and convoluted ownership structures, but also good investment returns.
Anyway, Yale Bock talks about Liberty Broadband (LBRDA) to start this piece. That's Liberty's 20% ownership stake, with voting control, of Charter (CHTR). There's also Liberty Sirius XM (LSXMA), a 70% stake of Sirius XM (SIRI). Liberty Latin America (LILA) has been a popular pick, sometimes as LILAK and sometimes as OTC:LILAB, and that gets a mention. Qurate Retail Group (QRTEA), the composition of HSNI, Zulilly, and a few other brands, is mentioned. The piece concludes touching on the new flashy jewel in the collection, Formula 1 (FWONK). This is a decent 'best of' for the Liberty empire if you want to orient yourself in the ways of this style of life.
Sentiment Check - None of these stocks have had a short idea published on it since 2017. Partly that's because the tracker stocks don't get the short ideas, the underlying ones do (like Charter and Sirius). The commentary here definitely reflects an 'inside the club' feel for the Liberty group.
Teva: A Better Entry Point Post-Results by ALT Perspective
The market couldn't make up its mind about Teva's Q1 results. Is there an opportunity?
I check in on Teva Pharmaceuticals (TEVA) from time to time like an old friend. I had the stock in my wife's portfolio at one point (though no longer) and like to see how it's doing. It has been a tough run the past few years, but there has been the talk of green shoots. What did that mean for Q1?
ALT Perspective reviews the quarter's results and likes them - beating estimates, raising guidance, and decrease in net debt, which is one of the two fundamental risks to Teva's future (I'd say the other is the threat that the industry might change wildly over time, whether due to other generic companies or general price pressures). Given that, the author argues the price action that led to a sell-off after the quarter was unjustified. Which the market seems to agree with now, as the stock has fully recovered.
Where does Teva go from here? The debt issue is where I look closest. The company did refinance debt so as to pay off near-term maturities (good), but it looks like they took on some higher interest debt - 6% or more on $2.5B in debt due in 2024 and 2028. If the company can thread the needle to pay off near-term debt and avoid any major issues there, does it come at the cost of crimping their upside in their future?
Sentiment Check - This is a fairly evenhanded case. I count three bearish analysts on SA vs. 7-8 bullish analysts who have posted so far this year. Comments shade somewhat bullish in response to this article.
Dividend Ideas
We posted 31 dividend ideas and 12 REIT ideas Friday to Monday. Here are two articles that stand out to me, mostly because they cover off the beaten path names (to me).
Cincinnati Financial's Q1 2018: Time To Invest In This Dividend King? by The CrickAnt
Consensus says: Good dividend but expensive company. Has anything changed?
The titles on Cincinnati Financial (CINF) are consistent - the company is too expensive to invest in despite its dividend nobility.
The CrickAnt has been following the company regularly. Their analysis here gives a good overview of where CINF sits. Loss expenses are coming down, boosting the property casualty line. The company lost money, but due to mark to market on their investment book, not underlying business.
The author backs into two price targets - 1.5x book gets you to $80-83, and 15-17x earnings get you to $70-90. The stock trades at $70 with a 3% yield. Your mileage may vary on whether this is the right insurer given that, but the quarter caused a decent sell-off, and it may be worth a look.
Sentiment check - Comments are mostly positive. CINF shows up most often with portfolios of dividend giants - MCD, JNJ, KO and the like.
Cell Tower REITs: Analyzing The Impact Of Potential Merger by Hoya Capital Real Estate
Sprint (S) and T-Mobile (TMUS) consolidation going to place pressure on suppliers?
Waterfall effects in the market, when one piece of news hits other related industries, can over-splash on portfolios. But even if the market outthinks itself by pricing in changes to the market that 'might' have an effect 3-5 years from now, it's worth studying these in case there is a real issue.
I like this article for breaking down the impact of the Sprint/T-Mobile merger on the cell tower REITs (American Tower (AMT), Crown Castle (CCI), and SBA Communications (SBAC)). Hoya Capital Real Estate assesses the big four carriers (add AT&T (T) and Verizon (VZ)) capital spend and the likely revenue impact from consolidation. They make the argument that while there is 4% overlapping revenue from Sprint and T-Mobile that could be at risk, the combined entity will need to spend more to catch up to the giants, so this is, on the whole, a good thing. Cell Tower REITs strike me as very expensive (though Hoya's numbers suggest it's not as bad as I recall), but if the market's sell order should have been a buy, the divergence may be a useful one for investors.
Sentiment Check - AMT has about twice the followers of CCI, which has about 3x the followers of SBAC. Has that made sense?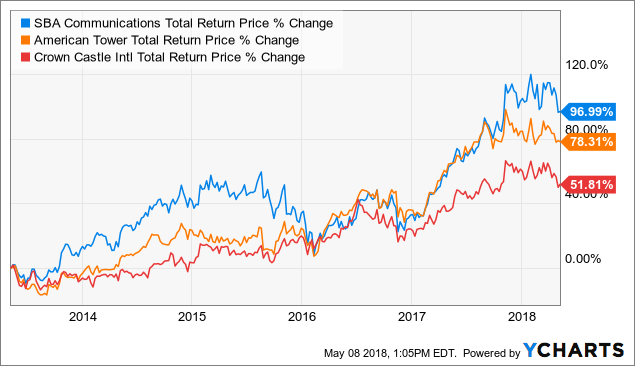 Short Ideas
We round this off with three short ideas. We published 10; as usual, I skip the Tesla ideas, of which there are three in that time span.
Folli Follie: The Other Greek Parmalat? by Gabriele Grego
A show-stopper short idea.
My colleague Mike Taylor attended the KaseLearning shortselling conference last week and said this presentation blew attendees minds. Given an impressive speaking roster, that's no small feat.
The company has rebutted here. It sounds like this is not the first-time controversy has arisen for Folli Follie (OTCPK:FLLIY). Grego's last short idea on SA was on American Addiction Centers (AAC), and that played out well. It will be interesting to see how this plays out.
Sentiment check - Comments are mostly defensive of the company, though a few people share concerns over the company.
Colombo Bank: Merger With FVCBankcorp Represents More Downside For Share Price by Yuanxi Zhang
Merger arb can go long or short. This is one of the best authors on SA for this style.
It had been nearly a year since Yuanxi Zhang wrote an article for SA, but this is his second in the past few weeks. It's a very simple and compelling case for why Colombo Bank (OTCPK:IFSB) is overvalued. I can't grasp why the stock would be selling for double what the merger deal suggests, but this is a good explanation from the article:
"2) Both Bloomberg and OTC Markets website give a wrong market cap ($574k at Bloomberg), which does not match the company's annual report, and 3) Minority shareholders anchor on the historical share price and expect another bank to offer more. "
I'm afraid the valuation has converged pretty close to what Zhang suggested in less than a day, but there is still about 33% downside.
Sentiment Check - We don't have enough data on users holding either IFSB or its acquirer, FVCB, to pull data on overlapping stocks. The author who is third most likely to be followed by readers who follow Zhang is Special Situations & Arbs, who happened to comment on this article.
SA Interview: All About Short Selling With Black Mamba by SA Interviews
Stirring the nest on a popular winner.
The interviews my colleague John Leonard conducts with some of our sharpest authors are must-reads generally. I picked this week's to highlight due to the battleground emerging around Axon Enterprises (AAXN).
Axon used to go by Taser International, for its best-known product, the taser. Black Mamba's point in the interview (go to the last question) is straightforward - the company has recognized subscription revenue up front instead of amortizing over the life of the contract. This can be problematic in case of refunding or anything that would cause you to unbook the revenue, but also it makes the revenue look great now but much less predictable over time (one of the benefits of a subscription model).
Sentiment check - While a couple of commenters chime in with support, most are against this idea. However, short ideas have popped up for Taser/Axon for five years, including from top authors (here and here) and the stock has gone higher. Not every stock chart is truth, and Axon is very, ahem, healthily valued (EPS was $.1 last year, FCF was $9M or so, book value of $167M at year end, vs. a market cap of $2.4B), but the stock has been a runaway train to date.
***
Have any favorite ideas you saw recently? Let me know below. Follow me if you want to get more of these posts. And if you have feedback on what would be more useful to see, or what type of ideas you want to find more of, get in touch, I'd love to hear from you.
Disclosure: I/we have no positions in any stocks mentioned, and no plans to initiate any positions within the next 72 hours. I wrote this article myself, and it expresses my own opinions. I am not receiving compensation for it. I have no business relationship with any company whose stock is mentioned in this article.
Editor's Note: This article covers one or more microcap stocks. Please be aware of the risks associated with these stocks.