Welcome to the Natural Gas Forecast Editionof Natural Gas Daily!
We expect a +98 Bcf change in the storage report for the week ended May 4. A storage report of +98 Bcf would compare with +45 Bcf last year and +75 Bcf for the five-year average.

Source: ICE
We revised our estimate higher from last week by 8 Bcf. The bearish revision came as a result of higher than expected physical injection figures.
In our weekend NGD, we reported that we were long UGAZ, but following two subsequent tests of the $2.77/MMBtu level for June, we have now exited UGAZ at a small profit.
In addition, our trader survey positioning report shows traders reducing long exposure in size. And the bearish price action comes at a time when cooling degree days (CDDs) are increasing.
We are starting to see signs that natural gas balances will tighten by the end of May due to supportive weather. The middle of May to the start of June is expected to be warmer than normal. The recent increase in CDDs has already started to push power burn demand higher.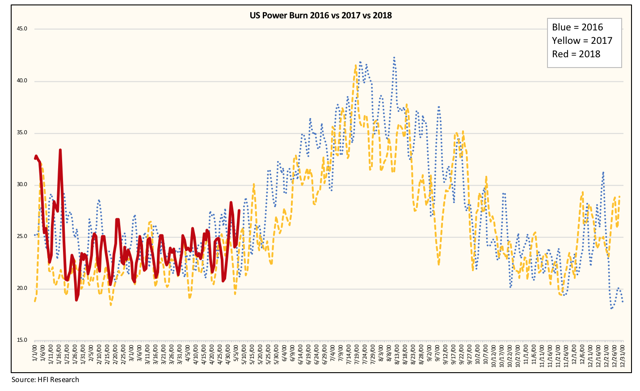 But even though power burn demand is higher y-o-y, the market balance for the next several weeks show storage builds to be higher than the 5-year average. The reason is that Lower 48 production is materially higher y-o-y, although the recent impressive production growth has stalled a bit.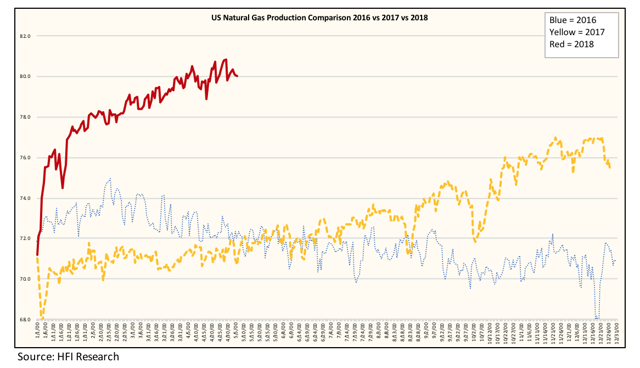 Going forward, we think natural gas prices could retest the lower price band again, but if it fails to hold this time, June could go as low as $2.65/MMBtu.
We will be posting all of our trade alert updates live to subscribers. If you are interested in getting more information on how the traders are positioned, what the fundamentals are saying and how the weather outlook is developing, please have a look at our premium service. Below is our trading record since late January 2018: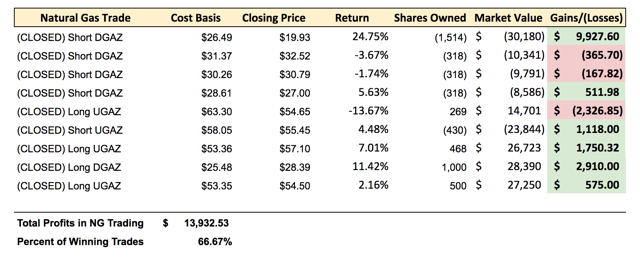 We hope you can join the 100+ traders that have already done so. Join us today.
Disclosure: I/we have no positions in any stocks mentioned, and no plans to initiate any positions within the next 72 hours. I wrote this article myself, and it expresses my own opinions. I am not receiving compensation for it (other than from Seeking Alpha). I have no business relationship with any company whose stock is mentioned in this article.