2017 was not a fun year for holders of New York Community Bank (NYSE:NYCB). Your author started buying at the end of January last year. NYCB stock was already sliding, following the inability to close the proposed merger agreement for Astoria Financial (AF). At the time, it seemed NYCB should recover quickly enough with the rest of the banking sector surging following Trump's election victory. Instead, the bank now finds itself at levels below where it was prior to November 8th, 2016: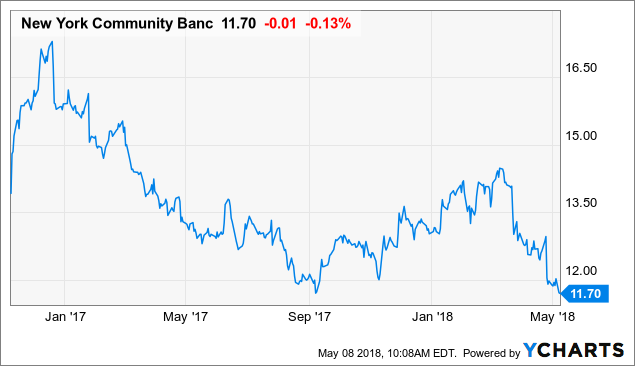 Even including the generous dividend from NYCB, it's disappointing being down on my cost basis here, since virtually every other US bank I own is up 30%+ since the election. Ironically, that election result is probably why the bank is so beaten down now - the New York Community Bank/Astoria deal likely would have closed if Hillary had won and bank valuations hadn't spiked unexpectedly. And NYCB's shareholders have abandoned the company in droves since the Astoria deal broke.
Regardless, the past is the past. Some NYCB shareholders still seem obsessed with it, though. Read an article about the bank, and you'll hear numerous folks calling for removing the current management team due to the stock's recent underperformance and dividend cut associated with the proposed Astoria merger. I see this as the wrong move. New York Community Bank's CEO Joseph R. Ficalora has been in charge since January 1994. Here's how the stock has done over that span: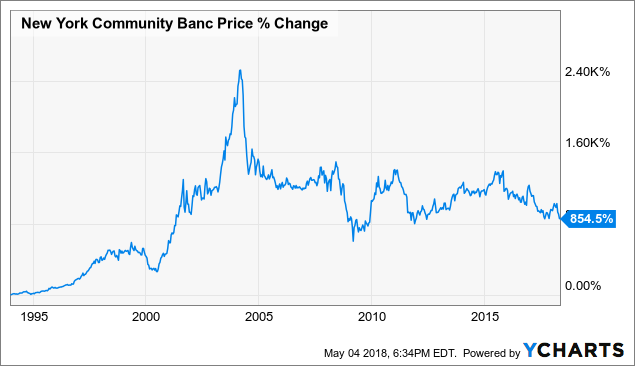 If you want to fire someone who sent their stock up 854% over the span of 24 years, more power to you. In my book, you get a lifetime position for that sort of performance, particularly when you piloted your New York-based bank through 2008 with barely a scratch. Even more remarkably, anyone buying the stock when Ficalora took over has received $15.74 of dividends on a share that cost $1.26 at the time. That sends the total return to beyond 2,000%. (Source: Gurufocus)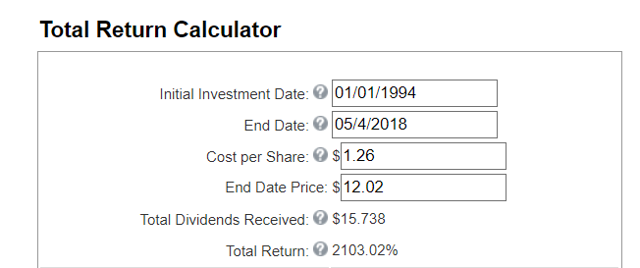 Anyways, even Ficalora's defenders will acknowledge that the stock hasn't done much other than kick out dividends over the past decade. But there's a good reason for that (and it's not that he's suddenly become incompetent). The government put strict restrictions on large but not quite mega banks following the financial crisis, limiting them strictly from crossing the $50 billion asset threshold under threat of onerous regulation.
Given such circumstances, it's hard to blame NYCB for staying right at the $50 billion cap and faithfully paying a ~7% dividend for years in hopes that this regulation would go away. The other options were being acquired by a too-big-to-fail bank or acquiring something themselves to vault over the $50 billion mark. NYCB finally tried this with Astoria, and we all see how that turned out.
Regardless of the back-story, the past is the past. What matters now is the current opportunity. NYCB is one of the few large profitable banks in the US trading under book value. That alone makes it an interesting situation. Combine it with an exceptionally strong loan book (virtually no non-performing assets) and you have something that should trade well over book value under better circumstances.
And folks, things are about to pick up. That's because the long-awaited regulatory change is finally coming. Senate Bill 2155, the Economic Growth, Regulatory Relief, and Consumer Protection Act is on the way. According to GovTrack, here is a summary of the major changes that will come once this is law:
Permits banks with between $50 and $250 billion in assets to run with less regulatory oversight from the Financial Stability Oversight Council (FSOC).
Exempts banks with less than $10 billion in assets from some rules entirely, most notably the so-called Volcker Rule which bans banks from making some forms of speculative trades.
Requires the Federal Reserve to take size of banks into account when crafting regulations, rather than "one size fits all" regulations as critics contend the Fed has been doing for the past decade.
Even Democrats that oppose this bill still favor raising the SIFI limit from $50 billion to some higher threshold. Witness Barney Frank (namesake of Dodd-Frank) in a CNBC editorial:
Substantively, I believed that we had made a mistake in one case and that in the other, experience argued for changing a decision that had been reasonable on the merits when we made it. The mistake was the $50 billion limit.

I knew that it had not been carefully considered, given the pressure to make so many decisions, and that letting these banks grow unhindered to $100 billion could in fact provide a more competitive environment, lessening, even marginally, the foundation of the mega banks.
Even if something gums up the works on Senate Bill 2155, the SIFI limit should move up to at least $100 billion, which is plenty to make NYCB's stock pop. When even Senator Frank is on board with that move, it will get done sooner or later.
And, the betting odds are saying "sooner" in no indefinite terms. The American Bankers' Association posted this brief note last week: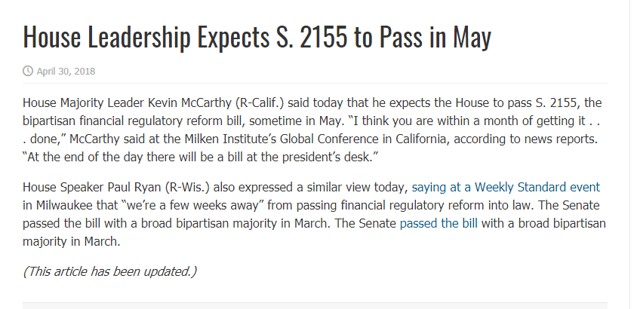 As a result, the PredictIt betting market has moved its odds of Senate Bill 2155 being enacted by June 30th up to 75%, nearly doubling over the past week: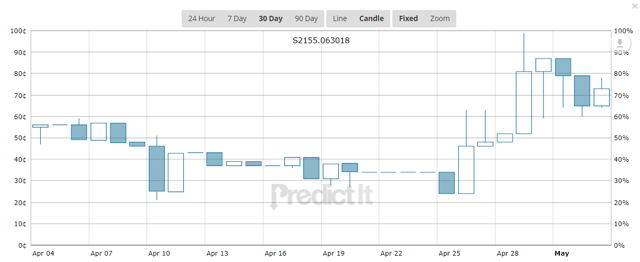 75% isn't a lock by any means, but the odds clearly favor the SIFI limit going away - as far as NYCB is concerned - within the next few weeks. So far, NYCB stock hasn't gotten the message yet, apparently, people are still stewing about the recent earnings report: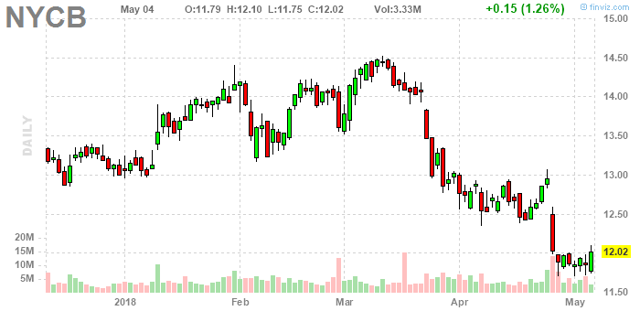 But make no mistake, things should get going quickly once the law is changed. NYCB's management indicated on their last call that they are already in growth mode again. Here's a key point from that conference call. CFO Thomas Cangemi stated that:
We have well over $2.6 billion of cash earning a very low return as we await and we put money to work. We have been allocating most of those resources towards loan growth.
In the past, NYCB has had to sell off much of its newly-originated loans to stay under the SIFI limit. Now, it will be able to hold them on their book. The bank will finally be able to act as a normal financial institution again. The stock market still isn't giving any credit to the bank since it's so used to flat earnings from the firm. But the inflection point is coming in the next few weeks.
NYCB Valuation
With a well-covered 5.8% dividend yield, 14x forward earnings, and at just 0.9x book value, NYCB stock is undeniably cheap, compared with other banking equities. Here's a table comparing NYCB with the same group of peers used in a bearish NYCB article, so I'm not accused of cherry-picking (excludes BKU due to an outlier trailing PE ratio):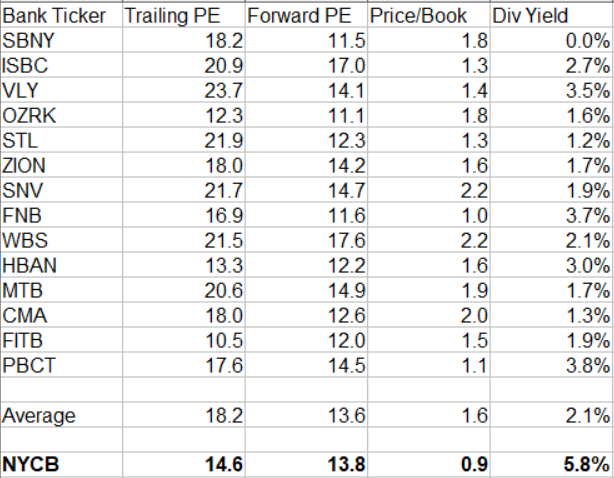 As you can see, NYCB stands alone in several categories. It is the only bank in this broad peer group trading under book value. F.N.B. Corporation (FNB) comes in right at book value and is down significantly as of late as well, but NYCB is the only one selling at an outright discount to book. And on dividend yield, no other bank offers even 4%, let alone 5.8% at this point.
We can see from looking at earnings projections that analysts are far more optimistic for the other banks in this sector than they are for NYCB. Even with the tax cuts, analysts see NYCB barely growing earnings, while the peer group is moving from 18x trailing to 14x forward this year. However, here's where the opportunity really lies for NYCB stock, compared with its peers.
For one thing, analysts are assuming that the other banks are going to see sharply higher net interest margins as a result of the Fed's rate hike campaign and Trump's more inflationary economic policies. However, where the rubber meets the road, you need a steeper yield curve to get higher banking profit margins. Instead, while interest rates are going up sharply, the short-end is rising more than the long end, which in theory will actually reduce net interest margins for banks that have exposure to short-term fluctuations in interest rates.
On this front, things are looking increasingly grim. The benchmark 2-year 10-year treasury spread has plummeted to new 10-year+ lows, leaving banks paying much more on deposits while yielding only modestly more on their longer-term loans such as mortgages:

To be clear, this dynamic hurts NYCB as well. For several years now, it's been clear that NYCB would underperform if interest rates surged, since it has elevated exposure to short-term rates on deposits, and it takes longer to benefit from the rise in rates on the lending side of the equation. Had the yield curve expanded, as expected, other banks should have seen a bigger bump in EPS than NYCB. Instead, the yield curve is heading toward flat, which hurts most bank's profits, including NYCB - yet analysts still forecast large EPS jumps for its peer banks while penalizing NYCB.
And, it seems, analysts aren't giving NYCB much credit for the balance sheet expansion that is soon coming. Bears pointed to a slowdown in New York City multi-family CRE space last year as a sign that the expansion of the SIFI limit wouldn't do much to juice NYCB stock.
However, things are picking back up in New York Community Bank's core market. From the latest conference call:
But clearly, we are allocating our projects towards multifamily CRE loan growth, very good pipeline, very strong growth quarter, our net multifamily loans were up 8%. As I discussed in the previous quarter, 5% net loan growth is reasonable as expected and obviously when they do anticipate to see the cap get raised as far as the 250 we will be more active on growing the balance sheet, in particular on the security side.
We can see there that they managed to grow their multifamily loans at 8% - beating expectations and reversing the recent slowdown in that category. On top of that, once SIFI is gone, the bank will ramp up its exposure to the securities market, where yields are much higher than they are currently getting on their cash. The CFO elaborated on this idea:
[W]hen the $250 billion number becomes the number we will grow more aggressively here. We have a 6%, 6.9% securities to assets, which would be more than double that amount right now and those yields are about 100 basis points higher than they were about a year ago. So, that's a positive where we haven't really put those funds to us. So, we are sitting in excess cash which also held back the margin a little bit and we anticipate to put that money to use hopefully in the foreseeable quarters ahead.
Add it all up, with the SIFI limit going away in mere weeks, the bank will be able to turn on the growth lever for the first time in many years. Things are about to get exciting for this long moribund stock.
As for how high it should go, the easiest way to think about it is book value. NYCB is about an average-performing bank. Its ROA is slightly above the US banking median at 0.9%, and the ROE is slightly short of banking median at 6.6%. Once the currently sidelined funds are put to work, both these figures should rise a decent amount.
Given that, there's no reason NYCB should be selling at a large discount to the median Price/book ratio for its peer group. The assets are solid, showing virtually no loan losses. NYC multifamily real estate is a low-risk asset, as NYCB's sterling performance during the Great Financial Crisis proved. Sure, it's not the most exciting loan book, and growth here will be moderate even after SIFI is out of the picture. But it's hard to justify less than 1.4x book value, given the peer group. Also, in the event that a larger bank bought New York Community, that transaction would almost certainly go off at 1.4x book value or higher.
That amounts to an $18 price target for NYCB stock. To be clear, I don't think we are getting there tomorrow. Sentiment is terrible around the stock - witness the (for a bank) gigantic 10.4% of float that's been sold short. It will take a few quarters for the SIFI limit impact to start being reflected in the bank's EPS numbers. Regardless, the valuation here is irrationally low, and even if interest rates continue to move against NYCB, analysts are too optimistic for its peer group in comparison to New York Community. Over time, the price/book gap will close, and that should result in a significantly stronger NYCB stock price. While we wait, the 5.8% dividend yield rewards our patience.